Petrakov and Klitschko express gratitude for Gladbach exhibition: "Thanks for the great atmosphere!"
By Peter Vice @ViceytheSS
Ober 20,000 live spectators attended a charity match between Borussia Mönchengladbach and the Ukrainian national team at Borussia Park last night. 

This morning, the foals confirmed that total proceeds raised for refugees of the conflict totaled over €600,000. 

The Ukrainian national team won the exhibition 2-1; a sure confidence-builder ahead of the coming qualification playoff for the 2022 World Cup. 

Afterwards, Ukrainian national team head-coach Oleksandr Petrakov thanked all fans in attendance for the "great atmosphere".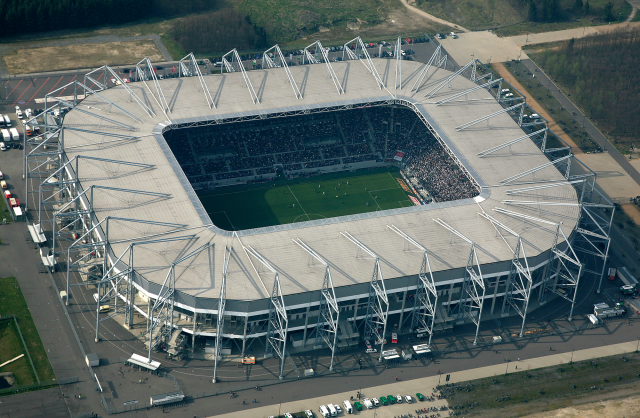 There was a see of yellow and blue flags amongst the 22,032 live spectators in Borussia park on Wednesday evening ahead of kickoff in a charity fixture between Gladbach and the Ukrainian national team. Ukrainian national team trainer Oleksandr Petrakov found himself moved to tears as many of those in the stands sang along with Kristina Solovej's rendition of his country's national anthem.


The fans in Borussia Park were also treated to a special visit via video link prior to kickoff. Ukrainian heavyweight champion Wladimir Klitschko--a very popular figure in Germany due to his fluency in the language and professed love for the Bundesliga--made one of his many appearances at a German hosted football match.

"Hello to all," Klitschko noted after appearing on the stadium's screens, "I'm speaking to you from Kiev. Thanks for all your help. I'm actually a very ambitious person and love competition. But today I can't take sides because both teams are playing for us."

The match itself remained competitive. BMG trainer Adi Hütter, true to his word, used practically all of his first team players. When they weren't being used on the pitch, captain Lars Stindl and Yann Sommer helped out in the Prosieben commentary box and urged television viewers to donate to the cause as well.

Thanks to those donating remotely, those contributing outside the stadium in recent weeks, the ProSieben television contract, and all those who purchased tickets, Gladbach were able to raise a total €610,745 for refugee relief efforts. A charity fixture held in Dortmund late last month raised just over €400,000 toward the same aim.

Goals from Mykhaylo Mudryk and Oleksandr Pikhalionok overcame out a Connor Noß tally as Ukraine prevailed 2-1 in their first fixture since the onset of the war. The next morning, Ukrainian trainer Petrakov expressed his gratitude to all those who made it to the stadium.


"I had tears in my eyes during the national anthem," Petrakov confirmed. "It was very emotional for all of us. Thank you for the great atmosphere that night."


May 12, 2022
Ein Abend im Zeichen des Friedens! ☮️

DANKE für eine tolle Stimmung und eure Unterstützung. 💙💛🇺🇦#StopWar #StandWithUkraine #BorussiaHilft #FohlenVerantwortung pic.twitter.com/4fF4h3SuP9

— Borussia (@borussia) May 11, 2022
Related stories