Müller, Flick, Gündogan, Hofmann, and Wolff react to draw with England: "It's still only Nations League"
By Peter Weis @PeterVicey
The DFB's on-pitch representatives seemed generally pleased with the incremental progress demonstrated during Tuesday's 1-1 draw with England on the second matchday of the 2022/23 UEFA Nations League. 

Thomas Müller, Jonas Hofmann, Ilkay Gündogan, and Bundestrainer Hansi Flick offered up their thoughts afterwards. 

Handling the post-match commentary for Germany's preeminent footballing publication on this eve, senior editor of Kicker Magazine Sebastian Wolff had plenty of positives to emphasize.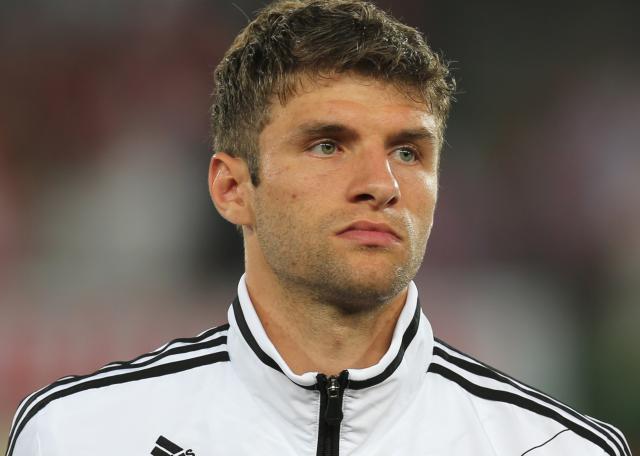 The scoreline may have been the same as Saturday evening, but the feeling was most assuredly different. A German Nationalmannschaft with seven new outfielders put together a significantly more compelling performance against visiting England Tuesday night at the Allianz. Afterwards, Bundestrainer Hansi Flick largely liked what he saw.


"I'm proud that we pulled off such a performance," Flick noted in his post-match interview, "After the four [Nations League} games we make a conclusion and see how far we are. September will then be the month for fine-tuning."

German footballing icon Thomas Müller--once again operating from the ten spot--expressed similar sentiments. From Müller's perspective, the fixtures being played now remain warm-ups. It is such that a progressively better performance counts as a moral victory, even if the points were ultimately shared.

"It was a good game," Müller told ZDF after the full-time whistle, "We're still only play Nations League, which are basically friendly matches packed into a tournament mode. It's all about the feeling. If this game was repeated, we'd come out winners more often than not."

The DFB XI certainly had many opportunities to increase their lead. A barrage of hypotheticals could have led to a different outcome. As much as conceding the late equalizer stung, Ilkay Gündogan didn't feel the need to get vulgar about it as he did during a similar situation in a September 2020 Nations League fixture.

Gündogan was nevertheless firm about the need to improve.


"If we want to work our way back up to the top, this must not happen to us," Gündogan noted "We had ample chances to add a second or third goal."

Gündogan paired with Joshua Kimmich in midfield as Leon Goretzka took a seat. Other personnel alterations included two changes in the back-four. Lukas Klostermann started over Benjamin Henrichs and Nico Schlotterbeck took the place of Niklas Süle. As hinted at earlier in the week, Flick went with Jamal Musiala and Kai Havertz in place of Leroy Sané and Timo Werner.

The team still lined up in Flick's 4-2-3-1. Arguably the most significant change saw Jonas Hofmann take over for Serge Gnabry on the right-wing. Hofmann played in his more familiar club flanking role for the first time under Flick. In previous matches, the Bundestrainer utilized the 29-year-old as a makeshift right-back.

"I've already played well in both positions," Germany's lone goal-scorer noted gleefully afterwards, "Both have their advantages and disadvantages. It's great that the coach has the opportunity to rotate and experiment."

Hofmann earned plenty of praise in the German press for what was an impactful match. Musiala, Havertz, Schlotterbeck also made excellent contributions to the more up-tempo and creative play of the team.

"Jamal Musiala was a sight to behold for stretches in front of 'driving force' David Raum," Kicker senior editor Sebastian Wolff noted in his post-match commentary piece, "Jonas Hofmann was convincing in his role up front, and not just because of his goal. Schlotterbeck also showed some great promise."

For Wolff, Schlotterbeck's performance was somewhat emblematic of how the team looked on the whole. It was the new BVB defender who ended up conceding the late penalty, after all. The prominent footballing journalist described what he felt was an inspiring, yet still very uneven night for the country's footballing program.

"Nico Schlotterbeck is the big symbolic figure from this eve," Wolff wrote, "The 22-year-old soon-to-be-Dortmund player impressed with his tackling and courage, but then acted without thought in conceding the late penalty."

"This roller coaster ride between freshness and a lack of composure was representative of the whole team," he continued, "After a restrained first half, Hansi Flick's eleven unquestionably seized the initiative after the break, but couldn't act decisively enough [in front of goal] to put the game to bed."

"That the team is on the proper path was once again evident against a strong English side," Wolff concluded, "That there is still some way to go on the way back up to the top is evident too."



More about the match
More about the teams