Flick expresses support for Sané and Werner, yet hints at starts for Musiala and Havertz
By Peter Vice @ViceytheSS
In an all-too-familiar scene, German national team trainer Hansi Flick found himself answering questions about form slumps involving Leroy Sané and Timo Werner again on Monday. 

While the Bundestrainer emphasized that both players retained his backing, hints that Jamal Musiala and Kai Havertz might start instead on Tuesday were implicit in his words.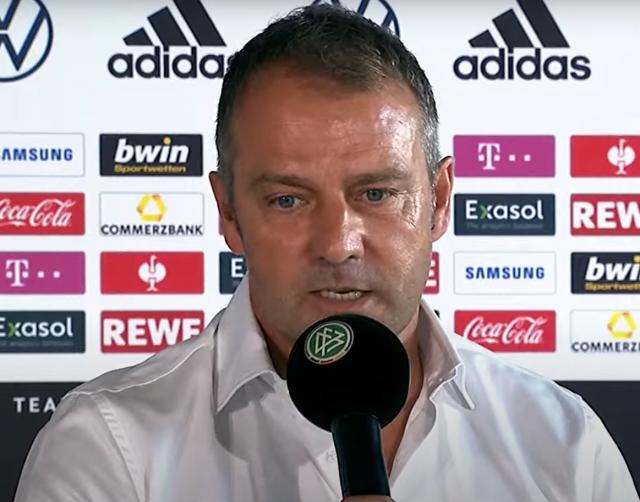 Among the many criticisms leveled at Hansi Flick's German national team following an often languid performance on Saturday night, German footballing media circles are once again questioning the starting XI status of Leroy Sané and Timo Werner. Such critiques are by no means new. In point of fact, these are precisely the same discussions being held last autumn. Precisely the same two players were involved.


Sané's erratic form continues. The obscenely talented and absurdly fast player once again played erratically and without conviction on Saturday night. The 26-year-old cannot seem to escape disapproval of his footballing body language. Inexplicably enough, he far too often appears disinterested in utilizing his talents to the fullest extent possible.

Bundestrainer Hansi Flick answered questions about Sané yet again during a Monday media round. The national team head coach's talking points were more-or-less the same beats he's trotted out before. Flick spoke of "enormous potential", expressed his "full confidence" in the FCB attacker, and (when probed about Sané's shortcomings), promised that he and his staff "were working on it".

Flick did concede that this backing didn't necessarily translate to an automatic place in the starting XI for Sané on Tuesday night against England. The Bundestrainer spoke of "providing all the assistance" to Sané as he possibly could. If this meant a break from the first-team lineup, so be it.

"It doesn't always have to mean playing from the start," Flick said, "It's very important to talk to the players and to exchange ideas, to know what kind of things might be bothering him in his private life. There's help, but also clear guidelines."

One could almost infer from such words that Sané's Bayern teammate Jamal Musiala appeared poised for at least one start in the coming weeks. For all the support promised to Sané, a much more fluid and dynamic player waits in the wings.


When it came to Werner, Flick's backing wasn't quite as strong. There existed a strong hint in his words that--just like previous trainer Joachim Löw--Flick may be tending towards giving Werner's Chelsea teammate Kai Havertz the go on the lead attacking axis.

"With Timo, it's a bit under-appreciated what he brings to the team," Flick noted, "there's a willingness to go out of his way, to put the opponent under pressure, to create spaces in front of the defense. He implements well. So does Kai, however. Both are options for us up top."



Related stories