Anton voices opinion on Bensebaini incident: "100% red card in my eyes."
By Peter Vice @ViceytheSS
VfB Stuttgart defender Waldemar Anton, in addition to being annoyed at his team's loss on Friday night, voiced his fury about Gladbach's Ramy Bensebaini being allowed to remain on the pitch after an incident in the 17th minute.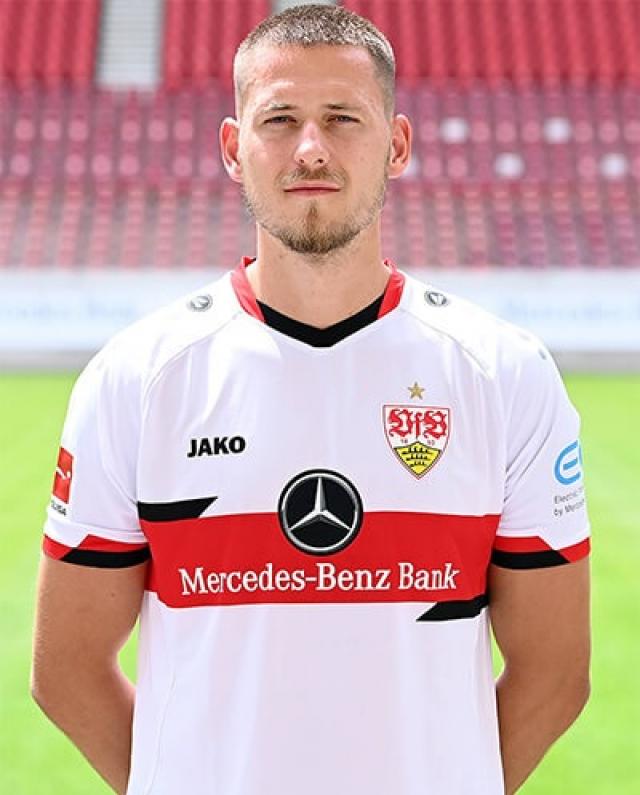 | | |
| --- | --- |
| Waldemar Anton. | Photo: VfB Stuttgart |
Borussia Mönchengladbach were able to snap a three-match-losing streak against Stuttgart at home on Friday evening in the 2022/23 German Bundesliga's matchday 13 curtain-raiser. A 3-1 victory makes for a convincing scoreline. There can nevertheless be no doubt that, had a crucial incident in the 17th minute gone a different way, the outcome might have been affected. 


Gladbach defender Ramy Bensebaini delivered a clear swipe directly to Waldemar Anton's chin as the two players were joshingly in the box ahead of a Gladbach corner. Match official Dr. Matthias Jöllenbeck booked Bensebaini immediately, yet was compelled to take another look at the scene by the VAR team. After taking a look at the replay, Jöllenbeck stuck by his decision of a mere yellow card. 

Anton was obviously not pleased that the yellow wasn't upgraded to a red.

"100 percent red card in my eyes," Anton noted in his post match interview, "He takes a swing. That's madness, honestly. I don't know what the referee was thinking."

"For me, an assault must be either a red or nothing," the VfB defender continued, "If it was nothing for him [Jöllenbeck], he must give nothing. But he gives yellow, I don't understand. I've never seen yellow given for an assault."

The scene was certainly open to subjective review. Anton took quite the knock from the Algerian international. Presumably, Jöllenbeck felt that the flailing arm wasn't intended to hit Anton on the face. One could interpret Bensebaini's action as one of random frustration. 


The decision will likely still serve as a big talking point in German footballing circles come Monday morning. The hosting foals were up 1-0 at the time. Eight short minutes later, BMG striker Marcus Thuram doubled the advantage to give his team a 2-0 lead. Allowed to continue with XI players on the pitch, Gladbach held off their Swabian guests even after Tiago Tomas pulled a goal back.

Patrick Herrmann sealed the victory with the 3-1 deep into second-half stoppage time. 



More about the match
More about the teams