Schmid and Limnios discuss 2023 comeback hopes
By Peter Weis @PeterVicey
Interviews with two Bundesliga footballers with high hopes of making a comeback during the second half of the 2022/23 campaign appeared in German language media yesterday.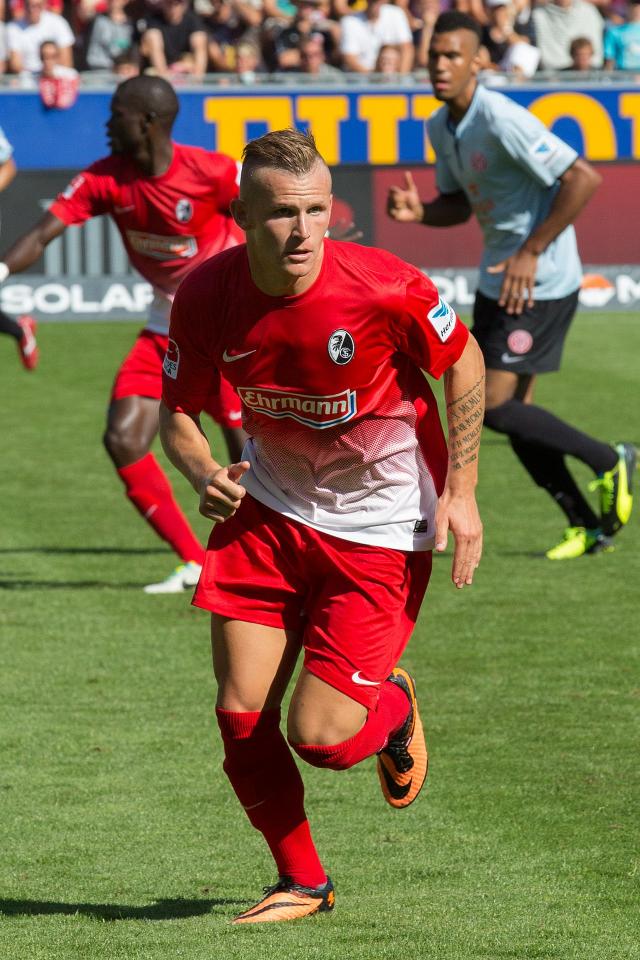 | | |
| --- | --- |
| Jonathan Schmid | Ctruongngoc CC-BY-SA 3.0 |
Neither Jonathan Schmid (SC Freiburg) nor Dimitrios Limnios (1. FC Köln) have managed to log a single minute of action for their Bundesliga clubs thus far this season. In interviews with separate German language media sources published on Thursday, both players discussed their hopes for more activity in the new calendar year. Bundesliga veteran Schmid appears to face a continued uphill battle whilst the young Greek may be on the verge of attaining a breakthrough.


Having spent his entire professional career in Germany, Strasbourg's Jonathan Schmid retains the title of the most appearances by appearances by a Frenchman in Germany's top footballing flight. The Alsatian came up through the SC Freiburg ranks before eventually making his Bundesliga debut with the senior side in January 2011. A little over a decade later, Schmid reached a milestone on March 6th, 2021. On that date, Schmid tied Franck Ribery with a total of 273 Bundesliga appearances in a 0-3 loss to Leipzig.

Schmid would make a further 10 appearances (eight starts) that year, enabling him to pass Ribery and pad up his lead still more. Even active Bundesliga famous Frenchmen such as Anthony Modeste and Joshua Guilavogui have some way to go before reaching Schmid's current total of 296 top-division deployments. As things stand now, however, the 32-year-old's days in the Bundesliga may be numbered. After 12 seasons with Freiburg, Augsburg, and Hoffenheim, there stands little chance that Schmid's expiring contract with the Breisgauer will be renewed.

Schmid's highly-publicized battle with "long COVID" began in August of 2021. It took four long months of conditioning rehab before Schmid could at least complete a 65-minute shift with the Freiburg reserves. SCF trainer Christian Streich handed him four more starts with the senior side in March and April of 2022. Only once was Schmid able to go the full 90. In the final two months of the season, he made only six relief appearances.

The sad reality for the Bundesliga veteran this year concerns the fact that, in the midst of one of Freiburg's most successful seasons ever, there has been no room for the right fullback/wingback to make his mark. Lukas Kübler and Schmid's fellow Frenchman Kiliann Sildillia lie above him on the depth chart. There's also enough attacking punch on the right flank to keep Schmid off the pitch. Speaking to Kicker magazine's Carsten Schröter-Lorenz for an interview appearing in the Thursday print edition, the player spoke of his frustrations.

"Of course I'm not satisfied," Schmid conceded to Schröter-Lorenz, "Every footballer wants to play as much as possible. The first half of the season so far has been a different experience for me. Performance-wise, the [other] lads have also done a great job. If they do so well, I have to accept it."


In addition to tacitly praising the performance of Silldillia and Kübler, Schmid also admitted that he was still having his own performances issues as late as last summer. Schmid noted that, whilst working as a right flank attacker in Freiburg's summer training camp, he was still having difficulty with deep forward runs. It was such that Schmid truly seemed to accept his situation gracefully.

"I'm not depressed," Schmid emphasized, "I'm fit again, but there isn't room for me. That's football and I accept it. I still give my all in training and consider myself a team player. I share laughs with the guys and try to help the younger ones out. Kiliann [Sildillia] doesn't need as much help now as he's playing, but I can be there for Hugo [Siquet]. It's difficult for him because he's not playing."

"I tell him [Siquet] not to let his head hang too low and to keep pushing," Schmid continued, "Things can change quickly in football. We have a lot of competition everywhere, but the mix of youth and experience has been really good for us. I can contribute to that."

Schmid expressed the desire to continue playing in German football, if not with Freiburg then somewhere else. A personal goal for the player would be to reach 300 Bundesliga appearances; a mark he is just four deployments shy of. Schröter-Lorenz also spoke with Freiburg manager Klemens Hartenbach for the article. The club personnel boss noted that Schmid "made a very agile impression and is once again an option."

"I may not be quite as spry as I used to be, but I'm still fast enough for the Bundesliga," Schmid told Schröter-Lorenz, "I definitely don't want to stop playing. First, we have to see how the second half of the season goes. Someone can always get hurt. If it comes to an end at Freiburg, I'll be open to anything."

Some four hours north from Breisgau's southern tip, there is another player attempting a comeback from a long-injury layoff in Germany's cathedral city. Greek right attacking flanker Dimitrios Limnios has not seen a single minute of action for Steffen Baumgart's Geißböcke this year following a brutal ACL tear suffered on international duty last June.

For the 24-year-old, the timing of the injury was doubly bitter. Limnios was coming off a very successful season (eight goals and two assists in 33 appearances) on loan with FC Twente in the Netherlands. The Erdevisie side very much wanted to sign him permanently prior to the injury. Instead, the 23-times-capped international was left to rehab and fight his way back under a coaching regime that he still hasn't played for.

"I was mentally broken upon hearing the news," Limnios confided to Köln's Geißblog fan site, "I couldn't deal with it because I've never been injured that badly before. It was my first serious injury and the way back has been very tough."

At present, Limnios declared himself approximately "90 percent of the way there" to a return to full team training. The player declared that he hoped to be able to rejoin his teammates in earnest by the end of next month. The squad could certainly use his help on the right flank, particularly after it was revealed yesterday that Jan Thielmann will likely be out until mid-February with a muscle rupture.

For the moment, it looks if Limnios will not be ready to take advantage of the chance. Limnios stressed in his interview that he needed to first get back to 100 precent, then join team training, and then recapture his timing and rhythm. Despite a very disappointing year playing for the Effzeh in 2020/21 (12 appearances and no scorer points for a relegation-threatened side), Limnios expressed the wish for another chance.

"Of course I want to stay at FC," Limnios told his interviewer, "The first year here at FC was very difficult for me and also for the club. Things were not going well. That's why it was the right decision to go to Twente. That helped me. I had a good season there, played a lot. Now I want to take my chance here."



Related stories