2. Bundesliga 13:00s Recap:
Thrillers in Hannover and Kiel, Nürnberg grind out 1-0 win
By Matias Bengolo @scpaderbornen
2. Bundesliga, ey. What an afternoon of action, with a total of 13 goals in the three matches.
More 2. Bundesliga matchday 20 reaction:
Friday
Here are the recaps: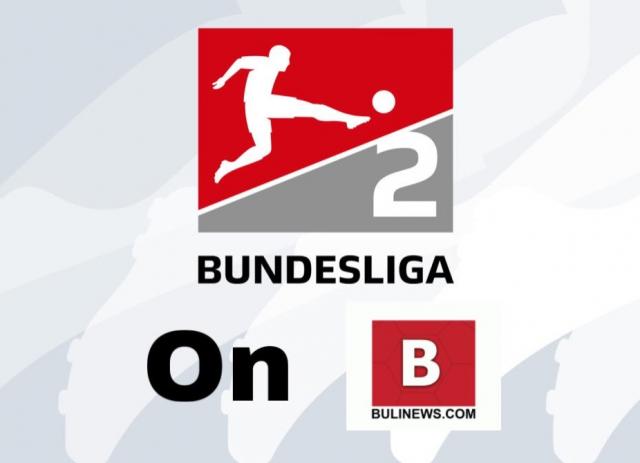 The 2. Bundesliga's Saturday afternoon session saw two topsy turvy matches and Nürnberg doing what they had to do.
Hannover 3-4 SC Paderborn

Viewers in the United States and Canada were able to watch this match, and if they woke up early they wouldn't have regretted it. Fireworks were let off just two minutes into the match when Cedric Teuchert curled an effort past Paderborn keeper Jannik Huth. Belief turned into dreamland for Hannover as just two minutes later, a mistake from Jannis Heuer presented Teuchert with another golden opportunity, and he slotted past Jannik Huth. A win for the hosts would've cut the gap to just one point and would've firmly placed them in the promotion fight. Paderborn didn't give in, and scored with the next attack of the game after Julian Justvan's pass was perfect to Robert Leipertz, and the deficit was halved. The game calmed down until the 22nd minute, when Ron-Robert Zieler -- who was making his 300th appearance -- saved two attempts, before Julian Börner fouled Robert Leipertz in the penalty area. Florent Muslija made no mistake from the spot and scored against his former club. The next goal was pivotal after the half, and it was the visitors who found it. Maxi Rohr replaced an injured Kai Klefisch, and created Paderborn's third goal. He played the ball on a plate for Leipertz's second finish of the afternoon, and his 10th of the season. Fast attacker Sirlord Conteh was brought on by head coach Lukas Kwasniok, with the aim of catching an attacking Hannover team on the counter-attack. It only took three minutes for that to happen, and SCP were cruising with a two-goal lead. It wouldn't be the 2. Bundesliga without more drama, and Hannover made it interesting with eight minutes to go when Maximilian Beier was on the end of Fabian Kunze's cross, and the hosts had some life. Despite pushing in the final minutes, Paderborn resisted and now moves a point behind third-placed Heidenheim in the league. As for Hannover, the gap widens to seven points when it could've been just one.



Holstein Kiel 2-3 FC Magdeburg

From one classic to another, up north of Hannover there was a pretty decent match in Kiel. The hosts were looking to bounce back from their 2-1 defeat in Kaiserslautern last weekend, while Christian Titz and Magdeburg were still rooted to the bottom of the table, even despite a late equalizer last week against Karlsruhe. There were 10 points separating the two teams ahead of the game, but you wouldn't have thought it watching the match. Magdeburg were controlling the possession -- elapsing 58 per cent in the first half -- but Kiel were regularly finding counter-attacking opportunities. The first goal was from a corner which was nodded home by Patrick Erras on 33 minutes. After finding the last-gasp equalizer just a week prior, Daniel Elfadli seemed to only score at the end of halves when he netted a finish just before half-time. Jann-Fiete Arp restored the Storks' advantage 10 minutes into the second half, but Magdeburg weren't going away. The visitors decided to concede possession in the second half, having less of the ball, but in turn created five shots on target. One of those was a leveling goal, right-back Herbert Bockhorn restored at least a point for the bottom club. Despite 17 shots in the second half, Kiel came out the losing side, and Moritz-Broni Kwarteng won the game for Magdeburg with just minutes to spare. The win lifts them above the relegation zone to 15th, while Kiel missed another opportunity to gain points and sit eighth.


Nürnberg 1-0 Jahn Regensburg

Nürnberg had to play 120 minutes in midweek when they won on penalties in the DFB-Pokal clash against Fortuna Düsseldorf, and in some ways, Jahn Regensburg were the perfect opponent for a boring, lifeless game. SSV coach Mersad Selimbegovic is under pressure after no wins in seven games, and a real chance of being relegated. Seven turned to eight when his Regensburg side created zero shots on target, and resigned to a 1-0 defeat in Bavaria. Nürnberg did what they had to do, and Enrico Valentini scored a single goal to win their first league game since the break, and they are finally on the winning side of a 1-0 match! Regensburg must consider firing their head coach now as they will most likely finish the weekend in last place.

Turn in later today for the 'Topspiel der Woche' which is: FC Heidenheim vs. Hamburger SV.

Sunday's matches are: Darmstadt vs. Eintracht Braunschweig, FC St. Pauli vs. FC Kaiserslautern, and Fortuna Düsseldorf vs. SV Sandhausen.



Related stories