Stegemann admits mistake in Dortmund match, speaks of "sleepless night" afterwards
By Peter Weis @PeterVicey
In a Saturday interview with Sky Germany, German match official Sascha Stegemann has admitted he made a mistake not awarding Dortmund a penalty in last night's 1-1 draw with VfL Bochum. The 38-year-old noted that he had succumbed to a sleepless night thinking about the scene.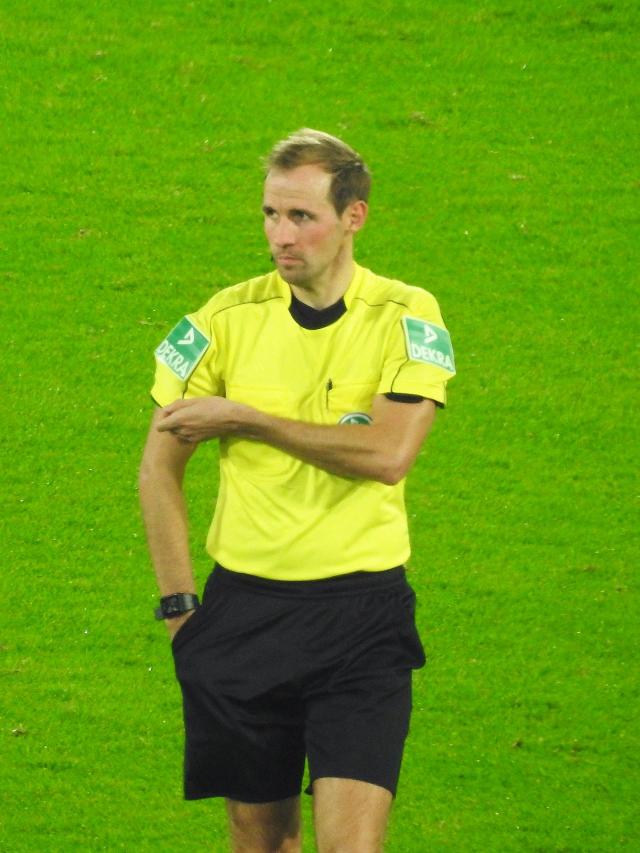 | | |
| --- | --- |
| Sascha Stegemann | Northside CC-BY-SA 3.0 |
The anger expressed by BVB actors following a controversial non-penalty-call in last night's 1-1 draw between Borussia Dortmund and VfL Bochum has expanded to include several BVB players. Jude Bellingham, Emré Can, and Mats Hummels have all issued critical comments. Hummels called match official Sascha Stegemann's non-call on a 65th minute challenge from Danilo Soares on Karim Adeyemi "one of the clearest scenes in years."


The German FA has since issued a statement admitting that a penalty should have been awarded. The referee himself - in an interview with Sky Germany on Saturday - has also conceded his mistake and offered up an apology.

This is the second time this season Stegemann has publicly admitted that he got a potential penalty call wrong. Stegemann admitted that he had made a mistake not giving Eintracht Frankfurt a spot kick on matchday 12 when, of all players, Adeyemi pushed the SGE's Jesper Lindstrøm to the ground.

"My perception was that Adeyemi puts his foot out and tries to initiate that contact, look for that penalty a bit and then falls over the Bochum defender," Stegemann told Sky, "At the end of the day I have to conclude that we made the wrong decision in that moment. Contrary to my perception, the contact is not made by Adeyemi, but by the Bochum defender. According to the replay, there should have been a penalty kick for Dortmund there."

Stegemann wished to clear the air a bit after an insinuation from his former DFB colleague Manuel Gräfe that he might have been influenced by recent diving incidents involving Adeyemi. The nine-year top-tier officiating veteran sought to deny any sort of connection to events from past weeks.

"Of course, as a referee you prepare very professionally for the games and of course you know the teams' games from the previous week," Stegemann said, "Nevertheless, no player is prejudged for the things that have happened in recent weeks. Rather, each situation is re-evaluated in the game. If the player Karim Adeyemi is clearly fouled, then he is entitled to a penalty kick, even if he tried to draw a penalty in the previous two weeks."


Stegemann made clear - as he did when admitting his mistake this past autumn - that he certainly would have appreciated intervention from the VAR team in Germany's Kölner Keller in this case. The reason that the review team did not intervene came down to the instance not being a "clear and obvious error".

"I didn't have justified doubts about my decision and I didn't get an alert from Köln," Stegemann said, "It would have made a lot of sense if I had been compelled to re-check things on the video monitor. Of course, as a ref, you'd appreciate an intervention there. At the end of the day, people in Köln make mistakes just like we do."

Stegemann made clear that he understood the protests from Dortmund. Moreover, Stegemann conveyed a poor night at the office for him had left him with a restless night. The fact that the non-call might end up being decisive in the 2022/23 German Bundesliga title-race certainly weighed on the ref's mind.

"Of course I can understand that," Stegeman noted, "After all, I'm also a footballer and a human being. Borussia Dortmund has the chance to win the German championship again after several years. When things go the way they went yesterday, you take that home with you. You toss and turn in bed. You stare at the ceiling. At some point, you get up. That's why the whole thing is still very much in my bones."



More about the match
More about the teams