Fantasy Bundesliga:
Must-haves and differentials for Matchday 30
By Christian Andrick
Ahead of Matchday 30, we have highlighted a must-have player (M) and a differential pick (D) from each game that you should consider for your Fantasy Bundesliga team.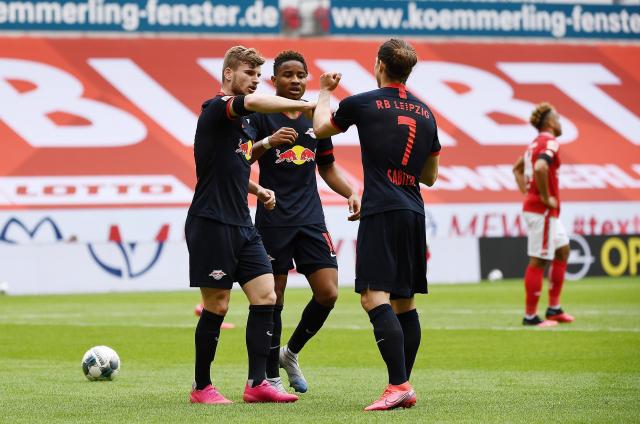 | | |
| --- | --- |
| Don't hesitate to bring in players from RB Leipzig as they take on bottom side Paderborn at home this week. | Photo: GEPA Pictures/Patrick Schreiber/Jan Huebner/POOL via Picture Point |
SC Freiburg v. Borussia M'Gladbach:
M: Marcus Thuram, Forward (BMG, 14.7M, Previous 3 scores: 21, 4, 12) - Has been fantastic since the restart, scoring 4 in 4 games. His minutes have increased every game as well, playing the full 90 in the game against Union.


D: Florian Neuhaus, Midfielder (BMG, 13.5M, 13, 11, 7) - Only owned by 1% of managers,
Neuhaus has been involved in much of Gladbach's attack. He scored against Union, and has 10 shots in his last 3 games.

RB Leipzig v. SC Paderborn 07:
M: Christopher Nkunku, Midfielder (RBL, 14.3M, 17, 7, 9) – This is a dream matchup for Leipzig. You could add almost any Leipzig player for this game including Werner and Sabitzer. Do not hesitate to have 3 to 4 players from Leipzig in your squad.

D: Patrick Schick, Forward (RBL, 11.3M, 16, 8, NP) - Since Poulsen's injury, Schick has been the man to step up in his replacement.

Eintracht Frankfurt v. 1. FSV Mainz 05:
M: Filip Kostic, Midfielder (SGE, 18.6M, 6, 21, 3) - The Serbian talisman will be looking to continue Frankfurt's winning streak after grabbing 3 points from the midweek makeup game. With 8 shots and 2 assists in his last 3 games, he should continue his ways against a Mainz team that struggles with strong wingers.

D: Daniel Brosinski, Defender (M05, 8.7M, 5, NP, NP) - Brosinski looks to be back in his starting form as captain for Mainz after missing several games. His upside is with his set-piece and corner duties.


Bayer 04 Leverkusen v. FC Bayern Munchen
M: Robert Lewandowski, Forward (FCB, 26.1M, 20, 8, 11) – The Polish superstar's ability to outscore opponents in almost every game is impossible to ignore. He should be in your squad.

D: Florian Wirtz, Midfielder (B04, 3.1M, 6pts) – After finally being added in the game, the new kid could be a decent option for such a small price tag. He will probably start on the bench but you could do worse if you need a cheap option.

Fortuna Dusseldorf v. TSG Hoffenheim:
M: Christoph Baumgartner, Midfielder (TSG, 8.6M, 9, 27, 12) – Much like Florian Neuhaus, Baumgartner has been involved in most of his team's attacks lately. He had 2 goals and an assist in the game against Cologne to go with a total of 8 shots in his last 3 games.

D: Kenan Karaman, Midfielder (F95, 5.9M, 3, 13, 11) - Karaman was playing great up to the game against Bayern which can be forgotten. His best asset is being a midfielder in the Fantasy game but deployed as an attacker in real life. In his 3 games before Bayern, he had 2 goals on 6 shots.

Borussia Dortmund v. Hertha BSC:
M: Jadon Sancho, Forward (BVB, 22.1M, 28, 3, 8) - After starting on the bench since the restart, Sancho erupted for a second half hat-trick after getting the start in his last game. Now would be the time to get him back into your squad.

D: Peter Pekarik, Defender (BSC, 2.2M, 15, 1, 8) - Since Bruno Labbadia took over Hertha, Pekarik has found a spot back in the starting line-up. Possibly the best budget option in the game at the moment, he can free up a lot of funds for you in other places.

Werder Bremen v. VfL Wolfsburg:
M: Maximilian Arnold, Forward (WOB, 16M, 11, 24, 5) - With 3 assists and a goal in his last 2 games, Arnold is on a rich vein of form that shows no signs of stopping.

D: Theodor Gebre Selassie, Defender (BRE, 8M, 10, 7, 8) - The Bremen ironman has secretly had some decent games lately, scoring no less than 7 in his last 4 games. All the while Bremen have been terrible, which speaks volumes to what he has accomplished. If Bremen were to finally break out, Selassie could possibly benefit.

1. FC Union Berlin v. FC Schalke 04:
M: Daniel Caligiuri, Midfielder (S04, 13.2M, 4, 3, 7) - If you have to pick someone from this game, at least Caligiuri will be a solid attacking option. He certainly gets up the field and something has to eventually get going with Schalke, right?

D: Marcus Ingvartsen, Forward (FCU, 5M, 6, 10, -1) - He is a cheap option with a decent opportunity to score. He has a goal and an assist in his last 2 games and anything can happen in this unappealing duel with Schalke.

FC Augsburg v. 1. FC Köln:
M: Jhon Cordoba, Forward (KOE, 12.3M, 6, 8, 10) – With Cologne boss Horst Heldt saying he was hopeful Cordoba would be playing on Saturday, his scoring should make you want to take the risk. With 2 goals and an assist in his last 3 games, Cordoba coming off in the 24th minute of the Leipzig game does make you think on whether his counterpart, Anthony Modeste, gets the start.

D: Ismail Jakobs, Defender (KOE, 1.5M, 1, 3, 0) - The previous top budget option in the game, Jakobs will be looking to get back into the rhythm of play he was accustomed to before the stoppage. After finally being back to full health, Cologne and fantasy fans will be closely watching the young homegrown starlet.


Looking for other Fantasy Bundesliga articles ahead of Matchday 30? Check out our predicted line-ups here and our general Fantasy Bundesliga tips here.



Related stories