Analysis of FC Bayern's Champions League Group
By Adam Khan @XxAdamKhanxX
Ahead of FC Bayern's Champions League title defense, we take a look at the three sides they will face in the group stages, analysing their strengths, weaknesses, key player and where they will finish in Group A.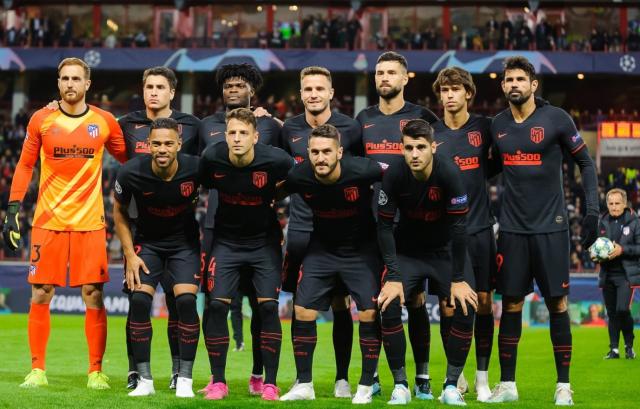 | | |
| --- | --- |
| Atletico Madrid will pose the most threat to Bayern's progression through Group A, with the Bavarians receiving a rather easy draw | Photo: Анна Нэсси, Soccer.ru, CC BY-SA 3.0 |
Reigning Champions FC Bayern München will have their sights set on being the second team to win the Champions league in back-to-back seasons. Like every team who have aspirations of making it to the final in Istanbul, they must go through the group stages, where they are matched up against Atletico Madrid, Lokomotiv Moscow and Red Bull Salzburg. Although Bayern are firm favorites to come out on top of Group A, their opponents each offer a distinct challenge that Hansi Flick's side need to overcome if they are to make it to the knockout stages.


In order for our readers to get a better understanding of the Treble winners' upcoming opponents, we have put together a profile of each club Bayern will face. We look at their strengths & weaknesses, and if they are able to put an early dent in Bayern's hopes of lifting Der Henkelpott or are just another pit stop en route of the Bavarians title defense

Atletico Madrid (Spain)
Matchday 1 10/21/2020 (A) VS Bayern
Matchday 5 12/01/2020 (H) VS Bayern

Strengths:
Atletico Madrid have long been known as a club built for European knockout competition. This was once again on show last season, with Los Rojiblancos knocking reigning champions Liverpool out of the competition. Atletico Madrid will revel in their underdog role against Bayern, willing to soak up pressure from the Bavarians and looking to hit them on the counter with Angel Correa and Yannick Carrasco's speed as well as the overlapping presence of either fullback.
Atletico also have a dangerous partnership up top, in Luis Suarez and João Félix. Félix is tasked with dropping between opposition lines, picking up the ball and driving at the defense. Suarez is more of a classic goal poacher, playing off the opposition centerbacks and looking to nick in at the right moment to finish. This relationship forces opposition center backs to make the uncomfortable decision to track Félix into the midfield and leave Suarez 1v1 or stay put and allow João Félix a better opportunity to run the game from midfield.

Defensive solidity is what Atleti are known for, showcased once again this season with Simeone's side conceding just once in their opening 4 La Liga fixtures and having been unbeaten in La Liga for 20 matches (the longest streak in Europe's top five leagues). Set up in a classic 4-4-2, Atletico use the two banks of 4 to compact the playing space for the opposition, and force turnovers. Bayern will need to be patient to beat Simeone's well drilled defense, and when chances do arise, FCB's forwards need to take them.

Weaknesses:
With Atletico so well drilled in defense, often Simeone's side have lacked the attacking impetus of other elite sides in world football. In two of their opening 4 la liga fixtures, Los Rojiblancos have been unable to find the net, both times playing out a dull 0:0 draw in what were winnable fixtures.


One man who is capable of turning draws into wins is their new striker Luis Suarez. However, it is unlikely he will be firing on all cylinders for Atleti, with the Uruguyan 33 years old and without the sharpness he showed in his early years in Spain. João Félix too has been unable to consistently perform since arriving for a club record fee of €126.00m, looking uncomfortable upfront on his own and without a goal threat of a world-class striker.

Another factor that could play a role is the loss of midfield battering ram Thomas Partey. Having left for Arsenal on deadline day, the Ghanian defensive midfielder will leave a huge gap in Atletico's midfield, with his progressive passing and defensive coverage making him a key fixture in Simeone's side last season. With Lucas Torreira coming in, Atletico have an equally pit-bullish defensive midfielder who is willing to get his hands dirty, however with the ball Torreira will offer Simeone's side less going forward. In a side that needs as much attacking impulses as it can get, the €50.00m release clause in Partey's contract could come back to bite Atletico in more ways than one.

Key Player: João Félix
Other than Atletico's swift counter attacking game, much of their attacking incentives come through the young Portuguese forward. If Félix is at the top of his game he is a handful for opposition defenders to deal with, popping up all over the pitch and with silky skills and an eye for a pass that leaves defenders bamboozled.

João Félix has been unable to consistently show his best since moving to Madrid, with just 6 goals and 1 assist in 27 La Liga appearances. If the Portuguese wonderkid is at the top of his game against Bayern he could be a huge threat, providing Atleti a creative outlet in possession. If Félix isn't able to leave an impact on proceedings, Atletico's game will feel the consequences, relying on counter attacks and set pieces to breach the oppositions' goal.

Verdict: Second Place
For all the attacking deficiencies Atletico have shown over the last two seasons, the well drilled defensive structure under Diego Simeone has proven to be a winning formula in knockout competition. In a group where Atletico along with Bayern are the comfortable favorites, we see no reason why Los Rojiblancos won't once again reach the knockout stages this season

However, we believe that Bayern have the slight edge on them, with the individual quality in attack giving Bayern the edge. Atletico have also shown in the past their capacity to drop points against sides where they are the perceived favorites. This was on display once again this season in their dull draw against newly promoted SD Huesca as well as in last season's Champions League where they needlessly lost to Bayer Leverkusen 2:1.

Lokomotiv Moscow (Russia)
Matchday 2 10/27/2020 (H) VS Bayern
Matchday 6 12/09/2020 (A) VS Bayern

Strengths:
Lokomotiv Moscow have secured qualification for their third consecutive Champions League group stage and will be looking to make it out of the group stages for the second time in their history. Russia's capital side are defensively sound, keeping a clean sheet in 4 of their last 5 Premier Liga fixtures. With a well organized structure against the ball, Lokomotiv's manager Marko Nikolić has set up last seasons runners up in Russia to keep games tight and hope to strike a lucky punch in their few chances to go for goal.

Weaknesses:
Going forward is where Lokomotiv have less to offer, with the departure of Aleksei Miranchuk to Atalanta for €14.50m leaving a gaping hole in the creative engine room of Loko's midfield. Lokomotiv have lost their chief goal threat who registered 12 goals and 5 assists in last season's Premier Liga. Without Miranchuk, Lokomotiv have been unable to score more than 2 goals once in their opening 10 fixtures. Against a strong opposition like Bayern, having a well drilled defense is simply not enough to go a full 90 minutes unscathed, and the lack of their talisman in the midfield means that Loko will have no outlet in possession to ease the pressure on their backline even momentarily.

Key Player: Vedran Ćorluka
Ćorluka will be a crucial to Lokomotiv Moskow's hopes of a Champions League miracle, with the captain an even more integral part of the Russian's defense now that his partner Benedikt Howedes announced his retirement last season. By far not the quickest center half, Ćorluka's reading of the game and leadership is what makes him such a key asset in Lokomotiv's game. With 103 caps for Croatia, Ćorluka's experience will be invaluable for the Russian side, and his ability to shepherd the team defensively, will be the difference between improbable success or another early group stage exit.

Verdict: Fourth Place
Had Lokomotiv been able to keep hold of their attacking talent Miranchuk as well as keep the partnership between Howedes and Ćorluka for another season, then maybe one could see Loko displacing one of the top outfits in Group A.
However, with Miranchuk leaving for Italy and Höwedes' retiring, Moscow don't have enough to surmount a challenge in Group A.
On top of this, an injury suffered by club captain Ćorluka means he could likely miss their opening fixture against RB Salzburg, a game they need to get something out of if they are to at least salvage a spot in the Europa League knockout stages.

RB Salzburg (Austria)
Matchday 3 11/03/2020 (H) VS Bayern
Matchday 4 11/25/2020 (A) VS Bayern

Strengths:
Having bowed out in the preliminary qualifying rounds in 15 previous attempts (yes 15!), RB Salzburg finally made it into the Champions League group stage last season. There they dazzled supporters, with their energetic high-octane playstyle, where they scored 15 goals across 6 games, and gave reigning Champions Liverpool a turbulent time in their 4:3 defeat in Anfield. Now in their second season, the 7 time consecutive Austrian Bundesliga Champions are looking to go one step further and qualify for the knockout stages.

Although the personnel has greatly changed in Salzburg, their playstyle under American coach Jesse March has not, with an equally exciting vertical game based around transition moments and pressing triggers once more at the forefront of Red Bull's philosophy. This is ultimately the Austrian's major strength: their ability to win the ball high up the pitch, and quickly turn oppositions mistakes into opportunities on goal. Under Jesse March, Salzburg pushes their entire team high onto the opponents, contesting second balls and pouncing on errors from the opponent in order to create chances on goal in the matter of seconds.

This playstyle is of course aided by the talent on display at Red Bull Salzburg, with countless future world beaters on display at the Austrian club. The likes of Patson Daka (22) and Sekou Keita (20) currently lead the Austrian Bundesliga in goals scored, with 5 and 4 goals each in the 4 games that Salzburg have played. Along with the two African forwards, further future stardom is on display in the midfield, with Hungarian Dominik Szoboszlai (19) pulling the strings in attacking midfield. Linked with the likes of Arsenal and RB Leipzig in the past window, Szoboszlai gives Salzburg an option to control possession and create chances through patient probing of the defenses back line.

Weaknesses:
Just as RB Salzburg's energetic vertical game can be their strength, so too can it be the club's downfall. Salzburg is plagued by their commitment to their identity and style of play, meaning that they are unwilling to adjust to the opposition. Although they are once more capable of displaying brilliant attacking display's like the one shown against Liverpool, they are susceptible defensively versus sides with a level of attacking talent that can bypass their press.

This brings us to the second point, namely the lack of high level competition available on a weekly basis for RB Salzburg. Although a testament to the RB Salzburg's quality that they have been able to win the Bundesliga each of the previous 7 seasons, it also shows that there isn't enough quality in the division to truly replicate the level of opponents one faces in the Champions League. If Salzburg are unable to find a balance between their attacking mentality that proves so successful going forward and defensive maturity against sides of the quality of Bayern, then we could be in for another goal fest this season in both directions.

Key Player: Dominik Szoboszlai
Dominik Szoboszlai is the next big talent coming out of RB Salzburg. The Hungarian international was a shoe in for RB Salzburg's player of the year award last season, with 9 goals and 14 assists in his 27 games in the Bundesliga. A silky dribbler with a flair and elegance to his movements with the ball, Szoboszlai will be key to Salzburg's success this season, due to his ability to dictate the flow of the game in possession. Specifically against Lokomotiv Moscow, where RB Salzburg will be tasked with controlling the game, Szoboszlai's ability to unlock the compact Russian defense will be key to shifting the tie in the Austrian's favor.

Verdict: Third Place
Salzburg are once again a side to watch in this season's Champions League, and for the neutral supporter a young exciting outfit to get behind. One must remember though just how inexperienced some of these players are, and how seldom they are tested against top sides like Bayern and Atletico Madrid. Ultimately we think it won't be enough for RB Salzburg to make it into the knockout stages, however an upset is definitely not to be ruled out, with Jesse March always prepared with an ace up his sleeve.


If you enjoyed this group stage analysis, feel free to check out our articles about Group B, Group F and Group H and follow Adam Khan on Twitter for more articles of a similar nature.



Related stories