Analysis of RB Leipzig's Champions League Group
By Adam Khan @XxAdamKhanxX
Ahead of RB Leipzig's Champions League opener, we take a look at the three sides they will face in the group stage, analysing their strengths, weaknesses, key player and where they will finish in Group H.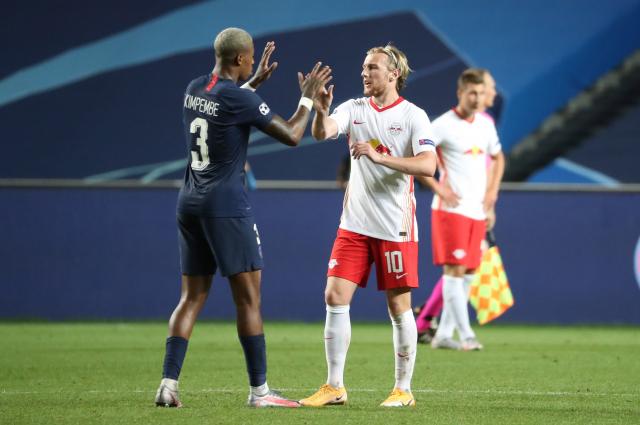 | | |
| --- | --- |
| Leipzig will be looking for revenge against PSG, with a rematch of the semi-final set to be played out on Matchday 3 in Group H | Photo: GEPA Pictures/PICTURE POINT/Sven Sonntag/Pool via PICTURE POINT |
RB Leipzig made another massive step forward last season, qualifying for their first ever Champions League knockout stage and progressing all the way to the semi-finals in Lisbon. Along the way Leipzig convincingly beat both Tottenham and Atletico Madrid, cementing their status as a true threat to the historical hierarchy of clubs that rule Europe's elite club competition.


Although losing their chief goal threat in Timo Werner to Chelsea, Leipzig will be looking to once again go deep in this competition. However, Die Roten Bullen will be immediately tested in a group that features Basaksehir FK, Manchester United and the side they went out to last season, PSG. If Leipzig are looking to repeat their feats from last season and possibly go one step further, the early pressure of a group with historical and modern European pedigree will show us just how far Nagelsmann can take his young squad.

In order for our readers to get a better understanding of Leipzig's upcoming opponents, we have put together a profile of each club they will face. We look at their strengths & weaknesses, and if they are able to stand in the way of Leipzig's chances of making it to the final in Istanbul on May 29, 2021.

Basaksehir FK (Turkey)
Matchday 1 10/20/2020 (A) VS Leipzig
Matchday 5 12/02/2020 (H) VS Leipzig

Strengths:
Basaksehir FK are no strangers to the Bundesliga, having knocked out Gladbach in last season's Europa League group stage with a 90' minute winner in Borussia-Park. The Turkish champions will be looking for a similar miracle in the Champions League this season, with Basaksehir going into Group H as clear outsiders. Nevertheless, The Owls shouldn't be ruled out after last season's miracle in the Europa League and will look to provide a similar fate to Leipzig that Gladbach endured last season.

The strength of the Istanbul side lies in their depth of experience that they can call upon throughout the side. With the oldest XI deployed in the Europa League last season (31.9 avg!), Basaksehir will be calling upon many of the same players to use their maturity against better sides with more individual talent.


In a squad that features Demba Ba, Martin Skrtel, Rafael and Mehmet Topal to name just a few, the amount of international experience and titles won is immense. This backbone will provide the Turkish champions with cool heads in moments of uncertainty where younger less experienced players could crack under the pressure.

Under coach Okan Buruk, Basaksehir have also become a solid defensive unit, conceding only 34 goals in the 34 games in the 2019/20 Turkish Süper Lig. In order to achieve such solidity with an aging squad that is unable to press effectively for long spells, Buruk has used a low defensive block, which eliminates passes into the center of the pitch. This forces the opposition wide into crossing situations, where the formidable pairing of Skrtel and Epureanu are able to head out anything that comes into the box.


Weaknesses:
Basaksehir's glaringly poor form is at the forefront of the issues surrounding the current Süper Lig title holders, with Buruk's side picking up just 4 points after 5 matchdays. Just months after lifting the title, Basakhesir are slowly slipping into a relegation battle, sitting in 19th in the 21-team Super Lig.

This drop in form has manifested itself throughout all of the Basaksehir side, however it's particularly left a mark in their game going forward. In the 5 matches this season, Basaksehir have scored in just one match, with star forward Demba Ba yet to find the target after 5 starts.

Although Basaksehir were far from a free flowing attacking force last season, the noticeable drop off in their attacking output could have a sizable impact on their ability to progress out of Group H, with chances at this level coming much less frequently than in domestic Turkish football. Although coming off a 2:0 win against Trabzonspor over the weekend will relieve a huge weight off Buruk's sides backs, the performances thus far leave question marks going into the difficult Champions League campaign ahead.

Key Player: Edin Visca
Having joined in 2011, Bosnian winger Edin Visca has become the talisman for Istanbul's new footballing force. Coming off two successive seasons with double digit contributions in both goals and assists, Visca is crucial to Basaksehir's creative game going forward.

He, like all of Basaksehir's attackers, has suffered with a drop of form this season. 1 goal in his 5 starts for the Turkish champions is far from his best, and if Buruk can get Visca quickly back to his form he has shown throughout his near decade in Turkey, Basaksehir may have just the slightest of hope going into their upcoming CL fixtures.

Verdict: Fourth place
Miracles are far from impossible for Basaksehir, with The Owls winning the Süper Lig and making it to the round of 16 in the UEL after many had written them off. However, they will need to call on a couple more favors from the footballing gods if they are to progress to this year's CL knockout stages. With the current form and generally mediocre quality when compared to the opposition they will face, it looks like European football will not be on show in the Fatih Terim Stadium in the second half of the season.


Manchester United (England)

Matchday 2 10/28/2020 (H) VS Leipzig
Matchday 5 12/08/2020 (A) VS Leipzig

Strengths:
Manchester United are a club who for the longest time embodied both domestic and European success, with 20 English league titles, and two Champions Leagues trophies to their name. Since the retirement of legendary manager Sir Alex Ferguson after the 2012-13 season, things have not been so smooth for The Red Devils, with misfires in the transfer market and questionable managerial appointments. United will be looking to tap into their historical successes to make it out of a tough Group H amidst another season that looks like it could be written off already in October.

Although United are currently far from the sides of the late 90s and early 2000s, the red side of Manchester still boasts one of the most exciting attacking outfits in the Premier League. Particularly post lockdown, where Solskjaer's side finished on 19 points in 9 matches (league 2nd best) the front three as well as Bruno Fernandes looked capable of giving any defence in Europe a difficult time. Add to this attacking force the likes of Paul Pogba as well as the two new signings Edison Cavani and Donny Van De Beek, United look once more capable of severely hurting opponents going forward.

One player who fans of United had been hoping would come in to bolster United's frontline even more was 20 year old wonderkid Jadon Sancho. The inability to get the Jadon Sancho deal over the line has left supporters justly fuming at Ed Woodward and his lack of desire in the transfer market.
However, the signing of Edinson Cavani should not be swept aside by the United faithful, with the 33-year-old a proven goalscorer in European competition. Across 62 Champions League matches, Cavani has registered 35 goals. Taking into account the inexperience in United's frontline, the addition of an experienced goalscorer will only help the development of youngsters like Greenwood. Even if Cavani is only used sporadically from the bench, he will offer important rest for United's front three, as well as a plan B option in the final stages of matches.

Weaknesses:

For all that United have to offer going forward, the Reds are extremely susceptible to horror shows at the back. €87.00m signing Harry Maguire has started this season in horrendous fashion, consistently caught out positionally and unable to organize a back four that has looked lost against quick opponents.

The poor defensive showing has ofcourse left its mark on United's recent form, with The Reds wallowing in 14th place, having conceded 12 goals in the opening 4 matchdays. If Solskjaer is unable to sort out the defensive side to United's game, United fans will endure a very forgettable return to the Champions League, regardless of how exciting their attack may be.

Although most susceptible to defensive issues in the backline, the issues do not stem solely from United's laughably poor defense. In Nemanja Matic and Scott McTominay, United have two decent options for defensive midfield. However, with Pogba and Fernandes almost undroppable from the starting lineup, a real workhorse midfielder is needed to cover the ground against the ball that neither Pogba nor Fernandes manage.

United desperately needed an energetic defensive midfielder to be brought in this summer, and unfortunately Ed Woodward once again failed to match the expectations of the fans. The lack of a purchase for this position in the summer window leaves United once again vulnerable through the center of the park, which will be exploited by players like Neymar and Christopher Nkunku.

Key Player: Harry Maguire
By far and away not the best player in the United side, Maguire's form will nevertheless be imperative to United's ability to challenge for a place in the knockout stages. United's attack is not an issue, with poor results this season not particularly leaving a mark going forward, with The Reds scoring 9 goals in their opening 4 matches. Maguire and the defense as a whole is what has caused the drop in points, and they will be the difference between embarrassment or glory in Group H.

Particularly in a group where United are up against last seasons semi-finalist and finalist in Leipzig and PSG, being able to outscore the opponent is not a game plan Solskjaer can rely on. With the world class pace and attacking talent on show in Group H's French and German contingencies, Maguire will have his work cut out for him, and will need to put in much better performances than he has shown so far this season for United to reach the round of 16.

Verdict: Third Place
Another season of challenging for the Europa League title is on the cards for United, much to the dismay of fans and the talent available in various positions throughout the side. United are simply too suspect defensively, and outscoring two of Europe's most exciting attacking outfits is not a game plan that can get them very far.

One shouldn't completely write United off, particularly if Maguire is able to recapture his form that he showed at Leicester, and bring solidity and structure to a United backline lacking both this season. However, even if this is to happen, United are far from secured a passage to the knockout stages, simply because of the quality they will be up against in Leipzig and Paris.


PSG (France)

Matchday 3 11/04/2020 (A) VS Leipzig
Matchday 4 11/24/2020 (H) VS Leipzig

Strengths:
The pain of defeat in Lisbon runs deep in the French capital, with PSG still bearing the wounds of their bitter exit at the hands of Bayern in late August. Thomas Tuchel will be hoping his star studded side can use the loss as extra motivation this season to go one step further, bringing the first Champions League trophy to French shores since Marseille in 1993.

For the longest time, PSG had been synonymous with shock European exits, with the French side unable to make it past the quarter-finals in 7 attempts before last season. Second leg collapses versus Chelsea, Manchester United and most famously Barcelona after leading 4:0 from the first leg all painted the picture of PSG as a side that cracks under pressure.

Not only have their performances in Lisbon proven these claims rubbish, PSG showed tremendous nerve throughout the knockout stages, turning around a 2:1 loss in Dortmund to win the tie 3:2, as well as scoring two late goals to save themselves from the brinks of elimination versus Atalanta.

Mental toughness is of course just one tiny aspect of what makes PSG such a formidable force this season, with the talent on show at the Parc des Princes amongst the best in Europe. PSG have arguably the best front three in world football in Mbappe, Neymar and Di Maria. Not only are each of these exceptional players able to single handedly change a game, their skill sets supplement one another superbly.

Neymar is often deployed centrally by Tuchel, given a license to find the ball where he likes. This allows him to constantly force center backs into a decision to follow him into the midfield, or stay put and allow him to pull strings from deep positions. This creates a tricky situation for the opposition, with the defender either allowing Neymar the space to creeat from the top of PSG's midfield, or closing the Brazilian down and freeing up space for Di Maria and Mbappe to run in behind with their outstanding pace.

PSG do not only rely on speed and brilliance from Neymar offensively,though, with the Parisian's one of the most confident sides in possession under Thomas Tuchel. In last season's Champions League, PSG spent just 24% of their time on the ball in the opposition's third, the joint ninth-lowest out of the thirty-two teams in the competition. This portrays a side that is patient in possession, and does not rely on long hopeful punts or forcing the ball forward when it is not on.

The likes of Mbappe and Neymar provide Tuchel with fantastic attackers who can work magic in the final third, however the German manager is unwilling to give up a patient possession game to rely solely on his attacking superstars.

Weaknesses:
PSG have come a long way defensively since their 6:1 loss to Barcelona in 2017. Nevertheless, the French champions has question marks once more at the back this year, particularly with the departure of captain and long term defensive organizer Thiago Silva. Tuchel has yet to find a centre back pairing that he can rely on this season, having tested out 4 different partnerships in their 7 matches in Ligue 1 thus far.

The one he will likely go with is Marquinhos and Kimpembe, a strong pairing with speed and technical ability on the ball that any side in Europe would be happy to have in their ranks. However, even this provides a headache for Tuchel, with Marquinhos having been a crucial part of PSG's midfield last season, where he excelled throughout their run to the final in Lisbon.

PSG can also be hurt down the right side of their defense, where Thilo Kehrer looked error prone in the Champions League final where he was run ragged by the combination of Coman and Davies. Other sides will be looking at Hansi Flick's tactics of doubling up on PSG's right-hand side, and try to replicate it themselves if up against Tuchel's side.

Key Player: Marquinhos
Of course Neymar is the first Brazilian one thinks of when a Paris superstar is debated. However another Seleção member takes our pick, namely Marquinhos. Now in his 8th season in the French capital, Marquinhos' role is bigger than ever, having taken over the captaincy from the departed Thiago Silva. Whether deployed at the base of PSG's midfield or at the heart of their defense, Marquinhos is essential to PSG's ability to build possession out of the back as well as maintain a compact defensive shape against the ball.

Verdict: First Place
It is a real toss up for who will top group H come December 8th. Although Nagelsmann will be desperate for revenge, and United will be fancying their chances after their dramatic win over PSG in 2019, Tuchel's side should have what it takes to be at the top of the pile come Matchday 6 in Group H.


If you enjoyed this group stage analysis, feel free to check out our articles about Group A, Group B and Group F and follow Adam Khan on Twitter for more articles of a similar nature.



Related stories