Nagelsmann expresses disappointment with team's second half, Krösche confirms Haidara has COVID
By Peter Weis @PeterVicey
In an interview with German broadcaster DAZN, Leipzig trainer Julian Nagelsmann gave his team mixed reviews for their 2-0 defeat of Basaksehir Istanbul in the opening round of the 2020/21 UEFA Champions League.

His club also made public the fact that Amadou Haidara tested positive for the coronavirus late last week.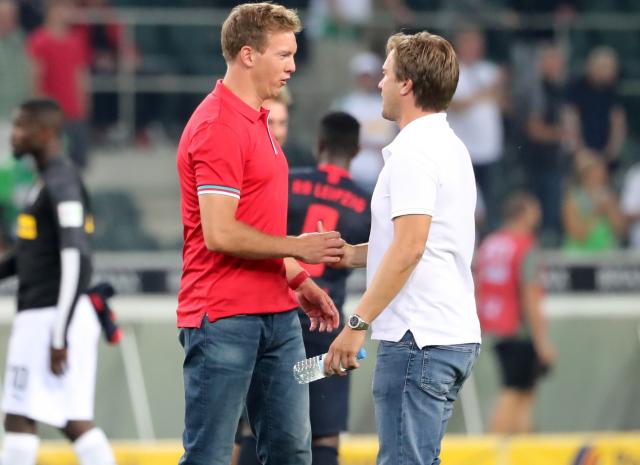 | | |
| --- | --- |
| Julian Nagelsmann (left) and Markus Krösche (right). | Photo: GEPA Pictures/Roger Petzsche |
Shielded from a steady downpour by a conspicuously large blue umbrella, head coach Julian Nagelsmann never let the smile slip away from his face as he watched his team convincingly dismantle their Turkish opposition in Tuesday's UCL match.


In a Wednesday interview, he sported a more neutral mien and offered some exacting comments.

"We have to step it up a notch and perform better," the 33-year-old disclosed in an interviews, "[the match] was not necessarily a very good one."

Nagelsmann critiqued the fact that substitute Hee Chang-Hwang didn't capitalize on numerous counter chances to "finish the game off". He noted that his players "seemed already a little tired" at this early stage of the season and emphasized that he brought on five substitutes in the second half to specifically ensure that the margin of victory would be greater.

He labelled the second-half performance "not at all good", but did concede "sometimes its just about winning."

In other Leipzig news, the club did confirm that Amadou Haidara was missing from the weekend encounter against Augsburg because he had tested positive for the novel coronavirus. Haidara joins a rapidly growing list of professional footballers who must contend with the affects of COVID directly.


An inconclusive test last week kept him in preventative quarantine over the weekend. The club now confirmed that Haidara is COVID positive, though not yet experiencing symptoms.

"He is doing well and getting all of the support he needs from us," Leipzig sporting director Max Krösche noted in a press release, "we expect him back soon."



More about the match
More about the teams
More about Amadou Haidara