Terzic's Dortmund find their feet, top Leipzig 3-1
By Peter Weis @PeterVicey
In a match that took some time time to get into full swing at Leipzig's RedBull Arena, Borussia Dortmund eventually found their creative mojo. 

Besting a very agile set of Saxons, Edin Terzic's BVB denied Julian Naglesmann's RBL a chance to go top of the table. 

The Schwarzgelben of Nordrhein-westfallen also moved themselves back into Champions League places for the first time under their new coach.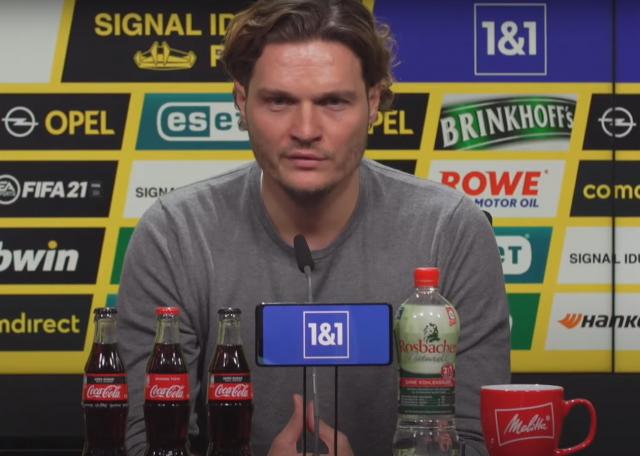 Julian Nagelsmann certainly felt confident heading into what the Bundesliga selected as its Saturday "Topspiel". For much of the initial 45 minutes, it appeared as if he had selected all the proper tactical tweaks to shut down a team possessing about as much natural talent as his own.


Edin Terzic's visiting side managed almost nothing in way of offense in the first-half. The team also lost crucial midfield cog Axel Witsel to what looked to be a brutal ACL injury near the half-hour mark.

Though neither side made any personnel changes at the half, the affair took on a very different tenor shortly after the restart. Jadon Sancho, Erling Haaland, Giovanni Reyna, and Marco Reus began initiating some intricate passing cycles on the left hand side. Two legitimate scoring chances before the 50th were the result.

In the 55th, Haaland and Reus worked a breathtaking give-and-go after a throw-in on the right side. The Norwegian striker then glided through the RB defense on an excellent individual run. Haaland then cut back for Reus again, and the BVB captain slyly redirected to a streaking Jadon Sancho with a slick back heel.

After the 21-year-old England international easily scored his second goal in as many matches, the Dortmund XI found themselves in the mood to try out some more tricks. The game opened up considerably, with the visitors suddenly looking alive on their combos. Sancho returned a cross for Haaland, after a very nice build build with Guerreiro, and the superstar striker headed home for a 2-0 advantage in the 71st.

Haaland would have his brace thirteen minutes later. Just as on the first goal, Reus supplied the assist. Leipzig substitute Alexander Sørloth pulled back a late consolation in the 89th, but his fine finish could do little to dampen what was a very promising result for the visiting team; easily their best match since November.



More about the match
More about the teams