Americans in the Bundesliga:
Reyna tops the class again after skill-filled week 28 showing
By Peter Weis @PeterVicey
Our weekly deep dive into the performances of Americans in Germany's top footballing flight contains some great news for Gio Reyna fans!

There's tons of other analysis this week as four other players and trainer Pellegrino Matarazzo also receive graded sections.

We're on the ball as usual, delivering another in-depth look of US internationals on the Bundesliga beat with another edition of our weekly column.

Do come along!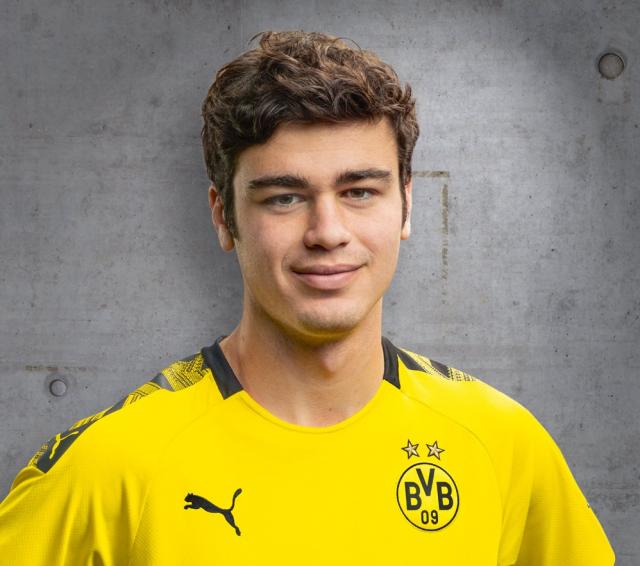 | | |
| --- | --- |
| Giovanni Reyna. | Photo: Borussia Dortmund |
In stark contrast to last week, we've a hefty column this time as six American actors factored into the 2020/21 German Bundesliga's 28th round. SV Werder Bremen striker Josh Sargent even receives a double score following the DFB-Pokal make-up match last week. It's was an eventful matchday and another exciting one is just around the corner.


Topping the list for the first time in awhile, it's a pleasure to report that "American Dream" Giovanni Reyna recaptured his "license to skill" against Stuttgart last weekend. The teenage phenom might be on the precipice of a form surge and is definitely worth keeping closer tabs on as the Bundesliga enters a jam packed "Englischer Woche".

Giovanni Reyna, Borussia Dortmund

Minutes played = 79/90, Positions played = RW

Grade = A+

As duly noted the last time this teenager received perfect marks in this column, there remains no such thing as a perfect match. Readers should also be aware of the fact that those of us living stateside for many years cannot help but carry some partiality when it comes to this lad. We grew up watching both of his parents and, as a result, find ourselves consumed by an unshakable fascination with the youngster Erling Haaland christened "The American Dream". Having conceded that for the thousandth time, a minute-specific chronicle of his day should serve to convince more. For anyone interested, there's a graphic available in the tactics column.

Looking very comfortable against the opponent he last scored a Bundesliga goal against, Gio showed some immediate swagger with an aerial win in the 1st minute. Something else one was very pleased to discover in the opening minutes was that Edin Terzic had designated the American the squad's corner taker for the match. There's some calm and confident work on the ball on display in the 7th and 10th. He got his first shot off in the 11th. Tame as the final effort ended up being, he executed an exquisite drag-dribble in the lead up. Well worth a look. Reyna stood as the primary reason the BVB generated five scoring chances inside the first quarter of an hour.

The early momentum up the Westphalians came to an abrupt stop after Borna Sosa and Sasa Kalajdzic combined to give Stuttgart a 17th minute 1-0 lead. A squad in the BVB's current run of form obviously suffers from a fragile exterior insofar as confidence is concerned. Accordingly, our American went a little M.I.A. for long stretches. He still made good individual runs in the 21st, 35th, 37th, 39th and 43rd. A clean lay off cleaning for Mateu Morey in the 31st and a great individual win against Sosa in the 36th offset some suspect losses in individual duels against Mateo Klimowicz and a skied effort into the nosebleed section of the bleachers in the 43rd.


Ideally, all match reports written about this encounter should credit Reyna with providing the inspiration for Dortmund's next two goals. Reyna picked up a direct assist on Jude Bellingham's goal two minutes after the restart. After shaking off a nasty target tackle from Marc Oliver Kempf in the 49th, he brilliantly initiated the charge that led to Marco Reus' tally five minutes later. It would be fair to say the the Schwarzgelben fed off of the teenager's energy during a exceedingly bright twenty minute stretch during which the team looked as sharp as they have all season. Reyna even showed his own rough-and-tough side by issuing a retaliatory strike for Kempf's target tackle with a shoulder in on Erik Thommy eight minutes before being subbed off.

Reyna's stats on the day were excellent. Fifty mostly slick touches. Ninety percent passing. Two shots. One direct and one indirect assist. A near 60 percent win rate on challenges. In light of this performance, it served as a surprise to see Terzic not select the American for his starting XI in the midweek Champions' League fixture. Sadly, the phenom's eventual substitution was very poorly handled. A rotative wing placement left him as one of the players who failed to close down Phil Foden's space on the decisive goal that broke the BVB's back. One hopes that Terzic looks inward rather than punishing the American by leaving him out of the lineup this weekend. Finally healthy and back in his best position, Reyna could be poised for a strong run.

Tyler Adams, RasenBallSport Leipzig

Minutes played = 45/90, Positions played = RWB

Grade = B+

Our New Yorker found himself yanked early form Leipzig's 4-1 thrashing of Bremen after some of his recurrent back problems flared up yet again. Thankfully, it looks to be nothing serious. The pulling off at the end of the first half constituted quite a shame as Adams appeared on his way to an influential performance. Julian Nagelsmann had a tough assignment thought out for him and he answered the call serviceably until he couldn't continue.

Lineup—RB Leipzig—Match 28 (5-1-4)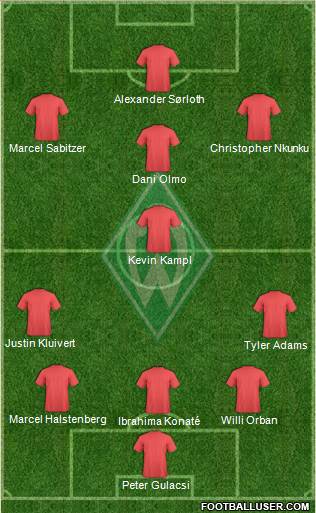 Wow. Has it been mentioned that working for Julian Nagelsmann is hard? Of course it has. The 33-year-old whiz kid structured demanding training sessions each week that center around an opponent-specific set of intricate tactics. The team sheet really left one guessing here. When Justin Kluivert settled into the left-wingback-position, an intelligent looking constellation began to take shape. Dani Olmo's opening goal in the 23rd showed it at its best.

Adams ran really well in the early going. In a different role than we've seen him in all season (though he does often play right back), the 22-year-old appeared shot out of a cannon. He tore up the right flank in the first five minutes, working a nice give-and-go with Christopher Nkunku in the 2nd and threading through a splendid slip pass in the 4th. One can find a nice dance-dribble in the 9th.

All four of the top-three-axis deployed attackers operated with a great deal of freedom thanks to the coverage Adams drew. Though not a direct factor in the first goal, the American's presence on the right certainly kept the Bremen defensive ranks preoccupied. Our New Yorker would be involved in Alexander Sørloth's 32nd minute tally. Adams played in Nkunku as part of the sequence.

Unluckily, it happened to be this very moment that one saw him pull up and favor his back. Perhaps the American had overdone it a tad. After the 32nd, he wasn't the same player. One witnessed him hobbling, grimacing, and moving much slower. Nagelsmann noted the severity of the injury and promptly ordered Benjamin Henrichs to begin warming up.

Adams switched positions with Willi Orban so that he could play through the pain in a more protected pocket. There isn't much to note after that. The decision was made to keep the American on the pitch for the final 13 minutes of the half in order to avoid burning an early sub. He only garnered six touches after the positional switch. One could say Adams only really played 32 minutes. As it so happens, they were good ones.


John Anthony Brooks, VfL Wolfsburg


Minutes played = 90/90, Positions played = CB

Grade = B-

The eminently insane seven-goal shootout that was Frankfurt-Wolfsburg featured surprisingly little involvement from the Berliner. This writer recorded only 47 touches and 36 passes. Those constitute unusually low numbers for a center halve. Mostly, the USMNT starter factored into offensive action in this one. In this respect he did rather well. It's definitely odd to mark a central defender so highly in a fixture during which his team conceded four goals. To be fair, this match was odd all around. Black was white and day was night in probably the wildest and weirdest match of the entire season.

A pair of trademark headers in the opening five minutes came from his normal position. After that, one couldn't pin him back there for a full ten minutes. Upfield action unfolded so quickly on both sides that Brooks was either joining his colleagues in midfield or tacking over to the flanks in pursuit of Filip Kostic and Erik Durm. The American spent the last five minutes of the half in the attacking zone, making his presence known on two plays inside the box. This occurred against just after the restart as he pressed high on a pair of forward headers between the 49th and 52nd.

There were some poor clearances in the 17th, 24th, 58th, 76th, and 89th. Despite these botches, one can't really say that Brooks was directly culpable on any of the four SGE goals. He even bailed his team out with some really solid work in the 15th, 26th, 69th, and 81st. The noted offensive meshing enabled him to get three shots on target. They came at 45+1, the 57th, and 83rd. Essentially, both of these teams went for broke on this particular day. What transpired wasn't easily graded football. It was nevertheless absolutely fantastic football. After this level effort and opponents Bayern's grueling trip to Paris, we're likely in for a sad snoozefest this weekend.

Chris Richards, TSG 1899 Hoffenheim

Minutes played = 90/90, Positions played = CB

Grade = C+

And so it came to pass that the Bundesliga's dreaded Monday matches are no more. A heavily commercialized initiative on behalf of the DFL officially met its defeat some years back, with the Monday fixtures promised to be scrubbed at the conclusion of the acting television rights deal. This year marked the end. Hoffenheim's 0-0 draw with Leverkusen did contain some facets of tactical interest. Even they were more stressful than interest-sustaining, however.

One got another look at Bayer caretaker boss Hannes Wolf's attempt to brute force die Werkself out of the 4-1-4-1 they were so accustomed to playing under previous gaffer Peter Bosz. It looked like Wolf tried a 4-4-2 press this time. Watching this transition in action means watching some pretty ugly football. This writer concurs with Nadiem Amiri. It's tiring watching a full size barge try to turn around in a tiny canal.

Regarding die Kraichgauer, coach Sebastian Hoeneß tried his hand at a big change himself. After week after week in the 5-3-2, he sent his offensive minded wingbacks forward to act as true attackers. Chris Richards found himself functioning in a back-four for the first time since heading to Baden-Württemberg.

Lineup—TSG Hoffenheim—Match 28 (4-3-3)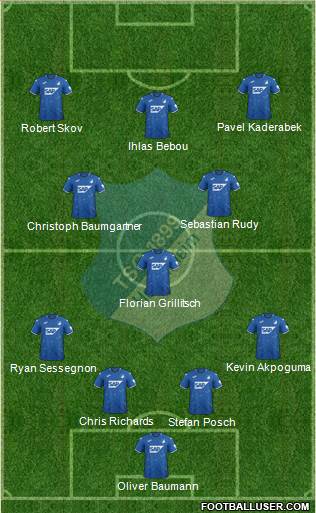 To illustrate how little those of us not privy to the training sessions know, we've been screaming for something like this for weeks. Fat lot we know as this was absolutely wretched. In unfamiliar positions, sloppy passing and a remarkably non-existent impetus forward characterized this barely humming engine. Stacking the left with Ryan Sessegnon and Robert Skov--something that looks great on paper--proved amateurishly bad. Moving Florian Grillitsch up to his own solo axis--another great visual on the tactics board--flopped big time.

Richards didn't know quite what to make of his new assignment. He neither marked nor strode with some of his previously observed sense of gusto. One can watch him wandering about appearing almost lost in the 20th, 26th, 28th, and 64th. Verticals and diagonals were either blind or shanked, as evidenced by forward lobs in the 28th, 46th, 52nd, 57th, and 89th. Some laudable positive plays of all varieties came in the 4th, 15th, 39th, 43rd, 45th, 50th, and 62nd.

This writer found himself gobsmacked afterwards when tallying up the touches. The American got his foot around the ball over 90 times, yet still seemed invisible over the course of an affair that felt like it lasted four hours. Passing and duels stood at over 80 percent despite the fact that none were really worth mentioning.

Difficult to say what exactly accounts for the discrepancy. Decent stats. Poor game. Perhaps the most one can say is that his area of the pitch saw activity, but no action. On a more specific level, Grillitsch seems to want to run this team as the midfield flight director without knowing when to call for the ball and when to lay off. The Austrian may need to take a seat.

Pellegrino Matarazzo, VfB Stuttgart

Matches = 1, Match result = L

Grade = C-

The Bundesliga's American simply made the wrong personnel calls against Dortmund last week. One noticed this immediately upon the release of the team sheet. Two defensive-line pivot runners--Waldemar Anton and Atakan Karazor--populated the XI. Ostensibly, Matarazzo made the call out of concern for the injuries his players have been suffering as many succumb to the wear-and-tear of the long fixture list. There's nothing wrong with this of course. Many of us even applauded the joint decision by Matarazzo and club sporting director Sven Mislintat to give the players three days off during the recent international break.

As frustrated as many are with the extra amount of injuries players around Europe seem to be incurring after last summer's tight turnaround, it's common football knowledge that directional-shift stagger tactics can also leave players susceptible to physical depletion. Matarazzo didn't want to put to much pressure on the returning Daniel Didavi by slotting him into the re-injured Orel Mangala's place. All fine and good. It still doesn't make sound sense to subject one's players to tactics like these:

Lineup—VfB Stuttgart—Match 28 (3-4-3)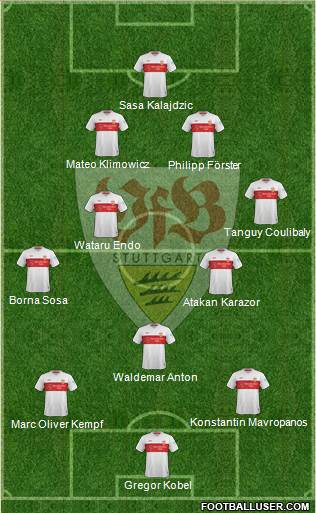 Oh vey. What a mess. Let's see if it's even possible to explain it. We're actually working three staggers here. Tanguy Coulibaly and Borna Sosa know how to work their split. Moreover, Anton should be comfortable enough in his pivot role. That is to say, he would be comfortable were Karazor not bound to his position by muscle memory and Wataru Endo not perpetually running into him in a confused track-back assignment.

This was headache-inducing. Dortmund were ripe for the taking after Kalajdzic scored the opening goal, but everyone was too muddled to take advantage of it. Endo and Karazor straightened out somewhat after the restart. The Japanese international nevertheless exhibited profound signs of fatigue after all the first-half directional shifts. The Swabian midfield diamond turned in a horribly languid performance; perhaps his worst all year.

The final two goals of the fixture had nothing to do with tactics. Matarazzo's men took advantage of long Emré Can carry to counterpunch with a 4-vs-1 breakaway. Less than two minutes later, Ansgar Knauff, simply stated, did his sparkling individual thing. Rescuing the American trainer from "D" or even "F" level, we have his much more sensible late match tactics:

Lineup—VfB Stuttgart—70th minute (4-3-3)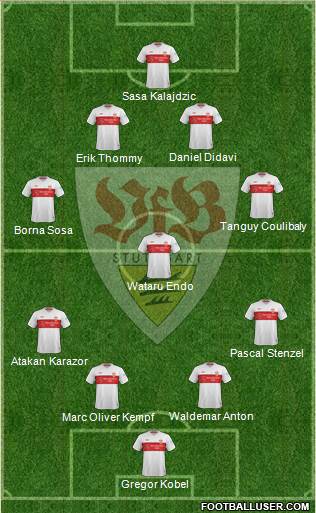 These may not have carried the day, but they at least allowed the throbbing pain in one's frontal lobes to subside. For the first time one can recall, the wingers fell into a horizontal coupling. Substitutes Didavi and Erik Thommy worked optically well in--certainly better than Klimowicz and Philipp Förster in their tight second axis deployment. The back four handled distribution better with Karazor pocketed and Stenzel permitted to operate a slight step ahead.

We shall see how the New Jersey native builds for a highly intriguing duel with 1. FC Union Berlin this weekend. The fixture has massive ramifications in the race for the Europa league places and Urs Fischer's tactics remain fairly straightforward. Ordinarily, this would constitute the perfect opportunity for Gonzalo Castro to start in the ten-spot on a solo axis. Unfortunately, the disaffected captain likely isn't the right choice at this juncture.

It would be so much easier if Matarazzo had the right players to complete a back-four.

Josh Sargent, SV Werder Bremen

Matches played = 2/2, Matches started = 2/2

Minutes played =  156/180, Positions played = LS, SS, RW, LW

Cumulative Grade = D+

We've actually two matches to score insofar as Sargent is concerned. The Missouri marvel played in last week's probably (by most) forgotten DFB-quarterfinal make-up against SSV Jahn Regensburg. Pokal fixtures count in this column as well as German teams play domestic opposition from one or another Bundesliga tier. As some have surely noticed, the UCL and UEL fixtures don't count, the title of this column not being "Americans in the Champions'/Europa League."

With that bit of obvious housekeeping out of the way, we should definitely praise Sargent for his work in the long-delayed domestic cup quarterfinal. A stable back-four, combined with a softer second-tier opposition, led to this American getting some quality looks at goal in. He amassed 47 touches in the (unofficial) count, assisted on two efforts, and got a shot off himself.

Lineup—Werder Bremen—DFB Pokal (5-3-2)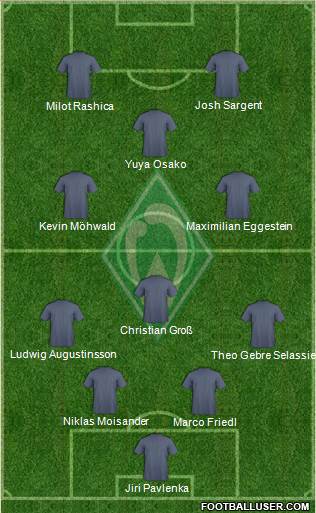 With a little more help up front than he's used to, he found himself serviced in the box already in the 3rd. Regrettably, it caught him by surprise before he could make much of it. Positioned with better anticipation, he came much closer to toeing home on a very good Rashica cross in the 19th. He came close again at the near post in the 36th. Regensburg defended heroically in both cases.

After four neat connect passes in the initial seven minutes after the restart, he did play a small role in the sequence leading up to Osako's goal. Sargent set-up a Kevin Möhwald in the 63rd and Osako again in the 67th before launching his own try minutes before being subbed off in the 73rd. Trainer Florian Kohfeldt had every reason to be proud of this "B" level effort and surely looked to save his increasingly more confident attacker for the weekend.

Unfortunately, the weekend came and we all had to watch this:

Lineup—Werder Bremen—DFB Pokal (3-4-3)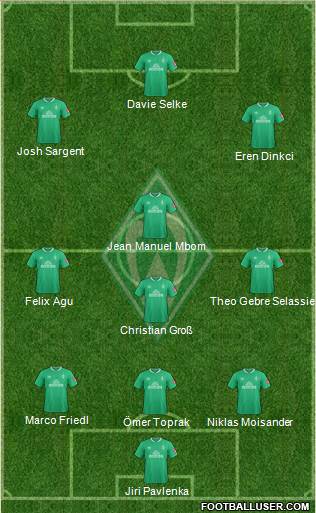 Very difficult to see who was leading the back line on this day. Ömer Toprak and Niklas Moisander switched in and out of the centralized position. Christian Groß, who had operated so well at sweeper during the Pokal, took his turns as well. Small wonder Nagelsmann's Leipzig were able to make a mockery out of this by rushing out to a 3-0 lead. The Hanseaten had their skull split open before Sargent could get five touches in.

The day got off to a horrible start with a clumsy challenge on USMNT teammate Tyler Adams in the 10th. Kudos to Kohfelt for trying a unique three striker set that saw him dust off Davie Selke and give Eren Dinkci his first Bundesliga start. It remains highly questionable that RB constituted the right opponent to try this out against however. Dinkci lasted only 45 minutes after he proved the next Nick Woltemade minus a talent factor of ten.

It came as no surprise to see Sargent not even get a ball remotely aimed in his direction until the 21st. He connected on one pass (forward for Selke four minutes later) before disappearing completely from the action until losing duels in the 31st and 37th. Dincki showed his poor field vision by failing to play the wide-open American in the 34th.

Poor giveaways in the 57th and 65th made one quickly forget a nice touch in the 62nd. Kohfeldt made one of his triple substitutions at the half. The 38-year-old trainer has been perhaps more keen than any other Bundesliga head-coach to take advantage of the COVID-influenced five-sub rule change. A writer cannot recall one single instance in which it really worked.

Sargent and Selke tanked even harder in the second half with Rashica taking the place of Dincki. No member of the trio demonstrated any sense of coordination with respect to the attacking lanes. In spite of the fact that Rashica got on the scoresheet via a converted handball penalty, all four attackers used in this match deserved failing marks. Hence, our American gets the grade from his Pokal performance pulled down on the average.

Interested in still more Bundesliga? You can now follow Peter on his new twitter profile, where he loves to share his personal favorites from German football journalism.



Related stories