Americans in the Bundesliga:
"Assist-meister" Reyna leads the pack in week three
By Peter Weis @PeterVicey
Another thrilling round of Bundesliga action is in the books.

How did the US players and coach fare in round three?

As always, we'll have a detailed look.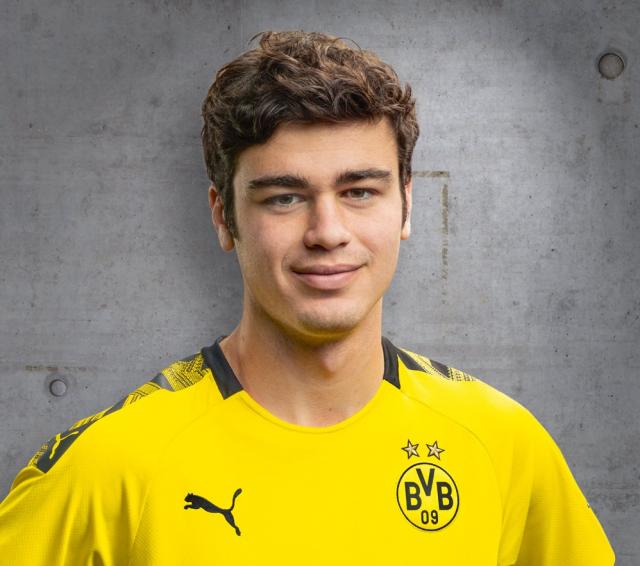 | | |
| --- | --- |
| Giovanni Reyna. | Photo: Borussia Dortmund |
Five Americans found their way onto the pitch in the 2020/21 German Bundesliga's third round. The one US International not receiving a grade this time is Eintracht Frankfurt's Timothy Chandler. The 30-year-old came on far too late in his side's 2-1 victory over Hoffenheim to be marked. It should still be noted that he looked fit and even got a late shot off.


Two important pieces of news accompany the analysis of this round. First, Julian Nagelsmann left American USMNT star Tyler Adams out of his bench squad will ill-defined back problems. Additionally, future American prospect Chris Richards made his first Bundesliga start for German giants FC Bayern München.

Giovanni Reyna, Borussia Dortmund

Minutes played = 80/90, Positions played = LW, RW, SS

Grade = A+

A spectacular match for the teenager. While there may be no such thing as a perfect game of football, one has little choice but accord perfect marks to the young phenom for engineering a complete 180 degree turnaround compared to last week's performance. Days like this serve to remind that we watch one of the all-time greats blossom before our very eyes.

As promised in the tactics column, we'll examine Lucien Favre's weekly adjustments in greater depth.

Lineup—Borussia Dortmund—Match Three (3-4-3)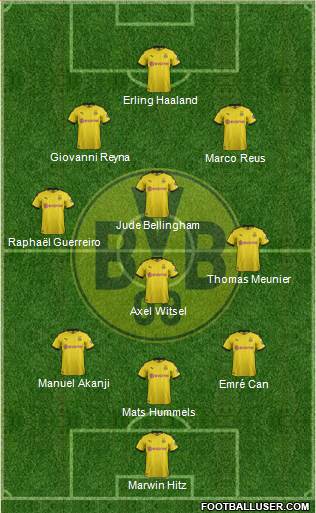 Neither major personnel nor significant formation changes materialized. One can nevertheless see that the BVB trainer employed minor positioning tweaks more conducive to the individual talents of players in his preferred starting XI. Chief among these, Thomas Meunier and Raphaël Guerreiro were no longer expected to keep a horizontal line with one another.

Favre compromised. The more defensive minded Frenchman, stationed at the halfway line, could tuck in rearwards left whenever one of the center-backs carried up the right flank. One could actually see repeatedly Favre emphasizing this to the man he acquired last June in sideline discussions. The Swiss coach was constantly in Meunier's ear.

In the midfield, Jude Bellingham once again operated without a direct partner. Reyna and Marco Reus took up inward wing-attacker positions with heavy rotation. They were clearly encouraged to switch sides often to make the attack more unpredictable.

As much of an improvement as this was, the BVB advances still maintained a somewhat passive tone. Counters didn't look especially menacing. The first legitimate chance of the match only came when Erling Haaland opened the scoring in the 31st.

Reyna stood out as the lone bright spot amid the early mediocrity. One can watch his execute two slick drag dribbles on the right in the 5th and 6th. Within a couple minutes he produced a scintillating solo run on the left. He and Reus truly did an excellent job on their flank rotations.

Another sublime dribble followed by a gorgeous switch can be found in the 16th. The American led the charge elegantly in the 23rd, bombing up the left flank with such blistering speed that Guerreiro found himself unable to catch up.

The manner in which Reyna garnered his first assist on the day demonstrates just what an amazing natural footballing talent he is. Focused footballers always stay on the ball. Seconds after having a poor pass picked off, he lunged onto a loose ball, turned on the turbo at precisely the right moment, and set-up Haaland with an inch-perfect no-look pass off the outside of his boot.

It got even better. Three minutes later he treated everyone to absolute technical masterclass of an eight touch run just outside the 18. It was jaw dropping good. His final distance effort didn't miss by much. More slick tricks were on display in a nice 37th minute combo with Guerreiro.

Reyna would grab his second assist off a corner service finished by Emré Can in the 47th. He should have gotten his third after a searing run up the right and perfect cutback for Axel Witsel in the 52nd. Haaland's 66th minute goal owed everything to Reyna's set-up. Few non-veteran footballers could hip swerve past Keven Schlotterbeck the way this American did.

This complete performance was further enhanced by the fact that those irked by the ongoing controversy surrounding fouls involving Reyna received no new material. The American played hard and only found himself on the deck after bravely contesting 50-50s. A targeted hold in the 43rd constituted the only time his opponents appeared to deliver him a cheap shot.

John Anthony Brooks, VfL Wolfsburg

Minutes played = 90/90, Positions played = CB

Grade = A

An (unofficial) count of 124 touches illustrates just how vital this American was to his team on this particular day. Wolves coach Oliver Glasner had to engage in some more forced tactical improvisation in his defensive ranks after Renato Steffen tested positive for COVID.

Jerome Roussillon thus switched over to the right to fill the vacant fullback position Ridle Baku will eventually occupy. Brooks paired with the returning Maxence Lacroix. Joshua Guilavogui stationed just ahead of the central defensive line.

With Guilavogui plainly fatigued following the hectic VfL Europa League qualification schedule and Lacroix far from 100 percent fit, Glasner relied upon Brooks for an authoritative match. He got it. The American answered the call.

One can see Brooks quarterback the offensive builds in the 7th, 14th, 19th, 60th, and 71st. Unable to break the deadlock against Augsburg late in the match, Glasner even sent the Berliner forward to operate as a third striker. This occurs sometimes as this particular American remains a scoring threat.

Brooks got off two chances in the final stages of the 0-0 draw, both off set pieces. He chested down a ball beautifully in the 86th and unleashed a lovely shot off the half-volley. Unfortunately, the fine effort was blocked.

Three minutes into injury time he should have had the match winner. He rose well to meet an excellent arcing delivery, but somehow screwed the header wide. An uncharacteristically poor finish capped the day. It nevertheless doesn't define it.

On the whole, Brooks turned in a very strong performance. He won nearly three quarters of his duels, racked up well over 10 km of running, and remained involved in virtually all defensive and offensive set piece situations. Those interested can find one of his trademark towering headers away in the 59th.

One sees him retaining a starting XI role after a day like this.

Chris Richards, FC Bayern München

Minutes played = 62/90, Positions played = RB

Grade = C+

The debutant. What an amazing opportunity for one of Bayern's major breakthrough candidates. Acutely aware of the fact that his club were actively engaging in attempts to sign a different right fullback for the slot behind Benjamin Pavard, the 20-year-old Southerner surely knew that he had to make this one count. Was he nervous? Yes, unfortunately. It showed.

First the good news. The FC Dallas youth academy prospect attained his first Bundesliga assist in his first league start. Following some nice work on the overlap, the American prospect supplied Robert Lewandowski with a beautiful cutback in the 51st. The control and finish meant that the actual tally was all Lewandowski, but Richards put in some solid labor nonetheless.

Richards might have garnered two more assists on the day. He whipped in a splendid cross for Thomas Müller on the 36th minute disallowed goal. Lewandowski's 40th minute tally began with a sweetly threaded through ball from the American. Alexander Schwolow's magnificent parry cancelled out his recorded involvement of the goal. The assist instead fell to Serge Gnabry.

One saw glimpses of what the Southerner is capable of once he settled down and picked up some confidence. He made a nice recovery run in the 31st. He was quick on the flanks and showcased some reliable ball control in the 43rd, 45th, 46th 47th, 49th, 54th.

Regrettably, a plethora of poor touches means that these fleeting moments cannot up the overall grade. Up until the 43rd, all touches were sloppy and directed back. He exhibited horrible ability on the ball consistent with very timid and hesitant body language. Some of the more egregious examples can be found in the 12th, 17th, 24th, 31st, 33rd, 35th, 38th, 39th, and 42nd. He also performed very poorly on duels.

Richards deserves credit for eventually shaking the butterflies and playing his way into the match. In Hansi Flick's view, however, the likely diagnosis will be that his young prospect isn't quite ready for prime time just yet. Bouna Sarr will be the back-up right full back.

Pellegrino Matarazzo, VfB Stuttgart

Grade = C

The Italian American trainer once again furnished intricate tactics well-tailored to the opponent he faced. The latest constellation appeared specifically intended to spread out the two midfield axes in a deliberate effort to frustrate Peter Bosz's short-pass possession game.

Lineup—VfB Stuttgart—Match Three (3-4-2-1)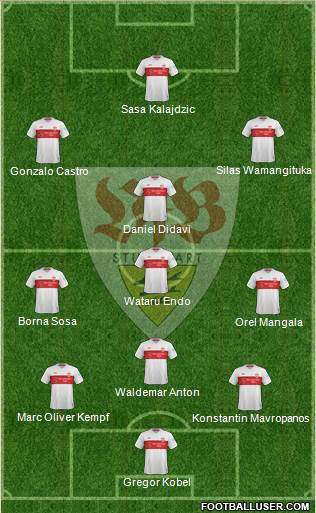 Much as was the case last week, it took considerable time and focus to divine the intent of this arrangement. A highly mobile Waturu Endo didn't settle into a recognizable assignment until about the 22nd minute. Borna Sosa operated on his own independent axis for large stretches. The returning Konstaninos Mavropanos sometimes lurched all the way to the left.

Though the defensive posture of this constellation took time to sort out, the VfB's plan-of-attack for the day remained simple: Get the ball out to burgeoning talent Silas Wamangituka out on the right wing. The primary reason this didn't work out so well this week concerns the fact the Wamangituka was pitted against another one of Africa's most promising young stars, Edmond Tapsoba.

The Wamangituka vs. Tapsoba battle proved intriguing enough that one could lose oneself in it all afternoon. This fixture truly was a treat for African football enthusiasts like this writer. Even when the overall level of play degenerated, one could still focus in on the jockeying of that pair.

A worthy jousting contest notwithstanding, one must say that these tactics weren't particularly effective. Furthermore, clumsy set-piece execution suggested that Matarazzo didn't direct his team properly on the training pitch this past week. Die Schwaben looked very vulnerable on an early corner. No one picked up Patrik Schick on the 7th minute corner that led to the opening goal moments later.

Between the 20th and 24th, the Badeners struggled with build-up play on several sequences. On offensive set-pieces, the Stuttgart targets looked very disorganized. A 29th minute corner that produced a chance was one notable exception whilst other such dead-ball instances in the 34th and 37th belied a lack of preparation.

At the close of the first half, Mavropanos found himself stranded when no one else on his squad attempted a timed run. Approximately ten minutes after the restart, Sasa Kalajdzic found himself overwhelmed with options after everyone started at the same time. Communication seemed an issue.

Having made four substitutions, Matarazzo finally switched his tactics with roughly twenty minutes to go.

Lineup—VfB Stuttgart—71st minute (3-4-2-1)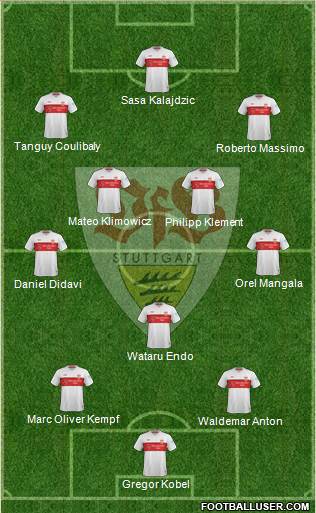 It was a decent construct that admirably aimed for the equalizer. Pairing Philipp Klement with Mateo Klimowicz got the offensive engine going. One nevertheless notes that Leverkusen nearly took advantage of the amount of space just behind the halfway line to earn the lion's share of the remaining chances. Had die Werkself finished better, we might be discussing a different outcome.

The equalizer would come on another shaky set-piece overruled by Klement's fantastic delivery and Kalajdzic's well won header. Stuttgart were able to split the points with their opponents despite not playing an especially strong match.

The American trainer got much right in this one, but the glaring problems with both attack builds and corner kicks imply suspect preparation in the weekly training sessions.

Josh Sargent, SV Werder Bremen

Minutes played = 81/90, Positions played = LS, CF

Grade = D-

Bremen's 1-0 victory over Arminia Bielefeld may be considered the weekend's dud. Even a goalless draw like that which took place between VfL Wolfsburg and FC Augsburg supplied suitable entertainment. The Missouri Marvel's club fixture descended into the realm of the putrid.

A victory for the Hanseaten came almost despite a perplexing and impotent tactical construction drawn up by Werder trainer Florian Kohfeldt. The 38-year-old's ideas sometimes remind one of the odd shapes David Wagner fruitlessly employed in his efforts to stop the Schalke slide.

Lineup—SV Werder Bremen—Match Three (4-4-2)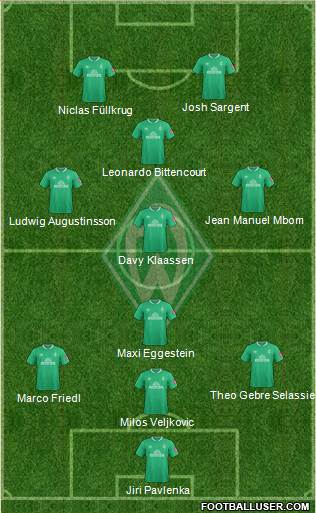 Lacking options on the left, defender Ludwig Augstinsson moved all the way up to serve as a proper winger. Leonardo Bittencourt took the ten spot, working as the short striker on the few genuine attacks. Kohfeldt might have, as he has in the past, given that role to Sargent. Instead, the American lingered lost for long stretches in an uncertain role.

Sargent's first few touches were rearward and diffident. When he did get more confident touches in, the acceleration wasn't there. Examples can be found in the 6th, 16th, 26th, 51st, and 62nd. The American went missing for large stretches of the match. He remained nowhere to be found, perhaps because he wasn't entirely certain where he was supposed to be.

An (unofficial) count puts him at 22 touches for the afternoon. He was only involved in 7 direct duels and played a paltry 14 passes. About the only positive came in the 21st when he executed a nice turn in the lead up to the disallowed goal. Sargent still allowed himself to be too easily dispossessed on the play.

One shouldn't have to strain to locate a striker on promising charges. In sequences taking place in the 45th, 60th, and 69th this American wasn't anywhere near the action. One genuinely hopes that he isn't in for another season of mercurial form swings thanks to curiously shifting tactics.



Related stories