Bielefeld open up the Alm:
13,750 live fans on July 31st and August 14th
By Peter Weis @PeterVicey
After waiting 12 long years to cheer their team on in the top flight, Arminia Bielefeld fans now have concrete dates to look forward to.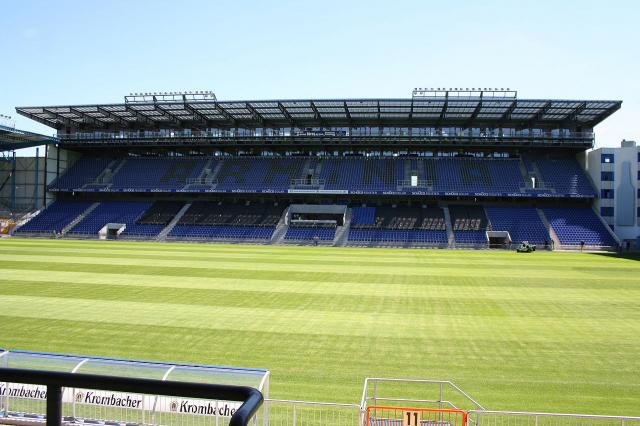 Photo: Andy1982 ,CC BY-SA 3.0

The rules governing fan re-entry in football stadiums across the Bundesrepublik this coming autumn generously accord 50-percent-capacity at all venues, provided attendance does not exceed a 25,000 person cap. Such an upper limit poses no problem at the old Bielefelder Alm (or Schüco Arena), a footballing temple renovated largely through bond issues to the local populace.


Football remains a religion in North-Rhine Westphalia. The population of the northern Teutoburg fringes treat their local football club, named after Arminius of the Cherusci, as a deity of sorts. For the citizens of Bielefeld, the COVID pandemic could not have been more tragically timed. Locals who purchased club-issued bonds, then forgave the DSC for defaulting on them, were not permitted entry to the temple they effectively financed.

Some 5,400 live spectators were allowed through the turnstiles to watch a matchday two fixture against Köln on September 26th, 2020. This constituted the only time that fans witnessed top flight football in Bielefeld live. Rising infection rates in East Westphalia meant that the gates were quickly shut again. Many feared that the DSC would be relegated, possibly excluded from the top footballing tier for another decade or so.

Miraculously enough, Bielefeld managed to stave off relegation and give their fans another chance. As per the club's own announcement, that chance shall come in precisely two weeks time. The DSC confirmed on Saturday that 13,750 fans will be allowed in for a preseason test-fixture against FC Twente on July 31st. The exact same number may attend the season opener against Freiburg on August 14th.

The Westphalians take full advantage of the 50-percent federal allowance as pertains to their stadium capacity. Implementation will be accomplished via what has now been termed the German "3G" concept; something everyone shall become inured to over the coming year. In addition to demonstrating proof of either vaccination or recovery, prospective attendees will submit to rapid antigen tests at the gate.

Germany's "3G" concept refers to three words:

"Geimpft" (vaccinated), "Genesen" (recovered), "Getestet" (tested).



More about the match
More about the teams