Americans in the Bundesliga:
Three actors attain top level in week eight
By Peter Weis @PeterVicey
Some USMNT enthusiasts find themselves in a bit of a cranky mood following some less than stellar CONCACAF qualifying fixtures (including a 0-1 loss to Panama) during the October international break.

Though things may not quite be going to plan in the North American Octagonal, the news out of the Bundesrepublik remains largely favorable.

Two U.S. footballers attain "A-level" in the latest edition of our scouting column. Those feeling a bit tepid about USMNT head-coach Gregg Berhalter will also be pleased to know that both club head-coaches working in the Bundesliga are doing quite well.

As always, the work of trainers and players alike are appraised in our "Americans in the Bundesliga" column.
| | |
| --- | --- |
| Joe Scally. | Photo: Borussia Mönchengladbach |
There are once again eight graded sections this week as we take our customary look at the work of Americans active in Germany's top footballing flight. Giovanni Reyna of Borussia Dortmund is once again missing this time as his progress back to match fitness looks to take a bit longer. Leipzig's Tyler Adams was also given a day off by head-coach Jesse Marsch after returning from USMNT duty across the Atlantic. The same was intended for Chris Richards, but the Hoffenheim defender ended up making an appearance anyway.


We will discuss both Richards and Marsch in the graded sections below. The two Americans of SpVgg Greuther Fürth, Timothy Tillman and Julian Green, also saw relevant action. John Anthony Brooks of Wolfsburg, who remained in Germany for rehab over the break, started for Mark van Bommel over the break. So too did former USMNT starter Timothy Chandler of Eintracht Frankfurt and likely future starter Joe Scally of Borussia Mönchengladbach.

The travails of the one remaining actor, trainer Pellegrino Matarazzo of VfB Stuttgart, continue to fascinate. Injury and COVID woes compelled the trained Mathematician to seek out still more innovative solutions in his weekend matchup. Matarazzo earns "A-Level" for what he managed to piece together. Joining the trainer at the top level this week, we once again have Scally and Richards.

Joe Scally, Borussia Mönchengladbach

Minutes played = 81/90, Positions played = RWB, LWB, LB

Grade = A

There's something new to report from the "Scally-track" beat. Namely, the 18-year-old was substituted off for the first time this week. Hard as it may be to believe, the young CFG New Yorker actually hadn't missed a minute of competitive action prior to the most recent league round. After failing to make a single bench squad last spring under previous head-coach Marco Rose, Scally is now an indispensable part of Adi Hütter's plans. Thus far in this young season we've seen the BMG trainer plug the American teenager in wherever he needed some exigent stability.

Sometimes fundamental change comes quickly in football. In this case, that applies to Hütter's tactics as well. Insofar as Gladbach are concerned, we're not far removed from almost indecipherable strategies that led us to consider Gladbach in a state of total disarray. It was only three rounds back that we were talking about Hütter desperately fumbling about for his new "Büffelherde". All of a sudden, much as was the case later last season with Frankfurt, experienced head-coach Hütter has a straightforward starting strategy and predictable "close out" tweak.


There's no sense in offering a fresh draw-up in this week's column. Hütter's tactics were exactly the same as those documented in the round seven weekend column. The Austrian trainer begins with a 3-4-3 utilizing Scally and Luca Netz as the wingbacks. When it comes time to introduce attacker Patrick Herrmann later in the match, the player who serves as the squad's "super sub" takes the place of Netz. At this point, Scally shifts over to the left to serve on the side he began the season on. The switch didn't produce the same fireworks as last week, but this American was still very good this time.

As we covered in this week's tactical bulletin, Stuttgart-Gladbach wasn't the most enthralling of football displays. Some of the predictability associated with Hütter's carbon-copy tactics did hinder the NRW hosts from getting much going offensively. Scally was hindered as well, prone to long stretches of anonymity amongst a low recorded tally of only 51 touches. On the ball, there were bad reads/turnovers in the 4th, 10th, and 57th. The CFG New Yorker also had some difficulty catching up with the attack in the 21st, 49th, and 79th. These ultimately proved minor glitches in an otherwise stellar performance.

One can watch Scally make some slick moves in the 3rd, 6th, 11th, 19th, 50th, 54th, 62nd, and 77th. Plenty of nice crosses and sharp runs amidst this long ledger. The American got another shot on target in this week in the 68th. He probably should have gotten another goal this round too. A brilliant sequence of touches in the 5th had him through in front of the net. These frustratingly got wiped clean when match official Dr. Felix Brych whistled Scally down for a ghost foul.

In general, all is well in the land of the American who has turned into the talk of footballing circles across the Bundesrepublik. Disappointed USMNT team fans can permit their spirits to be buoyed by the fact that a highly versatile fullback/wingback is one the way. Scally continues to perform well on both sides of the pitch in both advanced and more tucked away roles. Replace his club teammate Luca Netz with Serginio Dest and something quite promising rests on the horizon.

Pellegrino Matarazzo, VfB Stuttgart (Trainer)

Matches = 1, Result = D

Grade = A-

Another week means another check-in with what's easily the most fascinating "damage control" project in the German top flight. As noted in virtually every other previous installment, a peak at what the VfB head-coach can manage to cobble together on a Saturday afternoon furnishes great fun and intrigue. As if the New Jersey native didn't have enough to deal with injury-wise, the ridiculous amount of positive COVID tests thinned his herd further.

The basic positional assignments of the Colombia University man's XI remain open to interpretation. There exists so many things one needs to keep an eye on whenever watching Stuttgart play on an overhead tactical came. From the "split stagger" positioning of Borna Sosa and his positional opposite to the always hard to pin down roving captain Wataru Endo, different sets of eyes sense different things.

In this writer's opinion, the team operated with tighter horizontal axial chains this week.

Lineup—VfB Stuttgart—Match Eight (3-4-3)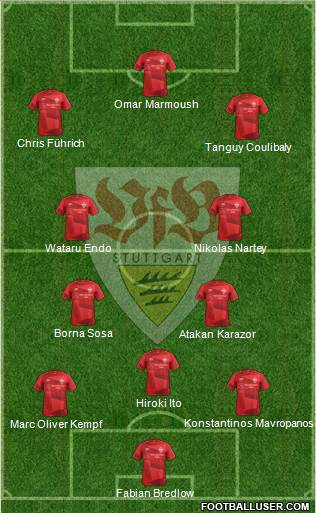 Captain Endo had to keep close to newcomer Nikolas Nartey, whom you've surely never heard of. The Danish U21 international once arrived in Köln for a sizable transfer fee. Following several knee surgeries, Stuttgart picked him two years ago and proceeded to organize a couple of loan-outs for him in the second division. This was only his second Bundesliga start.

Given some of the problems Hiroki Ito has had with running pivot, Sosa and Atakan Karazor were required to close ranks ahead off the back-three. Tanguy Coulibaly thus appeared to work a rotation plane with Chris Führich rather than the Croatian left-back. The overall aim called for a compact, steady-state set of assignments mainly designed to match Gladbach zonally.

By and large, it worked. Matarazzo deserves immense credit for entering this one prepared. The VfB trainer even introduced Wahid Faghir--the Danish phenom more have surely heard of--with a quarter of an hour remaining. Führich worked behind the 18-year-old as an effective service striker and Stuttgart were by far the more compelling team down the stretch.

It says a great deal about Matarazzo's personnel management that he proved capable of turning his heavy underdogs into the more courageous bunch in the late going. Some late heroics from BMG keeper Yann Sommer precluded the Swabian guests from nicking a win off of their Westphalian hosts. This was simply a job well done under difficult circumstances from the American trainer.

Chris Richards, TSG 1899 Hoffenheim

Minutes played = 64/90, Positions played = CB

Grade = A-

Initially scheduled for a day off, the Alabama native found himself thrust into the action on Friday night when Pavel Kaderabek's first-half injury forced the Czech international off early against Köln. We touched upon TSG trainer Sebastian Hoeneß' tactical construct already in the weekend column, also mentioning that this American played out of position for the duration of proceedings.

Here's a visual of where Richards played in the constellation.

Lineup—TSG Hoffenheim—37th minute (5-2-3)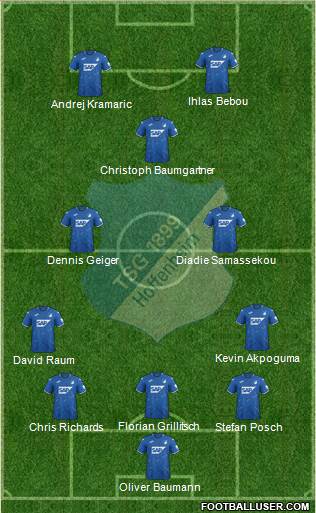 Some of the 21-year-old's more effective performances in recent weeks have actually come when he was slanted right. A slightly different task this time didn't phase him at all. Even when he either lost a ball or picked out a poor pass (37th and 46th), he was always quick to recover. Not too much critical one can say about this American's day. There was an aerial loss as part of a shaky start to the second half in the 47th. He also blew a mark in the 60th.

Apart from these two stretches were he looked a little unfocused, the new USMNT starter produced another gem. Easily the most impressive aspect of this youngster's game remains how calm and mature he is on the ball. The former FC Dallas product continues to display maturity well beyond his years. One can find examples in the 40th, 53rd, 59th, 62nd, 66th, 70th, and 80th.

Those with access to the tape can also watch what were frankly some phenomenal aerial wins on this day. Instances in the 38th, 52nd, 55th, 58th, 72nd, and 84th are sure to convince anyone still skeptical of Richards' heading ability. He absolutely demolished Mark Uth on perhaps the best one in the 55th. Though note directly involved much offensively (only part in the sequence on Stefan Posch's fifth goal), Richards ran nice counters in the 41st and 63rd.

It was honestly difficult to decide whether to accord Richards perfect marks this week. This American deserved it in so many ways. One factor influencing the decision concerned that he would have been culpable for a goal had the offside flag not saved him at the hour-mark. There's also the fact that Richards will definitely play better matches and earn perfect marks a few more times this season.

An "A+" grade should be reserved for his command performances, of which this columnist stands convinced there shall be more of between now and the summer. Hoeneß may have Richards ready for the Bayern starting XI when it comes time to report back to Bavaria next summer.

Timothy Tillman, SpVgg Greuther Fürth

Minutes played = 72/90, Positions played = AM

Grade = B+

Well. In a very specific sense, many of us Bundesliga observers got our wish. We received a chance to see Timothy Tillman play from the start in the central distributive role. Naturally, we also wished that Bochum-Fürth would prove a worthwhile football match. This heartfelt desire was not granted.

Throughout the course of the match, the elder Tillman brother's face told the full story. His chance came to little without adequate support.

Lineup—Greuther Fürth—Match Eight (5-3-2)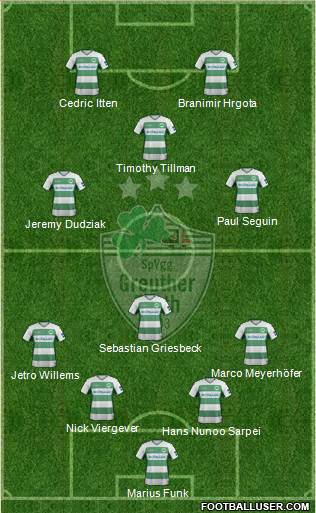 Trainer Stefan Leitl might consider keeping this in place as Tillman didn't do a bad job at all. He drew coverage as a decoy on a creative approach in the 5th. Before ten minutes has elapsed, the German American had already successfully fed balls to both Cedric Itten and Branimir Hrgota. Though the 22-year-old took one too many touches on a sequence in the 11th, the idea on the box break was a good one.

More positive involvement came on plays in the 17th, 21st, and 26th. In all of these cases, the Fürth strikers really floundered. Tillman got the first of his two shots off in the 32nd. While the first one was a pretty tame effort that Manuel Riemann collected easily, the power-strike in the 63rd was a good hit that only just whizzed past the crossbar. In-between these, his strikers let him down after good services again.

Hrgota (54th, 57th, 58th) and Itten (50th, 67th, 69th) simply weren't on the level. Tillman got the hook in the 72nd. Despite the fact that our subject here was slowing up a bit, this seemed a mite harsh. Leitl would have done better to yank both his strikers at that juncture as they were both simply wretched.

Julian Green, SpVgg Greuther Fürth

Minutes played = 33/90, Positions played = LW, LM

Grade = B

The Fürth-Bochum affair also saw das Kleeblatt's other German-American see significant action as a sub. In recent weeks, Green has lost his starting XI place, seen it re-instated, then taken away again. Leitl evidently hasn't given much thought to playing his two dual-heritage Bavarians together. Tillman and Green have only shared the pitch more a negligible amount of minutes. The pair actually combined once (70th) during their overlapping five minutes this time.

In just over a half hour of relief, the writer deems Green's involvement to be relevant enough to merit a grade. The 26-year-old replaced Jeremy Dudziak on a straight swap in the 67th. Green did well to involve himself in attacking pushes in the 70th, 75th, and 87th. Twenty-two touches and 16 passes played constitute good numbers for a substitute. While this American was by no means spectacular, he contributed his best in attempting to make an impact.

Interestingly enough, we might see Green and Tillman work the same horizontal axis from the start next weekend. Paul Seguin's fifth yellow card leaves Leitl with the need to completely re-fashion his second and third axes. A consistently competitive effort against Leipzig is likely too much to hope for, but we might witness one or two nice moves from the one or both of the Americans on this team.

Jesse Marsch, RasenBallSport Leipzig (Trainer)

Matches = 1, Result = D

Grade = B

The more sensationalist elements of the German press are (of course) back at it again after Jesse Marsch's Roten Bullen couldn't come away with all three points in the visit to Freiburg. Much of the talk (again) centers around whether the American trainer builds too rigid a 4-2-3-1. There's also more chatter about his squad rotations.

This week the Wisconsin native caught some flak for selecting Yussuf Poulsen above André Silva, opting for Josko Gvardiol over Angelino, and even giving returning USMNT actor Tyler Adams a full day off from even the bench squad.

Lineup—RB Leipzig—Match Eight (4-2-3-1)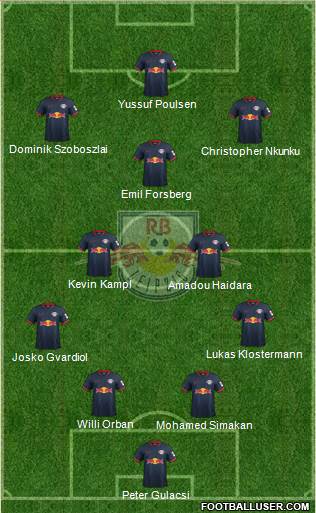 Honestly, one really has to be "nit-prickish" to find fault with this selection. It's a sensible lineup that more-or-less equaled Freiburg in a tight match full of non-open-play-related controversies. Poulsen and Emil Forsberg played well together. Kevin Kampl and Amadou Haidara were certainly above average. The back-four played an especially important role in keeping Christian Streich's SC from running away with the match.

Marsch was right not to employ any personnel changes until the 67th minute. The set-piece design package for the fixture was pretty poor, but that's perfectly understandable ahead of a do-or-die Champions' League match midweek. One can still dock Marsch a bit for not trying at least one design from the corner flag. That's about it.

As a team, the visiting Saxons found themselves consistently out-run by the Breisgauer on the pitch. That's a problem, though not necessarily one Marsch has much control over. The team leadership needs to step it up in order to address the distance gap that often opens up in this squad's fixtures.

We'll reiterate that this American gaffer stands in no danger of losing his job. Marsch lords over plenty of time to properly motivate a side that no one really expects to advance in the UCL. Moreover, RB will finish in then top-four this season. Only some sort of supernatural freak occurrence can stop this. He'll be fine.

John Anthony Brooks, VfL Wolfsburg

Minutes played = 90/90, Positions played = CB

Grade = C-

The Berliner, who regrettably had to sit out the international break, led his team with a recorded total of 102 touches on the day. The 28-year-old's first-half was quite strong. He put in some great defensive work during a prolonged Union Berlin possession spell between the 11th and 15th. Brooks also won some great ground challenges in the 5th, 26th, and 39th. Swinging out wide left and making far more enterprising runs that center halve partner Sebastiaan Bornauw, our American subject here instigated several solid counters in the 2nd, 17th, 25th, and 42nd.

Four minutes after the restart, however, what began with one of his more beautiful towering headers away ended with Brooks losing Genki Haraguchi on Union's first goal. He nearly made up for it a minute later with a spectacular pickoff and run that Lukas Nmecha should have turned into the equalizer. He would follow that up with two more very fine verticals in the 51st and 52nd. More great counter runs came in the 56th, 68th, and 81st.

A lot of positive work and some genuinely beastly spells nevertheless found negation after he failed to get a challenge in during the sequence leading up to Union's second goal in the 82nd. This tracker recorded a total of 17 stray passes as well. That's far too many for a center back. We won't dock Brooks too much as he probably saved his team further conceded goals with strong box marking in the 35th, 53rd, and 78th.

Brooks may have been among the least culpable in what proved a most telling third consecutive league loss for Mark van Bommel's Wolves. After going back and forth on it for a bit, an ever so slightly below average grade seems fair. After all, this American committed more than his fair share of lapses on the day. Some positives one can take from the latest 90 is that the Berliner showed no noticeable signs of injury and supplied plenty of brave play.

Timothy Chandler, Eintracht Frankfurt

Minutes played = 45/90, Positions played = RW

Grade = D-

Not an especially good day for one of the most beloved players across the Bundesrepublik. In point of fact, "Timmy's" latest day at the office bordered on disaster. The USMNT veteran looked totally lost along the right flank during his 45 minutes on the pitch. One can't really argue that. As the narrative of the "coaching carousel" season evolves, however, SGE head-coach Oliver Glasner's blasting of Chandler afterwards may come to be viewed as a pivotal error.

Glasner's frustration begins with the matchplan.

Lineup—Eintracht Frankfurt—Match Eight (3-5-2)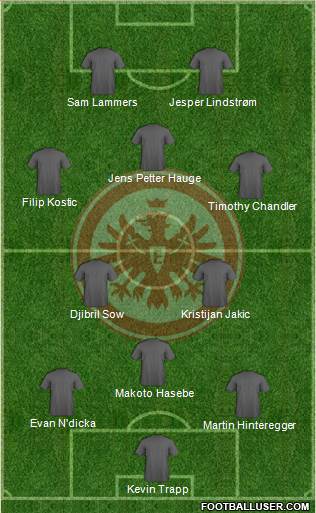 Trained right-back Chandler wasn't supposed to keep an axial line with Filip Kostic. An overcommitment in the 6th from Chandler (and others) left Makoto Hasebe totally stranded on the right shortly before Hertha's opening goal. This American's day didn't get much better thereafter. He kept trying to bomb forward, but lacked speed, precision, confidence, and determination.

A lousy cross in the 13th. A hesitant run after a loose ball in the 19th. Pulling back when he should have worked an overlap in the 24th. Three directional/shift stutter steps in the 30th. A blown marking in the 32nd. More slow sprints in the 42nd, 44th, and 45th. These were the hallmarks of a nightmare day. The writer only saw him connect with six passes and win one duel.

It came as no surprise to see Chandler subbed off at the break. Timmy simply didn't have even a tenuous grip on the game. He's not marked as failing here solely because Glasner didn't have much of a grip on his plan either. The coach's post-match comments contradict. Glasner lambasts Chandler for trying things on the right, then upbraids the team for over-feeding Kostic on the left.

Such incoherence suggests that Glasner starts to lose control of this team. Timmy Chandler fans (among which this writer proudly counts himself) must concede that the veteran's physical gifts are slipping as he enters the twilight of his career. In the final analysis, however, one can't put a player on a failing level when the true failings are emanating from the sidelines.

It may be some time before we discuss Chandler again. It might also be under a new trainer.

Thanks so much for reading! You can occasionally catch Peter goofing off while watching the lower German football divisions on twitter, @ViceytheSS.

Twitter DMs are open for football conversations, corrections, and (if you truly insist) general abuse. 

All columns debut on Bulinews before appearing on Peter's website later in the week.



Related stories