Szoboszlai jokes about VAR-approved goal:
"Luckily, I was at the hairdresser's yesterday."
By Peter Vice @ViceytheSS
After an overall fantastic performance in Leipzig's 4-1 victory over Mainz, Dominik Szoboszlai had a spot of fun during his post-match interview when discussing his crucial 47th minute goal.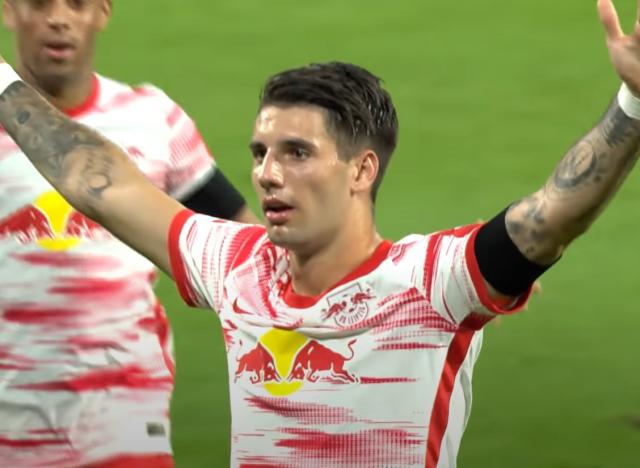 Deniz Aytekin and the VAR review team in Köln had to take a moment to sort through the scene one minute into the second-half of Saturday's Mainz-Leipzig clash. Tyler Adams chipped in a long vertical from the right flank aimed at Dominik Szoboszlai. The Hungarian rose to head the ball forward, but appeared to miss it. RB attacker Christopher Nkunku then collected the ball, tapping back for Szobszlai, who finished cooly into the left corner of the net.


2-0 Leipzig. Or was it?

The linesman's flag on the right went up. If Szoboszlai had played the ball forward to Nkunku, his teammate was in an offside position. Aytekin, the on-pitch officiating team, and everyone in the Bundesliga's Kölner Keller had to take a look at the replays. If Szobioszlai hadn't played the ball, then Nkunku's offside position was immaterial.

The entire viewing audience had to take a close look at Szoboszlai's trademark ultra-gel haircut and the ball that sailed over it. It was indeed a very close decision. A few more centimeters of hair and Szoboszlai would have touched the ball as he intended. That would have invalidated what was a splendid goal; his eighth this year across all competitions and a decisive blow against shorthanded Mainz.

"Luckily, I was at the hairdresser's yesterday," Szoboszlai joked when speaking to the Sky Microphones afterwards.

Given Germany's current COVID lockdown protocols, it's questionable whether the 21-year-old did in fact visit the hair salon. His slicked back fob appeared to suggest otherwise. In any event, the scorer of the goal and provider of a fine assist a little later on also told his post-match interviewer that he believed the result could serve as a turning point for Leipzig.

"We had a half season totally out of line with our expectations," he conceded, "but you saw today how we can can also play football. Running deep and pulling Mainz apart. Our goal is to finish fourth and make qualify for the Champions' League."




More about the match
More about the teams
More about Dominik Szoboszlai