Rose speaks on potential experiments with Rothe, Semic, and Bynoe-Gittens
By Peter Weis @PeterVicey
VfL Bochum roll into hostile territory on Saturday, hoping to at long last clinch class preservation against regional rivals Borussia Dortmund. 

Bochum trainer Thomas Reis spoke on the need for his team to break out of their recent slump at his Friday presser, while BVB head-coach Marco Rose fielded questions on potential personnel experiments.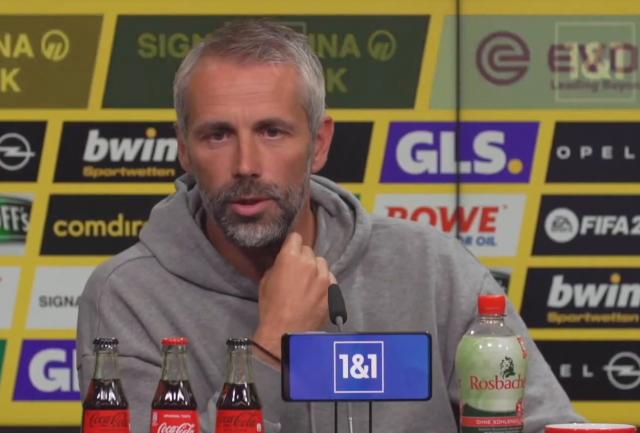 | | |
| --- | --- |
| Marco Rose. | Photo: Borussia Dortmund/OneFootball |
VfL Bochum have gone three games without scoring a goal. The official clinch of Bundesliga football next year remains elusive for the promoted club, though there is little doubt that the 1848ers are straying up.


Speaking earlier in the week, VfL trainer Thomas Reis called upon his team to play with passion pride in one of German footballs smaller "Revierderbys". Bochum could find themselves celebrating class preservation with either a Stuttgart loss, draw, or win by anything less than three goals.

That, naturally, isn't the way one wishes to achieve safety.

"In Dortmund, in front of 80,000 spectators, we naturally wish to present ourselves differently and show what we can do," Reis noted on Wednesday.

At his final pre-match presser on Friday, Reis addressed the fact that his side remained clear underdogs in the clash. Despite the fact that Bochum pulled a draw off Dortmund in the "Hin-Runde", the smaller Westphalian club squares off against a team that has scored 47 more goals than they have in the current campaign.

Not exactly good news for a team struggling to find the back of the net as of late. Reis nevertheless saw some promise in the fact his team had only conceded one more goal than Dortmund this year. With passing errors out of the back being a routine matter for the BVB, Reis spoke on his opponent's vulnerability on the counter.


"Dortmund has conceded many goals on the counterattack," Reis said on Friday, "That's an area we have to focus on."

Bochum's counter will surely be hindered by the fact that left-back Danilo Soares is unavailable due to injury. Herbert Bockhorn could replace the Brazilian, or center-halve Maxim Leitsch might move out wide to make room for Erhan Masovic.

Much depends on what sort of squad Reis anticipates from BVB trainer Marco Rose. That in itself is no easy task. The Dortmund gaffer has been test diving various youngsters in recent weeks and there is every indication that, with nothing else to play for this season, he will field a novel lineup on Saturday.

Naturally, reporters tried to probe Rose's mind at his Friday presser. Axel Witsel is once again available for selection. Apart from that, there are no returnees from the Dortmund injured ranks.

Might Tom Rothe be given another go at wingback?

"Tom did brilliantly in his first Bundesliga game and the benefit match against Kiev," Rose remarked, "With him we have a great one-vs-one presence with speed and goal-scoring ability."

Rose was also asked about right-back Lion Semic; a recent call-up who has gotten less playing time, but may be worth a look. Those present at the presser also remained curious about a potential start for English phenom Jamie Bynoe-Gittens, who showcased some skills last weekend in relief.

"What I can say is that one or the other will definitely some time in the next three games," Rose finally came up with in response, "There are opportunities to change a few things around."



More about the match
More about the teams