Bundesliga Tactics Talk: Round Six
By Peter Weis @PeterVicey
Six rounds in to the 2022/23 German Bundesliga campaign and we've yet another matchday that concludes without Bayern at the top of the table. This time the honor belongs to FC Union Berlin after the German giants once again dropped points.

Our Sunday night weekend recap fixture is here to break it all down again with the column that touches upon all nine fixtures. Bayern, Stuttgart, and Schalke get draw ups this week.

Dortmund fans may wish to look away as it is their side's rather humiliating 0-3 loss to Leipzig that gets the "focus" section. After some measured restraint, "Dortmund bashing season" has officially begun.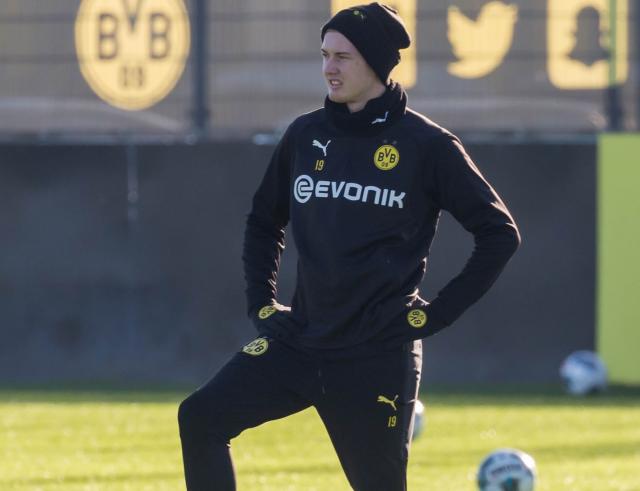 Bundesliga Tactical Banter: Round Six
Ducksch's Duck

The columnist confesses he had to look something up this week. An American-educated German might have heard the English idiom to "break one's duck" at least a thousand times in footballing parlance, but still didn't give much thought to its origins beyond some loose association with the number "0" and a goose egg. Turns out it has its semi-sensical origins in the semi-sensical game of cricket. Neat. One is never to old to learn something new.


That brings us to SV Werder Bremen striker Marvin Ducksch, who was generously given a chance to "break his duck" on Friday night against Augsburg. Gifted an opportunity to equalize via a penalty in injury time, Ducksch's striking partner Niclas Füllkrug (who has scored five goals thus far this season) opted to forgo his trip to the spot and instead pass of to Duscksch, who has scored none. The well-intentioned-move backfired. Ducksch missed and we miss out on a chance to talk about more late Werder heroics. Oops.

One doesn't wish to suggest that this was the only takeaway from Friday night's Werder-Augsburg curtain raiser. A game during which two below average sides did struggle to establish their rhythm did still somehow manage to remain entertaining. One still would have like to see Füllkrug take the penalty and convert as Bremen deserved at least a draw (2.2 xG to Augsburg's 1.7). Enrico Maaßen's Fuggerstädter--it must be said--still look very poor apart.

Newly acquired striker Mërgim Berisha worked alongside Florian Niederlechner this time with Ermedin Demirovic dropping back to the left wing in a 4-4-2. Results were...not so hot. Though Berisha put in a good shift and Demirovic did get to net the game-winning goal with Berisha assisting, the less said about this novel constellation, the better. The FCA were very choppy throughout. It didn't feel as if they deserved three points from this at all. Why, oh why, could Ducksch not "break his duck"?

The Gem at the "Oly"

We got a four-goal thriller from a rather unexpected place this weekend. Leverkusen and Hertha split the difference with a 2-2 draw at Berlin's Olympiastadion. One had a hunch that this might be fun. One area of concern remained the poor finishing ability of both these sides. The goalless first-half seemed to confirm these fears. Dodi Lukebakio missed another early chance and poor Hertha striker Wilfried Kanga can't seem to buy a goal. To this, one needs to add Patrik Schick's crisis of confidence. That was certainly manifest as well.

Matters quickly picked up in the second 45 when Kerem Demirbay converted a free-kick beautifully in the 49th. Chidera "jukin'" Ejuke set up Suat Serdar's equalizer seven minutes later. The two teams were still fairly profligate in front of goal, but we did get two more exclamation points. Schick helped his side regain the lead with a fine finish in the 63rd. Hertha's budding "super sub" Marco Richter then helped the home team equalize again with a scorcher from 20 meters out in the 74th.

In the columnist's opinion, calls for a late penalty were much ado about nothing. A draw seemed fair, even if Schick couldn't help his side convert an advantage in chances into a win. Both these squads are on the uptick. Sandro Schwarz is still running the same basic system and it continues to improve and gel every week. Gerardo Seoane has a workable 4-2-3-1 in place with Adam Hlozek at ten behind Schick. Callum Hudson-Odoi opposite Moussa Diaby on the wing needs more time to gel.


Leverkusen's new English addition tends toward the pass over the dribble or the shot at this point. That's understandable. Hudson-Odoi just made his league starting debut. Eventually, he should figure it out. So too should (one has to assume) Schick. Hlozek isn't bad at ten and the defense (while still horribly flawed by form crises involving Jonathan Tah and Edmond Tapsoba) could sort itself out eventually with the right defensive midfielders in front of it.

Hertha and Leverkusen got their first league wins last weekend. Now they shared the spoils before heading into winnable fixtures next time. Schwarz's lads could best Mainz. Seoane's crew might fancy their chances against Bremen. Leverkusen, of course, might be about to get hit hard by Atletico in the Champions' league midweek. Two more losses heading into the international break and one can forget about those reported plans of Bayer to stick by their coach.

The Sunday "Race to the Top"

Two highly intriguing fixtures on the Sunday docket as Bundesliga enthusiasts watched with bated breath to see who would rise to the top of the table. Urs Fischer's 1. FC Union Berlin traveled to the cathedral city and claimed the prize with a 1-0 victory over 1. FC Köln. Christian Streich's Breisgauer got a chance to overtake a little later in the day, yet couldn't capture all three points in what finished as a 0-0 draw against visiting Gladbach. Something of shame that two eagerly anticipated matches only produced one goal between them.

With three of the four teams competing coming off Europa/Conference League fixtures on Thursday, we shouldn't have been all that surprised that the the furious start to both of these affairs couldn't be sustained. Fatigue predictably began to set in, turning Union-Köln into something of a ragged mess whilst the bottom almost completely dropped out of Freiburg-Gladbach. Oh well. At least both encounters were interesting on a tactical level.

Steffen Baumgart's answer to his need to rotate despite being rather thin at some positions actually saw captain Jonas Hector move all the way up to the ten-slot. Fischer, with Janik Haberer and "Jordan" Siebatcheu back at his disposal, had both Haberer and Andras Schäfer to buttress his preferred double striker set. It worked well. Despite the low-scoreline, Union looked to have accomplished a serviceable bounce back from their Europa League set-back. Not outstanding, yet well structured and disciplined.

Over at the Europa Park Stadion, Christian Streich had a pretty big personnel surprise for us. Daniel Kofi-Kyereh was called up from SCF II and immediately inserted into the starting XI as the ten. For those wondering where the high-profile summer signing from St. Pauli has been, Streich hasn't been pleased with his progress and even sent him down to the reserves last week. Few of us expected him back in the thick of it again, and didn't really even consider him worth mentioning when discussing the team.

Kyereh got a nice effort in on BMG keeper Yann Sommer in the 16th. Cool enough. Unfortunately, there wasn't much worth mentioning at all after that shot that capped a riveting first quarter-of-an-hour. The game really flattened out. Gladbach moved with more confidence and we Germans who all happy to see Julian Weigl turn some tricks. Streich's Freiburg eventually engaged in the same irritating shut-down "cruise control" behavior that we saw in the Europa League fixture. Drat. There could have been more here.

The "Burning Questions": Round Six
How bad is it with Bayern?

With reports of there being some rumblings amid the FCB reserves, one can fairly say that Julian Nagelsmann treads a dangerous line within his own locker room. Managing egos lamentably remains a part of a coach's job when steering a "Super Club". This is what made a largely "hands off" character such as Hansi Flick an ideal fit for Bayern during their six-trophy-year. A crew like this prefers to coach themselves.

Overthinking can kill in such a situation. The young, avant gardé trainer asks a lot of his players when he radically shifts tactics every game. Significant personnel rotations also impede the squads ability to settle into a rhythm and establish an identity. Upon learning that there would be six changes to the side that beat Inter in the UCL midweek, many of us viewed the team-sheet suspiciously.

Lineup—Bayern München—Match Six (4-2-3-1)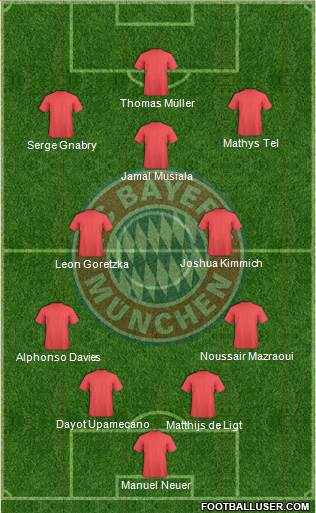 If one discounts Leon Goretzka's reintroduction in the starting lineup (something that Nagelsmann would have to eventually give a go), there are four rather unnecessary changes here. Benjamin Pavard, Lucas Hernandez, Leroy Sané, and Sadio Mané arguably didn't require a rest here. Even if the current schedule counts as a demanding one, professional footballers of this fitness caliber benefit less from rest than they do from remaining plugged-in.

Nagelsmann's awkwardly slapped together constellation actually looked far worse than the ones we've seen in recent league matches. At least the squad that drew against Gladbach exhibited some early pace. The set-up deployed against Union lorded over possession and crowded the box. This construct did neither. Opponents Stuttgart found it far too easy to break up approach play before they got to the box and the Bavarians never really located their tempo.

Bayern first displayed some signs of fluid play around the half-hour-mark. VfB keeper Florian Müller--continuing his own fine run-of-form--was called upon to make a few saves. Mathys Tel's historic first league goal thus had a slightly justified feeling about it. The team still didn't play anywhere near its potential during the opening 45. One must credit the frequently maligned VfB trainer Pellegrino Matarazzo for coming up with a solid game plan.

Lineup—VfB Stuttgart—Match Six (3-3-2-2)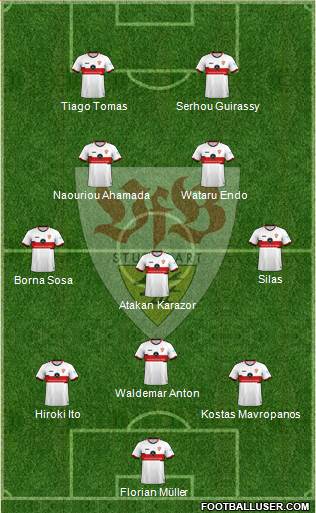 All of the tight horizontal axis chains prevented Bayern from finding the gaps on the rush. Captain Wataru Endo had one of his better days keeping focused farther afield and stepping back when on the rare occasions the third and fourth axes required greater assistance. Atakan Karazor also functioned very well in Endo's normal spot.

After the initial set of tactics did its job in the initial half, Matarazzo let everyone loose a bit in the second. Chris Führich replaced Tiago Tomas at the break. The substitute and his common attacking midfield partner Naouriou Ahamada worked one of their common second axis "split staggers". Endo fell back to the midfield. Karazor folded in at sweeper.

Lineup—VfB Stuttgart—46th minute (4-3-3)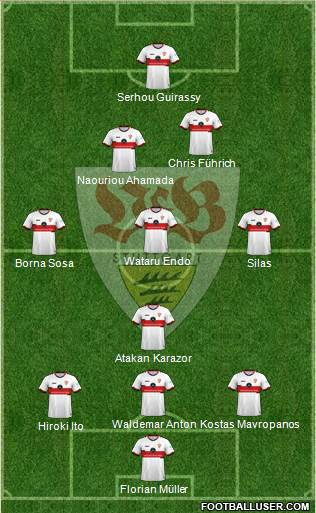 Within six minutes after the restart, Stuttgart obtained an equalizer. Bayern were, in fact, very lucky that Serhou Guirassy's 51st minute tally didn't count. Führich had technically fouled Joshua Kimmich in the lead-up, but the goal was chalked up only courtesy of a very strict interpretation of the rules. Führich's hand of Kimmich could have just as easily been dismissed as something that happens all the time over the course of nearly every game.

Führich--quietly off to one of the best starts of any Bundesliga player this year--ultimately got his goal six minutes later after some intrepid forward work from Kostas Mavropanos. Jamal Musiala restored the Bayern lead shortly thereafter with an amazing little shake-and-bake past Karazor in the box at the hour-mark. Bayern then failed to kill the game off whilst Nagelsmann sent on five straight-arrow plug-in substitutions. Guirassay had another goal disallowed before converting the equalizer from the spot at 90+2.

Bayern's next few weeks (revisited)

In this column, we've quickly gone from assuring everyone that there is no big issue with Bayern, to predicting that there might be more problems in the league prior to the international break, and now firmly sounding some alarm bells about what might happen to the German giants as they stumble into the World Cup hiatus. Nagelsmann had his eyes firmly on Robert Lewandowski and Barcelona with this election. Stuttgart (and quite possibly Augsburg next week) can take advantage.

In addition to the challenges associated with the UCL "Group of Death", the FCB have a touch October league schedule that includes Dortmund, Freiburg, Hoffenheim, and Mainz to contend with. Rising Leverkusen on September 30th won't be easier either. Should the team be unable to get back into the type of score-at-will from everywhere form we saw at the beginning of the season soon, they could conceivably drop points in most every encounter.

All of that notwithstanding, however, we can't emphasize enough how desperate the German football punditry is for a story year. after a decade of Bayern dominance, the "worst start in 12 years" still isn't anything comparable to the Louis van Gaal 2010/11 side that let the dominance grip slip ahead of the two year lapse. That team gained eight points through the first six rounds while this one has 12. Moreover, Dortmund were in a position to challenge those years whereas now....well...right.

We should definitely see some more overthinking from Nagelsmann, some more dropped points, and some more salacious stories coming out of the locker room picked up by the ravenous vultures of the German footballing press. Whether or not this will be enough to swing Bayern's relatively new front office leadership structure into a course correction remains to be seen. Given what an expensive investment Nagelsmann was, it seems pretty doubtful.

The prediction is now that Bayern won't enter 2023 in first-place.

A further prediction holds that it won't really matter.

Are Schalke settling?

Now that head-coach Frank Kramer has led the Königsblauen to their first win of the season (ahead of next week's massive Revierderby no less), it may be time to start according Schalke some respect. Note the use of a hypothetical auxiliary verb there. Maybe. We've certainly been rather harsh on the newly promoted team before in this column. Last week's opening sections amounted to a not-so-subtle tip for opponents Bochum in this weekend's "TopSpiel".

The tip proved wholly incorrect. Schalke ended up earning a deserved victory over Bochum on Saturday evening. The matches xG stats (Schalke 1.7, Bochum 0.8) adequately convey that the 3-1 scoreline was exaggerated, but the hosts undeniably brought the better game. Kramer's tactics exhibit some coherence and consistency for the first time this season. It's such that die Knappen get their first in-season draw up since May of 2021.

Lineup—FC Schalke—Match Six (4-2-3-1)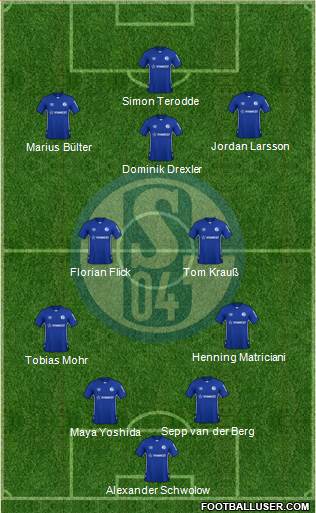 All front-four actors played a strong game. Dominick Drexler in particular, just like last week, seems full of ideas on the charge. Marius Bülter and Jordan Larsson completed some lovely interplays during the first-half. Tom Krauß finally showed us what all the fuss is about with what was by far his best game this season. Tobias Mohr--an emergency deployment for the injured Thomas Ouwejan at left-back--played very well and kept Kramer's set-pieces on point.

Simon Terodde will surely be kicking himself for hesitating on far too many chances. We're all keeping a close eye on the 34-year-old 2. Bundesliga legend as he tries one last time to prove himself on the top flight level. Here, the signs remain somewhat worrisome. All the pressure clearly still occupies a disadvantage place in the striker's head. Terodde alone can't help this squad escape relegation. Perhaps, when Sebastian Polter is allowed to help, he can do better.

We only got a chance to see Polter and Terodde operate together up front together in a 4-4-2 for about 20 minutes at the end of the match. It was something of an unsteady concept, with the latter unsure of how best to drop back and work as a service striker. Kramer pulled the plug well before Polter's late goal at 90+6. A 4-2-2-2 with the likes of Rodrigo Zalazar and Mohr working as the wide flankers might work better.

We didn't get a chance to assess that this time as Mohr was busy filling in for Ouwejan. We'll probably have to wait for Alex Kral to get healthy, fit, and acclimated first as well before the deeper six axis this constellation requires can be formed as well. In any event, the author is pleased to admit that there is, at least, some serious latent potential to tap. Kramer's ideas seem to have a method to them.

Might as well give it up for Alexander Schwolow too.

Finally, another decent match from him.

Does Kovac have a system yet?

No, not really. Wolfsburg's narrow victory over Frankfurt was more of a case (well stated by SGE trainer Oliver Glasner) of the Hessen hosts defeating themselves. So very correct. After his initial post-match comments, Glasner went even further with the scalding hot-water pour at the presser, saying that his team failed "at every corner and end", literally threatened everyone besides Djibril Sow with benching, and even quoted Ernst Happel when lambasting his team for their constant cowardly retreats via back passes.

Hopefully, Glasner reserves some criticism for himself. Sliding Randal Kolo Muani back behind Rafael Santos Borré on the right-wing was probably an overreaction to the French striker's downtick in the Champions' League. Ansgar Knauff's failed audition at right-back, whilst Kristijan Jakic slid back into midfield, was his decision and definitely played a role in wrenching the offense. Scant activity on the flanks had a lot to do with those choices.

Glasner's more generalized critique of his team's intensity has more merit. The Hessen hosts allowed what is still a very bad and shambolic Wolfsburg side to grow into the game through their own weak and passive posture. Niko Kovac's latest attempt to put something together--a wide 4-4-2 with Mattias Svanberg and Josip Brekalo supporting the dual-striker set of Lukas Nmecha and Luca Waldschmidt--was another complete flop.

Absolutely nothing happened until Svanberg tested SGE Keeper Kevin Trapp in the 32nd. Maxence Lacroix took advantage of a Trapp error off a set-piece to score the game's lone goal on his team's second only real chance of the game. Nothing much more to report after that. Kovac's tactics continue to make no sense. Waldschmidt did zilch to earn a starting place after his performance last week. Svanberg and Brekalo aren't natural wingers.

The fact Kovac threw Max Kruse off the team after using him for the full 90 in the last two fixtures raises one seriously big question. Namely, how in the hell does this head-coach who has no clue what kind of squad he wishes to build still have a job? As it so happens, we answered that query last week. The turmoil of the recent past means that the club has no choice but to stick with a gaffer determined to bring his fair share of turmoil to the present.

Ugh.

Is it time to start discussing Hoffenheim yet?

Aha! Just as was the case a couple of weeks back, the writer has skillfully come up with another workaround! Opponents Mainz were reduced to ten-men early on in their first-half encounter with the TSG in Sinsheim on Saturday. Bo Svensson's Rheinhessen also lost talismanic attacker Jonathan Burkardt to injury earlier than that. Hence, we don't need to expend too much time and energy discussing the four-goal-performance that saw André Breitenreiter's Kraichgauer move up to the top of the table. There we are.

Christoph Baumgartner, Grischa Prömel, and Andrej Kramaric all missed sitters in the first-half. Kramaric even bluffed up badly from the penalty spot after Alexander Hack was sent off. Kramaric would eventually score one that Georginio Rutter had made even easier for him. Prömel capitalized on the counter when shorthanded Mainz took a bold risk. Pavel Kaderabek's goal came after everyone had already given up.

Only Munus Dabbur's sly back-heel tally showcased some true skill. The Israeli attacker furnished us with an equal or greater variant of teammate Baumgartner's cheeky back-heel finish against Leverkusen in round three. Nice one. Apart from that, however, we can still safely label this side overrated. Breitenreiter's men have looked very vulnerable and generally sloppy in their only two real tests against Gladbach and Dortmund. Discussion deferred.

Weekly Tactical Focus: The Dortmund Debacle

Our "focus feature" this week admittedly covers a match that, from the perspective of those hoping for a more riveting contest at least, proved something of a dud. Dortmund-Leipzig didn't live up to the massive hype. Anyone who followed the Bundesrepublik's "Boulevard Blätter" up the garden path will have been additionally disappointed. One doesn't have much sympathy for them. Duh. Of course the two coaches involved would be nothing but cordial towards one another. It's the world of well-compensated football trainers, not a damned soap opera.

In a certain sense, Leipzig's convincing win over their Westphalian guests was also foreseeable. In his final act as head-coach of the team during the Champions' League fixture on Tuesday, Domenico Tedesco left his successor with the embers of a workable system. The former RB trainer finally switched to a back-four and got Xaver Schlager into the lineup alongside Konrad Laimer in midfield. Dortmund, meanwhile, entered this once again beset by injuries. Leipzig had the deeper side and a very posh new "Rose Broom" capable of sweeping well.

Before getting into the conclusions that we can draw from this one, it's worth noting that Leipzig actually beat Dortmund in a fairly convincing fashion during last season's "Hin-Runde". At the time, there was plenty of talk about how Jesse Marsch's RB was finally getting off the ground in the league. Right. We all recall how that turned out. Leipzig wouldn't win another league fixture under Marsch. His successor didn't even last a year. We'll talk about some of the near-term issues Rose faces below.

What we do have to dissect here regrettably (for BVB fans) relates to about as embarrassingly bad a performance as one can get on this level. Edin Terzic's Schwarzgelben played five minutes of serviceable football and then checked out. Terzic himself employed consistently shoddy tactics throughout the match. It came as no surprise to see his team ultimately give up on him down the final stretch. Oops. That's very disconcerting as we move forward. Bouncing back won't be easy.

Lineup—RB Leipzig—Match Six (4-2-3-1)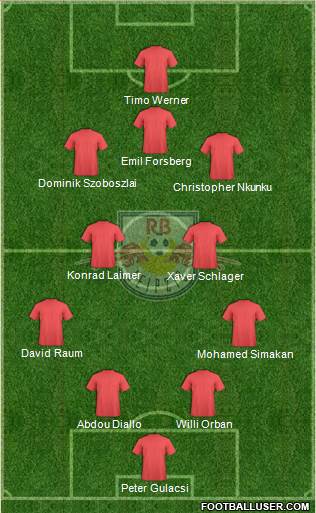 The topic of what Rose inherited from Tedesco first

Rose's adjustments

The recently departed gaffer set the team up in a 4-2-3-1 against Shakhtar Donetsk. Like so many of Tedesco's other constellations thus far this year, however, there were curious personnel choices within what was basically the right shape. Timo Werner served out on the right wing too far back whilst Christopher Nkunku was buried in the ten-slot. Marcel Halstenberg served over David Raum at left-back.

Rose reinstated Raum into the lineup and--in what was likely the best solution he could come up with for his striker surplus, placed Werner up top while tightening up the buttressing axis significantly. Emil Forsberg (replacing André Silva) was permitted to do his thing as this axis' fulcrum. The new trainer did well to keep Tedesco's lone successful moves in place, allowing Mohamed Simakan to remain at right-back.

Issues with the unbalanced roster

The recently installed head-coach will have to grapple with this, just as his predecessor did. Rose absolutely alluded to this problem in his post-match interview. When he remarked that the squad is "not that deep", essentially what he meant to say was that it's far too full in some areas and thin in others.

No sense in rehashing the same Oliver Mintzlaff bashing delivered in last week's column. It suffices to quickly again emphasize here that Leipzig's "interim" sporting director built this roster without much rhyme or reason. There are far too many central midfielders and strikers and far too few wingers and fullbacks.

German footballing insiders have reported that Tedesco was frustrated with what Mintzlaff gave him. To take the most reported upon example, it's said that Tedesco wasn't terribly keen on the idea of bringing Werner back. He liked the idea of having a classic target forward in the form of Alexander Sørloth; someone who wouldn't interfere with Nkunku's space.

There exist other examples, but this one possesses some real resonance. Werner returned with far too large a burden on his shoulders and Nkunku is really slumping as a result. The pair haven't figured out how to work together yet. Coordination issues actually abound throughout the constellation as natural forward players figure out how they're supposed to work farther back.

Terzic's 4-2-3-1

Moving right along...

Lineup—Borussia Dortmund—Match Six (4-2-3-1)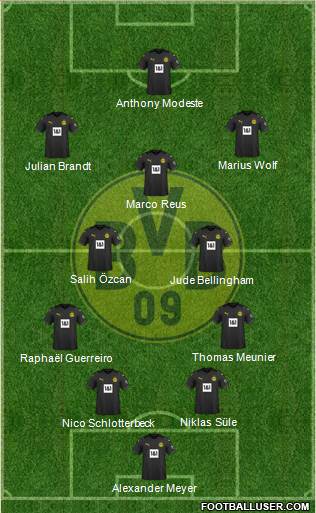 ....Horrendous. Something like this doesn't work without quality on the wings. Julian Brandt and Marius Wolf don't come anywhere close to cutting it. Although they've had their moments this season, this column hasn't been particularly impressed with either one. Brandt's pronounced dips and currently woeful finishing were brought up just last week.

One can blame it on all the injuries or (as this writer did) scream for Giovanni Reyna all match long. The fact remains that Terzic needed to come up with something better than this ahead of this match. Juxtaposing the manner in which Rose tightened up the buttressing axis in his 4-2-3-1 served to show that one can compensate for a lack of natural quality on the flanks.

Terzic got out tacked here.

Match Flow: 1st to 6th minute

Not much more for Dortmund enthusiasts past this initial section. Even during this tangentially strong phase, one could immediately tell that matters wouldn't proceed as they did against Copenhagen on Tuesday. Wolf's first cross for Modeste was very poor. A near defensive howler from About Diallo still gifted the BVB an early corner. Brandt's ultra poor 2nd-minute service came near no one.

Some brave headers enabled Dortmund to get the ball back up the field quickly. Thomas Menuier tried to step forward off as Brandt-run cycle, only to see his cross blocked. Diallo quickly redeemed himself with a nice interception and run in the 3rd. Schlotterbeck ultimately intervened to stop Werner. Reus and Modeste found decent touches on a rightward cycle going in the 4th. Brandt saw another poor cross blocked.

Meunier tried to punch through on the right in the 5th after some nice work from Bellingham, the only Dortmund actor who actually played an okay match. The Belgium fullback at least got a cross through this time, but Modeste whiffed on the finish. Nkunku quickly collected and wheeled away on a counter. Werner ended up earning a corner once he got the ball.

From this set-piece, Leipzig opened the scoring in the 6th. Dominik Szoboszlai supplied the service. Schlotterbeck was just a bit too loose marking Willi Orban. The German-Hungarian met his national team colleague's whip-in very deftly to head home for the 1-0. One immediately had the impression that die Borussen were in trouble.

Match Flow: 6th to 31st minute

The next interval was certainly both an intense and important one. There nevertheless remained little on offer from a pure entertainment perspective. Werner, Forsberg, and Nkunku combined well up the RB right once play resumed in the 7th. Reus ran a decent counter in the same minute and could have some complaints about the manner in which Schlager impeded him with a tug back.

Match official Sven Jablonski decided it was too early to intervene and Dortmund ended up turning the ball over instead. Nkunku and Werner cycled well on the left this time. Raum unfortunately couldn't catch up on the underlap and the result was a goal kick. Leipzig kept up the momentum with another nice rush in the 8th. Nkunku located Szoboszlai after a nice vertical from Simakan.

Szoboszlai's finish proved pretty tame and BVB keeper Alexander Meyer had an easy catch in the 8th. Meunier got through again in the 9th via a nice switch. Reus and Brandt couldn't do anything with the subsequent broken rightward cycle. Niklas Süle tried next with a long carry-run in the 10th. Schlager saw it all the way and had no difficulty defusing it.

Menuier had to retreat all the way back to Meyer on the next BVB build. The ball remained in the midfield amidst multiple possession changes through the 11th and 12th. Another wince-inducing retreat back to Meyer came in the 13th. We were back in the midfield through the entire 14th. Salih Özcan halted his team's progress with an offensive foul in the 15th.

Bellingham earned a free-kick in 16th. Meunier took down the service, yet was far too inaccurate on an attempted switch for Wolf. Brandt and Wolf were rotating like crazy across the pitch, still managing to accrue precious few touches on either side. A BVB leftward build in the 17th fell apart following lapses in concentration from both players.

A much better Dortmund central triangulation in the 18th showed some promise when Modeste won two balls and Wolf earned a corner. Brandt's 19th-minute service got cleared straight out by Schlager. The Austrian then took the ball off the Westphalians after a throw. Vertical throughs in the 20th and 21st went nowhere.

Özcan found himself somewhat lucky not to have conceded a spot kick in the 21st. The former Köln midfielder disrupted Werner's balance on an RB counter that penetrated the box. Jablonski again kept the whistle away from his lips and play continued. Dortmund's own counter ran through Wolf on the left. Brandt ultimately got the ball and screwed a horrible cross miles away from Modeste.

Laimer required treatment in the 22nd after Schlotterbeck's studs caught him high on a follow-through tackle. Play didn't resume until the 24th. Werner (sadly an all-too-common occurrence over the past two seasons) was caught well offside on the first bit of action. More heavy midfield duels in the 25th. The Saxons ultimately came out better via Szoboszlai. Raum curled the final finish well over.

With Werner working deep this time, Forsberg and the German national team striker managed to put Nkunku through elegantly in the 26th. Leipzig's French attacker nearly got around Schlotterbeck with a nifty move. Dortmund's national team defender recovered in the nick-of-time to tackle away. Bellingham didn't have the precision to put Brandt through back the other way in the 27th.

Dortmund's day on set-pieces continued to be dark in the 28th when Raphaël Guerreiro miffed up the service on a totally botched free-kick design. Schlager took the ball off Brandt easily in the 29th after Bellingham put him through. Wolf ran a respectable Dortmund counter left-central in the 30th.

Brandt got the ball again and tried a quick forward for Modeste, but Raum was there to take the ball off the BVB striker at the expense of a corner. Yet again, Brandt's service didn't come close to hitting any of his teammates. Schlager cleared easily away. Brandt's next cross, in the 31st, proved pretty pitiful. Leipzig were able to get off a decent counter with Szoboszlai.

Match Flow: 31st minute to half-time

The 31st minute-counter led to the first real scoring opportunity in quite some time. The hosts shook off the stalemate from this point forward and it wasn't surprising to see them double their advantage before the half was out. After Brandt failed to win an aerial duel on a diagonal Meunier sent in for him in the 32nd, the German Red Bulls were plowing forward full steam ahead on yet another counter.

Werner carried the ball all the way from the halfway line into the box in the 33rd. A perfect layoff for Szoboszlai in front of a wide-open-net should have resulted in the 2-0. Wolf saved his side with an incredible last-ditch tackle. Szoboszlai nearly recovered the ball after the incredible challenge, but could only turn out for a goal-kick.

More chances game. Nkunku was jut a bit too late in arriving for a Werner cutback in the 34th. Raum got a blistering distance effort off after a corner in the 35th. The ball was on its way in before Diallo, perhaps unintentionally, re-directed it wide. Brandt and Modeste couldn't make it through on the next BVB rush in the 36th as Raum had plenty of time to make it back.

Some truly gorgeous passing from Werner, Forsberg, and Nkunku just outside the box central in the 37th ended without a scoring chance thanks to the fact that Schlotterbeck alertly directed the ball back to his keeper. Wave after wave of Leipzig attacks in the 38th and 39th. Meyer had to run out to snatch a long vertical out from underneath a lurking Nkunku on the best one.

Some more poor ball work from Brandt in the 39th made Diallo's defensive work easy. A Guerreiro touch on for Modeste in the 40th didn't work. Neither did another lousy Brandt cross. Szoboszlai and Simakan cycled off some clock elegantly with some nice passing work on the right in the 41st. Bellingham at least kept a little BVB possession with midfield ball holds in the 42nd.

No one ahead of the young Englishman was on the same page, however. The best Dortmund could do was win another corner at the end of the minute. Brandt actually swung in a good service this time. Schlotterbeck ended up getting in Modeste's way and scrubbed ball off his own teammate's forehead in the 43rd.

Werner wrangled himself free in the 44th and latched onto a long-ball from Simakan. Probably offside anyway, Werner can possibly forgive himself for screwing an almost perfect opportunity wide. Szoboszlai magnanimously didn't give his new colleague too much time to ruminate on it by scoring himself just as we entered the 45th.

A good-old fashioned screamer from Szoboszlai dipped and swerved itself past a helpless Meyer from about 25 meters out. This thunder strike right before the end of the half served as a perfect dagger to the BVB's barely pumping heart. Surely, Terzic would pull the trigger on a change at the half. The writer himself wrote down "BRING ON REYNA" in all caps in his notebook.

Match Flow: 46th to 59th minute

Shocking. No changes. Despite not being able to generate a single memorable scoring chance after five minutes and a paltry half-time xG of 0.2, Terzic stuck with the XI he had. The columnist won't purport to know what Reyna's current injury/confidence status is at this point, but the young American certainly didn't appear to have too many problems against Copenhagen on Tuesday.

Even with an eye towards Man City this coming Wednesday, it surely couldn't have hurt to give Gio 45 minutes here. Instead, we got a tactical reorganization. Terzic's idea centered around throwing Reus farther up to work as Modeste's direct service striker. An odd sort of solution for a forward who thrives on crosses.

Lineup—Borussia Dortmund—46th minute (4-4-2)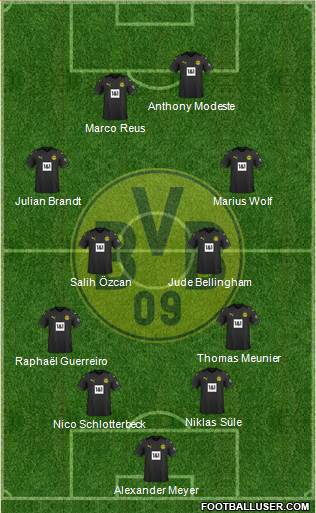 One noticed slight improvement in Dortmund's general organization. They still produced no shots on target throughout the entire second 45. Die Schwarzgelben found themselves immediately back on their heels defending as soon as we got underway. It was Schlager, Raum, and Forsberg dancing silky smooth up the RB left in the 47th.

Nkunku, Schlager, and Simakan made a mockery of the extra space on the right in the 48th. Forsberg, Schlager, Szoboszlai, and Forsberg made it look far too easy the middle in the 49th. Watching this proved scarcely believable. Dortmund came out with hardly and intention of playing. Leipzig took advantage to toy with them.

Bellingham finally got something going for the guests in the 50th. Guerreiro stepped forward to try and reach Reus with a square. Nkunku was all over the BVB captain and effortlessly tackled away. RB keeper Peter Gulacsi stepped forward to gobble up an uninspired long ball from Bellingham aimed at Modeste one minute later.

Reus and Özcan had to retreat on the next rush. The ball comically found its way back to Meyer. Reus and Brandt gained a little bit of traction forward right in the 52nd. Gulacsi didn't have too much trouble scooping up Reus' square. Simakan, Laimer, and Nkunku triangled their way past the BVB ranks without much resistance in the 53rd.

When Dortmund got hold of the ball at the end of the minute, their own attempt to triangle back down the left was pitiful in comparison. Raum charged up largely unmolested in the 54th. In a very rare instance, Nkunku's first-touch let him down on Raum's eventual service. The French striker might have otherwise scored the 3-0.

Two more BVB corners in the 56th just plain sucked. Brandt's initial service was poorly flicked on for Modeste. Guerreiro stepped up from the second ranks. After a touch from Bellingham, Brandt sent another cross completely over Modeste. Simakan dealt with Brandt's service on another corner in the same minute. Reus collected, only to shoot well over.

Cameras caught the BVB coaching staff going over some tactics boards with Reyna and Youssoufa Moukoko in the 57th. The mere sight instilled a little bit of hope. Meunier could only stop Forsberg with a flagrant foul in the 58th. Jablonski brandished his first yellow of the match. Reyna and Moukoko were able to check in for Wolf and Brandt while Leipzig set up the free-kick in the 59th.

Match Flow: 59th to 70th minute 

Terrible defending from Dortmund on the ensuing free-kick somehow went unpunished. Orban was merely a step behind an easy finish for the 3-0. Forsberg then picked a ball off Bellingham and had a clear path to the net at the hour-mark. Dormtund's young English phenom recovered in time to put the brakes on the Swede. Leipzig's attacks kept coming. Werner stung Meyer's palms in the 61st.

With all of this going on, it wasn't easy to figure out what Terzic was attempting to do tactically. Reyna settled into a pocket of space on the left flank. Moukoko was a bit all over the place. It seemed like a re-format in anticipation of a lock-change upon the completion of a third sub was in the works. This did indeed materialize later, though the writer should forearm everyone that it wasn't pretty.

A totally disorganized BVB build in the 62nd concluded with Özcan passing directly to Schlager. A little after this, Reyna at least furnished something of a spark for his time. The American shook off two markers on the left and delivered in a top-notch cross for Modeste. Dortmund's French striker made good clean contact. A well-struck effort nevertheless whizzed about two meters wide.

Just when was about to praise Reyna for coming through with the needed finesse, the US lad struck the ball directly out-of-bounds in the 64th. Both Gio and Modeste then messed up with their touches on the next rush in the same minute. Modeste back to Reyna in a poor position. Reyna easily blocked with a desperate shot. So much for the spark.

Reyna did get off another nice dribble--part two again--before this action packed minute was out. Nkunku lost the ball and Dortmund were able to get a quick counter off. After dazzling with his on-the-ball skills, Reyna saw another effort blocked. Laimer had Werner through in the 65th. At this point, however, Werner was really looking gassed and couldn't catch up to the ball.

The Austrian midfield duo of Schlager ate up a weak BVB build in the 66th. An injury timeout for Simakan, folded into a drinks break by Jablonski, took care of the 67th and 68th. Henrichs would enter for Simakan. After Reyna got easily dispossessed in the 68th, Henrichs hit the turf. We got another break.

Terzic's third sub entered.

Match Flow: 70th minute to full-time

As feared, Terzic had no one left to turn to apart from the youngster recently called up from BVB II to complete the bench squad. Introducing 21-year-old SV Werder Bremen loanee Justin Gideon Njinmah! The gradual turnaround of the Dortmund formation may have had something to do with the fact that the BVB trainer wanted to debutant protected.

Lineup—Borussia Dortmund—70th minute (4-4-2)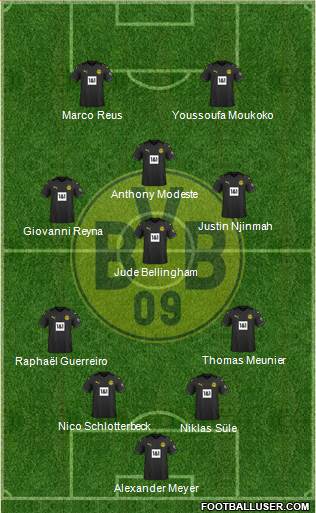 Or not. It really doesn't matter at this point as these tactics practically constituted a capitulation. Players from both sides looked to conserve energy for the UCL battles ahead in the final twenty minutes in a match that had a "lid" long before Amadou Haidara scored the decisive third goal. Forsberg didn't bother chasing a Henrichs through ball in the 70th.

Werner (as noted above, gassed) let Meyer beat him to a long vertical in the 71st. Nkunku pulled a Laimer cutback wide in the same minute. After what looked like some jovial head tennis in the 72nd, Werner sent an effort into the side netting in the 73rd. Henrichs then sat down for some more treatment.

Terzic at least put forth an interesting set-piece design in the 74th. Njinmah, of all people, was the target man. The debutant simply didn't have the speed to catch up. When the BVB started knocking the ball about with zero urgency in the 76th, the columnist saw that this one wouldn't swing and declared a "lid". Rose milked the clock with a pair of subs shortly thereafter.

Lackadaisical "Sunday in the park just for fun" passing around by Leipzig until Haidara grabbed the third goal in the 84th. Werner got an assist on it following some nice work from Szoboszlai and Nkunku. Jablonski had the right idea in forgoing injury time entirely. No sense in prolonging this display. Everyone off the pitch. Game over.

Full-time xG

xG Leipzig--2.3, xG Dortmund--0.7

Basically right on the money.

What more can one really say about Dortmund at this point? The injuries. Always with the injuries. BVB enthusiasts might be pleased to know that sporting director Sebastian Kehl and the front office team have made some changes to the medical staff. Perhaps that will make something of a difference in the future.

To be fair to the Dortmund club brass, they did make a solid effort to balance this roster in the offseason. Poor Dortmund have a much better balanced squad than the team that beat them so badly in this fixture. The injuries this year simply veered into insane territory early this year. Hard to believe that the medical staff can even be faulted.

Of course, there is also the matter of transfer busts. Yes, there's been too many overvalued players brought in. Some nine months ago, after Dortmund lost to Bayern in round 14 of the 2021/22 "Hin-Runde", we had to lead a column with a photo of Nico Schulz. Now it's Julian Brandt's turn. Another €25 million market worth loss.

After performances like this one, it boggles the mind that the 26-year-old is still valued at €25 million. As pertains to Wolf, the congenital loan-out wasn't a permanent fixture on Michael Zorc's roster for good reason. Sure, the 27-year-old, earned deserved plaudits for his laster-career positional flexibility. As matches like this make evident, however, he can deliver duds from most any position too.

Think we can all safely assume that the reunion with Erling Haaland on Wednesday is about to go very badly. A Schalke on-the-upswing can also cause them problems in the "Return of the (große) Revierderby next weekend. Still plenty of potential in this team, but the injuries aren't going to clear up quickly. Moreover, a crew that just got the stuffing knocked out of them and quit on their coach can't be trusted.

Thanks so much for reading! You can occasionally catch Peter goofing off while watching non-Bundesliga football on twitter, @ViceytheSS.

Twitter DMs are open for football conversations, corrections, and (if you truly insist) general abuse. 

All columns debut on Bulinews before appearing on Peter's website later in the week.



Related stories