Kouadio Koné, Gladbach's dynamo
By Rafael Garrido Reinoso @RGarrido2210
At just 20 years old, Kouadio Koné completed an incredible first season in the Bundesliga, earning him praise and the label as one of the league's most complete midfielders. In his second season, he isn't slowing down.

But what makes Koné so good? In this profile, we'll take a dive into his playing style and stats.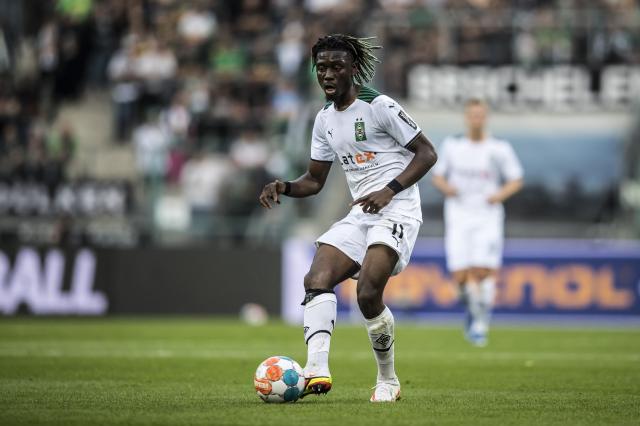 | | |
| --- | --- |
| Manu Koné. | Photo: Borussia Mönchengladbach |
Kouadio "Manu" Koné was quick to earn a starting spot in Borussia Mönchengladbach's midfield after arriving at the German club in the summer of 2021.




Fast forward a season and a half, the young Frenchman is starting to get linked with a move to a bigger club, with several Premier League clubs flirting with the midfielder.

If we look at his profile, we'll see why, but we also need to keep an eye on some of the aspects he needs to improve.

Kouadio Koné is a jack of all trades, the French midfielder possesses enough quality on the ball to be a competent offensive threat and is an absolute machine when it comes to pressing and winning duels.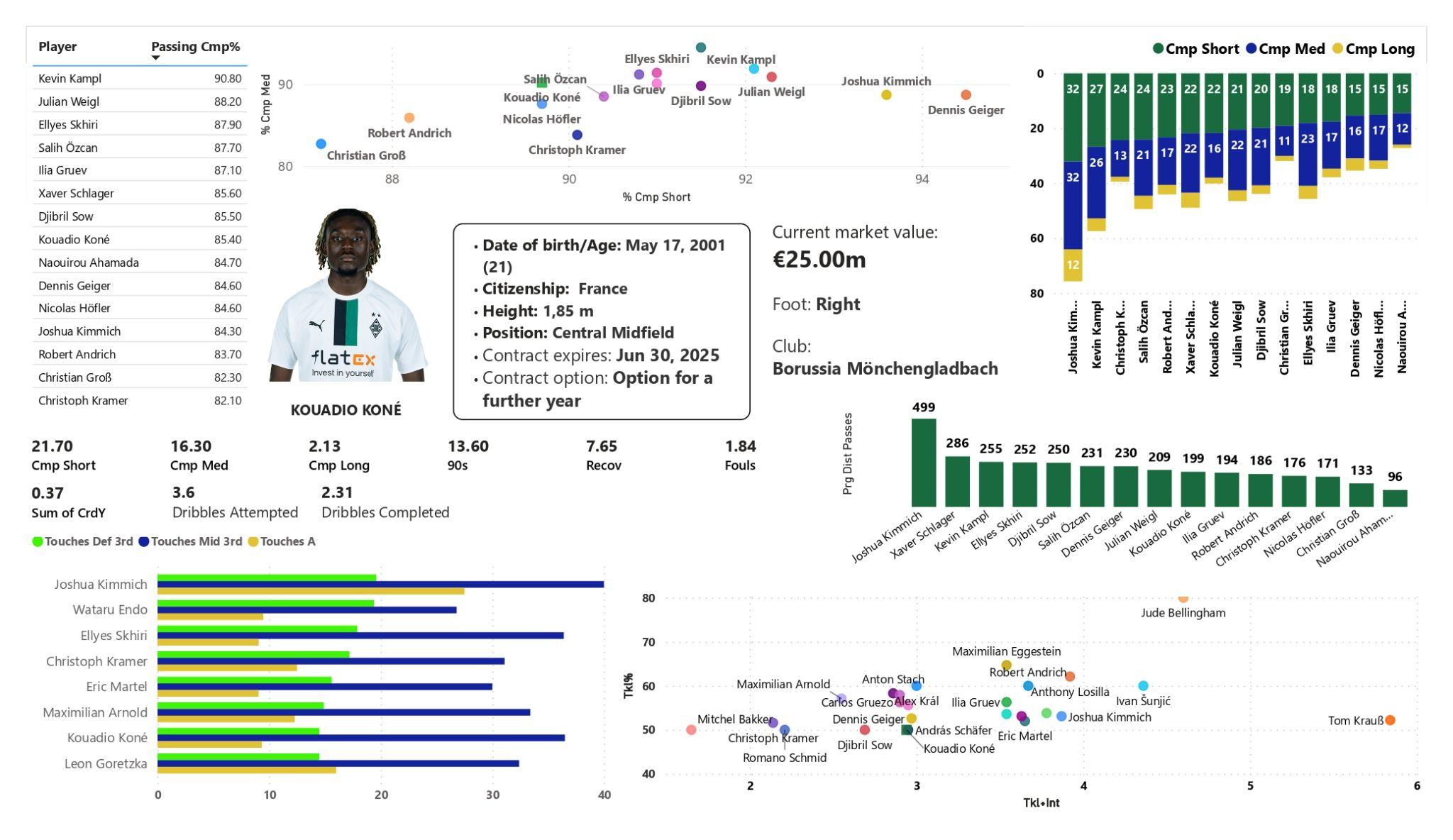 His numbers tell a lot

*All the stats are per 90, taken from FbRef, Own graphic

Koné has an 85% passing accuracy, sitting 8th among midfielders with at least 7 matches played this season and over 82% passing accuracy.

The Frenchman also shows a very good percentage in tackles and retrieves a good number of balls each match, sitting among the best midfielders in the league and being the more mobile on the chart, except for Jude Bellingham, whose numbers are so impressive it shouldn't be fair to compare anyone to them

His numbers are quite interesting when compared to other midfielders, as most of the players that appear with the filters have the profile of a holding midfielder or more of an orchestrator rather than a box-to-box.

The distribution of his touches and passes describe his role in the team well, as most of his passes are short ones and the majority of his touches happen in the middle third.

His companions in that comparison are nothing but stars and very solid players, as on the low-left corner we can see the midfielders that have at least 9 touches in the attacking third and no less than 13 in their own third, while still holding that 82% accuracy in pass minimum.

Along with his touches come the great number of successful dribbles Koné makes every game, elite among Europe's midfielders in that area.

Looking at the same filters, Gladbach's box-to-box monster ranks 9th in progressive passes yards per 90', as he is always in search of breaking lines, whether it be with his dribble and speed or with a vertical pass.

Within a context

Every time we look at data, we need to add context to it, if not, it's worthless.

For a football player, the context lies with his team, the league, and his traits.

Borussia Mönchengladbach are a very combinative team, who work their way through short passes in the build-up phase to then try to explode vertically; Die Fohlen are ranked 4th in Passing Accuracy and Attempted Passes and are 2nd in Short Passing Accuracy.

This idea of building slowly with short passes helps Manu Koné to reduce the number of risky passes he makes.

His number of passes per game denotes that his role is not that of a creative player, with around 40 passes completed each match and 16 of them tagged as medium-distance passes.

This is also a positional thing, as Gladbach stand in a 4-2-3-1 in the construction phase and Julian Weigl is the main receiver of the first pass; Koné helps with this, despite receiving almost no passes as the first option, by dropping near the line to take the pressure of Weigl.

It's very interesting to see how Weigl appears next to Koné in progressive passes, short passes completed and even in touches in the final third; despite him not appearing in the table due to the filter, Weigl ranks near the top among the midfielders in touches in their own third.

This role in the double 6 also explains Manu's very low number of progressive passes received each game, around 1.6 per game, as he usually tends to participate in the play either coming on from a second line or being that carrier of the ball.

The same thing explains his good amount of passing progressive yards, as that is his main task for Die Fohlen, ranking 6th among midfielders and being one of the reasons why the club ranks 7th in the same category in the Bundesliga.

That would be the best way to define his offensive game: A progressive carrier and passer, he's that dynamic.

Koné ranks at the 99th percentile in dribbles attempted and succeeded for a midfielder in the top 5 leagues.

His ability to turn around and operate in tight spaces and escape markers mixed with the power of his first steps and long strides allow him to eliminate defensive lines with ease and push the team forward, creating problems for the opponent, as he also receives a good number of fouls each match.

Borussia Mönchengladbach's style of defence helps him up to a point too and explains the distribution of his tackles and defensive duels.

Die Fohlen, despite trying to press high like most teams in the Bundesliga, have their defensive success when sitting in a middle block, a defensive transition Koné makes effortlessly and that being the reason to why most of the Frenchman's defensive actions are around the mid-third or his own-third; Gladbach are the team with less tackles in the opponent's defensive third.

A duelist

The Toulouse product is elite in the 1v1s, offensively, but especially defensively.

Koné is rock solid when it comes to retrieving the ball from an opponent, winning 60% of the tackles he made last year, and being a disruptor throughout the defensive phase.

The midfielder is only second to Jude Bellingham in duels won in the Bundesliga, having won 201 duels so far this season.

You could even make the case that Koné is being "misused" by Gladbach due to the team's style and intensity of defending.

Die Fohlen are not only the team with the least tackles in the opposing and mid-third, but also allow the 3rd highest passing percentage in the Bundesliga, their high-pressing is not great and the lack of speed in their legs hurt it along with the counter-pressing, thus having to fall back into a stronger middle block.

Manu Koné is also an impactful player with his pressing, reaching the opponent player quickly to disrupt the play.

His high motor, strength, and efficiency in the tackles, make you wonder if he could even get better numbers and be more determinant in a higher third of the field if the teams support him.

Offensive Traits

The youngster possesses a good number of noticeable traits and even tendencies, both good and bad.

Koné might have the best dribbling along pure midfielders of the league, his ability to escape from traps and even 2v1 in the inner halls or around the center of the pitch is amazing.

His passing is very reliable, despite most of them not being super creative or risky through-balls, Koné does not tend to commit unforced errors when passing his teammates.

He also seems to have the agility of a much smaller player, turning around with some ease and changing directions very quickly with the ball on his feet; this along with his long stride is what makes him so good at breaking the lines.

However, he has a heavy tendency to do everything with or towards his right foot.

Most of the time Manu Koné receives facing towards his goal he'll turn around to his right side and will stop the ball with his right foot unless he has no other option; if you see a match or even a highlight reel of Die Fohlen's midfielder you'll notice it.

The same goes for his dribbling: He has a heavy tendency to start the dribble with his right foot and towards his right side, although the side changes more depending on the situation, it's almost certain he'll make the first touch with his right foot.

Koné is so skilled at sorting the tackles that this tendency might go under the radar, but certainly more than 1 team has already dialed it up.

As a thing that tends to come with age, the midfielder from Die Fohlen needs to improve his offensive positioning off the ball, as he could make use of it to support his teammates and take advantage of the opponent's bad positioning.

His vision is very limited as well, or at least that's what it seems; the Frenchman has an eye to connect vertically with his advanced teammate or with those near him, but really does not have the vision or the confidence to change the side of the play or create chances with a through ball.

He also needs improvement with his composure when facing a high pressing with his back towards his goal and he's been the first passer, as he gets rattled and tends to return the ball quickly to his defense.

Despite that not being his main role, it's certainly a nice tool to add to the arsenal and it would enable him to be a decider in the last meters of the pitch.


Defensive traits

His stamina and quickness also translate into the defensive phase, possessing a quick activation after a loss and eagerness to regain possession.

His strength in duels makes him a valuable asset in any defensive line or situation and is comfortable running the pitch forward to press or retreating to form a middle block.

Manu has also shown to be capable of covering his teammates' backs when the fullback goes up.

However, his eagerness to retrieve the ball and knowledge of his superiority in this aspect tend to play him a bad hand.

Koné sometimes arrives too accelerated to a challenge or a pressing, not necessarily committing a foul but making the action senseless.

He still has to perfect his criteria on when to jump to press and when to cut a passing lane and hold the line, especially in a team that does not support his high motor.
In the same way his offensive vision could be better, so could his sense of anticipation; that would be the aspect needed to be a complete defensive force.

Without a question, Kouadio Koné holds at his young age already a great set of skills and is certainly prepared for the style of football that will come in the next few years; it's only up to him to keep improving to reach even higher levels.



More about Kouadio Kone
More about Gladbach