Americans in the Bundesliga:
Brooks, Matarazzo, and Scally assessed in week 29
By Peter Weis @PeterVicey
Three graded sections cover the matchday 29 work of John Anthony Brooks, Joe Scally, and American trainer Pellegrino Matarazzo in the latest installement of our "Americans in the Bundesliga" column.

The deep-scout from this past weekend did not neglect the minutes logged by Paxten Aaronson and Jordan Pefok. A brief explanation of why those players were nevertheless not included can be found in the introductory paragraphs.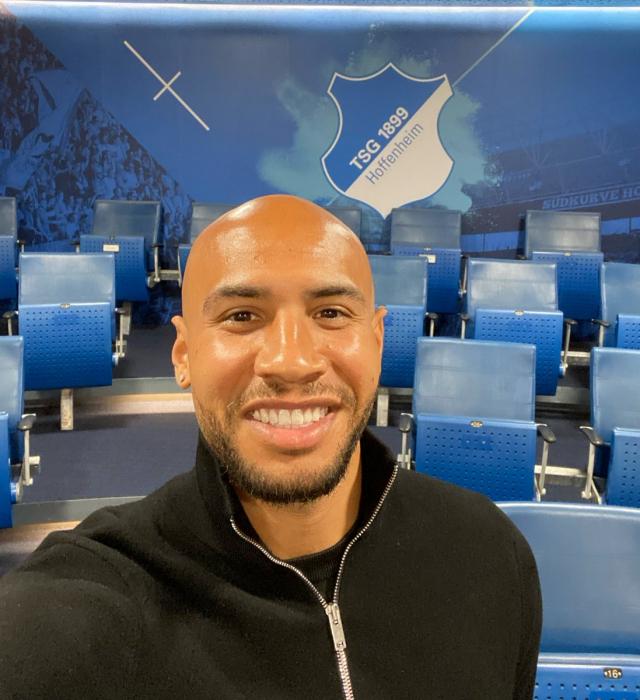 | | |
| --- | --- |
| John Anthony Brooks | TSG 1899 Hoffenheim |
We've three graded section's in this week's edition of our "Americans in the Bundesliga" deep-scout feature. Paxten Aaronson of Eintracht Frankfurt and Jordan Pefok of 1. FC Union Berlin did log significant minutes off the bench for their respective sides, but didn't factor into their matches significantly enough to merit grades. Gio Reyna went unused on the Dortmund bench. Kevin Paredes sat out injured. Caden Clark didn't make the Leipzig bench squad.


Aaronson played the final twenty minutes of Eintracht's 0-4 loss to Dortmund. The Pennsylvanian racked up 18 touches in the writer's count. Had he gotten a shot on target or assisted on an effort in a match long gone, the columnist might have considered a section. As it stood, it was mostly leisurely stuff. Jordan played 22 minutes and recorded 13 touches. He too, however, didn't produce anything in front of goal. Let it be known that the D.C. native did look strong defensively.

John Anthony Brooks, TSG 1899 Hoffenheim

Minutes played = 90/90, Positions played = CB

Grade = B+

One might think it slightly crazy to accord Brooks such strong marks when it was his handball penalty that allowed Köln to turn the tide in last weekend's defeat. The Berliner also inadvertently deflected Jan Thielmann's shot into the next on the 0-3. The fact remains that Brooks turned in a largely strong performance; perhaps even more impressive given that the two instances of bad luck could have easily de-railed him. The tall center-halve did his job as the squad's defensive anchor in Pellegrino Matarazzo's latest tactical set-up:

Lineup—TSG Hoffenheim—Match 29 (3-3-2-2)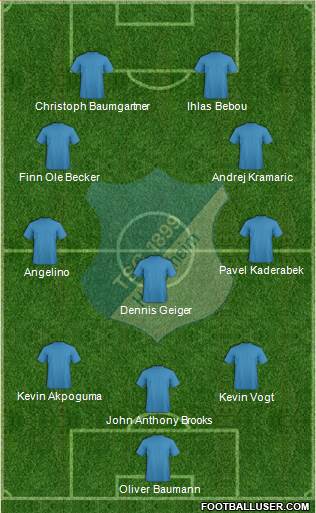 Two personnel changes from last week's 1-1 draw with Bayern saw Kevin Vogt and Finn Ole Becker replace Ozan Kabak and Angelo Stiller. Becker over Stiller naturally heralded a return to the 3-3-2-2 system. Brooks still captains the defensive corps from an inverted pivot position. He once again did a fantastic job. No shortage of monster aerial wins in this encounter. They can be found in the 2nd (twice), 4th, 30th, 47th, 50th, 56th, 82nd, 84th, and at 90+4.

Though he did have his fair share of aerial losses (3rd, 17th, 45+3, 53rd, 58th, 62nd, 69th), these were easily offset by colossal and often vital ground wins in the 8th, 24th, 45+4, 55th, 61st, and 86th. It could have been much worse for the Sinsheimers on this day without some of Brooks' calm touches and quality forward passes out of the back. Those came in the 7th, 11th, 14th, 22nd, 23rd, 30th, 40th, 41st, 48th, 49th, 52nd, 54th, 60th, 68th, 73rd, and 83rd.

Some clearances (5th, 10th, 21st, 32nd, 70th, 78th, 90+1) bordered on the shaky and desperate, but they did get the job done. A lot of his ground losses and blown marks (19th, 20th, 28th, 29th, 34th, 35th, and 39th) came in the aftermath of the handball penalty. The Berliner needed a little time to reset following his rotten luck, which can be forgiven. Naturally, there were far too many of them to merit an "A-Level" performance. He also needed to do better on his one effort on target (well wide) in the 45th.

Overall, however, Brooks largely exuded a quiet calm and confidence both as a defender and someone responsible for so much of this team's build-up play. His performance deserves above average marks. He connected with roughly 90 percent of his passes and made several brave carries forward. Ground and aerial duels clocked in near the 70-percent-mark in the columnist's count. One expects a good performance from him this weekend against Leipzig.

Pellegrino Matarazzo, TSG 1899 Hoffenheim (Trainer)

Matches = 1, Result = L

Grade = B

Some interesting ideas from the league's American trainer this weekend. Matarazzo did his level best to interject some life into his team during the Köln loss, employing two major tactical shifts within the match. In the end, it wasn't enough. The Kraichgauer nevertheless started the second half promisingly when Munus Dabbur came on for Becker and the squad re-formatted into a high-pressing four-attacker-set. Matarazzo flattened out both his midfield and defensive axes to some positive effect.

Lineup—TSG Hoffenheim—46th minute (3-3-4)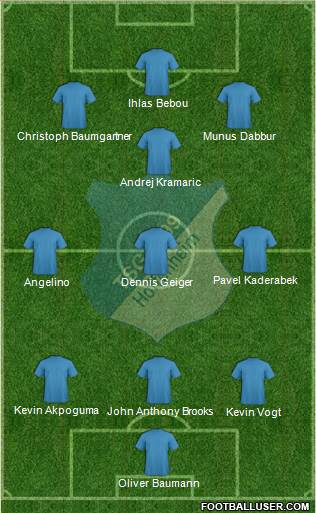 Bebou, Kramaric, and Angelino all got efforts in prior to the hour-mark. Köln had great difficulty adjusting to the flatter axes, though Steffen Baumgart's side eventually cracked the code. Matarazzo responded first by bringing on Robert Skov for Kevin Akpoguma in the 67th. For a while, Brooks and Kevin Vogt were the only functional defenders. Within about five minutes, Tom Bischof entered (interestingly) to work as the third defender. Sebastian Rudy and Kasper Dolberg, the final two changes, completed the final constellational switch.

Lineup—TSG Hoffenheim—81st minute (5-2-3)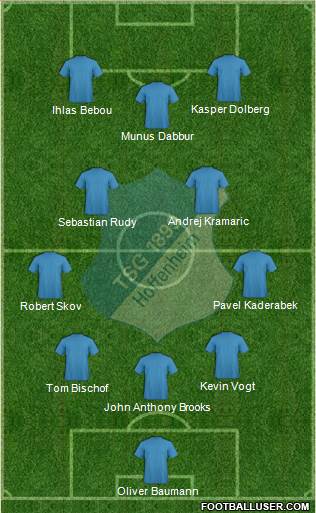 We at least got a goal out of this. Dolberg - on a play initiated by an excellent forward header from Brooks - scored his maiden Bundesliga goal. The Danish striker did net a tally for the TSG in the Pokal loss against Leipzig, who happen to be Hoffenheim's opponents this coming weekend. With Bebou experiencing something of a form dip, and Dabbur's strength as a false-nine well beyond proven, we might actually see something like this from Matarazzo against the Saxons.

Kramaric could easily take Bebou's place on the left. Christoph Baumgartner can move back to his natural position in supporting midfield, maybe even assuming something akin to the role Kramaric had against Bayern. The writer actually went with Hoffenheim over Leipzig as a tentative tip in this week's tactics column. Despite the fact that Matarazzo's four-match unbeaten-run came to an end this weekend, there seems to be many auspicious avenues the American trainer can take to get his team back on track.

Joe Scally, Borussia Mönchengladbach

Minutes played = 69/90, Positions played = RB

Grade = D-

Not at all surprising to see the Long Island native get the hook early in this one. BMG trainer Daniel Farke evidently saw enough. After a string of bad performances, Scally just can't seem to get back up to the level we all know full well he's capable of attaining. Stefan Lainer came on for our American subject here courtesy of the fact that Scally looked far too tentative and unfocused. Most concerning had to be the fact that he made very poor and often dangerous decisions on defensive clearances. Examples can be found in the 11th, 19th, 28th, 37th, 59th, and 64th.

A player struggling with his confidence often takes far too many touches whenever pressed. Such was the case on the above-mentioned failed clearances and also several passing decisions (4th, 15th, 20th, 22nd, 25th, 44th, 60th) both forward and back. On a few, thankfully limited, occasions (6th, 26th, 45+1) he ended up giving the ball away. While Scally wasn't at fault at all during the lone goal in the 0-1 loss to Union, slack marks and missed challenges in the 49th, 50th, 52nd, 54th, 58th could have left him culpable. Small wonder Farke opted to take him off as he wilted late.

The rest of Scally's game on this day was pretty much a mixed bag. He actually did rather well on attack trails, contributing positive movement/touches in the 10th, 13th, 40th, 43rd, 45th, 45+4. He worked in useful crosses and whip-ins for lead-striker Marcus Thuram in the 14th, 63rd, and 65th. An exquisite long-ball diagonal came in the 39th. The CFG New Yorker came in well under 50 percent on both ground and aerial duels, but some nice wins can still be found in the 34th, 56th, and 67th.

Losses in the 1st, 2nd, 37th, 42nd, 51st, and 60th preclude Scally's grade from rising up on last week's marks. He was often late on the defensive track backs and did have trouble (18th 30th, and 45+2) with half of his attempts to work crosses into the box. It probably is time for Farke to consider giving him a rest this coming weekend against Stuttgart. The foals have nothing to play for really and this American has to refresh and re-charge. Lainer might very well start in Scally's place, particularly with Ramy Bensebaini ruled out.

Thanks so much for reading! You can catch the release of all Peter's columns on twitter, @ViceytheSS.

Twitter DMs are open for football conversations, corrections, and (if you truly insist) general abuse. 

All columns debut on Bulinews before appearing on Peter's website as the season progresses.




Related stories