Bundesliga Tactics Talk: Round 32
By Peter Weis @PeterVicey
The 2022/23 German Bundesliga's "ante-penultimate" matchday is officially complete! Matters remain far from settled in both the title race and the quest to avoid the drop.

The Bulinews Sunday night recap feature has it all broken down for our readers with full coverage from all nine fixtures. This week's column features predictions for all areas of the table along with draw-ups for Freiburg and Augsburg.

The "focus" feature honed in on Frankfurt-Mainz; a match with some important European ramifications. It also serves as a farewell of sorts for Eintracht actors heading for the exits alongside their soon-to-leave head-coach.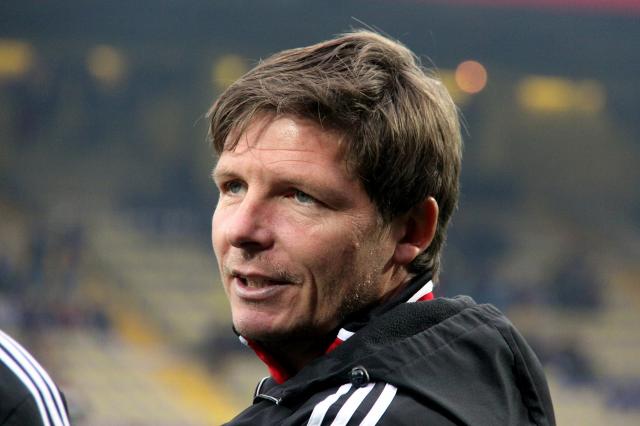 | | |
| --- | --- |
| Oliver Glasner. | Photo: Steindy, Wikimedia Commons, CC BY-SA 4.0 |
Bundesliga Tactical Banter: Round 32
Wolfsburg keep things interesting

Insofar as it's possible to maintain consistent interest in all things Wolfsburg, the 2-1 home win for Niko Kovac's VfL over visiting TSG 1899 Hoffenheim did pump the German Wolves up to the second Europa League place in the table. Hoffenheim also missed out on a chance to effectively extract themselves from the relegation race. In a move that most certainly qualifies as interesting, Kovac trusted the exact same XI and formation that humiliated themselves last week against Dortmund. Very "un-Kovac-like" if a long-time Bundesliga columnist may say so.


Sticking with the same back-three nearly backfired towards the end when an exhausted Joshua Guilavogui tuned the ball into his own net at 90+1. Apart from that, it was a fairly dominant performance from Germany's green company team. Andrej Kramaric, John Anthony Brooks, and Ihlas Bebou had chances to score for the guests, but one could tell that Matarazzo's TSG remained pretty rattled by some early defensive lapses; one of which led to Jakub Kaminski's opening goal. Starters Bebou, Angelino, and Munus Dabbur made further mistakes on scoring chances.

Returning "de-facto" leader Grischa Prömel perhaps put it best when he said that "ordinary" matches weren't good enough for a relegation-threatened team. The Kraichgauer weren't anywhere near sharp enough to pose a real threat, even when they did get past a much more compact and disciplined VfL 3-3-2-2. The TSG remain in rather big trouble with Union and Stuttgart left. Wolfsburg will keep us guessing next Friday against Freiburg. There's some reason to tune in to both these teams.

Leipzig render things uninteresting

Ach. Du. Scheiße. Just when we thought SV Werder Bremen were about to pull off the big sensation - and clinch official class preservation while they were at it - Christopher Nkunku had to go and do his thing to lead RB Leipzig to a 2-1 comeback victory. Indeed. Sunday's capper hurts the German footballing soul. Perhaps Bremen had to pay their karmic dues for that famous comeback over Dortmund in round three. Perhaps Marco Rose's "RB system" 4-2-2-2 was bound to work eventually if he stuck with it for an entire match. Or, perhaps, the better team just won.

As we entered the second 45 with the scores still level in Sunday evening's capper, common sense held that the Saxon hosts had a few more upward gear shifts in them. The German Red Bulls were bossing possession and nearly scored on a nifty set-piece design near the end of the first half. Bremen remained committed defensively, but had real problems getting the counter rolling and hadn't generated any chances and could barely penetrate past the halfway line. Strange words to type, but after his amazing run last week, SV were missing the presence of Christian Groß.

One didn't really feel like the Hanseaten stood much of a chance until Marvin Ducksch and Leonardo Bittencourt produced that flurry just after the hour mark. When the initial Nkunku goal was chalked off and Bittencourt gave the guests a surprise lead, we had roughly five minutes of hope. Truth be told, the way Leipzig trapped Bremen with an unrelenting late push in the final quarter-of-an-hour left little doubt that the late goals would come somehow. They did. Drat. So much for the Champions' League race.

The "Spiegel Specials":
Union-Freiburg (1:4, 4:2)

Almost a perfect mirror. The Breisgauer, as is not uncommon for this time of year, have fallen back to earth hard. In stark contrast to the SC that secured second place for themselves over the winter break with an easy win in the reverse fixture, we're now talking about an SCF that just might have nixed its top-four prospects for good. In a familiar and and unfortunately heart-wrenching twist, it was also a loss against Union on matchday 33 last year that killed off the Champions' League prospects for the southern Badeners.

Attempts to reverse the mental aspects of the downward trend manifested with the back-to-back losses against Leipzig last week only yielded a constellation totally incapable of coping with FCU trainer Urs Fischer's 3-5-2 "double stack". Streich and squad skipper Vincenzo Grifo have admitted that they played a totally incompetent first-half. The SCF back-three summarily failed to keep Union strikers Kevin Behrens and Sheraldo Becker from latching onto long balls. What was coming remained obvious enough. That didn't mean it could be stopped.


Lineup—SC Freiburg—Match 32 (5-2-3)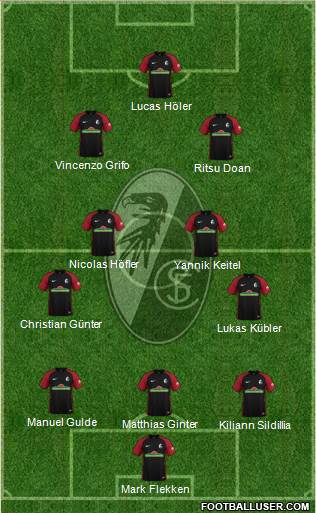 In his post-match comments, Streich has also conceded that he made a fatal error including Lukas Kübler in the starting XI after the 30-year-old had been out for most of the week with a cold. Kübler had to be subbed off with circulation problems in the 32nd. The more offensive-minded Roland Sallai took over at right wingback. Shortly thereafter, the floodgates opened. Too much space in which Union could operate. Far too many mistakes in crucial moments.

Manuel Gulde totally blew his marking assignment on Becker Behrens' opening goal in the 5th. Kiliann Sildillia also slipped whilst trying to track the goalscorer. Current Germany U21 captain Yannik Keitel cut a horrible figure on the second and third Union goals. Sallai had his problems on both tallies as well. In Keitel, Sildillia, and Sallai, Streich found himself on the wrong end of three crucial personnel changes. The first two were new additions to the XI.

The improvement in play that saw the visiting Breisgauer pull two goals back came courtesy of the fact that, to begin with, Streich yanked captain Christian Günter in favor of Noah Weißhaupt at the half. For eight minutes after the restart, the BaWü boys ran around in something totally incomprehensible. Their gaffer then introduced Michael Gregoritsch and Kenneth Schmidt for Keitel and Sildillia. One has to question why these two players weren't in the XI to begin with.

This functioned much better.

Lineup—SC Freiburg—54th minute (4-3-3)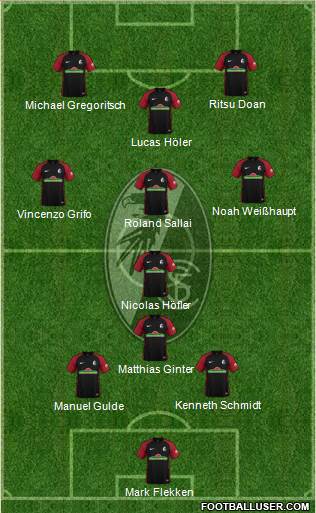 Wildly contemporary stuff insofar as footballing tactics are concerned. A Catenaccio-bolt-lock and a false-nine. This upped the Freiburg game optically, at least according the squad a chance to earn a few useful dead-balls and convert them. Gulde polished off a Grifo corner in the 56th. Grifo himself, sticking to the recent trend of Bundesliga "Panenka" penalties, converted the 2-3 from the spot in the 70th. Unfortunately, it was Weißhaupt who made the initiating mistake leading to the counterattack that eventually sealed the match with the 4-2 ten minutes later.

The age of some of the actors involved here holds some significance. Sildillia is only 20, Weißhaupt merely 21, and Keitel just 23. The 20-year-old Schmidt actually did okay in relief, but it was likely his age and inexperience that rendered him a scarcely conceivable candidate for the starting XI in the first place. Given that Union possesses the more seasoned and cool-tempered veterans, it doesn't appear all that surprising in hindsight why a clear winner in this massively important Champions' League battle emerged here.

If more established players such as Gulde, Günter, Sallai, and Kübler happen to confront a bad day at the office, the younger corps stand without much of a chance. Matthias Ginter and Nicolas Höfler weren't exactly on-point either. A cascading series of errors passed from the old guard to the youth ranks on this day. So it came to pass that Freiburg's hopes of stepping up to the Champions' League next season likely evaporated for good. A shame. German football lovers would have liked to see a draw here.

Prognosis: Champions' League places settled

The fact that Freiburg now sit in fifth place, and have dropped down to a minus-eight goal-differential against the team they just lost to, pretty much ensures that it will be Europa League football for the Breisgauer next season. This despite the fact that one could even see them recovering to take their two remaining league fixtures against Wolfsburg and Frankfurt. Freiburg actually clinched a UEL spot last weekend.

As for Union, this result is tantamount to a top four clinch. Freiburg and Wolfsburg only present a nominal threat. Whether they end up in third or fourth place this year, we're going to have UCL nights at the Stadion An der Alten Försterei next year! Incredible news for German football enthusiasts. Naturally, we could have done without Leipzig's win. Something truly unexpected has to occur for the current top-four to change.

Bayern, Dortmund, Leipzig, and Union.

Okay, fine. We can deal with that.

Bochum-Augsburg (1:0, 3:2)

The 1848ers do the double over the Bavarian Swabians. What a match this was over at the Revierklub's Vonovia Ruhrstadion! With their backs completely against the wall, Thomas Letsch's VfL played their hearts out from the very start in front of their raucous hometown fans. Said supporters now know full well that all it should really take is a win against Hertha next weekend to secure a third consecutive season of Bundesliga football. Beautiful stuff. Bundesliga fanatics couldn't be more pleased, particularly in light of the fact that this weekend's fixture was pleasantly insane.

A gripping and nervy first-half

Letsch entered the encounter with some serious personnel problems. Namely, his options at the fullback position crumbled like a set of Roman ruins. The VfL trainer had little choice but to deploy Dominique Heintz on his unnatural position on the left and the struggling Saidy Janko on the right. Letsch also had to move Erhan Masovic out of midfield and back into the defensive chain. Three of the four players tasked with holding the defensive line weren't in the back-four last weekend.

Starting ten Philipp Förster already had to play through injury. New addition to the six slot Konstantinos Stafylidis had to be subbed off with injury for the not particularly healthy Kevin Stöger on 36 minutes. Bochum - after taking an early lead via a dream goal from winger Christopher Antwi-Adjei 180 seconds in - ended up conceding an equalizer shortly before the half-hour mark. The more steely and determined side still had to break a 1-1 deadlock with 45 minutes to go.

A wonderfully crazy second-half

The first bit of action saw Felix Uduokhai nearly score an own-goal in the 51st. Augsburg captain Jeffery Gouweleeuw then did score an own goal eight minutes later when deflecting in Antwi-Adjei's sharp effort for the 2-1. Three minutes after that, Elvis Rexhbecaj probably should have been credited with an own goal after he deflected in a distance laser from VfL captain Anthony Losilla for the 3-1. Losilla - playing like a man possessed on this afternoon - nearly scored again late-on, both near his opponent's goal and his own.

A-wha? Feel free to blither now. Keeping up with all the potential storylines in this one proved near impossible. With Kelvin Yeboah even drawing the FCA within one goal of a draw with a tally five minutes from time, the see-saw nature of Bochum-Augsburg surely left many a writer prepared to give up and stick straws in their hair. At the end of the day, xG stats were level and no one used more than the edge of their seats. Still, one maintained the general feeling that the better team won.

A quick word on Augsburg tactics

The Fuggerstädter have received fewer draw-ups this season than any other Bundesliga side apart from Bremen and 1. FC Union Berlin. In round 28, we briefly discussed how trainer Enrico Maaßen's deviation from his regular 4-4-2 was making matters worse. A soft 3-6-1 "pillow" here forced some hard work out of the Westfalen hosts. It was nevertheless a pretty ugly looking constellation that produced some seriously choppy football. One hopes we won't be seeing this again.

Lineup—FC Augsburg—Match 32 (3-6-1)




Nice to see Mërgim Berisha back in the starting lineup, but the newly called up German international really couldn't do much from his spot on a deep-buried second axis. The same applied to Ermedin Demirovic and even goal-scorer Arne Maier from their disconnected slots. Link-up up play generally looked lousy. The flat back-three also turned too many of the builds into stop-start retreats. A lot of inconspicuous phases here as Maaßen stuck with the shape throughout the full 90.

Prognosis: A new direction?

As we remarked last week, 34 points should be sufficient for safety insofar as Augsburg are concerned. That doesn't mean that it's officially assured. At the very least, we could be in for a the closest of all shaves on the final matchday. It could all come down to goal differential when the last full-time whistles blow. Reflecting on what - in light of the heavy transfer spending - a somewhat disappointing campaign, Maaßen may be packing his bags this summer.

Stefan Reuter and the FCA administrative team find themselves positioned at a rather interesting fork in the road. Should a rookie trainer be allowed to continue on and try to make something our of this hodgepodge of assembled talent? Few arguments actually speak for this. The squad isn't built in the most balanced way. Maaßen's moving of certain players around has yielded mixed results. Keeping him portends an early-season coaching change next year should things still fail to come together.

The column predicts an offseason shift.

Dortmund-Gladbach (2:4, 5:2)

So close to a perfect mirror! When taking the obligatory look back at the round 15 column, the writer declares himself most happy to eat crow. Read it and weep, "Mr. Chronicler". Dortmund's title hopes were declared dead in the most certain terms. A 2-4 loss to Gladbach to wrap up the calendar year left the BVB with a long winter break left to ponder their fortunes in sixth-place in the table. Everything was a mess. No one playing for this team wanted to discuss their club form. World-Cup-bound Julian Brandt famously remarked that he felt physically and emotionally ill.

Flash forward to the bright sunshine accompanying the end of the season and Brandt can aptly be described as "Mr. Sunshine". The 27-year-old has encountered some dips since his early 2023 form surge, but mostly continues to ride the form of his life. In Saturday evening's home victory over the foals, Brandt was involved in three of his side's five goals. He made the third and fourth happen directly via some nice combo play with Donyell Malen. Brandt clearly evolves into a leader for this team, alongside the likes of Malen and Karim Adeyemi. They all do their part to drive the squad.

Few, if any, negatives to report from the latest Dortmund win. Sebastien Haller supplied two superbly slick finishes to complete his scorer's brace. Jude Bellingham - a poorly thought-out "Panenka" penalty notwithstanding - turned in a fine performance. Some shaky defending towards the end mattered not as, for once, Gregor Kobel proved that die Schwarzgelben have a top-quality keeper in goal; one capable of leading them to the title should some things break their way.

Prognosis: It can still happen

We arrive at the point in this strange season in which the teams square off against the two opponents they first faced in the new calendar year. We mustn't forget what transpired during round 16 and round 17 of the current campaign. Dortmund delivered rollicking victories over Augsburg and Mainz while Bayern could only draw Leipzig and Köln. A further FCB slip-up isn't out of the question; not by any stretch of the imagination.

Mainz's recent form (observed below) even tilts the strength-of-schedule argument over towards a more even keel. All that really needs to happen is for the record champions to drop points against a German Red Bull side with plenty to play for or a Köln team that's suddenly waking up. The columnist heads out on a limb. Not only "can" it happen, he believes that it will.

The "Burning Questions": Round 32
Is it over for Hertha?

In all likelihood, yes. Trainer Pal Dardai, reasonably enough, kept his XI from last week together unaltered on Friday night against Köln. Though the strongest squad Dardai had to offer unquestionably began the game courageously enough, one could immediately tell that the 4-2-3-1 was having trouble not wilting in the face of the Kölner counterattacks. It thus didn't come as much of a surprise to see the cathedral city side take the lead on their first legitimate attack of the game. Kudos to Davie Selke for scoring against his former club.

The Domstädter remained the clearly superior team throughout much of the first half. Lucas Tousart's equalizer came only courtesy of a deflection off Kingsley Schindler. Hertha keeper Oliver Christiansen preserved the scoreline with big bail-out saves against Schindler and others. When Dodi Lukebakio and Stevan Jovetic exploited an Effzeh gap to give the capital city guests a surprise 2-1 lead against the run-of-play in the 33rd, one had the feeling that this unreflective state-of-affairs wouldn't last long.

It didn't. Steffen Baumgart's Geißböcke quickly snatched the momentum back. Newly installed, and quite comfortable, ten Florian Kainz supplied the assist for Timo Hübers via a free-kick on the equalizer in the 39th. Ellyes Skhiri accorded his team an early farewell gift by restoring the lead in the 39th. A gorgeous free-flowing counter involving Linton Maina and the subbed on Steffen Tigges (for the injured Selke) preceded the play. Hübers later completed a brace and Dennis Huseinbasic got a goal too during a second half in which Hertha were absolutely wretched.

A Timo Hübers brace? Only against Hertha one must say. With a note of humor, one can look back at some past comments from Hübers during the dark days of Köln's goal-scoring drought. It's possible to credit the hard-working central defender with demonstrating the tangible power of positive thinking.....or one could just say that the Charlottenburgers have now irreversibly fallen apart. The statistics are damning. No one in the Hertha coaching quarters will find much to draw from this.

Damning statistics

A paltry 0.9 xG to Köln's 3.84. Close to 30 crosses and dribbles executed against them. Less than 40 percent duel rates both on the ground and in the air. A 3:1 shot ratio that featured over 30 shots from the hosts. A 4:1 corner ration that featured twelve flag services from the hosts. A 71 percent pass rate compared with Köln's 84. Only 37 percent possession over the course of the entire match. Yeah, this is truly bad. Dardai spoke of a general "mentality" problem with his entire crew. Well assessed.

The road forward

There isn't much of one. The gaffer's son Marton had a horrible day in midfield. Fullbacks Marvin Plattenhardt and Jonjoe Kenny were completely overstretched, in part because Lukebakio and Marco Richter did next-to-no defending of their own. Agustin Rogel never synced with CB partner Marc Oliver Kempf after having to relieve the injured Filip Uremovic early. Dardai needs a whole new system here; one capable of competing in duels and recovering the ball. Regrettably, he doesn't have time for that.

Game over.

Anything of interest from Bayern-Schalke?

Not especially. The full-time match stats here basically mirrored that of Hertha-Köln in every last category. Thomas Reis' Königsblauen were only able to muster up 0.34 xG during their wholly predictable trouncing at the hands of the German record champions. Tight man-marking was clearly the name of Reis' strategy game. It became apparent after five minutes or so that this would stand very little chance of working against the superior opposition. Thomas Müller, operating as a ten and donning the captain's armband amid exit links, carved it up easily with his incisive passing.

A 2-0 halftime lead felt both decisive and deserved. Total one-way traffic at the Allianz. Credit to the giants for never taking their foot off the gas pedal. Thomas Tuchel's XI kept up the unrelenting pressure until Serge Gnabry scored a brace and Jamal Musiala, Joao Cancelo, Noussair Mazraoui, and Mathys Tel all got their names on the scoresheet. Job done. Onto the next case. Back to big problems for Schalke now as talismanic attacker Marius Bülter picked up his fifth yellow card, Cedric Brunner had to depart injured, and the whole front line played awful.

Difficult to foresee how die Knappen pick themselves up after this one in time to take some points off Frankfurt and Leipzig. Bülter's absence next week against Eintracht constitutes an enormous loss. January acquisition Michael Frey still hasn't scored a goal in the colors of his new club. Kenan Karaman, Tom Krauß, and Alexa Kral - all in forward deployed positions this time - were totally limp. Reis truly needs to devise something special in order to keep this team in the race for the relegation playoff place. That seems to be the best finish they can hope for.

How about Bayer-Stuttgart?

Hrumph. We got a third "Panenka" penalty of the weekend. That's something approaching interesting. Otherwise, the completely lifeless and low-tempo first half left most of us flipping over to the taped 2. Bundesliga fixtures. Leverkusen trainer Xabi Alonso, admittedly having to cope with the loss of two of his starters, took no chances ahead of the far more important Europa League fixture on Thursday. Florian Wirtz and Adam Hlozek began the game on the bench. Neither side took many risks at all during the goalless first half.

The fact that the two sides traded spot kicks for their goals seemed appropriate. Germany's red company team just weren't in the mood. Sebastian Hoeneß' Swabians were downright awful with their passing in the final third. Energy levels didn't even really increase much with everything at stake in the final ten minutes. "Cagey" was an apt way to describe this encounter. Few, apart from last-placed Hertha of course, will have been satisfied with it. The lower level offerings this weekend were much better. Nothing much of interest here.

Weekly Tactical Focus: Adieu, Herr Glasner!

Our "focus" section this week couldn't resist a little bit of a voyeurism. Two sides coming off bitterly disappointing defeats, Eintracht and Mainz, met in what is - on occasion - a fierce German footballing regional derby. Two RheinMain clubs squared off in a match that did maintain some significance for listing sides hoping to qualify for Europe. Voyeurism enters into play more obviously on the Frankfurt side. Oliver Glasner's confirmed departure from the SGE (and suspension in this one) didn't mean that the broadcast cameras wouldn't be hunting for him.

Hunt they did. Find him they did. Glasner was caught watching proceedings from the Deutsche Bank Park grandstands. The look on the 48-year-old Austrian's face proved immensely interesting. Glasner seemed downright melancholic as he watched his squad dismantle a Mainz side still visibly shaken from the late (90+12!) loss against Schalke last week. It almost seemed as if, after four years in German football, Glasner was wondering if it was wise of him to give it all up by firmly inserting his foot in his mouth.

The columnist found himself getting a bit wistful in his own right. After four seasons of covering Glasner on the Bundesliga beat, he shall miss this coach. The two years at Wolfsburg and two with the RheinMain Adler have been a pleasure to report upon. Since coming up north, Glasner has taken two German clubs to Champions' League qualification. He'll forever go down in German footballing lore as the man who brought us our first Europa League title in 25 years! That's something that spans the generations.

Whatever the result of this one ended up being, it seemed fitting to at least give Glasner a proper send-off in these pages. May the colleagues on the Isle enjoy his company next year after a Premiership side snatches him up. Even if he wasn't coaching on the sidelines here, the man who ran the SGE training sessions over the course of the week did an excellent job of drilling and preparing his team for this one. He also likely had a hand in bringing out the best in several of his starters.

Lineup—Eintracht Frankfurt—Match 32 (3-4-3)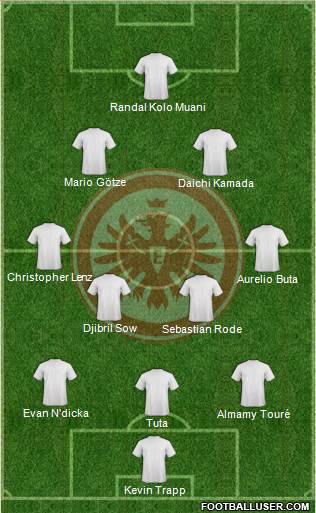 Nothing really new tactically going on with Frankfurt. This year's column already contains numerous examples of this very same draw-up. Interesting choice to forgo starts for both Jesper Lindstrøm and Paxten Aaronson (two players mired in a competitive battle for a slot) and give Daichi Kamada the go up top. The soon-to-depart Japanese internationals has had consistency issues attack. He had them here as well, but was eventually able to make an impressive breakthrough.

Mario Götze turned in an absolute beast of a match. Tuta largely did well from an ever-so-slightly suppressed inverted defensive pivot. The midfield tandem of Djibril Sow and Sebastian Rode functioned very well. Evan N'dicka had his moments. Randal Kolo Muani was downright thrilling to watch as always. Sow, Kamada, N'dicka, and Muani join Glasner as a pair of actors we're surely set to bid farewell. Luckily we still get to watch Götze and Tuta next season. The man who scored the goal-of-the weekend, Aurelio Buta, is also here to stay.

Lineup—FSV Mainz 05—Match 32 (3-4-3)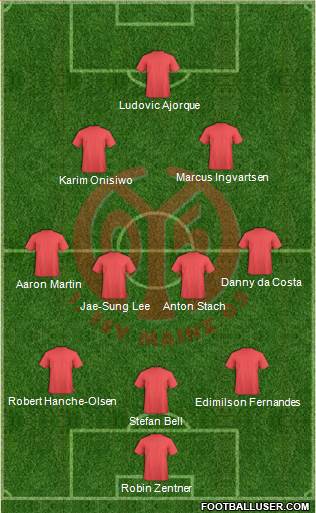 As we were talking about last week, Rheinhessen trainer Bo Svensson had a serious problem in that he had to replace his two sixes Dominik Kohr and Leandro Barreiro. Marcus Ignvartsen took one starting slot while the versatile Anton Stach occupied the other. Jae-Sung Lee moved back into central midfield. Karim Onisiwo flipped his side slant to accommodate Ingvartsen. Yeah, needless to say, this didn't end up working at all. No one in the Pfälzer XI found their way into the game in any meaningful way.

Match Flow: 1st to 9th minute

It took a little while for this one to wake up. Mainz were surprisingly passive off the ball. Frankfurt, meanwhile, maintained a tentative tone on it. A rightward cycle up the SGE right involving Götze, Buta, Touré, and Rode had no clean zip to it and easily petered out. Danny da Costa had no ideas beyond a wayward vertical for the counter. Patiently bow-arcing for a while in the 2nd, the Hessen hosts didn't try to move forward until a Götze slip pass for Muani was easily blocked at the end of the minute.

Robin Zentner stepped forward to bat away a Tuta vertical in the 3rd, getting ahead of Muani when the SGE tried to work the ball back to their striker a little later. Onisiwo tried to punch through on the left on a counter after the second sequence. Sow had the FSV attacker covered and the ball went out for a goal-kick. Rode, Kamada, and Sow got a forward triangle going in the 4th. Götze and Buta joined in before Onisiwo fouled the latter. Götze's quick free-kick service was repelled by Lee.

Götze saw a square ball repelled by Stefan Bell on the next SGE charge in the 5th. Robert Hanche-Olsen took care of a N'dicka vertical in the same minute. Kamada then gave the ball away via a heavy touch as Eintracht continued to fail to get going. Da Costa outboxed a deep-dropping Götze as Frankfurt continued to hold possession through the 6th. Muani also failed to find his way past the FSV blanket five-snap-back. Rode opened up some space for Christopher Lenz on a switch in the 7th.

Lenz was forced to retreat twice by tight marking from Stach, da Costa, and Edimilson Fernandes. Kamada managed to get Muani free in some space in the 8th. The French sensation opted to tap back for the onrushing Almamy Touré. Muani's fellow Frenchman got his finish all wrong. Goal Kick. The first real signs of progress from the hosts nevertheless came in the same minute when Touré won a brave header that landed the ball with Götze. The resurgent international earned a corner off Bell.

Götze's 9th-minute service from the flag enabled N'dicka to bungle the first shot on target onto Zentner. Frankfurt were back in front of Zentner's goal before the minute was out following some compelling midfield wins from Sow and Rode. The sequence unleashed Kamada in some useful space on the left. Kamada's intentions got caught between a cross and a shot. Zentner was able to collect easily. There was still some relevance to the chain-of-events in that one had the sense that Eintracht were playing their way into form.

Match Flow: 9th to 18th minute

Svensson's troops had exceedingly great difficulty playing around the confident SGE press in the 10th. After some dicey moments, the Rheinhessen finally made it to the midfield. Rode and Sow halted the progress from there with excellent wins. A nicely calibrated Eintracht attack in the 11th ended with Zentner collecting another Götze square from the right. Da Costa ran a halfway decent counter, shaking off two, before playing Ingvartsen through. Rode was on point to dispossess the Dane.

Mainz kept possession in the second and third ranks through the 12th; the first time one beheld the Rheinhessen enjoying some flow on the ball. Da Costa tried to play Ingvartsen forward again, this time with a header. The Dane had no options but to play back with the SGE back-three holding. Still alive and on the ball on their left attacking flank in the 13th. Lee crept up to try and work in a vertical for Onisiwo. Neither Oniwiso nor lead striker Ludovic Ajorque were in a position to receive.

Touré sparked a counter from the deep. Buta - an absolute terror in this one - crossed in for Muani from the SGE right. Muani nearly got the house rocking with an artistic overhead bicycle-finish. Muani got a touch on the ball, though not the clean strike he wanted. A slight deflection meant that Fernandes, Bell, and Götze had to battle for a live ball that didn't go out for a goal-kick. A desperate clearance from Fernandes and some head-tennis kept the ball in the FSV half until Sow drew a foul from Onisiwo.

Götze's 14th-minute free kick yielded nothing. Sow, N'dicka, Touré, and Tuta nonetheless kept the ball circulating through the SGE back ranks. A nice forward ball from Lenz in the 15th gave Götze, Kamada, and Muani an advantage over Hanche-Olsen and Bell at the FSV back. The trio unfortunately couldn't quite get on the same page. Lenz worked the ball back in again, but the in-crashing Touré committed a foul on Onisiwo. Da Costa and Stach failed to cycle out on the FSV right in the 16th. After a broken Mainz bow-arc, Frankfurt were back in possession.

The penalty that match official Dr. Felix Brych ended up awarding in the 17th came off minimal contact from Hanche-Olsen-Olsen on Kamada in the box. One felt a little bad for Mainz's Norwegian defender as there wasn't too terribly much he could do lying full prone on the ground whilst attempting a fair straddle-tackle away. The quality attacking sequence leading up to it, in some sense, felt deserving of something. Tuta, Touré, Lenz, Kamada, Götze, and Muani were all involved in the play.

Lenz's final cutback for Kamada caught Hanche-Olsen at the end of his lunge. While not exactly inviting the contract, Kamada incidentally tripped over the FSV defender. Brych took a few extra seconds to process the curious scene before deciding on a penalty. The VAR team allowed Brych's subjective viewing of the call to stand. Kamada strode to the spot and beat Zentner despite the fact that the Mainz net-minder guessed the right way. Hard as it may be to believe, it was actually the Japanese international's first league goal since matchday 12.

1-0 to the hosts.

Match Flow: 18th to 40th minute

Eintracht were a tad excited after the 18th minute 1-0, doing little but hitting long-balls towards Muani in the 19th and 20th. Zentner collected on two occasions, opting to start a slow-roll build for his side at the end of the second minute. A calm FSV bow-arc in the 21st ensued before Aaron Martin got the idea of switching for da Costa. The German-Angolan couldn't catch up to a ball too far ahead of him and had to retreat when he finally did get his toe around it. A series of sloppy leftward Mainz triangles eventually gifted Muani a chance to counter.

Bell was forced to haul the agile and ever dangerous French striker down with a tactical foul. Brych reached into the book for the first time to caution the Mainz defender. The 23rd-minute free-kick from a potentially dangerous position involved Touré working something short to either Götze or Kamada. What might have been an elegant design proved a complete flop as the two players got in one another's way. Martin nevertheless had to be on his toes to stop a quick work back in involving Lenz before the minute was out.

Martin played the ball back to Zentner, who in turn attempted to initiate a quick-strike counter by giving Martin the ball back. Rode pumped the brakes on the Spanish wingback with a monster tackle. Hanche-Olsen and Lee managed to keep the play alive barely. An eventual work-in to Ajorque in the 24th was too obvious. Buta blocked and played back to his keeper. Kevin Trapp mimicked what we had just seen from Zentner by playing out Buta quickly. Rode and Götze worked the ball forward for Muani.

The Frenchman once again, too unselfishly, went for a cutback to no one in particular. Ingvartsen got the ball clear, but not fully out. Götze would switch the ball back out for Muani on the right and Martin was forced to foul. Lenz delivered a wicked 25th-minute free-kick in that came close to the heads of three charging attackers. Somehow, it missed and Zentner was able to collect. The FSV net-minder couldn't make much use of his luck, however, firing a long-launch past all his teammates and back to the opposition.

Buta earned a throw-in high up the right in the 26th after Tuta located him with a searching ball. Eintracht put some good work in off the 27th-minute toss. A deflected cross from Götze clapped off Zentner's crossbar. Buta narrowly missed Muani with a switch back over. Sow came forward to take advantage of poor clearance from da Costa. Zentner was again called into action when Sow unleashed an tomahawk blast that the FSV back-stop had to palm over the bar.

There was danger from the subsequent 28th-minute corner as well. Götze worked in two good crosses from the left. Buta then went for Muani in the box after double repels. Hanche-Olsen had to clear out for another corner. Brych didn't like the jostling he initially saw in the box and Götze had to service twice from the right flag in the 29th. N'dicka - stretching - got contact on the ball on the second take. The SGE French defender could only shoulder out for a goal-kick, however.

Mainz worked it forward on the half-right in the 30th and Tuta was cautioned for hauling down Onisiwo. Stach sniped a stinging free-kick from about 20 meters out central in the 31st. The ball whizzed just past the right post. A promising SGE charge in the 32nd went awry when Kamada gave the ball away. Rode and Sow kept the Eintracht midfield engine humming and Muani, after a really nice hold-up on the left, executed a nifty give-and-go with Lenz and earned a corner off da Costa in the 33rd.

Muani got a chance off Lenz's 34th-minute corner. Fernandes ended up blocking Muani with Sow directing the follow up well over. A Mainz counter involving da Costa, Ajorque, and Ingvartsen caught Trapp a little off guard when Ajorque touched down deftly and fired from distance. The centralized effort still went far too wide to trouble Trapp. Kamada had more trouble handling the ball on the next SGE rush in the 35th. Tuta, Rode, and Götze couldn't resuscitate the play. Buta ultimately turned the ball over to Lee.

Lee tried to reach Ingvartsen with a quick pincer pass. The move could have produced something were it not for solid back-tracking coverage from N'dicka. The SGE defender got a touch in on the Dane's effort and the ball went out for a corner. A 36th-minute take from the flag cycled through Lee and Hanche-Olsen, but eventually got whistled dead when Brych spotted an offensive foul from Ajorque on Muani in the box. Trapp took his time on the restart. Kamada couldn't keep the 37th-minute long-launch in play.

Mainz crawled up the right via throw-ins for the duration of the 37th. Sow finally got ahold of the ball and had a clear counter lane on the half right to attack. Hanche-Olsen got rightfully booked for a straight rugby tackle on Sow in the 38th. That counted as more bad news for Mainz as their stalwart defender will be suspended on accumulated yellows against Stuttgart next week. After leisurely bow-arcing and recycling away the remainder of the 38th and the 39th, the hosts would double their advantage at the beginning of the 40th.

Kamada, Sow, and Lenz all got touches in before Tuta unlocked Buta with a gorgeous vertical. Eintracht's Angolan wingback went on a scintillating solo run only bested by an outrageously good tight-angle finish. The 2-0 was, simply stated, an outstanding goal. One felt so very pleased for the emergent Bundesliga star. He had every right to take a bow in front of the Deutsche Bank FanKurve. Given how dominant Frankfurt were up to this point, it was even tempting to declare a "lid" right here.

Match Flow: 40th minute to half-time

To their credit, the Pfälzer managed to muster up something of a response shortly after play resumed in the 41st. An eventual cycle up the right in the 42nd involving Ingvartsen and Onisiwo was actually only halted by some dependable defensive work from the deep lying Kolo Muani. Hanche-Olsen-Olsen was equally as reliable in stopping the SGE's attempt to counter. The Hessen hosts still punched through again after a nice triangle build on the right in the 43rd. Buta, Götze, and Rode kept the ball moving until Tuta got it up to Muani via Sow.

Bell scampered back to block the Frenchman's shot just in time. Frankfurt maintained both possession and pressure through the 44th and Muani was back causing problems again at the beginning of the 45th. This time Touré trailed Buta on the run and serviced the Frenchman from the right. Fernandes stayed one step ahead to clear out for a corner. N'dicka headed Götze's 45+1 service just over and the two sides mutually agreed to let the ball run meaninglessly for the duration of the final minute of injury time.

Half-time xG:

xG Frankfurt--1.40, xG Mainz 05--0.22

About right.

A "lid" beckoned.

Match Flow: 46th to 59th minute

Without changes we continued. The two sides traded tepid cycles (Ajorque-da Costa) and (Rode-Lenz) in the 46th. The Rheinhessen guests were able to apply some useful pressure in the 47th via da Costa and Ajorque again. An awkward clearance from Tuta and a ball loss from Götze gave Lee and Martin another chance before the minute was out. Trapp collected Martin's cross. Ajorque went down in a duel against N'dicka off the ball, but Brych wasn't interested. Stach nudged Muani off the ball when Trapp attempted a quick-strike counter.

Götze, Kamada, Muani, and Buta couldn't find their way through after what was a nice string of passes in the 48th. Da Costa putLee in some space via a switch that ran through Ingvartsen. Tuta easily cleared Lee's diagonal. Muani, Lenz, and Touré worked another serviceable Frankfurt attack before Kamada was dispossessed at the beginning of the 49th. Bell, Ingvartsen, da Costa, and Lee then worked a decent cycle before Tuta stepped forward to clear. Eintracht then settled matters down with a long possession spell that lasted through the 50th.

Götze was all over the place handling the SGE recycles. Fernandes finally stepped forward to take the ball off him. Götze demonstrated great tenacity in getting it back almost immediately. A potentially lethal ball from Götze toward Kamada failed when the Japanese international couldn't get his headed touch right. The throw-in still went Frankfurt's way after the ball deflected out into touch. Zentner got the ball away from Touré off a long Lenz throw in from the right. Muani still recovered the ball and played over to Buta for a cross.

Muani and Lenz both headed Buta's cross over to Götze. It would have been a pretty goal, but Götze brushed his low finish wide. Da Costa and Fernandes pressed high to make something happen for their side in the 53rd. Bell joined them, regrettably missing Ajorque with a first-time diagonal. Eintracht charged back the other way after some bow arcing in the 54th. Hanche-Olsen stopped Kamada impressively and sent Onisiwo through on a promising counter. Onisiwo elicited nothing more than a wag of the finger from referee Brych when he tripped over his own feet.

Buta got caught under his own feet on the next SGE sortie in the 55th. Rode had the Portuguese-Angolan wingback through via a nice ball, but the gleaming goalscorer hesitated with some of his touches and looked to have little left in the tank when breaking into the box. Bell had little difficulty getting in the way of the final square. A play back to Zentner slowed things up a bit. The FSV keeper ultimately couldn't think of much apart from a long-launch in Ajorque's direction at the beginning of the 56th. Ajorque headed on to no one.

Things went back and forth in the midfield over the course of the next couple of minutes. Lee and Hanche-Olsen put in the best work for their side while Rode and Kamada tried to put the advancing Sow through with something different. The ball nevertheless hovered around the halfway line through the 57th and 58th. Lenz required a brief treatment break after a fair, yet hard, challenge from Hanche-Olsen at the end of the second minute. The "lid" would come shortly after play resumed.

It was none other than Eintracht captain Rode who pulled off the double win against Lee and Ajorque. The skipper worked the ball over to Kamada in space. Muani was, as per usual, on the move. Overdue for a slick finish, the French sensational slotted home a cross finish from the half-left that Zentner stood no chance against at full-stretch. Svensson had been preparing some subs for entry, but this one was over before the FSV's Danish trainer had a chance to intervene.

3-0 to the hosts.

Game, set, and match.

Match Flow: 59th minute to full-time

There was a little flicker from the Pfälzer in the 63rd before Eintracht truly took their foot off the gas. Da Costa didn't give up and put Trapp to work with a fine header. Lenz came to his keeper's rescue when Trapp spilled the rebound directly back to da Costa. Ajorque and the subbed-on Aymen Barkok got another double chance long after Frankfurt had switched off in the 75th. Onisiwo had a crack when it truly didn't matter at the beginning of second half injury time.

Some of the late padding enabled Mainz to get up to the 1.0 xG mark. That remains totally immaterial as Frankfurt themselves had a few chances of their own and went well over 2.0. Eintracht can suddenly take a squint at that second Europa League place. Mainz's European ambitions are very likely done even if there remains an arithmetical chance. A weird result to explain; every bit as weird as the broadcast shots of Glasner's perplexed expressions in the overhead suite.

Eintracht's long league losing streak comes to an end during one of the club's most tumultuous weeks ever. Captain Rode once cited Adi Hütter's departure as the reason that the team couldn't qualify for the Champions' League in the spring of 2021. Rode would later marvel at what this club was capable of during the marvelous days of the first half of this year's campaign. Everything went to pot in the new calendar year and, just when it seemed that the final thread had unraveled, they pulled this win out.

Rode didn't know what to tell Kicker Magazine's Moritz Kreilinger this time. The soon-to-retire skipper just labelled the past week "inexplicable". The same could be said of Glasner's facial expressions. The columnist prides himself on being able to read people to some degree. The soon-to-depart SGE trainer looked a combination of concerned and heartbroken as he sometimes despondently sipped his tea. Could it be that he wondered whether he was leaving something special behind?

We shall never truly know. Perhaps Glasner was - as he remarked at his final pre-match presser - merely uncomfortable being in, as he put it, the "passenger seat". All that really remains here is to bid him farewell in what will almost surely be the final "focus" section of a Glasner-coached team. Sniff. Goodbye to Muani, Kamada, Sow, Touré and N'dicka while we're at it. To think that, had the second half of this season gone differently, a dynasty could have developed in the RheinMain metropolis.

Okay, maybe not. The SGE is hardly rich enough to hold onto players in the same manner that other clubs do. That, at the end of the day, was what ended up being the problem. Oh well. At least they've won a domestic and European cup in the last six years. This writer is old enough to remember watching the old "launische Diva" get relegated a full four times. The players and culture in place likely mean that they can hope to stay in the top flight for another decade or more.

Thanks so much for reading! You can catch the release of all Peter's columns on twitter, @ViceytheSS.

Twitter DMs are open for football conversations, corrections, and (if you truly insist) general abuse. 

All columns debut on Bulinews before appearing on Peter's website as the season progresses.



Related stories