Baumann on Keïta transfer coup:
"We've always managed to convince players seemingly unrealistic for us."
By Peter Weis @PeterVicey
In an interview with Werder Bremen's "Deichstube" fan-site, club boss Frank Baumann has issued comments on the massive transfer coup he and his administrative staff managed to pull off yesterday. 

The club's chief personnel executive spoke on the new acquisition's medical history as well as his salary.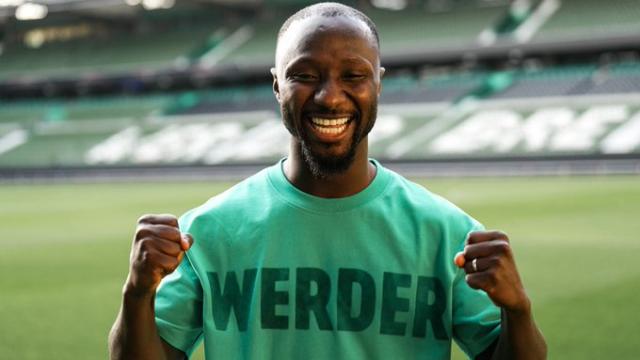 | | |
| --- | --- |
| Naby Keita | SV Werder Bremen |
The sensational unexpected news yesterday that Liverpool's Naby Keïta (linked with much larger Bundesliga clubs this past spring) would actually be joining SV Werder Bremen continues to reverberate through the German footballing world. The Hanseatic city-state club has obviously treated itself to several "victory laps" on its social media feed.


In one twitter post, Bremen collected the promises of its skeptical fan-base when rumors of the major transfer coup began to surface yesterday. The SV posted a collection of the crazy actions SV supporters committed to if they learned that the rumors were, in fact, true. These included throwing wild parties, posting compromising photographs, and even sculpting an honorary statue for sporting director Frank Baumann.

Baumann himself conducted an interview with Bremen's "Deichstube" fan-site. The architect of Bremen's quick promotion back to the Bundesliga after a one-year stint in the second division admitted that he himself held little belief that Friday's transfer would go through when work began in earnest on Monday.

"I also still considered it unrealistic that it would really work out," Baumann confided to Deichstube, "We learned of Naby's desire to return to the Bundesliga some months back and kept on it despite not having the greatest hopes."

The long-time club executive did take his own victory lap, noting that the Hanseaten had scored plenty of major transfer coups under his watch in the past. The 47-year-old was pleased to cite specific names that had donned the Weser green since his accession to the club's front office in 2016.

"We have always managed to convince players seemingly unrealistic to us to join in the past," Baumann noted, "I'm thinking most recently of Max Kruse, Davy Klaassen or Serge Gnabry. With Naby Keïta, too, it was again great teamwork."


"We offer such players a good environment," Baumann continued, "That's where we continue to enjoy a good reputation. On top of that, there's our style of football. And we've obviously given him the feeling that he's needed here and will play an important role."

Naturally, there are other reasons why the Guinean international opted to join a mid-table Bundesliga side from English giants Liverpool F.C. Keïta's recent injury history meant that other clubs were understandably wary of signing him. Baumann addressed this directly in his interview.

"Our medical department was very fastidious," Baumann insisted, "They paid close attention to his current condition. He passed easily. There is no reason to worry."

Baumann did allude to the fact that Bremen offered Keïta a less-pressure-filled environment in which to rebuild his form. The midfielder himself seemed to concede that he found the task ahead a bit more manageable in his own club-sponsored interviews.

As for the issue of Keïta's pay, most all German footballing media sources are now confirming earlier reports that the 28-year-old will receive approximately €1.5 million annually. This constitutes a huge adjustment from the rumored €7.8 million gross he earned Merseyside.

"Naby had much better offers from a sporting and financial point of view, but in the end he wanted to join us because he sees the greatest opportunities here to get back into top form," Baumann said, "He will certainly be one of the top earners with us, but he won't blow up our salary structure. We can handle that."

Baumann's comments may hold true in a literal budgetary sense, but it remains undeniable that the signing will place additional pressure on Bremen as they seek to restructure the contract of lead-striker Niclas Füllkrug. The surprise new German national team call-up himself took a massive pay cut and accepted being passed over for the squad captaincy in order to remain on the club's payroll last summer.

Füllkrug - who was the Bundesliga's best goal-scorer this season - earns a reported €2 million. After he and his administrative team have completed the many more "victory laps" they have planned for themselves this weekend, Baumann still has much work to do in terms of retaining the squad's current talent. Underpaid flanker Mitchell Weiser is reportedly also seeking a restructured deal. 


Wir sind uns als Medienteam zwar nicht sicher, ob wir alle Eure Versprechen einfordern sollten. 🤔

Aber für die Terrassenparty im Sauerland und die Patenschaft vom "kleinen" #Baumann würden wir uns interessieren. 😅#Werder | #Keïta pic.twitter.com/NKJRLzIpFG

— SV Werder Bremen (@werderbremen) June 9, 2023
Wie Frank #Baumann und Clemens #Fritz heute in die Geschäftsstelle gekommen sind. 😎#Werder | #Keïta pic.twitter.com/9Sa7j0tvc8

— SV Werder Bremen (@werderbremen) June 9, 2023
Related stories