Bundesliga 2023/24 Tactical Previews: "The Middle Six"
By Peter Weis @PeterVicey
The advent of a new Bundesliga season just days away! Returning alongside it will be the Bulinews comprehensive recap feature known as "Tactics Talk", now returning for its fourth season on the website.

This week we'll be previewing the new season with the latest tactical updates from all 18 teams following their "soft openers" in the DFB Pokal and DFL Supercup this weekend. Three articles each covering six clubs will survey the top, middle, and bottom of the field.

Next, it's time to take a look at the middle-of-the-pack: Eintracht Frankfurt, Borussia Dortmund, VfL Wolfsburg, VfB Stuttgart, FSV Mainz 05, and TSG 1899 Hoffenheim.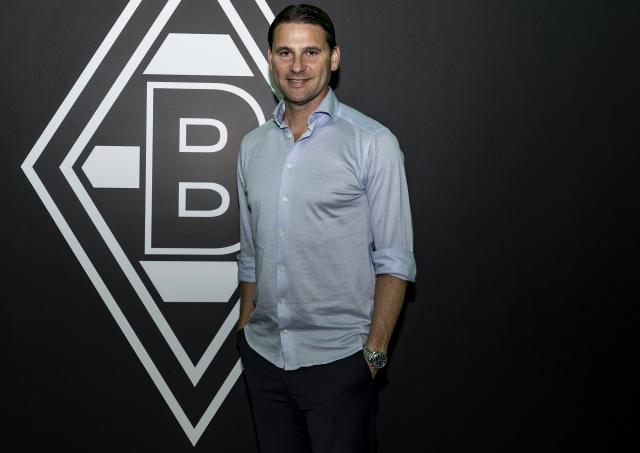 Photo: Borussia Mönchengladbach
---
Introduction: The Middle Six
---


The second of our three tactical preview pieces this week again takes a look a subset of six teams. Matters happen to be nice and orderly this year. A "Top Six", "Middle Six", and "Bottom Six" cover the 18-team-field. Unlike in Monday's post, however, the clubs presented here don't conform strictly to the manner they finished in the table last year. Relegation-playoff winners VfB Stuttgart rise to a middle-of-the-pack projection based on the relative weakness of the 2023/24 division.

Frankfurt, Hoffenheim, and (no joke) Gladbach appear the strongest European contenders at the onset. Mainz and Stuttgart remain more likely to hover around in mid table without making strong European pushes. Wolfsburg, in a not-uncommon occurrence, count as something of a mystery box. The only two clubs to have changed coaches this offseason receive coverage first in this article. One anticipates a lot of early sackings this year. Kovac and Wolfsburg - the prime candidate for separation - follows Frankfurt and Gladbach.

Eintracht Frankfurt

In the complete antithesis of the "coaching carousel" pre-season of two years ago, the RheinMain Adler happen to be just one of two clubs headed into the new season with a new head-coach. Only the SGE and Gladbach (covered immediately below) hired fresh faces over the summer. Former Julian Nagelsmann assistant Dino Toppmölller - who some may recall worked the Bayern bench when Nagelsmann caught COVID a couple of years back - receives his first ever head-coaching appointment at a fully pro side.

Expectations for the son of former Kaiserslautern great Klaus Toppmöller remain mixed. Anyone from Nagelsmann's coaching team surely possesses decent tactical acumen, but literally nothing about Dino's style can be gleaned from a head-coaching career almost exclusively spent in Luxembourg. In terms of the SGE roster itself, the club must still contend with a bunch of reported want-aways whose days in the German commercial capital look to be limited.


Lineup—Eintracht Frankfurt—DFB Pokal (5-1-4)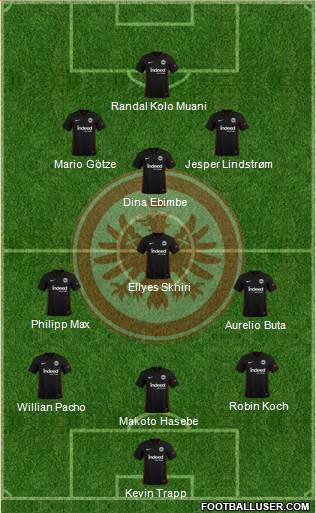 A 7-0 dismantling of Lokomotiv Leipzig in the Pokal didn't turn into a lopsided result until the very late stages. Though Randal Kolo Muani and Jesper Lindstrøm were involved in the first two Eintracht goals, the two attackers heavily linked with departures both played at half-speed and looked to be seeking to avoid injury. As a result, this top-tier side appeared quite harmless against their fourth-tier opponents. The substitutes coming off Toppmöller's bench - with much more at stake - eventually made the rout happen.

Newly acquired striker Omar Marmoush scored the 3-0. Marmoush's fellow new summer arrival Jessic Ngankam added a "blitz brace" in second-half injury time. Returning loanee Jens Petter Hauge collected a hat-trick of assists. All told, the SGE subs were directly or indirectly involved in five of the seven Frankfurt goals. The basic problem of this team - namely, who wishes to be playing for them and who doesn't - has carried over in the new season. The new trainer inherits the task of sorting out an oversized roster of talent with outside ambitions.

Notes from camp, Frankfurt

SGE sporting director Markus Krösche caught some flak this summer for allowing a roster of 40-plus players float through training camp. While clarity about the future of certain actors might have useful, Krösche did well to bide his time with offers and maintain a healthy competitive field ahead of a very busy season for the UEFA Europa Conference League aspirants. Krösche also proved his well-earned reputation for administrative mettle with a solid transfer window that him recruit Marmoush and Ellyes Skhiri on frees and secure Robin Koch on loan for a pittance.

The team itself failed to win a single exhibition match after an early scrimmage against a local club in mid July. Prolificacy in front of goal remained the primary reason why they lost against two other regional sides and only drew Vitesse and Nottingham Forest. Missing midfield pressing engine Djibril Sow, Toppmöller's new set of tactics revolves around Shkiri parked deep in a back-five. Newly signed PSG loanee Eric Junior Dina Ebimbe generally pairs with Mario Götze in midfield. Muani and Lindstrøm, rarely in the mood to risk much, occupy the frontal stations.

The club famously referred by its fans as "the moody diva" always seems in danger of regressing. The three relegations of the past quarter-of-a-century remain a distant memory, but long-losing streaks and slips down the table persist. One mustn't forget that Eintracht placed 11th the year they qualified for the Champions' League via their historic Europa League win. With so much in flux here, it stands to reason that the team shall require some time to work out its new identity. A push for Europe later in the season could be in the cards once the kinks are worked out.

Borussia Mönchengladbach

Gladbach fans will be pleased to learn that - in stark contrast to last year's dour prediction - their foals appear well-poised to remain stable in mid-table this year. Perhaps that doesn't exactly constitute the greatest news as BMG enthusiasts find themselves rightly fed up with mid-table mediocrity. Expectations should nevertheless be tempered after the plethora of personnel changes that took place this offseason. Supporters of this club can take solace in the fact that most of the new players actually want to be part of the project. So long as the team tries, Gladbach lovers will probably be content.

The departure of Marcus Thuram, Ramy Bensebaini, and captain Lars Stindl on frees this summer were expected. The Westphalians then had to contend with an unexpected shock. The team's best player, Jonas Hofmann, suddenly opted to sign with Bayer 04 Leverkusen. No German football watchers saw that one coming. The team's talisman counted as one of the few players who consistently gave it all for the squad last season. Hofmann gave no indication that he was preparing to jump ship. His walkout didn't bode well.

Thankfully, Roland Virkus and the administrative team procured enough targeted replacements to keep the ship afloat. One can feel optimistic about this side's prospects under their third trainer in as many years. Like predecessors Adi Hütter and Daniel Farke, former Leverkusen head-coach Gerardo Seoane took over after the previous trainer departed on the final day of a concluded season. Seoane received the opportunity to shape the squad through a full summer camp.

The Swiss trainer is generally regarded as a good coach who did lead Leverkusen to a Champions' League berth in the 2021/22 campaign. A poor start to the 2022/23 campaign ld to his dismissal last autumn. To be fair, it wasn't exactly easy for him to put together a workable squad in the absence of Florian Wirtz. Successor Xabi Alonso struggled too until he finally got Wirtz back. Seone's Fohlenelf rolled over (admittedly fourth-tier side) TuS Bersenbrück 7-0 on Friday night.

It could not have gone better.

Lineup—Gladbach—DFB Pokal (4-2-3-1)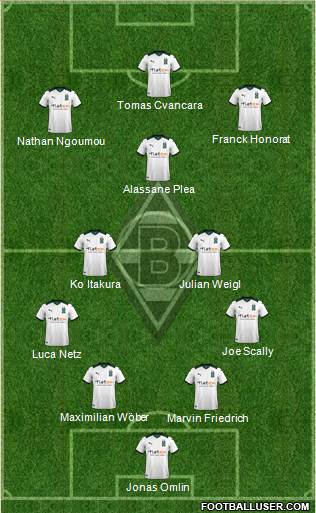 The two new attacking additions - Franck Honorat and Tomas Cvancara - got their names on the scoresheet immediately. Cvancara bagged a brace before the first-half was out. Honorat completed one shortly after the restart. There's more good news to report in that two players who had notorious falling-outs with previous trainer Farke - Nathan Ngoumou and Marvin Friedrich - also played well. Two more summer acquisitions - Robin Hack and Grant-Leon Ranos - came in to score off the bench.

The use of Ko Itakura in midfield only lasted 45 minutes. Florian Neuhaus relieved the Japanese defender at the restart. One should nevertheless still keep an eye on this interesting tactical development. Giving Julian Weigl a defensive-minded partner enhanced the play of the German international. Thanks to the stellar play of this double-six set-up, Alassane Plea lorded over enough space to operate as a fabulous ten. We'll obviously need to see how this performs against better opposition, but the early signs remain quite encouraging.

Notes from camp, Gladbach

An undefeated pre-season campaign included an impressive 7-1 win over fellow Bundesligists VfB Stuttgart. Honorat and Cvancara looked especially good in both that fixture and several others. At times, Seoane deployed a back-three utilizing Honorat as a wingback opposite Luca Netz. Ngoumou has played on both wings while Plea filled in just about everywhere on the forward line. What one sees above shall still likely serve as the opening day lineup, possibly with Neuhaus starting in midfield and Itakura moving back. Things will get more interesting in midfield when Christoph Kramer and Manu Koné return.

VfL Wolfsburg

Germany's green company team found themselves ruing a chance to qualify for Europe squandered on the final day of last season. In the end, it simply didn't add up for the northern "Austostädter". VfL trainer Niko Kovac probably earned more ire in the pages of this column than any other Bundesliga head-coach. The former Frankfurt and Bayern gaffer employed far too many personnel experiments and, bafflingly, often completely ignored the arrangements that did yield results.

Another strange season from the VWers left many of us at a loss. Somehow, whether it was under Kovac, Mark van Bommel, or Florian Kohfeldt, an expensively assembled cadre of attackers always invariably ran out of ideas in the final third. The team on the pitch resembled a walk through the Volkswagen Arena itself. One minute one stands in the midst of a colorful ultra scene. Within a few steps, however, one walks into a gaping pocket of empty seats.

The offseason brought with it plenty of high-value signings such as Moritz Jenz, Vaclav Cerny, Tiago Tomas, Cedric Zesiger, and (most recently) Joakim Maehle. One expects plenty more before the transfer window slams shut. The amount of money banked by the sales of Felix Nmecha and Micky van de Ven leaves a company club without the need for a transfer balance with a hefty €25 million plus to flash around. A concerning new development following the 6-0 defeat of Makkabi Berlin in the Pokal demands at least one more purchase.

Lineup—VfL Wolfsburg—DFB Pokal (4-4-2)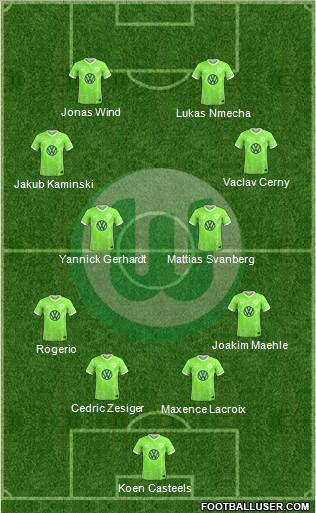 In what could only be described as a gut-wrenching scene, Lukas Nmecha injured his knee yet again. It may indeed soon be curtains for the perpetually de-railed former German national team striker. Some injuries never fully heal. Former Stuttgart attacker Tiago Tomas stepped into the breach to collect a scorer's brace and register two assists in the eventual 6-0 rout. It remains doubtful that the Portuguese attacker can replicate that feat against stronger opposition. We've seen the last of this 4-4-2 unless another striker can be procured.

Kovac kept several regulars - including captain Maximilian Arnold, Ridle Baku, and Patrick Wimmer - on the bench for the "soft-opener". A 4-1-4-1 or 3-5-2 with Arnold pulling the strings could conceivably help the team play more inspiring football than they did in the opening 45 this past weekend. Naturally, it's worth reiterating that Wolfsburg often fail to live up to their potential on paper. All of the over-tinkering from Kovac tends to exacerbate this trend. One expects him to be one of the first coaches on the chopping block if a clear tactical philosophy doesn't emerge.

Notes from camp, Wolfsburg

A half-reserve side did reasonably well to top Freiburg in a light scrimmage late last month. Apart from that, the squad hasn't managed to score more than one goal in any of their test fixtures. The best news from the SCF exhibition - that Nmecha finally appeared to be back fit - has been washed away. Skipper Arnold's struggles with knocks here and there, the plethora of new actors, and  the unavailability of exciting American prospect Kevin Paredes, serve as reasonable excuses for the slow-to-take-off attack.

Given the team's tendency to oscillate wildly between long unbeaten runs and unshakable losing streaks, supporters of the club won't object to something more stable this year. Unfortunately, the columnist highly doubts that the right trainer for something like this stands in place. Marcel Schäfter and Sebastian Schindzielorz ideally should have a couple of alternatives already lined up. In the event that the administrative dup opt to bring Bruno Labbadia back in, go ahead and pencil this club in for the relegation race.

VfB Stuttgart

Much remains afoot in the Württemberg capital after the Swabians survived a relegation scare by beating back the woeful HSV in the playoffs. The first big piece of news this summer came when the "Mercedes Club" announced a new strategic financial partnership with Porsche. In previous columns, the writer always insisted that Wolfsburg be referred to as the "Northern Autostädter" whilst Stuttgart received the "Southern Autostädter" moniker. Now that two car companies back this club, the communists believes German journalists have no choice but to start employing this.

In a not-no-subtle bit of assurance to German football fans who consider 50+1 scared, club sporting CEO Alexander Wehrle insisted that the extra influx of money wouldn't manifest itself in the form of a transfer market splurge. He wasn't kidding. Not counting the permanent signing of Serhou Guirassy late last year, SC Freiburg's Woo-Yeong Jeong counted as the big summer signing. Fair enough. Maximilian Mittelstädt served as a solid budget acquisition. Jamie Leweling, Deniz Undav, and Alexander Nübel for low-cost loan fees also earn Wehrle and sporting director Fabian Wohlgemuth deserved plaudits.

Stuttgart get placed in the mid-table section this year largely by virtue of the fact that the roster appears slightly better and the Bundesliga field remains decidedly weaker. VfB enthusiasts in all likelihood won't witness a repeat of the last two chaotic seasons. The Cannstatter already rode out their biggest scare with the expiration of Guirassy's release clause. Provided most of the squad regulars steer clear of injury, and does a significantly better job of finishing goal-scoring opportunities than last year, Fritzle's famous alligator head should stand above the swamp water.

Lineup—Stuttgart—DFB Pokal (4-2-3-1)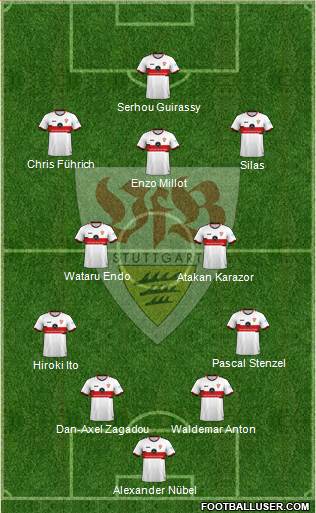 Something surprisingly simple from trainer Sebastian Hoeneß in the opening round of the cup. Perhaps the 41-year-old gleaned some valuable lessons from his less successful days in Kraichgau. Perhaps not. We shall see. Tinkering with this squad never automatically qualifies as a bad thing when a puzzle piece as flexible as skipper Wataru Endo lies on the board. In any event, matters proceeded perfectly in the Pokal. Guirassy netted a brace before the first half out. Silas exhibited some of his old flair with a fine finish. Enzo Millot - Hoeneß' original project - functioned most impressively as a ten.

Endo got in on the act shortly after the restart, scoring the final goal in the 4-0 victory over TSG Balingen. The often compelling Chris Führich came close to netting his own tally on a couple of occasions. The only really unfortunate aspect of the win concerns the tact that we didn't get to glean much about the form of the new arrivals. The team switched into administrative mode early. Leweling, Jeong, and young talent Jovan Milosevic operated at half-pace. At least we do know that the team can play solid football without rumored outs such as Borna Sosa and Kostas Mavropanos.

Notes from camp, Stuttgart

Apart from the declassing by visiting Gladbach, the Swabians played an encouraging pre-season. Guirassy even scored a hat trick in a recent trip to Sheffield. Hoeneß, in the same vein as predecessor Pellegrino Matarazzo, accorded his younger players an awful lot of playing time. This benefited the likes of Milosevic and Lilian Egloff. Some hard luck injuries in camp - Mittelstädt, Undav, Josha Vagnoman, Nikolas Nartey, and Thomas Kastaranas - were absorbed in stride.

The administrative tandem of Wehrle and Wohlgemuth completed a largely competent offseason. Prospects not factoring into Hoeneß' plans received timely loan-outs. The vehement attempts by former chief personnel exec. Sven Mislintat to pry Hiroki Ito away were suitably rebuffed. Wehrle even corrected one of his own PR-driven mistakes by letting the loosely-appointed "club ambassadors" Philipp Lahm and Sami Khedira abrogate much of their VfB-related duties and focus on their DFB tasks.

It should be a much easier season.

FSV Mainz 05

After not missing out on Europe by all that much last season, the Rheinhessen have only brought in two new outfielders, coincidentally a couple of players who spent last season on loan with the relegated FC Schalke 04. Tom Krauß and Sepp van den Berg are now on board whilst Aaron Martin, Marcus Ingvarstsen, and Finn Dahmen are among the departures. Big summer splashes weren't really expected after a very active winter transfer window that saw Christian Heidel and Martin Schmidt acquire striker Ludovic Ajorque and Andreas Hanche-Olsen.

The roster remains thin in several areas. Anthony Caci still doesn't have a back-up at left-back. With Jonathan Burkardt still injured and captain Silvan Widmer out, the Pfälzer are banking pretty hard on youngsters like Nelson Weiper and Brajan Gruda to step up and make contributions. Trainer Bo Svensson still enjoys enormous respect in German footballing circles after the remarkable turnaround he achieved with this team in the great relegation escape after his appointment in the middle of the 2020/21 campaign. The club is banking pretty hard on him to get a lot out of a little too.

Lineup—Mainz 05—DFB Pokal (3-4-3)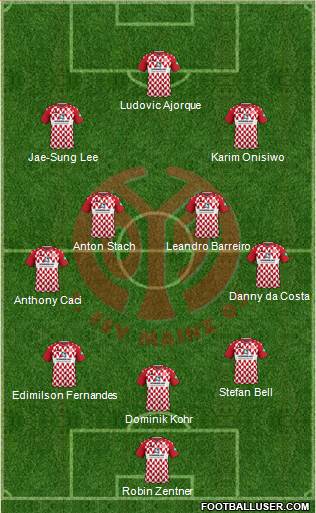 The unavailability of Hanche-Olsen and Maxim Leitsch is the reason Dominik Kohr had to start in central defense during the Pokal round. Long-time central defender Alexander Hack is also rumored to be preparing to transfer to Saudi Arabia. The worse-case-scenario actually did occur in the squad's narrow 1-0 opening round Pokal victory over SV Elversberg. Caci had to be subbed off with an ankle injury late on. Thankfully, it was only in the last ten minutes and Edimilson Fernandes was able to move up.

Ajorque shot the carnival club through to the next round from the penalty spot. To be fair, Ajorque also had a goal disallowed for a suspect offside call in the VAR-less opening Pokal round. The Saarlanders happen to be a very good team and their keeper Nicolas Kristof made a few strong saves. The slender win felt serviceable enough from a top-tier side; at least until Elversberg came within millimeters of equalizing in the closing minutes. The team got the job done with Svensson sitting out on a red suspension.

Notes from camp, Mainz

An undefeated preseason campaign naturally means nothing when one considers all the injuries incurred. Widmer, Hanche-Olsen, and Leitsch all went down in test fixtures. Teenage talent Maxim Dal also suffered a scary stretcher-off injury during a match against Koblenz. Nothing much to report tactically with respect to how Svsensson is running the team. A 3-4-3 with rotations similar to last year remained in place throughout the preseason. A push for Europe appears nothing more than a bonus for this club happy to bide its time in mid-table.

TSG 1899 Hoffenheim

Another club that factored prominently into the 2022/23 relegation race looks to be safe in mid-table this year. Lifelong German footballing enthusiasts will have to decide for themselves how they feel about such news and this club in general now that Billionaire financier Dietmar Hopp technically returned the TSG to 50+1 administration. Hopp kept his word in a legal sense this summer. Die Kraichgauer nevertheless remain a richly financed club pumped with SAP cash that can outspend rivals.

TSG sporting director Alexander Rosen did just about everything right this offseason. Marius Bülter, Florian Grillitsch, Attila Szalai, and Wout Weghorst count as precisely the right kind of targeted upgrades this squad needs to regain European competitiveness. The returning Grillitsch shores up the defense ahead of the already immensely strong John Anthony Brooks. One gets little goosebumps thinking of Marius Bülter and a healthy Grischa Prömel sharing a wide winger horizontal axis. Weghorst, simply stated, is back where he belongs.

Great to have him!

Lineup—Hoffenheim—DFB Pokal (4-4-2)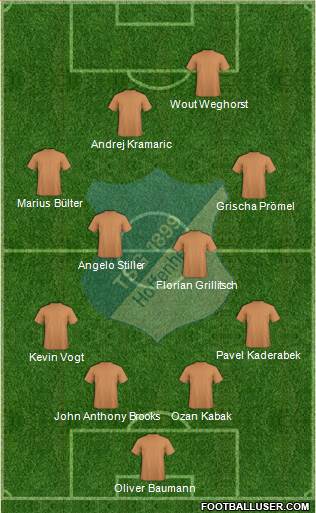 Despite falling behind early to opening round DFB Pokal opponents VfB Lübeck, the Sinsheimers largely had matters under control during their competitive debut on Monday. The columnist observed loads of the trademark "Pellegrino Matarazzo Split-Staggers" he's become accustomed to while covering the American trainer for years in the "Americans in the Bundesliga" column. At times, Bülter and Kaderabek looked as if they were synchronizing wide. Grillitsch floated around quite a bit. Andrej Kramaric definitely worked behind Weghort as a service striker.

Szalai came on at the half to take Ozan Kabak's place in the back three. The new Hungarian addition performed well. A totally unheralded summer signing - Julian Justvan - also came off the bench to score. Justvan worked a four-pronged attack together with Kramaric, Weghorst, and fellow substitute Ihlas Bebou late on. That constellation displayed some scary good potential. This squad may find themselves amongst the European contenders in the coming campaign. Prömel and Bülter might even make a case for the German national team.

Notes from camp, Hoffenheim

Losses to Elversberg, Straßburg, and Fulham don't generate much concern as these all came before the Weghorst signing. Kramaric not only bagged a brace in Pokal victory, but also regularly found the back of the net during the exhibition fixtures. Bebou, too, scored regularly. All the pieces fall into place at the right time. Matarazzo might even stick to a regular system for a change. Germans might even tune into a few games here and there, though most all will skip Heidenheim-Hoffenheim. Woof.

The columnist sends warm greetings to all Bundesliga fans out there ahead of another fantastic season! You can catch the release of all Peter's columns (and occasionally catch him goofing off) on whatever the hell they're calling twitter these days @PeterVicey.

Twitter DMs are open for football conversations, corrections, and (if you truly insist) general abuse. 

Full color re-posts of the columns are eventually archived on Peter's website.



Related stories