Bundesliga Tactics Talk: Round Three
By Peter Weis @PeterVicey
The final round of the 2023/24 German Bundesliga campaign before the first international break of the year had plenty of surprises in store for German football fans. Last week's total of five teams off to perfect starts was slashed down to two following defeats for Wolfsburg, Freiburg, and Union Berlin.

Bayern and Leverkusen are the only two teams with perfect records remaining. As it turns out, these two sides are set for a mega-clash once the Bundesliga resumes in a little under two weeks' time.

Our weekly recap feature here on Bulinews, as always, provides coverage for all nine weekend fixtures. The new formatting of the column this year also enables us to include more draw-ups in each installment.

This week, Union Berlin, Werder Bremen, Heidenheim, Leverkusen, Wolfsburg, Hoffenehim, and Frankfurt receive tactics boards. The deep dive in into the weekend's action never disappoints!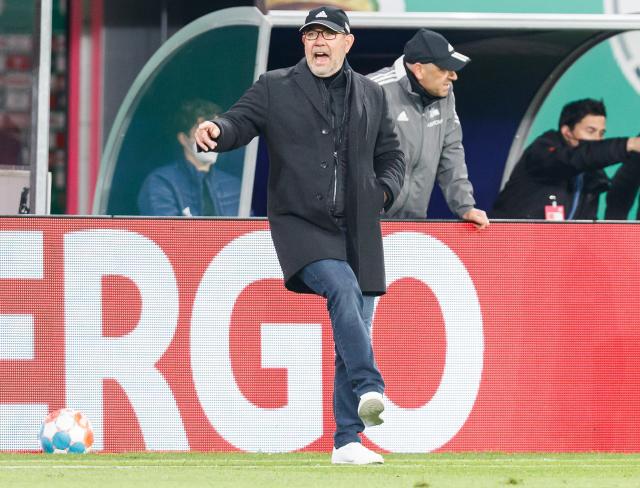 | | |
| --- | --- |
| Urs Fischer. | Photo: Steffen Prößdorf, CC BY-SA 4.0 |
Bundesliga Tactical Banter: Round Three
"Breisgauer Buckling" arrives

It isn't always easy to explain why - at some point during the course of every season - Christian Streich's SC Freiburg invariably turn in a performance that makes them look like a second division side. A lopsided result always comes at some point. The alliterative title of this section has been used multiple times before in this column. Even if the author can't recall the exact instances off the top of his head, certain Freiburg results crop up in the mind immediately. Leipzig's completion of the double over them in 2020/21. The Union stomping late in 2021/22. What Leipzig, Dortmund, Bayern, Union did to them last year.


Note that all of these results occurred against top-four sides. To watch Streich's team fold up so quickly against Stuttgart of all clubs almost seemed unreal. In hindsight, the narrow win against Bremen last week might have presaged this. Streich's actors still appeared to be mostly on the level against the Hanseaten. The central defensive duo of Matthias Ginter and Philipp Lienhart in particular exhibited good form. The often mistake-prone midfield duo of Nicolas Höfler and Maximilian Eggestein controlled their patch about as well as one had ever seen them do so. Young keeper Noah Atubolu surely grew in confidence after capturing his first Bundesliga clean sheet.

All of that went down the tubes this weekend. An early charge involving Kiliann Sildillia and Michael Gregoritsch forced a fine save out of VfB keeper Alexander Nübel inside the opening minutes. Ginter and Lienhart got chances off the ensuing corner. That was about all we got. Sildillia got totally toasted by Chris Führich on the opening goal. No one picked up either Silas or Serhou Guirassy on the 2-0. Lienhart and Ginter ball-watched amateurishly on Guirassy's 3-0 minutes later. More defensive miscues from Lienhart, Ginter, and the subbed-on Kenneth Schmidt during the fourth and fifth goals in the second half. Ugh.

What to make of this? The columnist must first stress an obvious, if not under-mentioned, fact about football. Those of us who have graced the pitch know full well how being rattled mentally affects one's ability to cover ground. It truly is a huge playing surface. All it takes is one split-second of hesitation to snowball into a disaster. Taking one's eyes off one's mark or starting a run late can easily lead to a catastrophe. Höfler and Eggestein displayed visible signs of this pressure. So too did Ginter, perhaps affected from the start by his recent national team snub. Psychological blocks. Knock-on mistakes. Too much going on.

Streich needs to give everyone some extra time off.

"Bochum Badassery" returns

Another one of our column's favorite alliterative tropes. The author maintains that there exists strong evidence that Bochum can transcend their alarming start to competitive play and begin stabilizing. While the Revierklub may only have picked up a point from their trip to Augsburg, most everyone in Thomas Letsch's starting XI - unchanged in terms of both tactics and personnel from last week - turned in encouraging performances. Much of the menace of the midfield press observed last time carried over here. One should definitely accord the VfL transition game some respect. Did anyone honestly think that the newly-signed Maximilian Wittek would be so great at orchestrating counters?

The visiting Westphalians probably should have taken all three points against Enrico Maaßen's FCA in what one can aptly describe as a "typical Augsburg game". The Fuggerstädter blew both of their leads almost immediately in the 2-2 draw. VfL striker Takuma Asano - the scorer of both Bochum goals - came within inches of scoring a hat trick. Asano's top-axis partner Philipp Hofmann got his looks in an registered an assist. Kevin Stöger, a long-time 1848er with plenty of heart-and-soul for his club, turned in an absolute gem. Stöger isn't always consistent, but when he does take flight he conjures up memories of the tough-as-nails "Unabstiegbaren" Bochumers of the past.


Bochum have more help on the way. Note that the author isn't actually referring to late dead-line day signing Gonçalo Paciencia. German football watchers need to take a good lock at his knees first. Seeing is believing in that case. Instead, as we were emphasizing in the pre-season section, it's the Moritz Kwarteng summer signing that really carries with it enormous potential for this team. The versatile attacking midfielder can lend the top axis some intriguing pop; a development further down the line definitely worth keeping an eye on. Asano, Hofmann with a slick feeder behind them? Hopefully Kwarteng shall prove worth the wait.

The "help is on the way" phrase can be applied to Augsburg as well. Two loan deals for EPL defenders on deadline day aim to shore up the defensive ranks. The landing of former VfL Wolfsburg professional Kevin Mbabu does this squad a world of good. At least Maaßen received a reliable right-back. This nevertheless solves only half the problem really as makeshift right-back Arne Engels and his counterpart Mads Pedersen have easily gotten off to the worst start of all the fullback tandems in the top flight. Squad balance remains a problem for Augsburg; something one tends to mention after every transfer window. One legitimately targeted signing helps a tad, but it still may not be enough.

Bayern continue to bore

Looks as if we can't really escape the alliteration in this week's opening section. How else can one describe the German record champions at this juncture? They win ugly. They grind it out. Against an awkward-looking Gladbach midfield triangle with Rocco Reitz responsible for the advanced pressing, one simply must do better. Fading German FCB internationals Joshua Kimmich and Thomas Müller seemed tuned-out to the gaps in the BMG defense, and the columnist definitely observed that there were lanes available. Harry Kane got perhaps half-a-dozen touches in during the opening half.

Gladbach converted a corner at the half-hour-mark and went into the dressing room with a 1-0 lead. Bayern trainer Thomas Thomas was forced to resort to a tactical change at the half, bringing on Konrad Laimer for Noussair Mazraoui and switching to a back-three. Laimer operated on the right side of Joshua Kimmich - as he did in training camp - while Leon Goretzka paired with the reintroduced Thomas Müller in a double-eight set up. At least that's they way the author thinks it was supposed to work. Tuchel may very well have simply turned everyone loose and hoped for the best. In any event, this did lead to a few things happening.

Goretzka, Kimmich, and Müller all got looks in before Leroy Sané scored the equalizer in the 58th. The German giants nevertheless returned to slumbering "Schlafwagen" football until Mathys Tel snatched the late winner. The defending champs remain a team that can only seem to generate confidence in short, stuttering bursts. They honestly remind one of the BVB sides from this "lost decade" of title winners. A botched end to the transfer window doesn't help their prospects either. Tuchel freely admits in his pressers that he presently works with a thin roster. The FCB trainer naturally doesn't wish to add that the ground shakes beneath his feet.

Seasoned Bundesliga watchers know different.

We can "Tel" that something's off.

The Burning Questions: Round Three
Did Urs Fischer mismanage his squad?

Here's a question that columnist would rather not have to answer. Alas, duty calls even after a disappointing result. Many German footballing enthusiasts hoped for a different outcome in Sunday evening's capper. The highly-anticipated duel between RB Leipzig and 1. FC Union Berlin - an emerging East German derby Bundesliga fans want to see burgeon very badly - ended with Marco Rose's German Red Bulls blanking Urs Fischer's Eisern Union 3-0 at the Stadion An der Alten Försterei.

Hrumph. So much for the "toast of the Bundesrepublik". Now we have to contend with Union sinking from first place to fifth in the course of one short week. The Champions' League draw wasn't kind to the Köpenickers either. It might be time for the FCU - and indeed all of us - to come tumbling back down to earth. The case of Leipzig proves that money talks whilst all else walks. Union have been cleverly christened the Champions "Lease" side. Oliver Ruhnert carefully brought Union to the top four mostly through loans whilst RB just spent.

Aye. To make matters a bit worse, we'll have to say that the answer to the question happens to be "yes". Requiring a replacement for the red-cared Brenden Aaronson, Fischer turned to Kevin Volland to serve as the second buttressing support attacker in his 3-5-2. Personnel-wise, he didn't really have much of a choice. Sheraldo Becker, Andras Schäfer, Rani Khedira, and Lucas Tousart are all hurt. Janik Haberer - who did come off the bench later - wasn't fit enough to start after returning from injury.

Volland did get an early effort on target in. For a short while, it seemed like this might even be a brilliant move. Regrettably, die Eisernen truly settled into the type of play that killed us league watchers during their slumps in previous seasons. A totally lax press. No desire to win balls. An actual tendency to give the ball back whenever they got it. No true creative impetus forward. If Fischer planned to stick with the system and plug in Volland, that's well and truly fine. The problem lies with the fact that it didn't look as if the squad had drilled this week at all.

No game up front.

Then came Xavi Simons' 1-0.

Then came Volland's red card.

Lineup—Union Berlin—Match Three (5-3-1)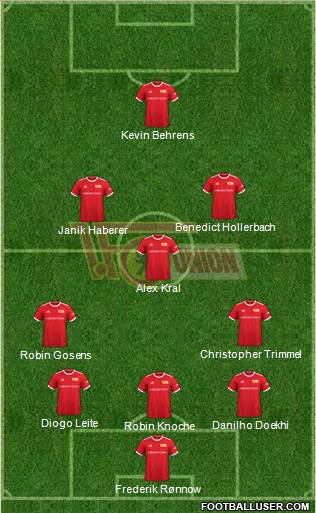 Not at all the audacious 5-3-1 we witnessed following Union's decimation to ten-men last week. Even this couldn't keep two more RB goals out. Benjamin Sesko claimed a quick brace as this shape totally broke down near the end. One honestly wonders what Fischer had his squad working on during what was a full preparation week. Somehow, they didn't look ready for this monster match at all. Union managed to look tired and downright bashful at times before heavy and tired multi-match weeks of the season get started.

A missed opportunity here.

Can Bremen turn matters around?

A rather interesting result up north this weekend saw the top-flight's Hanseatic city-state club earn their first victory of the season. Just when it appeared as if the loss of lead-striker Niclas Füllkrug would plunge them into the abyss, Bremen woke up to net four goals against visiting FSV Mainz 05. Where shall the SV goals come from in Füllkrug's absence? Marvin Ducksch for starters. Ducksch's took care of the first one from the spot with a awarded shortly after kickoff. Ducksch's subsequent departure with injury twenty minutes later left one feeling as an answer had been given, then immediately taken away. Perhaps it was even a "Douglas Adams" case of not really knowing the question.

Unsparingly enough, Bremen struggled to create opportunities with David Kownacki and Nick Woltemade leading the line. The former spurned a couple of opportunities while the latter's touch left one feeling deeply embarrassed for him. The poor recent 3. Liga loan returnee looked totally unfit for this level. Fortunately for the Hanseatic hosts, Romano Schmid, Mitchell Weiser, and Jens combined through the woeful defensive ranks for the 2-0 shortly after restart. Mainz truly fell apart late on, allowing Leon Bittencourt and (attention please) Justin Njinmah to score goals. The final two tallies came in quick succession, rendering the scoreline somewhat deceiving.

Of some interest here, we have the fact that Ole Werner stuck with his usual 3-5-2 system throughout. The basic constellation continues to improve thanks to the fact that some injuries are clearing up and the defensive as the three defenders - and deep sweeper Christian Groß - settle into something approaching a rhythm. It's worth handing a Bremen a draw-up this week as it's logical enough to assume that Werner will stick with it in the coming weeks. Hopefully, we've seen the last of some of the disastrous pre-season experiments. 

Lineup—Werder Bremen—Match Three (3-5-2)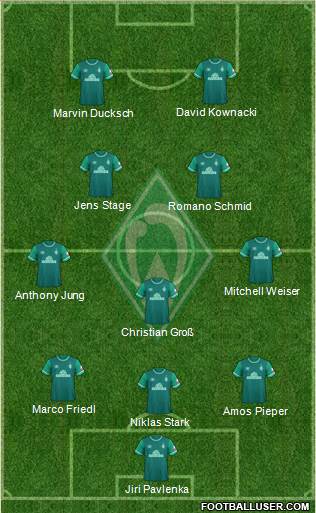 This basic spine can still yield good results.

Subtle changes in the final 15 minutes

It looked to be the case that Bittencourt slid a tad more central after replacing Stage in the 76th. Schmid dropped back to aid and abet Groß' replacement Senne Lynen; a new acquisition who has appeared totally unsorted since his arrival. The shape more closely resembled a 3-4-3. It counted as a smart adjustment that did throw Mainz off. Something like this could be used late in matches until Lynen learns how to operate a bit more like the departed Ilia Gruev.

Even if Lynen appears something of a bust at the moment, there can be cause for optimism with regard to Lynen's fellow Jupiler Pro League professional Olivier Deman. This deadline-day signing was received well in German footballing circles as it appeared to be a well-scouted and thought-out attempt to find a competitor/replacement for Anthony Jung on the left. Jung's start to the campaign has been a bit spotty. Without the option of Lee Buchanan at the position, a serviceable upgrade.

Fitting Borré into this

The Deman signing gets a "thumbs up". The fact that Frank Baumann, Clemens Fritz, and the rest of the SV administrative team found a way to keep Rafael Santos Borré in the Bundesliga receives a "double thumbs up". German football lovers would voice their approval by turning up all their fingers and toes if they could. We can't wait to see the Colombian back in action, this time with a massive chip on his broad shoulders. Eintracht Frankfurt sporting director Markus Krösche himself admitted that he wouldn't have let Borré go had PSG not hammered him on the late Muani deal.

What can we expect from Borré in a 3-5-2? The columnist goes out on a long limb and says that it will work. Borré and Ducksch might need some time to work their chemistry out. Two such types typically need to focus on according one another space. Additionally, buttressing support attackers Jens Stage and Romano Schmid aren't exactly Jesper Lindstrøm and Daichi Kamada. The German fan-fave undeniably doesn't have the same support system he did at Frankfurt. After some acclimatization time, the writer still thinks it will work.

The tip is thus that Bremen can actually begin to pick up points. A rather easy schedule (Heidenheim, Köln, and Darmstadt) lies after the international break. Imperfections may go unpunished whilst the old actors regain their muscle memory and the new ones find their legs. It's not inconceivable that Bremen could take 20 or so points from the "Hin-Runde". In that case, they're well on their way to the magic number of 35 that generally ensures class preservation. Before getting carried away, however, we'll have to address the wretched nature of their opponent this weekend.

The disarray of Mainz

Bo Svensson also likes to largely stick to a simple system. It works under favorable circumstances. The primary problem the Danish trainer faces concerns the fact that personnel situation at the back lies in total shambles. Dominik Kohr and Edimilson Fernandes have been forced to work in the back-three whilst (supposedly) higher-caliber players such as Andreas Hanche-Olsen and Sepp van den Berg worked their way back from injury. Alexander Hack's surprise move to Saudi Arabia obviously didn't help either. Matters are quite thin.

Hanche-Olsen and van den Berg have returned. For lack of a more flattering term, they've been disasters. Hanche-Olsen can probably hope to play better. At this point, the columnist isn't sure that van den Berg was ever any good. Svensson tried Stefan Bell on for Hanche-Olsen at the break. That proved pretty disastrous as well. Bad news when it comes to the wingbacks too. Anthony Caci had to switch right in order to allow new acquisition Philipp Mwene to start on the left. More defending disasters from this move. Yikes.

Ludovic Ajorque - currently hurt - likely still hurts mentally from that historic double penalty miss on opening day. Karim Onisiwo isn't back up to his best form. Jae-Sung Lee still provides a creative spark from his left-slant, but Svensson needs a complement for the South Korean. A genuine shame that Anton Stach can no longer fill this need. Perhaps Marco Richter can. Perhaps, as those of us who followed Hertha last season might suggest, he can't. With all due respects to young prospects Nelson Weiper and Brajan Gruda, this team needs quicker solutions.

What happened in Dortmund?

Aw, cripes. Here we go again. Here come the dozens "My personal BVB" critique pieces from members of the German press corps eager to offer up their (occasionally pretty superficial) analysis on why Dortmund are stumbling out of the gate once more. Perhaps the sole reason we haven't seen more of them pop up over the weekend concerns the fact that most German footballing journalists require a rest cure following the insane finish to the transfer window on Friday. The columnist assures you they're coming. He also hopes to assure Dortmund enthusiasts that it's not all that bad.

German football lovers in general lost trust in such pieces when re-reading the critiques from the first half of the 2014/15 campaign. Some may recall that this infamous start - for which Liverpool fans should be eternally grateful for - essentially birthed the "xG movement". The difficult-to-explain BVB start to the season both gifted Jürgen Klopp to the world and forced us all to re-think how we analyze footballing results. We might as well begin with the xG stats here as they have some merit.

xG Dortmund--2.92, xG Heidenheim--2.72

Mostly, it was just a good football match.

Dortmund showed quality as well.

"Blazing Brandt"

BVB trainer Edin Terzic maintained his (preferred) 4-1-4-1 system from last week with two personnel changes. Niklas Süle replaced the injured Mats Hummels on a like-for-like. The once-again healthy Karim Adeyemi took the starting place of Felix Nmecha. Julian Brandt moved back from his position on the left wing to make way for Adeyemi, occupying Nmecha's role from the previous constellation. It did not take long to confirm what all of us already knew. The on-fire Brandt can presently succeed from any position. Some finish that was on the 1-0 in the 7th!

Brandt got a sharp touch in on the sequence leading up to the penalty that allowed Dortmund to double the advantage from the spot a few minutes later. In stark contrast to last week, die Schwarzgelben got off plenty of intelligent vertical-based attack charges over the course of the opening 45. Most of them came down Brandt's side. A plethora of aesthetically catching sorties (amid well over 70 percent possession) honestly should have led to a larger lead. Donyell Malen, Marcel Sabitzer, Sebastien Haller, and Ramy Bensebaini joined Brandt in playing extremely well.

The two Heidenheim goals

The "replay mania" began six minutes after the restart with the first (disallowed) FCH tally. It took some time to sort out what was ultimately the correct decision. A goal off of Philipp Mainka's bicep doesn't qualify as a tally under the current rules. Malen certainly botched a chance to put the game to bed when he opted to shoot instead of pass to Adeyemi in the 56th. One really can't fault anyone in yellow for Eren Dincki's pull-back goal at the hour-mark. Unfortunately, Malen once again missed a wide-open Adeyemi shortly thereafter.

We required another prolonged stoppage to work out whether Haller's take-down of Jan Niklas Beste in the 77th constituted a penalty. From a fair-play standpoint, the final decision was also correct. Haller negated the Heidenheim offside with his careless touch. The pull-down was also pretty damn cheap. The equalizer felt deserved. Dortmund made their fair share of mistakes on this day, but were somewhat unlucky on a few chances. The subbed-on Nmecha hit the crossbar deep in injury time.

How does Füllkrug fit in?

Wouldn't we all like to know. Unsurprisingly, we don't yet have an answer for how one of the week's more curious signings fits into Terzic's tactics. The man nicknamed "Lücke" ("gap") ironically doesn't close any notable gaps in the BVB trainer's system. Dortmund needed a back-up for Haller, not a second striker. Haller and Füllkrug can't honestly be expected to work in the same way the Füllkrug-Ducksch pairing did in Ole Werner's 3-5-2. Neither one functions well as a service striker either.

We'll simply have to wait. Füllkrug came on for Haller on a straight swap shortly after the penalty pull-down. The new-acquisition dropped back to affect play on several BVB approaches, suggesting that Terzic may have a short-striker role in mind for him. Inserting the 30-year-old into the starting XI naturally would mean sacrificing one of the more dynamic attackers who add width to the Dortmund game. Here we behold something interesting. Terzic can earn still more praise in this space if he finds a novel solution.

Updates on Heidenheim's tactics

The author certainly confesses surprise at featuring draw-ups for the "Ostäbler" in two of the first three columns of the season. Alas, it is so. The fact is that trainer Frank Schmidt got things spot on here. The now longest-serving head-coach of a top flight club (surpassing Christian Streich via promotion) knows how to pluck the strings. Schmidt began by altering his regular 4-1-3-2 into a 4-1-4-1 via the insertions of Adrian and Norman Theuerkauf over Marvin Pieringer and Jonas Föhrenbach.

Lineup—FC Heidenheim—Match Three (4-1-4-1)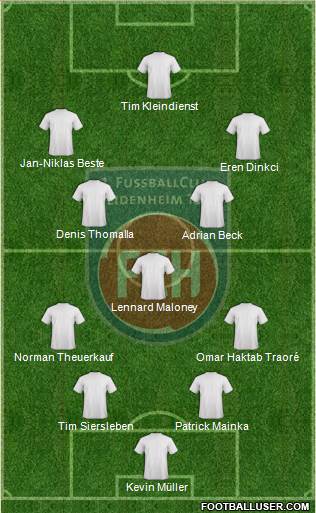 A decent, defense-minded mirror of the Dortmund 4-1-4-1 didn't exactly match the BVB pound-for-pound, but did produce a couple of stellar counters. Defenders Nico Schlotterbeck and Niklas Süle were placed back on their heels on a couple of occasions during the first-half. Schlotterbeck even had to clear an effort off the line early. Schmidt revealed later in his post-match interview that he had reminded his lads about how Bremen were able to turn the tables on Dortmund on the third match-day last year.

The FCH gaffer also switched his tactics.

Lineup—FC Heidenheim—46th minute (4-4-2)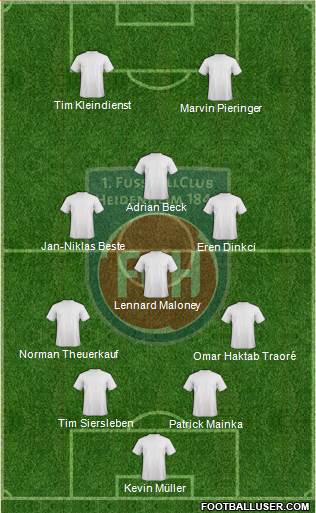 Instead of falling back on his 4-1-3-2, Schmidt ordered a tight and compact midfield diamond to press against the Dortmund builds with discipline. This too didn't always function at the highest level, but gradually began to pick up confidence and break up BVB play. Lennard Maloney and Adrian Beck did a particularly good job in their duels. Mainka and Müller - both off to woeful starts this season - compensated for the mistakes by turning in solid performances. By the time we reached the end, all the Dortmund players were thrown out of position.

One can talk Dortmund errors if one wishes. Haller and Malen nevertheless furnished so many positives that it's not entirely fair to focus on their lapses. Respect should also be accorded to the BaWü border team for their efforts Friday night under the floodlights. The first-ever FCH top-tier point arrived courtesy of a dash of style, some well-thought-out tactics, and (obviously) a little luck. In the final analysis, it's a result both sides can live with. So much football left to be played.

"Weekly Wortschatz": Round Three
"Vize-kusen"

A deep German footballing term leads us off this week. The prefix "Vize-" describes a runner-up. The most common usage in English, albeit in the American parlance, would be "Vice President". Thanks to the evolution of the American political system, the term no longer describes a second-place finisher in its English usage. Originally, the American "Vice President" was actually the candidate who finished second in the Electoral College voting; always invariably a member from a different political party.

This naturally caused all manner of problems and American political parties soon presented two candidates on the same ticket. The affix "vice" then become either a synonym for the pre-fix "co" (as in "vice-chairman") or a direct alternate (as in "vice-captain"). In German, the prefix firmly remained to the also-rans; the one who didn't quite make it to the top. "Vize-Meister" describes the second-placed-finisher in the Bundesliga, the Pokal, and any and all continental footballing tournaments.

When reporting on German football, the term took on pejorative and derogatory connotations. Dortmund are routinely lampooned as the "Vize-Meister". Hard as it may be to believe, Bayern were once often satirized as such during Dortmund's two title-winning-years. And Leverkusen? As noted a couple of weeks back, Germany's red company team were sort of the original "Vize-Meister". They've finished second in the league five times. They've also lost the Pokal Final thrice and came up short in the 2001/02 Champions League Final.

So it was that a play on words developed. The German verb "küssen" ("to kiss") can also (as in English) be used to communicate a narrow miss. Bayer 04 Leverkusen "kiss" titles without winning them. Is this about to change? Bavaria's own Süddeutsche Zeitung believes to think so. Last week, the story covering Leverkusen's win over Gladbach in the Saturday evening "Top-Spiel" led with the headline "Jenseits von Vize-Kusen" ("Beyond the title-kissers" How nice of them to work in a little Nietzsche reference as well.

How good are die Werkself?

Insanely good. Not only did they win big again (5-1 over Darmstadt) this weekend, early results suggest they out-maneuvered most of their rivals in the recently closed summer transfer window. The Bayer roster remains deeper and more balanced than any other team in the league. Simon Rolfes and the B04 front office even went so far as to "punk" Bayern out of their best remaining option at right-back. What? Bayern get picked clean and summarily fail to find replacements? This is new. Such things aren't supposed to happen with Uli Hoeneß involved in FCB transfer affairs.

The performance this round was once again sublimely smooth. Still playing the same XI in the same formation as he did on opening day. Alonso's side exhibited optical superiority right from the start in their third league fixture. Florian Wirtz, Victor Boniface, and Jonas Hofmann playfully combined outside the penalty area. Alejandro Grimaldo and Jeremie Frimpong pushed forward fearlessly. Granit Xhaka again kept the midfield engine pleasantly purring.

The only reason the game was deadlocked at the half was due to the fact that a deep-seated Darmstadt blocked numerous efforts. The Hessian guests pulled an equalizer off a set-piece. The goal that opening the floodgates after the restart was genuinely fluky, but it did genuinely seem that it was only a matter of time before hard-defending Darmstadt would tire out. Xabi went ahead and let the lads play after the 3-1. Two additional goals came out of a set-up that did add Robert Andrich for extra defensive protection.

Lineup—Leverkusen—73rd minute (5-2-3)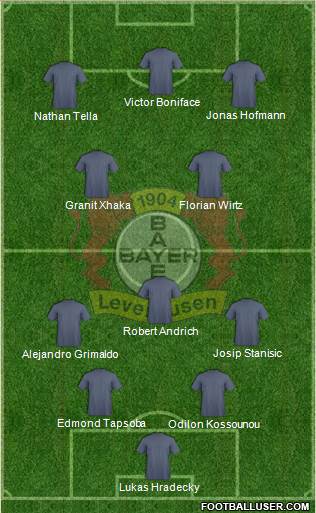 Good lord. This is the defensive lock-down formation? We spoke of Urs Fischer's "hell with the pay" attitude last week. Leverkusen's Spanish trainer can be just as deceptive with his modesty. Giving Stanisic and Nathan Tella a run-out wasn't a move meant to close up shop. Neither, for that matter, was sending on Adam Hlozek and Noah Mbamba on for some time up front in the final ten minutes. Those two combined on the fifth goal. Yes, this team is immensely, serious, and absurdly good.

"Jenseits von Vize-kusen", indeed.

"Vergeigen"

As promised last week, it's time to discuss Wolfsburg. The columnist confesses that he actually secretly harbored the wish that the first VfL draw-up of the new season would feature a tactical miscue from trainer Niko Kovac. Not to suggest that a humble football scribe would actively root for anyone to fail, but this just happened to be something most of us tactics-heads have seen coming from miles away. Kovac routinely over tinkers. He missed out on Europe last year with a side that should have made it. This week, the perfect start to the season came to an end against Hoffenheim.

Credit to re-introduced VfL squad captain Maximilian Arnold for using the verb "vergeigen" to describe the 1-0 lead that turned into a 1-3 loss. It's an almost perfect way to communicate something botched, butchered, bungled, and bobbled away. The returning skipper probably shouldn't have started with his replacement Yannick Gerhardt exhibiting such fine form. Kovac probably also shouldn't have started Rogerio (returning from a red card suspension) over Nicolas Cozza; at least not with regular left-winger Patrick Wimmer falling ill on short notice.

Lineup—VfL Wolfsburg—Match Three (4-1-4-1)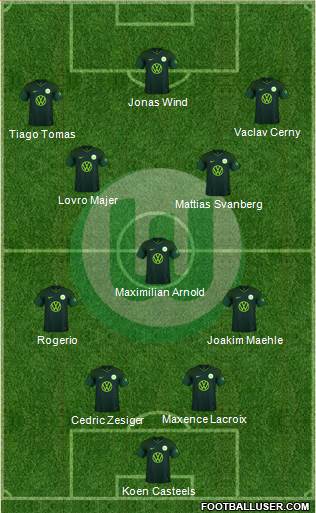 The basic problem with the shape concerned the wide spacing. Most of the Wolfsburg approach play ran through the flanks, yet took too long to find the final connection. Wimmer's last-minute replacement Tiago Tomas sent more than a few crosses to no one. Joakim Maehle arrived too late on most all of his in-cutting runs. Only VfL pulse-starter Jonas Wind could open the scoring. The "Super Dane" quickly unlocked Tomas on the 1-0 in the 36th after sending a ball from Koen Casteels up the pitch quickly. Tomas scored the first non-Wind Wolfsburg goal of the season.

Pellegrino Matarazzo's hosting Kraichgauer nevertheless remained very much in the game. The amount of space between the VfL position players accorded them a ridiculous amount of space in which to unleash counters. Matarazzo countered his tactical conflagration from last week with something that - while significantly more sensible - still asked a lot of makeshift wingbacks Marius Bülter and Ihlas Bebou. At least the TSG trainer had the sense to give Florian Grillitsch his own solo axis and move Grischa Prömel onto an attacking axis.

Lineup—TSG Hoffenheim—Match Three (3-3-2-2)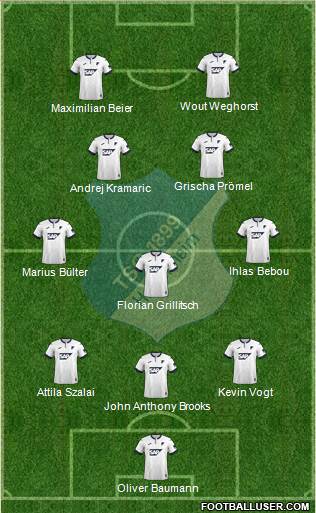 Two attackers functioning as the wingbacks? Bülter transcended his terrible start to the season by providing the assist on John Anthony Brooks' equalizer at 45+2. The Wolfsburg attack seemed to carry the sting of the 1-1 after emerging from the dressing room. For a full ten minutes, Kovac's Wölfe resembled the Florian Kohfeldt VfL. Shortly after Vaclav Cerny squandered a chance to restore the lead ("total vergeigert") Maximilian Beier finished off a weak paw-off from Casteels at the hour-mark. Substitute Robert Skov added a third in the 74th.

A very week game from the Wolfsburg midfield. Arnold's spacing made previously impressive performers Mattias Svanberg and Lovro Majer turn into total non-factors. Maehle suddenly looked very mortal. Casteels and Cerny both committed costly errors and Rogerio had a very quiet debut. We may very well have reached that point in the season at which Kovac follows up his over-tinkering with some of his patented over-thinking. For those interested in the etymology of the prefix-verb, the verb "geigen" means "to fiddle", generally on a violin.

Kovac is German football's Nero.

"Vermurksen"

A straight synonym for "vergeigen" brings us to a (sadly expected) check up on Eintracht Frankfurt's tactics. We included three full draw-ups for Dino Toppmöller's SGE last week as a means of showing just how murky matters are getting. The verb "vermurksen" proves an easier vocabulary takeaway for German language learners as one can easily guess that it's closely related to the English word "murky". Unfortunately, things are anything but easy for Frankfurt right now.

The Frankfurt supporters turning out to see the Sunday home fixture against Köln - a sellout crowd 54,000 strong - made their voices heard. Nice little bit of German wordplay from the SGE stands. The lead-striker who left them this week was christened Randal "Kohle" Muani. The German noun "Kohle" (literally "coal") also doubles a slang word for "cash". What can Toppmöller hope to do now? Oh boy. Be advised that what lies below isn't pretty. Neither was the game itself

Lineup—Eintracht Frankfurt—Match Three (3-6-1)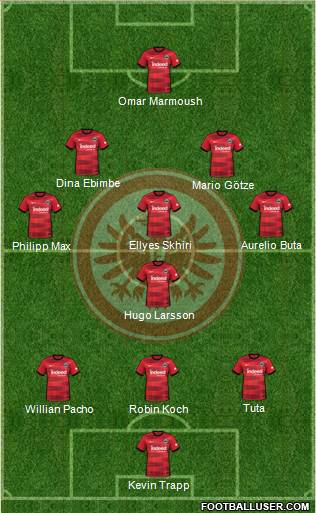 The ideas remained as flat as the placements. The fact that midfielder Ellyes Skhiri played a spirited and lively match against his former club constitutes about the only piece of good news, though the fact that the newly signed French youngster Niels Nkounkou salvaged a point late meant that the match wasn't a total wash. It's been a freakishly busy and stressful week for this club and this team. One must take that into account. Few expected the early Sunday fixture against deliberately boring Köln to produce much.

Toppmöller had to take Philipp Max off at the half following a generally weak performance that concluded with a clumsy tackle and a penalty that gave Köln the lead from the spot. Norwegian Jens Petter Hauge once again worked the advanced left wing-back role. At least the controversial loan returnee showed some signs of getting the hang of it. Götze put forth a consistent effort. Hugo Larsson - exceedingly young lad that he is - benefitted from Skhiri's shielding and played okay.

Whether or not some sort of stable solution emerges from this remains to be seen. One can't exactly fault Toppmöller for failing to iron something out here. The summer has proven every bit as chaotic as the second half of last season. It's a small miracle that this squad remains undefeated in the league and alive in both Europe and the Pokal when one considers the hand the newly appointed head-coach has been dealt. It's being made murky because he genuinely has to make matters murky.

Clarity remains far off.

Thanks so much for reading! You can catch the release of all Peter's columns (and occasionally catch him goofing off) on whatever the hell they're calling twitter these days @PeterVicey.

Twitter DMs are open for football conversations, corrections, and (if you truly insist) general abuse. 

Full color re-posts of the columns are eventually archived on Peter's website.



Related stories