"It's an absolute shame":
Bruised and battered Bielefeld prepare to take on Bayern before empty stands
By Peter Vice @ViceytheSS
New COVID infections in the Bundesrepublik rose again on Thursday. After the country
reported 5,000 plus new cases on Wednesday
, the next day's figures shot up to well over 6,000. Chancellor Angela Merkel's warning that the land cannot escape "exponential growth" numbers finds grim factual corroboration.
As reported by Germany's Süddeutsche Zeitung, the latest seven-day average infection rates per 100,000 inhabitants in the town of Bielefeld stands at 43.69. That translates to a fourth confirmed "Geisterspiel" (spectator free 'ghost game') in this weekend's Bundesliga action.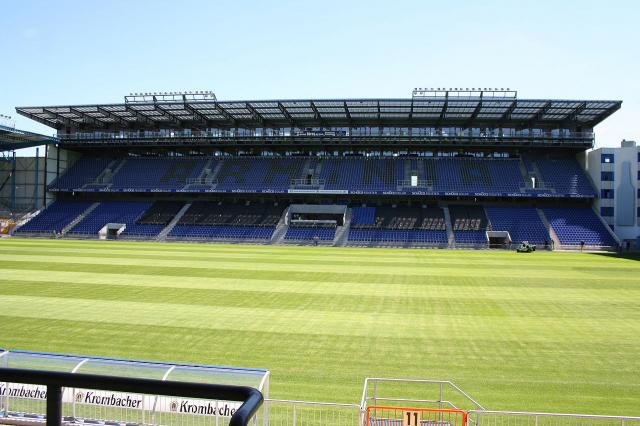 Photo: Andy1982 ,CC BY-SA 3.0

"It's an absolute shame". With those words Bielefeld sporting director Samir Arabi summed up the mood around his newly promoted club. German giants FC Bayern München come to town on Saturday. What would have been the club's biggest draw of the season may be watched by a maximum of 300 spectators. In all likelihood, no one other than those possessing press credentials will be allowed in.


Arabi elaborated: "It's a shame for all those in Bielefeld who have been waiting [over 11 years since the club was last in the top flight] for fixtures like this. It's a shame for the players who accomplished great things last year in order to be able to experience matches like this. It's also a bitter pill for all those [team] staff who spent long nights at the office over the past few weeks trying to figure out the best allocation concept for the fans."

"There were probably tears shed or nearly shed," Arabi added.

Bielefeld's on-field personnel may take a further hit from pandemic related matters. It is not yet confirmed whether three players returning from international duty--Sergio Cordova, Simun Edmundsson, and Andersson Locoqui--have not brought the virus back with them. Like all players who travelled over the international break, they must be tested.

Striker Cebio Soukou has already been ruled out after injuring himself on international duty. Right fullback Cedric Brunner incurred injury whilst remaining in Bielefeld. Newly acquired Belgian international Nathan de Medina may not be able to fill in for him as he too is recovering from a knee injury.

Missing many of their starters and all of their fans, die Arminnen prepare to face the country's footballing juggernaut in one of two late Saturday kickoffs.



More about the match
More about the teams