Terzic, Brandt and Reus somber as title hopes slip away
By Peter Weis @PeterVicey
None of the BVB actors interviewed after Tuesday's defeat to Leverkusen had much positive to say about the team's sixth defeat of the 2020/21 campaign.

With half of the season now officially gone, captain Marco Reus seemed to suggest that the title was out of reach.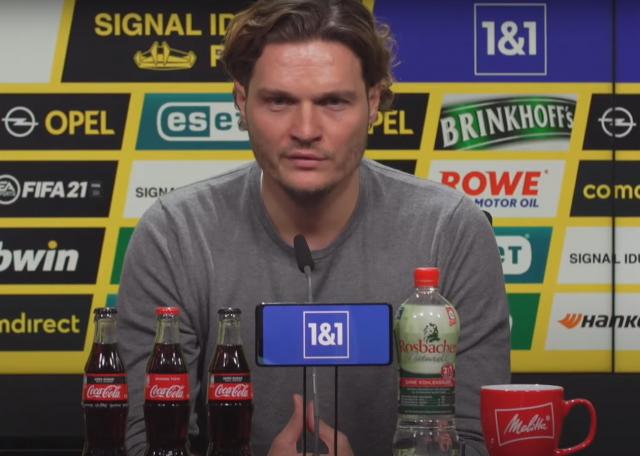 Responding to the popular conjecture that he was brought in to preside over a "self-coached" team until a more high profile head-coach could be procured in the summer, BVB trainer Edin Terzic vehemently denied that he was a mere placeholder in a press-conference last week.


"There's always a matchday plan," he insisted when confronted with the question by reporter.

If there was much of a plan against Leverkusen on Tuesday evening's 1-2 loss to Leverkusen. it didn't manifest itself terribly well. After the match, the 38-year-old rookie trainer struck his most critical tone yet.

"Quality is always the result of talent plus mentality," the coach told the Sky microphones afterward, "today we relied too much upon our talent. We let our heads hang low. We accepted what happened and didn't fight when something didn't work out."

Terzic referred to Moussa Diaby's opening goal in the 14th minute and the manner in which his team responded. Indeed, it looked as if the Schwarzgelben passively ceded all of the space on the pitch to their opponents after the deflating first goal.

The team repeatedly shrunk into their own half. Former Leverkusen player Julian Brandt put it best himself when, describing the phase, he noted, "Leverkusen were able to carefully pick out and plan out every pass."


Brandt would score the equalizer in the 67th minute. The tally ended a nearly year-long goal-drought in the Bundesliga. Unfortunately, moments later he would squander a perfect chance to put his team ahead by acting indecisively from close-range.

"You've got to try and kill the game there," a frustrated Brandt remarked afterward.

Terzic now has three wins, two losses, and one draw to his credit through six league rounds in charge. He also led the club to a 2-0 in the second DFB-Pokal round. Technically, this places him off to the worst start of any BVB trainer in thirteen years.

There did exist some personnel snafus on the pitch Tuesday evening. Normal left-winger Giovanni Reyna was unable to start for a second consecutive match after coming down with a (non-corona) infection late last week. Additionally, Axel Witsel's injury and Emré Can's suspension forced midfield partners Jude Bellingham and Thomas Delaney into a cold start.

Veteran captain Marco Reus seemed to understand where the result left the team with half of its season now officially completed. A Bayern victory tomorrow will send the German giants ten points clear of Dortmund.

"The league title didn't play a relevant role either before or after the game," Reus told reporters.



More about the match
More about the teams