Bundesliga Tactics Talk: Round 15
By Peter Weis @PeterVicey
Surprises galore on the Bundesliga beat!

Gladbach handed Bayern their second loss in thirteen months, Schalke unexpectedly came alive to break their year-long winless run, and Dortmund wrested themselves from a lengthy slumber.

We'll cover it all in our weekly wrap-up column. Nothing escapes our focus in this edition of Tactics Talk.
| | |
| --- | --- |
| Marco Reus. | Photo: GEPA Pictures/Roger Petzsche |
League-wide Talking Points: Round 15
"The audacity of Hoppe"

Wow. To say that those who happen to make their home in the United States have had a rough week might be the biggest understatement of this young year. State-siders confront their fair share of frightening and worrying trends. Exercising all the requisite caution called for when covering political themes in a football column, a writer still considers it fair game to report how outrageously stressful it is to live in a country that cannot complete a peaceful transfer of power. Anxiety mixed with shame doesn't make for a pleasurable experience.


Enter American Matthew Hoppe. The 19-year-old from nowhere defied every last dour prediction of the footballing punditry. Schalke's new hero scored three monster goals; all of them of the highest technical quality. An explosive hat trick by a player who, prior to this season, found himself on none of the established scouting radars serves as the perfect exemplification of why football is so great. A game so reliant on the spontaneous improvisation of the artists on the pitch routinely produces such uplifting stories. Heroes emerge from nowhere every day.

There are so many "feel good" aspects to the latest twist in the Schalke story. There's the fact that Sead Kolasinac's successful return coerced fellow ex-Schalker and exiled German footballing hero Mesut Özil to check back in with the Bundesrepublik on social media. Additionally, the plight of the poor, forgotten devotees of Tasmania Berlin can also now rest easy knowing that their treasured record won't be broken. Finally, the sight of Weston McKennie serenading his parent club in German from his apartment in Torino warms the heart.

Many thanks to Hoppe for providing soon room for the light to shine in.

A new Rheinhessen "Schlusslicht"

On the topic of light, we'll segue into one of our mini-linguistics lessons. Schalke's victory means that the Bundesliga has a new "Schlusslicht" (literally, "tail light"). Germans use the term to refer to the team occupying last place in the table. For the first time during the entire 2020/21 campaign, this club is no longer the woeful Königsblauen. FSV Mainz 05, who this week played their first match under a new coaching regime, now sink to rock bottom.

Our first look at Bo Svensson's tactics revealed little. The former Nullfünfter player and youth coaches took few chances with a simple 4-2-3-1 with most of the power stacked in midfield. Lead-striker Jean-Phillipe Mateta did not immediately reclaim his starting spot. Instead, youngster Jonathan Burkhardt worked as a false-nine. Robin Quaison and Leandro Barreiro mostly kept a strict vertical line behind him. Kevin Stöger got the surprise start on the left-wing. Adam Szalai earned his second league appearance of the season as a late sub.

Opponents Frankfurt kept control of the match throughout. Adi Hütter's new take on the 3-5-2, which positions Daichi Kamada and Amin Younes as a soft axial support behind sole remaining striker André Silva, didn't exactly dazzle. It nevertheless proved consistently effective. Makoto Hasebe again operated as a semi-staggered holding midfielder. Both SGE goals came via the penalty spot. The ad-hoc offense still had its moments. On the left, Filip Kostic produced one of his best games in quite some time; albeit against a very weak opponent.


More actionable intelligence on Mainz, or Frankfurt for that matter, didn't surface this round. It does seem fair to say that the Pfälzer deserve to be the new last place club. Onwards to Eintracht's next challengers.

Werkself wingers continue to slide

Peter Bosz's Bayer Leverkusen turned in their third consecutive feeble performance. The team so many were quick to consider title contenders entering the final round before the Christmas break now find themselves in the midst of an undeniable form tank. None of it appears directly related to the spate on injuries in the defensive corps. Rather, it's the much lauded wingers who appear short of creativity and energy. Moussa Diaby received another early pull after his latest off-kilter match. Leon Bailey had difficulty amassing touches yet again.

Some of this may be attributed to the decision to rest Florian Wirtz against soft opponents Werder Bremen. On the one hand, the reasoning behind this choice stood solid. With Karim Bellarabi hurt, it's possible that the teenage sensation won't have the benefit of being rotated out regularly when the club contests its midweek fixture during the upcoming "Englischer Woche". If there was a match to allow him some recovery time, Bremen constituted the best bet. The 1-1 draw might be acceptable in the context of the immediate future.

The forthcoming league adversaries--Union, Dortmund, Wolfsburg--make for a very difficult nine-day stretch. Obviously, one must also take into account that Leverkusen (along with Bayern) have a midweek DFB-Pokal makeup match to play this week. A fresher-legged Wirtz returns Tuesday to ideally assist his team in reversing the result of the previous league round and beating Eintracht Frankfurt. Placing money of Germany's red company team still isn't advisable. One can only expect so much of a phenom. The real problem lies with the horrible slump Diaby and Bailey find themselves in.

Stuttgart shred an Augsburg back-three

Former Leverkusen trainer Heiko Herrlich delivered by far the biggest tactical dud of the round. The strong Swabian bounce-back proved all too easy at the WWK-Arena on Sunday. Honestly, one wonders what the FCA head-coach was thinking. Missing defensive cornerstone Jeffrey Gouweleeuw to suspension, he somehow got it into his head that midfielder Rani Khedira could anchor a back-three whilst Iago took over on the wing.

This was definitely the thinking of a man who left a tight-team quarantine to buy toothpaste he easily could have ordered. Reece Oxford and Felix Udoukhai got caught flat-footed as Khedira regularly got drawn out by the Stuttgart attackers. The younger Khedira brother remains a defensive midfielder who can't justifiably be held responsible for toeing such a line against the type of heavy-attack rotation Pellegrino Matarazzo likes to run.

Within ten minutes, Oxford ensured that the visitors had a penalty. By the half hour-mark, Borna Sosa and Silas Wamangituka torched through the ranks to make it 2-0. Herrlich swapped out Khedira at the break and reverted to a four-man backline. Marco Richter's pull-back goal made it interesting for a little while. Ultimately, the triple substitution in the 66th was a complete mess. Even if the match was basically decided at that point, he owed it to his players to run something sensible.

The Burning Questions: Round 15
Are Hertha apologists out of excuses?

It's definitely not looking good for those who have taken to Bruno Labbadia's defense. The last-minute scratch of talisman Matheus Cunha didn't make the job of embattled 54-year-old trainer any easier, but the fact remains that one must find a way to lift three accessible points off of an "easy job" like lowly Arminia Bielefeld. A 0-1 loss is nothing short of inexcusable. Uwe Neuhaus' men might have earned a two-goal victory had Ritsu Doan's late effort not ricocheted back away off the post.

Labbadia's response to Cunha's late injury bordered on the insanely lazy. Defensive flank specialist Maximillian Mittelstädt took up the Brazilian's position on the left attacking wing. Daishawn Redan or the (later used) Jessic Ngankam would have been better options. He even could have elected to start Krzysztof Piatek alongside Jhon Cordoba in a 4-4-2. It's almost as if, without Javairo Dilrosun, Labbadia couldn't be bothered to invest any thought in an innovative solution.

Those who missed out on the Hertha-Bielefeld fixture didn't miss much of anything. The capital city club got nothing going apart from one Cordoba effort into the side netting and a rightfully disallowed Piatek goal in the final minutes cancelled out by the Pollack's flagrant handball. Arminia, the undisputed worst offensive team in the league, showed up Germany's "alte Dame" in a humiliating fashion.

Is it finally time to praise Freiburg?

Christian Streich's 3-4-3 earns proper and appropriate appreciation as it's actually a very well-designed system. Ermedin Demirovic's sudden maturation (two goals and four assists in his last three league matches) also renders it wholly unpredictable. Streich now has three quality strikers he can easily plug in up front. Roland Sallai's recent form also gives him great options on the second attacking axis. He has four legitimate threats to interchange in the two slots behind his center forward

Of tantamount importance, none of the five Freiburg goals in the 5-0 Köln rout involved Vincezo Grifo. Amazing. This team gels in diverse ways that even the most sanguine of Breisgauer sympathizers could have hoped for earlier this season. With the possible caveat of the Chang-Hoon Kwon injury, everything breaks this club's way. Even by standard Schwarzwälder overachieving standards, a five-game winning streak punctuated by a record three successive wins by a margin of three-goals or more is huge.

All of that notwithstanding, the Breisgauer pessimist takes note of the fact that Köln keeper Timo Horn melted down with one of his characteristic nightmare matches. The 27-year-old cannot go a single season without gifting away two or possibly three matches to his opponents. Horn rushed out ridiculously on Sallai's opening goal. He looked very shaky on the second and third tallies and then essentially gave up, like the rest of his team, on the final two. This nice lucky run should come to a screeching halt next week against Bayern.

Why was Marin Pongracic's subbed off?

Full disclosure: This shall not be the most pleasant of subjects. The eagerly anticipated regional duel between VfL Wolfsburg and 1. FC Union Berlin supplied its fair share of talking points. In the final analysis, however, a most concerning story casts a pall over the the 2-2 draw. After coming up against an early season bout with mononucleosis, the Croatian international was also among a number of players who contracted COVID on international duty in November.

Anyone following Wolfsburg lately has seen the 23-year-old visibly struggle with his fitness. During the first 15 minutes of Saturday's encounter, he exhibited signs of severe exhaustion well before one would expect a player functioning on his level to tire out. Head-coach Oliver Glasner confirmed that he was taken off at the half because he observed that his defender had problems related to shortness of breath.

Unpleasant as the mere mention of this occurrence may be, a commitment to integrity-based reporting demands that something like this attains real attention. Football lovers must concede that the COVID-phenomenon of "long-termers", though not fully understood yet, should be a concern for players as well. Naturally, Pongracic's non-corona-related early glandular issues may play a larger role in this unfortunate series of events. That should be emphasized too.

Weekly Tactical Focus: How Dortmund got their groove back

In perhaps the weekend's most significant development, Edin Terzic's BVB managed to achieve a stunning reversal in their overall squad form during the second half against Leipzig. Looking ahead to the next few weeks, a sustained streak of confident football isn't out of the question. A Schwarzgelben side engaging in the type of free-form artistry we beheld this round can easily make short work out of even worthy opponents like Borussia Mönchengladbach and Bayer 04 Leverkusen. The type of football on display this weekend was truly that impressive.

Since Edin Terzic inherited the wrenched gears left him at the tail-end of the Lucien Favre Era, it would be fair to say that this particular team's engine never really got legitimately humming again. Rough and rhythmless carousing characterized the squad in open play. What modest successes we did see were painfully laborious. The players surely found this aesthetically wretched brand of football as uncomfortable as those watching it.

The Dortmund of the early fixtures under Terzic's auspices couldn't string together uninterrupted passing sequences. Defenders slowly creeping up the pitch own tentative back-builds commonly stopped dead in their tracks once passing the halfway line. They would then proceed to pass the ball back-and-forth laterally as many as a dozen times as no one had a clue how to proceed forward thereafter. The lack of ideas was appalling. A sense of dejected burnout permeated the play. Risks weren't worth taking. Runs weren't worth making.

What precisely changed this weekend? Plenty of matters of tactical interest shall be covered. Julian Nagelsmann unequivocally influenced the result with some bonafide screw-ups. Before delving deeper into them, however, we should emphasize that the central answer remains much simpler. The NRW-youngsters began having fun again. Erling Haaland and several other key actors, freshly infused with a new confidence, opted to enjoy their football again.

Clichés remain a writer's worst enemy. They nevertheless exist for a reason. Professional athletes must still find pleasure in their work. On the football pitch, this manifests itself in the form of gorgeous slick tricks on the ball. When the combinations cease to be a job and become a matter of simply having fun, creative touches emerge directly emerge from a footballer's subconscious. All of the mental stumbling blocks disappear. Muscle memory takes over. The feet lead the head.

Dortmund's much needed victory over die roten Bullen provided a textbook example of how far fun can carry a team. After a languid opening 45, it evolved into an excellent fixture. Hopefully, everyone already had a chance to enjoy it. We'll now proceed to relive it through the tactical lens.

Lineup—Borussia Dortmund—Match 15 (4-2-3-1)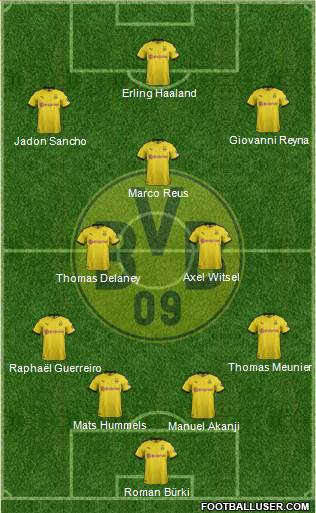 Nothing changes from last week. As noted several times before, the BVB bosses did not appoint Terzic for the purposes of tactical tinkering. The club essentially undertakes an experiment in self-coaching; not unlike that of their league rivals Bayern München. The new coach's role is that of motivator. He isn't meant to be a constructor.

The onus for change sits with the players. That important fact being conveyed, we'll have a look at what the players are doing.

Giovanni Reyna settles in on the right

Most of the tactical boards cropping up in German journalism haven't made this call yet. To this writer it seems obvious. It remains true that Reyna and Sancho are rotating heavily, but the American teenager is clearly spending increasingly more time on the opposite flank. This shift heavily influences Sancho's play and, at least in the opinion of this analysis, is partly responsible for the young Englishmen's newly rediscovered courage and determination.

In this instance, the tape doesn't lie. Those with the time and inclination to do so are definitely invited to review the Dortmund rushes and take note of how many times Reyna initiates the attack from the right-hand side. It's an organic change very possibly planned out by the two talents to shake things up a bit. As we shall see, it led to some inspired play throughout this match.

Haaland and Reus tighten up positioning

The entire squad obvious suffered terribly in the absence of their Norwegian super-striker. Unsurprisingly, many of the attacks in last week's fixture centered around long diagonals and hopeful upfield chucks aimed in the general direction of the team's primary playmaker. One finds it difficult to judge such a strategy harshly. After all, Haaland's long legs are capable of latching onto to many launched balls that fall in his general vicinity. It's definitely not the worst idea.

This time Haaland made an observably deliberate effort to stay back a bit more. In addition to this, captain Marco Reus joined the rush more regularly. Results certainly weren't yielded immediately, but the XI were eventually able to adapt to this change. In stark contrast to what we saw last week, they did not allow their shape to passively ossify into a 4-5-1. With firmness and fortitude, Terzic's men stuck with the more offensively-oriented structure until it proceeded to work for them. Everyone on the pitch deserves credit for this.

Nagelsmann on the neck

Why was Leipzig's trainer so confident heading into this one? Taking Dortmund's recent form into account, he, reasonably enough, assumed that it would be a simple matter of continuing to frustrate a team playing rigidly insecure football. Nagelsmann possessed the perfect solution for this: a quick-transition 3-4-3 spread capable of scoring early and setting the tone. Have a look:

Lineup—RB Leipzig—Match 15 (3-4-3)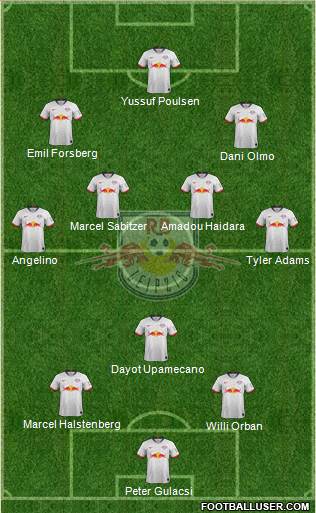 A bit to unpack here as we're looking at a specially tailored version of the 3-4-3.

A tightly clustered defensive line

The three players on the final defensive axis are packed together. This is in the service of setting the perfect trap. Observe just how much space is ceded ahead of Dayot Upamecano. The design invites Dortmund to slowly crawl the ball forward in the exact manner as described in  the third introductory paragraph above. Structurally speaking, the precise pocket of space where Dortmund typically stall luringly stands open.

Another inherent assumption here presumes that Upamecano can bump Haaland off the ball as soon as he receives it. If not, the narrow deployment of the two remaining defenders constitutes a fail-safe. Willi Orban and Marcel Halstenberg needn't move very far to quickly close ranks. Nagelsmann thus keeps all the bases covered at the back.

The straightforward match plan at the back proved much easier to read than what one saw further afield.

The non-six "smother axis"?

Nagelsmann deployed a natural center forward in this fixture, buttressing him with inwardly pulled support mechanisms and dropping Angelino further back. A crowded axis behind Emil Forsberg and Dani Olmo sought to keep the midfield as congested as possible and afford his team the best possible chance of picking off as many back-builds as possible. In any event, this counts as a plausible theory.

One can also postulate that the young trainer attempted to try something novel out when he learned that Kevin Kampl wouldn't be available. Marcel Sabitzer and Amadou Haidara made for something of an awkward partnership. Deprived of a set of double sixes, he stationed an offbeat tandem well ahead of where the former ordinarily plays.

These two competing speculations become more relevant after he shifted his tactics.

Match Flow: 1st to 31st minute

The opening half-hour could fairly be described as incoherently frenetic. Both sides brought their fair share of energy to the encounter, yet failed to locate their intended cadence. Many of the battles taking place in the midfield trenches made for intriguing viewing. US internationals Reyna and Tyler Adams insisted upon immediately gravitating toward one another whenever one of them obtained possession. Axel Witsel and Thomas Delaney directly shadowed Sabitzer and Haidara.

Angelino found his way through on the left twice in the 7th minute. Thomas Meunier shut him down with a crunching slide tackle on the first run and Reus stuck a well-timed boot in to disrupt his cutback on the second. Sabitzer tracked back to cut short a Sancho breakaway in the 8th. Leipzig's widely spread midfield axis did enable Haidara and Angelino to work a semi-cycle. Mostly, however, it lead to Adams getting squeezed out frequently on the right. The American earned six throw ins inside the first ten minutes.

The BVB's forward momentum remained very poorly organized. Raphaël Guerreiro was wide open in the 11th. Teammates ignored his call for a switch. Witsel took far to long to play a ball forward for Haaland on a run in the 13th. As a result, the Norwegian was miles offside. Mats Hummels and Manuel Akanji kept their discipline at the other end. Yussuf Poulsen also got whistled down twice.

The ball remained mired in a midfield-turnover-chain until Adams broke through in the 21st. No one broke with him and he could find no takers for the ball. Hummels easily dispatched a well off-target from Angelino for Poulsen in the 25th. Forsberg sent Adams clear one minute later. Again, the New Yorker had no one arriving to dish off to.

Both coaches shouted instructions from the sidelines. Terzic's appeals urged his team forward. He could be heard specifically telling Reyna and Witsel to play through the midfield pressure. Nagelsmann, on the other hand, called for more distance and a fall-back. Leipzig's trainer obviously wished to implement a Plan B of sorts. The original arrangement needed to be jettisoned.

Amidst all of this, a prolonged injury time-out interrupted play. Witsel went down in the 29th untouched by anyone else. The severity of the injury necessitated serious treatment. There's little doubt now that the Belgian international suffered an ACL tear and might be lost for the season. Emré Can replaced him after a few minutes.

Match Flow: 31st minute to half-time

Dortmund's substitution constituted a like-for-like. The BVB proceeded in their 4-2-3-1. Upamecano continued his run after a spectacular ball-win in the 32nd, but it was far too clear what pass recipient Dani Olmo had in mind as the hosts attempted to break. A match that, up until this point, still hadn't produced a genuine scoring chance cried out for changes.

Within three minutes of the substitution, Nagelsmann's instructed tactical shift settled. Whatever his original intentions with the crowded midfield axis may have been, he junked it in favor of a very different constellation.

Lineup—RB Leipzig—34th minute (4-2-3-1)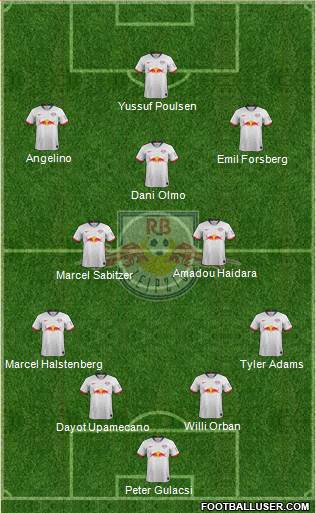 Adams clearly moved over to the right-fullback position. Angelino crept forward to partner horizontally with the side-switching Forsberg in a more traditional winger-role. Olmo dropped back in a semi-mimic of Reus' locale. Sabitzer and Haidara were to operate as standard sixes.

The last change strongly suggests that Nagelsmann's so-called "smother axis" was indeed a poorly-thought-out experiment. One thus surmises that he didn't truly have much of a scheme for handling Dortmund in the event that their attackers woke up and started playing with skill.

The whole issue might have remained immaterial if Dortmund played as badly in the second half as they did in the first. Literally nothing nothing happened between this juncture and the halftime whistle. Hummels, Akanji, Upamecano, and Orban racked up touches and stray passes until it was time to head into the tunnel.

Match Flow: 46th to 55th minute

Seemingly endless tedium surely led to more than a few television sets across the Bundesrepublik being switched off on Saturday evening. One can only label this a shame as the encounter quickly sprung to life within seconds after the restart. After both sides exchanged some early chances, Hummels, Sancho, and Reus combined beautifully on a sequence in the 48th. Can then flashed a header just over the crossbar on the resulting corner.

The camera feed captured a telling moment just prior to kickoff. Haaland laughed and joked with former RB Salzburg colleague Hee-Chan Hwang on the sidelines. Such a scene demonstrated that, despite the frustrations of the opening half, the BVB striker maintained a loosely jovial mood. Dortmund's lead striker felt no pressure and accorded himself the opportunity to have some fun. He would have quite a bit of it in the electrifying second half.

The opening goal served as a true work of art. Haaland initiated the play with a flurry of elegant footwork following a throw-in on the right. He then sent Reus forward and cut through three markers to place himself on the receiving end of the give-and-go. A blistering run followed before he crossed for Sancho on the left. Reus deftly redirected the ball perfectly into Sancho's path for the thunderous finish. Replays visually confirm that Reus' slick back-heel was definitely intentional.

Match Flow: 55th to 66th minute

Once Sancho netted the opening goal, the NRW visitors played an even looser form of fantastic football. One could scarcely believe on was watching the same team. An incredibly intricate eight-touch passing sequence involving Guerreiro, Reus, Sancho, and Haaland in the 58th left one spellbound. The crew outdid themselves shortly thereafter, with Reyna initiating a twelve-touch triangulation on the right that involved Haaland, Sancho, Guerreiro, and Can.

Nagelsmann made a double substitution in the 61st, trading the skills of Sabitzer and Forsberg for Alexander Sørloth and Lukas Klostermann. Tyler Adams moved back into midfield. Poulsen made way for the new striker, dropping back to Olmo's position while the Spaniard shifted over to the station the Swede had occupied center right. Very important to note here, the Leipzig trainer did not alter his shape at all. Perhaps he felt that two major constellation-shifts would prove too daunting for his players.

This proved poor judgment. The Adams-Haidara pairing appeared even more awkward that the Sabitzer-Haidara one. Unsure how to synchronize their movements, the duo got pulled apart rather easily. The rejiggered front four never saw much of the ball. Like a bunch of youngsters leisurely playing in the park with nothing at stake, the BVB maintained possession with breezy crisp passing.

A clever cutting long diagonal came within reaching Sancho in the 63rd. Reus and Sancho engineered a lovely counter in the 64th, stopped only by a precise tackle from Klostermann. Haaland hit the woodwork after a sumptuous through ball in the 65th. During this ridiculously good spell, the visitors outshot RB 7-0 as the tide started to turn inexorably in their favor.

Match Flow: 66th to 71st minute

To be absolutely fair, the Saxons produced one last quality chance that nearly saw them level. Adams did extremely well to unlock Olmo in the 67th, and the Spaniard unleashed a great effort that ultimately hit the outside of the far left post. Following this, however, the traffic predominantly swung back the other way. An authentic shot on target was lacking, but another goal for Terzic's corps seemed inevitable.

Terzic earns more plaudits for allowing his men to maintain their offensive posture. When Dan-Axel Zagadou replaced Delaney in the 69th, one expected the squad to lockdown in a five-back set. This never materialized. In fact, the sub merely took Hummels' place while the defensive captain pushed forward to "quarterback" the attack in his trademark fashion.

The second tally began with Haaland absurdly walking his way past seven Leipzig markers as if they weren't actually there. A jaw-dropping sprint then led to more filthy slick one-touch triangulation on the left involving Reus and Sancho. The Englishman serviced Haaland perfectly at the far right post to double the advantage.

Match Flow: 71st minute to full-time

Two more goals would come before the final whistle. Sørloth's 89th minute consolation prize merely constituted a bulky brute force finish on the second effort after the Norwegian's powerful header left Dortmund keeper Roman Bürki sprawled on his back. Sørloth's countryman, by contrast, struck home another polished and opulent beauty.

A delicate first-touch of a Reus through ball enable Haaland to round Gulasci easily. With a confident stride, the BVB Scandinavian then twisted his body into position to bulge the back of the net before the Leipzig keeper could even possibly contemplate a recovery. It was a marvelously executed trick.

With the outcome no longer in doubt, a further pressure valve found release. The Dortmund XI flashed more fancy skills down the stretch. One can observe Sancho dancing around with wonderful improvised flair in the 77th. Reus and Reyna threaded through some more magnificent through balls in the 76th and 79th. Can supplied a deluxe deke in the 81st while Haaland performed another glide through in the 82nd.

Should one wish to pose the "are we having fun yet?" question, the young guns of Nordrhein-westfallen will most definitely answer in the affirmative. This suddenly renders them a dangerous team once again; something one definitely did not anticipate so soon into their "self-coaching" experiment. Though the club still has some way to go before they can yet again be considered title contenders, the performance in this round counts as a momentous step back in the right direction.

Can's current form may negate any adverse consequences of the Witsel injury. Furthermore, Jude Bellingham and Youssoufa Moukoko will likely return soon and can be expected to benefit from the contagious confidence enjoyed by their teammates. A revitalized BVB adds some extra intrigue to this campaign. It should definitely make for some fascinating viewing in the next few weeks.

Concluding Thoughts: Notes from the upset

Bundesliga enthusiasts have a rare occurrence to commemorate. Dating all the way back to 2019, the unassailable giants of German football lost just their second match in their last 54 competitive fixtures. Take a moment to contemplate the italicized words. Bayern only lost once in the whole of 2020; the round two defeat to Hoffenheim following their late September trip to Hungary for the UEFA Super Cup.

In the final analysis, that one blip on an otherwise flawless calendar year meant very little. One can likely say the same here. The Bavarian juggernaut shows no real signs of slowing down or becoming a team with glaring exploitable weaknesses. We can still devote the final section to some of the relevant notes from Gladbach's thrilling comeback win.

The interesting takeaways begin with Marco Rose's basic formation:

Lineup—Borussia Mönchengladbach—Match 15 (4-3-3)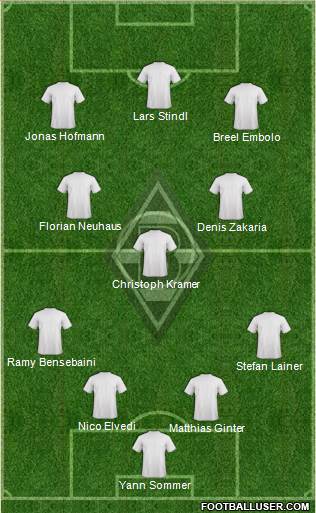 Credit Rose with the one of the most fearless formations seen all season. He threw an intrepid 4-3-3 directly at Bayern's infamous high-press. No one expected it. Denis Zakaria and Florian Neuhaus never retreated to the central defensive midfield. Jonas Hofmann, Breel Embolo, and Lars Standl often pressed forward as one.

Bayern broke the streak of eight consecutive matches conceding the first goal when Neuhaus' handball awarded them the penalty. Leon Goretzka demonstrated the frailty of the midfield pocket when he scored the second. Even down 0-2, Rose made no alterations to this system. Even without Marcus Thuram and Alassané Plea, the foals proceeded with a full-throated press.

We all watched the persistence paid off. The underdog hosts were able to take advantage of some FCB weaknesses. While these lapses hardly constitute chronically dangerous shortcomings, we'll make a note of them nonetheless.

Depth issues on the flanks

Douglas Costa and Leroy Sané took up the attacking flank positions in this one. Injuries to Serge Gnabry and Kingsley Coman forced it. Sané had another match in which his offensive form looked progressively better. His work on the defensive side of the ball still left much to be desired. Both he and struggling right-back Benjamin Pavard were complicit in the turnover that led to Hofmann's first goal. Joshua Kimmich looked less than stellar on it too.

Insofar as Costa is concerned, he still has problems thriving in this system. Coman eventually relieved him late. The difference was night and day. This signing simply hasn't worked out. Flick possesses considerably less depth here than he did in the previous campaign. With Ivan Perisic gone and Corentin Tolisso preoccupied with his conversion to the axes where Goretzka and Kimmich ordinarily roam, the FCB trainer has Gnabry, Coman, and a still one-dimensional Sané.

The right-back conundrum

As alluded to above, Pavard continues to have trouble working the defensive end of his assigned position. His current form remains wholly incompatible with the Bayern high-press. Opponents can play through it too easily. Ironically, both Kimmich and Süle have filled in at right-back very well in recent weeks. Neither serves as a long-term solution, however, as neither wishes to play the position.

Flick may have to insist that they do in spite of their objections. Very much a player's coach, Flick hasn't really been forced into such a conflict before. The possibility of conflict looms. Even minor issues can mushroom quickly on a team that doesn't care for much interference.

Neuer's frustrations

As we all know, the high-press doesn't function without the "sweeper keeper". There's zero chance that the center backs can keep a high line without the knowledge that Manuel Neuer reliably charges ahead to mop up in the event of a quick counterattack. To these eyes, Germany's #1 backstop has kept up his part of the bargain whilst those deployed ahead of him haven't accorded him the luxury of a clean-sheet in ten league fixtures.

He's understandably upset with his colleagues. The exchanges get a little more acerbic with every match. There may be trouble brewing on this front.

Overall, do we divine reasons to be concerned that Bayern's grip on a ninth straight league title is slipping? Nah. Not really. Forgive a Bundesliga lover for briefly savoring the flavor and amplifying a few soon-to-be-forgotten concerns. At the end of the day, writers must have their fun too.




Related stories