Reports:
Frankfurt's initial offer of €7-8 million for Norwegian winger rejected
By Peter Weis @PeterVicey
Italian transfer expert Fabrizio Romano reports that an initial lowball bid tendered by Eintracht Frankfurt to AC Milan for winger Jens Petter Hauge has been rejected outright. 

German transfer expert Christopher Michel confirms this information, as well as the SGE's intention to hold on to Serbian winger Filip Kostic. 

Romano verifys that a deal for River Plate striker Rafael Santos Borré is in the bag.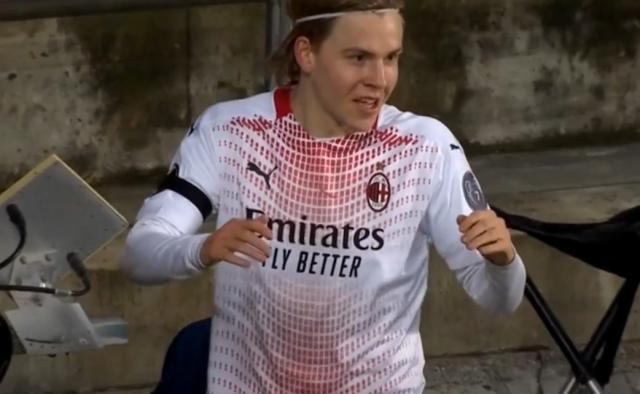 Vaguer reports earlier in the day concerning progress in Eintracht Frankfurt's pursuit of Norwegian winger Jens Petter Hauge now have a more concrete dimension to them. Two of the foremost Italian and German transfer experts report that the SGE has tendered a lowball bid of between €7 and €8 million to AC Milan.


Unsurprisingly, this initial offer has been rejected. The Serie A club is widely thought to consider the 21-year-old worth around €15 million. Both Fabrizio Romano and Christopher Michel report that talks are ongoing. The two sides can presumably iron out a compromise within the next few days.

Michel, of Germany's Sport1, also confirms a report appearing earlier that the Bundesliga club remains committed to keeping winger Filip Kostic irrespective of what transpires with Hauge. The Norwegian plays the same position as Kostic.

Romano also notes that the deal to acquire Rafael Santos Borré is complete. As of yet, no information on a transfer fee is available. The Colombian international is assigned a €17 million market value in the latest transfermarkt listings.


Eintracht Frankfurt made an official bid around €7/8m to sign Jens Petter Hauge. AC Milan want more to sell the Norwegian talent. Talks ongoing. 🔴🇳🇴 #Eintracht

Eintracht board also signed and completed all paperworks for Rafael Santos Borré - done deal, he joins as free agent.

— Fabrizio Romano (@FabrizioRomano) July 4, 2021
Die #SGE bemüht sich offenbar unabhängig von der Personalie Filip Kostic um Jens Petter #Hauge. Laut @FabrizioRomano soll die #Eintracht ein Angebot in Höhe von sieben bis acht Millionen Euro abgegeben haben. Doch #Milan will noch mehr. #Transfermarkt

— Christopher Michel (@CMoffiziell) July 4, 2021
Related stories