Klos shrugs off Okugawa's missed chances, Ortega declares himself content in Bielefeld
By Peter Weis @PeterVicey
Quintessential Armenia Bielefeld "club man" Fabian Klos had his fair share of steam to blow off following Saturday's 0-0 draw with SC Freiburg, but kept his sense of humor about it.

Meanwhile, keeper Stefan Ortega declared himself pleased to put the summer transfer rumors behind him.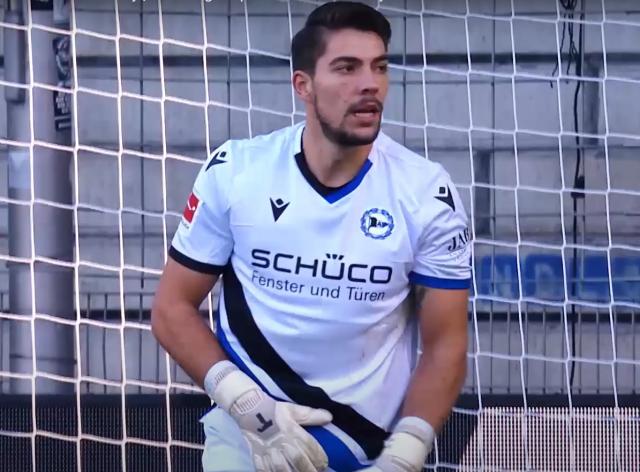 The 2021/22 German Bundesliga's first goalless draw saw both contestants squander their fair share of chances at the old Bielefelder Alm on Saturday. Tensions ran a bit high on the side of the hosts, who where unable to furnish the largest crowd capable of seeing them since they earned promotion back to the top flight last year with much to talk about.


In his 11th season as Arminia's lead striker, the man many consider a club legend had some tough questions to answer following the tepid debut. For starters, his post match interviewer wished to know what it felt like to share the captain's duties with anchoring midfielder Manuel Prietl.

"I think that the timing is right," Klos said of the new arrangement, which the 33-year-old inferred could be seen as a passing of the torch, "It's not so important who wears this piece of cloth on his arm."

Asked about several missed opportunities from one of the club's prized summer signings, Klos veered between joked a bit when lamenting some of the chances Masaya Okugawa let fall by the wayside.

"Perhaps I'll have to butter his toast a bit more," the man from a rural German village noted, "So that he get a bit more power behind his shot. It happens. No big deal."

The play of keeper Stefan Ortega, particularly late-on, did prove something of a big deal. There is still no word on whether the 28-year-old plans on reconsidering his decision not too renew his expiring contract, but the Hessen native made clear he was happy to remain in East Westphalia for now.


"It's the case that I'm here now and that I've consciously decided to have it so," Ortega said when pressed about the persistent transfer rumors over the course of the offseason, "I'm also not sad at all that nothing happened over the summer. In front of the fans again, it was a really nice day."



More about the match
More about the teams