Bundesliga Fan Scene:
The nationwide "plans for fans" on Matchday 21
By Peter Weis @PeterVicey
What has been termed Germany's "third Geisterspiel Era" officially comes to an end this weekend.

Most hosting Bundesliga clubs have opted to take advantage of a new federal sanction that permits up to 10,000 live fans at outdoor sporting venues.

Without exception, there will be sizeable crowds at all nine top tier fixtures this weekend.

We're pleased to get everyone caught up with both the plans and the local public health data for the hosting locales via the return of our fan-scene column here at Bulinews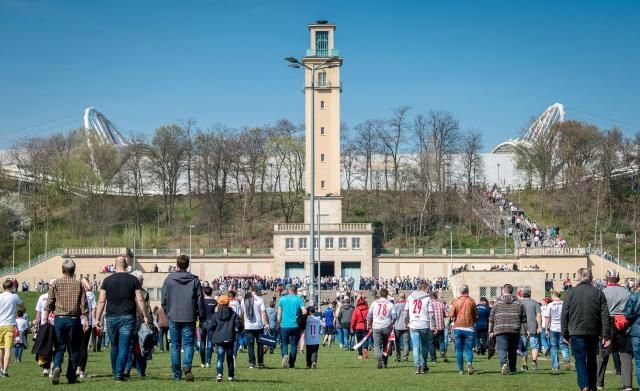 Our weekly column on the state of fan re-entry in Germany's top footballing flight returns after what was a long (and for football lovers at least) very difficult hiatus. The last two columns of this nature took a look at the "plans for fans" ahead of the Bundesliga's 17th matchday and examined the attendance figures from said round. They were published 49 and 44 days ago, respectively.


It is from these snapshots in time that we pull the baseline public health data and compare to the situation in Germany now. Note that, in every last locale, locale COVID incidence rates have spiked up sharply. The incidence rate itself as a metric, however, sinks to to considerably less relevance as intensive care occupancy rates and COVID hospitalizations are almost uniformly all declining or stable.

The latest estimates from Germany's public health institute (Robert Koch--RKI) have some 76 percent of the county's citizens vaccinated against the novel coronavirus. Approximately 54 percent of citizens have received the extra layer of protection that comes with a booster shot. These figures play a role in keeping hospitals from being overwhelmed despite the high incidence rates.

Unfortunately, one will note when looking at the change in overall state vaccination rates in comparison to where we left off in late December, it appears that minds are generally not being changed with respect to the topic of vaccination. Overall rates are barely up. The newly installed federal governing regime continues to punt on the issue of a vaccine mandate; something which may yet become unavoidable.


---


VfL Bochum (at) Hertha BSC


Planned capacity = 3,000 (4.0%)

The city-state of Berlin has actually permitted up to 3,000 live fans at outdoor venues throughout Germany's third "Geisterspiele Era". The chance to welcome up to 10,000 appears to have come just a tad too early for the club's logistics team. Hertha's website offers no further sales for Friday night's encounter. The upward cap will be utilized for the team's next home fixture against Leipzig on February 20th.

Unsurprisingly enough, sporting CEO Fredi Bobic made no secret of the fact that he considered the 10,000 spectator figure to be little more than a symbolic gesture from Germany's federal-level politicians. Playing in the mammoth Berlin Olympiastadion (74,649 capacity), 10,000 corresponds to a paltry capacity level of just 13.5 percent.

In keeping with some of his previous statements, Bobic called for policy that took stadium-capacity and individual club hygiene concepts into account. Germany's larger capital city side does have the advantage of regulating traffic into the stadium rather effectively through the large venue's numerous entrances. A detailed hygiene concept has been in place throughout most of the pandemic.

Local RKI Incidence Rate = 1803.4 per 100,000 (+1477.6)

Intensive Care Occupancy @ 88.6% (-1.5%)

199 COVID Hospitalizations (20.0%) (-0.9%)

Berlin City Vaccination Rate = 77.0% (+2.7%) (from 44 days ago)


---


Eintracht Frankfurt (at) VfB Stuttgart

Planned capacity = 10,000 (16.5%)

Stuttgart apparently received a dispensation from the German federal state of Baden-Württemberg to operate above the state's cap of 6,000 live spectators. There can be no other explanation for the Swabians publicly declaring that up to 10,000 fans will be welcomed for the Eintracht match on Saturday. How many will be willing to attend on what amounts to very short notice remains to be seen.

Local RKI Incidence Rate = 612.7 per 100,000 (+116.7)

Intensive Care Occupancy @ 89.1% (-2.5%)

43 COVID Hospitalizations (20.2%) (-5.0%)

BaWü Vaccination Rate =  73.4% (+2.4%) (from 44 days ago)


---


TSG 1899 Hoffenheim (at) FSV Mainz 05

Planned capacity = 6,800 (20.0%)

The Rheinhessen opted to stick with the 6,800 allowance accorded them by the Rhineland-Palatinate's recent revisions to its corona-protection ordinance. There should be nothing standing in the way of a further increase to 10,000 when it comes time for the club's next home game against Bayer 04 Leverkusen on February 18th. According to the club's official website, there are even some tickets left available for this weekend.

Local RKI Incidence Rate = 1297.0 per 100,000 (+1145.4)

Intensive Care Occupancy @ 93.4% (-1.2%)

12 COVID Hospitalizations (12.1%) (-6.7%)

Rheinland-Pfalz Vaccination Rate = 76.9% (+2.9%) (from 49 days ago)


---


FC Union Berlin (at) FC Augsburg

Planned capacity = 10,000 (32.6%)

With grand statements from, among others, head-coach Markus Weinzierl, the Fuggerstädter prepare to take full advantage of the 10,000 person allowance granted to them by Bavarian Premier Markus Söder and the state of Bavaria. The club has had ample time to prepare for the significant number of patrons, as Bavaria sanctioned this allotment far earlier than the German federal government itself.

Weinzierl, sporting director Stefan Reuter, and club President Klaus Hofmann actually all thanked Söder personally for reversing his initial position and becoming the first state leader to lift what has become known as the "fourth wave" restrictions. If ever there was a club that desperately needed its fans back, it's the relegation-threatened FCA, who have unquestionably been underperforming for most of the season.

Local RKI Incidence Rate = 1035.7 per 100,000 (+842.7)

Intensive Care Occupancy @ 90.1 (-0.7%)

12 COVID Hospitalizations (9.4%) (-19.5%)

Bavaria Vaccination Rate = 73.5% (+2.9%) (from 44 days ago)


---


Borussia Mönchengladbach (at) Arminia Bielefeld

Planned capacity = 10,000 (36.6%)

As matters shook out, Bielefeld and two other NRW clubs did not have to wait for the legal decision they requested in a regional circuit court. The new federal standards were approved before the legal authorities in Münster could make a decision. All German football lovers look forward to what should be a lively atmosphere at the Alm. The club reports that season ticket holders snatched up all the available passes within hours.

Local RKI Incidence Rate = 778.4 per 100,000 (+517.8)

Intensive Care Occupancy @ 87.5% (-3.2%)

15 COVID Hospitalizations (12.6%) (-5.5%)

NRW Vaccination Rate = 79.8% (+2.5%) (from 44 days ago)


---


SC Freiburg (at) 1. FC Köln

Planned capacity = 10,000 (20%)

It came as no surprise at all to see all 10,000 passes in the cathedral city get snatched up in a matter of minutes. The Geißböcke have led the entire Bundesliga in attendance this year despite being the first Bundesliga club to close its doors to non-vaccinated-or-recovered fans. Supporters in this city have rolled along with this club's stringent stance on vaccination throughout the pandemic and many ultra groups have volunteered help man vaccination centers outside the stadium.

Local RKI Incidence Rate = 1602.7 per 100,000 (+1347.6)

Intensive Care Occupancy @ 94.1% (+2.9%)

36 COVID Hospitalizations (9.5%) (-4.9%))

NRW Vaccination Rate = 79.8% (+2.5%) (from 44 days ago)


---


RB Leipzig (at) FC Bayern München

Planned capacity = 10,000 (13.3%)

No tickets left for Saturday night's "Top-Spiel" at the Allianz. A roughly 13 percent capacity crowd cannot be expected to deliver the full "Mia san Mia" atmosphere, but it will certainly be preferable to the empty echoes of the "can-can" we've been hearing for the past two months. Markus Söder's acknowledgement that the local public data no longer supports severe restrictions in his state remains quite the influential decision from one of the country's most influential leaders.

Local RKI Incidence Rate = 2119.4 per 100,000 (+1899.4)

Intensive Care Occupancy @ 91.9% (-2.2%)

67 COVID Hospitalizations (13.7%) (-11.4%)

Bavaria Vaccination Rate = 73.5% (+2.9%) (from 44 days ago)


---


Bayer 04 Leverkusen (at) Borussia Dortmund

Planned capacity = 10,000 (12.3%)

Like the other NRW clubs who petitioned the regional court for a maximum of 25,000 spectators, the BVB accepted the federal government's 10,000 offer and withdrew its application for more. One of the reasons that the federal regime was compelled to move so quickly certainly involved the fact that a club as large as Dortmund was preparing to set a legal precedent by obtaining approval for many more. Both sides get something in this political compromise.

It took less than 15 minutes for all available passes to get claimed once the state authorities football clubs permission to accept the federal standard. Club boss Hans Joachim Watzke--to the shock of no one--still calls the 10,000 cap "neither satisfactory nor appropriate". Legal action has been avoided for now, but there will still likely to be more fights down the road.

Local RKI Incidence Rate = 2270.4 per 100,000 (+2012.6)

Intensive Care Occupancy @ 91.3% (-4.3%)

21 COVID Hospitalizations (8.4%) (+1.8%)

NRW Vaccination Rate = 79.8% (+2.5%) (from 44 days ago)


---


SpVgg Greuther Fürth (at) VfL Wolfsburg

Planned capacity = ??

The VfL Wolfsburg official website notes only that matchday tickets for Sunday's fixture against Fürth are sold out. It's virtually impossible that 10,000 spectators will be attending a VfL match in Lower Saxony as Germany's green company team very rarely sells out even under normal circumstances. At last check, the Autostädter were only allowing in 500 live fans. The best guess on can make here is that the quota was raised to 2,000 or possibly 3,000.

Local RKI Incidence Rate = 1119.9 per 100,000 (+891.4)

Intensive Care Occupancy @ 61.3% (-25.8%)

1 COVID Hospitalization (5.3%) (-23.7%)

Lower Saxony Vaccination Rate = 77.7% (+2.8%) (from 45 days ago)


---
Thanks so much for reading!
You can occasionally catch Peter on twitter, @ViceytheSS.
Twitter DMs are open for football conversations, corrections, and (if you truly insist) general abuse. 
All columns debut on Bulinews before appearing on Peter's website later in the week.
Related stories