Americans in the Bundesliga:
Brooks back on top level, Scally's dip continues
By Peter Weis @PeterVicey
The Bulinews "Americans in the Bundesliga" deep-scout feature returns in plenty of time for kickoff ahead of tonight's CONCACAF Nations League fixture in the Caribbean!

USMNT call-up Joe Scally receives a graded section this time, as does Union Berlin striker Jordan Pefok, Berlin-born defender John Antony Brooks and head-coach Pellegrino Matarazzo.

As always, the absences of other American footballers currently on duty in the Bundesrepublik's top footballing flight are addressed in the introductory paragraphs.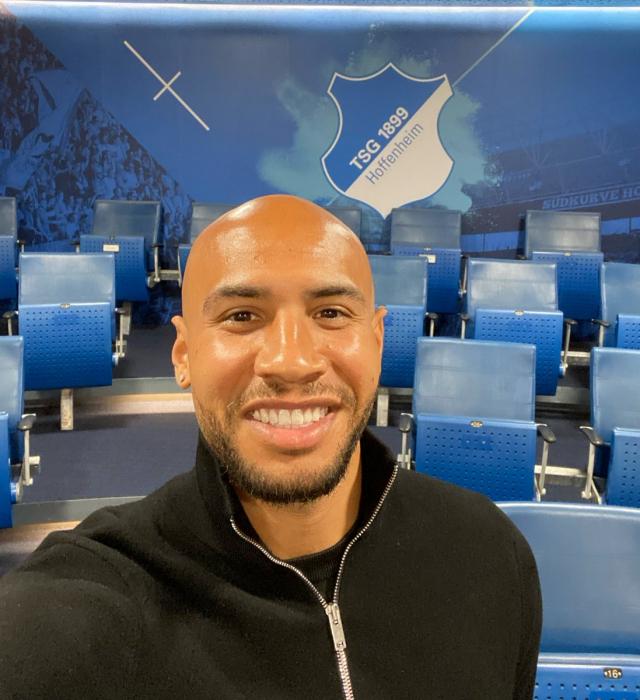 | | |
| --- | --- |
| John Anthony Brooks | TSG 1899 Hoffenheim |
The latest installment of our "Americans in the Bundesliga" deep-scout column contains four graded sections. John Anthony Brooks and American trainer Pellegrino Matarazzo both earn "A-Level" grades for their work in the big 3-1 defeat of relegation rivals Hertha BSC. Gladbach starter Joe Scally and the rotated in Union Berlin striker Jordan Siebatcheu also receive assessments for their work.


VfL Wolfsburg flanker Kevin Paredes put in an extended relief shift against VfB Stuttgart in one of the Saturday 15:30 kickoffs and did even rack up over 15 touches in 32 minutes of relief work. The Virginia native also managed to get a shot on target in. After some thought, the chronicler decided against a graded section as not much new about the 19-year-old's current form was revealed.

The current USMNT squad features just two Bundesliga players. Scally and the still controversial Giovanni Reyna made the cut. Gio got 19 minutes in off the Dortmund bench this week. It hardly mattered, however, as the BVB already had a commanding 6-1 lead over opponents Köln in what was a merciless slaughter. Reyna still isn't cracking his club squad at the moment. That's a sad fact.

John Anthony Brooks, TSG 1899 Hoffenheim

Minutes played = 90/90, Positions played = CB

Grade = A 

A large portion of Brooks' day is already covered in the tactics column. Given that the match did see a pre-mature "lid" declared, there's some additional scouting to be conveyed here. It's very much worth noting that the columnist did not see the Berliner lose a duel in the air all afternoon. The German (and column) fan-favorite really arrived here. Further aerial wins not noted in the other column came in the 59th, 68th, 75th and 82nd. Nice touches and carries can be found in the 64th, 65th, and 87th. He put in some nice set-piece work in the 85th and 86th.

While there were some defensive marking errors (60th, 74th, 79th, 81st, and at 90+2), much of that can be attributed to the adrenaline flowing in a positive match long-decided. Brooks was culpable on Hertha's late pull-back consolation goal. No big deal. For the first time since the Sinsheimers acquired him, the former Wolfsburg standout appears fully adjusted to the tempo of Bundesliga football. He's definitely back in the groove and ready to contribute. German football lovers could not be happier.

Pellegrino Matarazzo, TSG 1899 Hoffenheim (Trainer)

Matches = 1, Result = W


Grade = A-

Matarazzo, like Brooks, got a love letter in the most recent tactics bulletin. One really can't find much fault with the American trainer's personnel moves. He has Brooks and Andrej Kramaric back in gear. He's turned to Angelo Stiller to replace the mostly ineffective Thomas Delaney. He's even had the eye to stick with the surging Robert Skov over Angelino at the left wingback position. All is well in Sinsheim. The core nucleus of the team now comes together.

One can tell that the team needs a bit more drilling on set-pieces. That hardly constitutes grade-docking-worthy criticism for a gaffer in office for such a short time. Matarazzo has barely had time to sort his preferred XI out, let alone get them in sync on the training pitch. Upcoming fixtures against Werder, Schalke, and Bayern will reveal much more. In order to keep the Kraichgauer above the relegation fray, the American trainer needs to take at least one win from the next three matchdays.

Jordan Siebatcheu, 1. FC Union Berlin

Minutes played = 67/90, Positions played = LS

Grade = C-

It proved Jordan's turn in Urs Fischer's rotative set-up on Sunday. The 26-year-old earned his first league start since week 22 in the Union trainer's normal 3-5-2 set-up. It ended up being a largely uneventful day for the D.C. native over the course of the Berliners rather M.I.A. offensive day against Frankfurt. Despite the fact that die Eisernen ultimately prevailed 2-0 over Frankfurt, the Köpenick side never climbed about 37-percent ball-possession. Our American striker here amassed just 19 touches in the columnist's count.

A rather poor showing from Jordan did uptick towards the end as Fischer prepared to yank him in favor of Kevin Behrens for the stretch run. Of course, there was still o shortage of wince-inducing moments. Aerial losses in the 5th (twice), 16th (again, twice on both sides of the ball), 31st (sigh. Yet again, twice), 57th, 58th, and 63rd could have been done without. Ground losses, outright ball losses, and failed hold-ups in the 3rd, 4th, 12th, 14th, 25th, 32nd, 43rd, 44th, and 51st counted as real downers.

Jordan outright missed some great attacking chances over the course of the affair. Positional errors in the 20th, 28th, 46th, 50th, 52nd, and 61st precluded him from getting any shots on target on the day. Easily the worst moment transpired in the 38th, when he didn't even attempt to stick out a leg to meet an inch-perfect cross from Sheraldo Becker tailor-made for him. Lots of ball-watching and loose chasing in defense. Tons of screwed up and directionless lane-runs in attack.

With about 15 minutes left in his shift, Jordan totally whiffed on an attempted header off a corner in the 53rd. This actually enabled Rani Khedira to score his long-awaited first Bundesliga goal in Union colors right in front of the fan-block housing his visiting older brother Sami. Cool. The American's play - in a possibly unrelated development - strengthened considerably from that point onward. There's a great hold-up on display in the 55th, two awesome aerial wins in the 63rd and 65th. One can watch him turn a nifty little back-heel trick in the 64th.

Jordan's day wasn't all doom-and-gloom. Working deep, he managed to deliver some quality ball hold-ups in the 5th and 45th. There were also two great ground wins against SGE defender Tuta in the 10th and further aerial wins in the 8th, 40th, and 46th. By some (admittedly) recent low standards, Jordan did better than expected. Perhaps he'll get some more chances in the coming weeks. Nothing here to suggest that he'll get his first USMNT call-up in over a year, but it still looked like a slight upward tick.

Joe Scally, Borussia Mönchengladbach

Minutes played = 90/90, Positions played = RB

Grade = D+

Not exactly a solid day for the CFG New Yorker in last Friday night's fixture against SV Werder Bremen. Some of this had to do with a complex tactical shift employed by BMG trainer Daniel Farke at the half. In the final analysis, the challenges associated with the drastic change of shape really aren't enough to save Scally from "D-Level" marking for the second consecutive week. For whatever it's worth, our American subject here might have been the best foal on the pitch in Farke's tired and ineffective 4-2-3-1.

Lineup—Gladbach—Match 25 (4-2-3-1)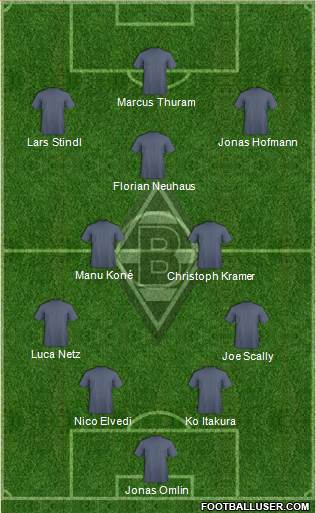 Some good defensive work on display from Scally in the opening 45, especially early. One can watch him execute a superb stab away of a Mitchell Weiser square in the 12th and a deft tackle away from Anthony Jung in the 14th. There's also some very nice moves forward, touches, and passes ahead in the 11th, 22nd, 23rd, 24th, 33rd, 36th, 38th, and 44th. Defensive tracks/blocks in the 9th, 10th, 20th, and 37th helped his team out quite a bit.

Such was not the case on loose marks, mistimed challenges, and failed clearances in the 8th, 16th, 18th, 19th, and 40th. Overall, Scally had way too many shaky moments in the first-half. A foul on Jens Stage in the 34th probably should have seen him booked. Things got worse after Farke's tactical shift at the midpoint.

More loose marking and poorly timed challenges occurred in the 49th, 52nd, 61st, and 78th. the Long Island native got toasted pretty badly by Lee Buchanan in the 68th. His marking on Bremen's second equalizer in the 89th was atrocious. The poor play was preceded by a pair of shaky clearances in the 85th and 86th. More mistakes then came at 90+1, 90+2, and 90+3.

Scally sadly had some problems with the wingback assignment. There were nevertheless some instances in which he showed promise. Forward passing work in the 55th, 59th, 60th, 71st, and 82nd enabled him to record a pair of assisted shots. Some other cases (74th, 76th, 80th, 83rd) might have been handled better.

Some nice ground wins (46th and 57th) and excellent defensive ball shield against Niclas Füllkrug (75th) are there for the pure fans of the lad, this one included. It still wasn't a particularly good day at the office for Scally by any stretch of the imagination. With his starting role cemented, however, the CFG New Yorker will get plenty of more chances.

Thanks so much for reading! You can catch the release of all Peter's columns on twitter, @ViceytheSS.

Twitter DMs are open for football conversations, corrections, and (if you truly insist) general abuse. 

All columns debut on Bulinews before appearing on Peter's website as the season progresses.



Related stories