2022/23 Bundesliga Tactical Previews: "The Middle Seven"
By Peter Weis @PeterVicey
A new Bundesliga season is upon us! Returning along with it, for its third year here at Bulinews, shall be our weekly "Tactics Talk" column that takes a look at the most salient talking points from all nine weekend fixtures. 

The 2022/23 Bundesliga campaign shall prove an odd one in that the league will only get through 15 rounds before the nine-week break associated with the historic winter World Cup. The early start to the season, combined with the knowledge that they essentially have a "second offseason" to make adjustments, means that all Bundesliga squads are effectively in embryonic form at this point. 

We're still pleased to publish three preview sections taking a look at all 18 clubs set to contest the coming year in Germany's top flight. The traditional "soft opening" weekend of the DFB Pokal at least furnishes us with some interesting lineups to consider. All top-tier clubs receive coverage. 

In our second of three installments, we'll take a look at Eintracht Frankfurt, SC Freiburg, 1. FC Union Berlin, Hertha Berlin, FSV Mainz 05, 1. FC Köln, and TSG 1899 Hoffenheim.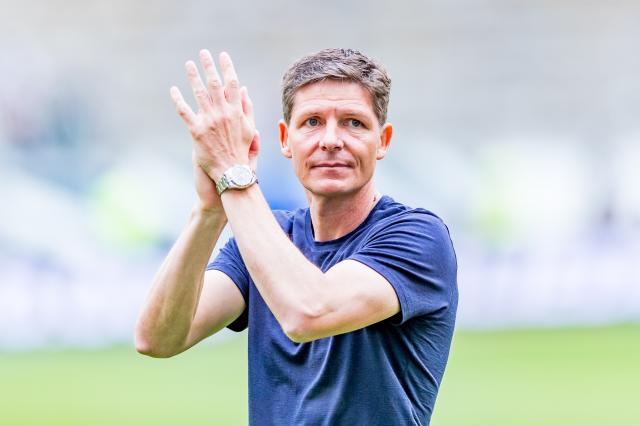 | | |
| --- | --- |
| Oliver Glasner. | Photo: Sven Mandel, Wikimedia Commons, CC BY-SA 4.0 |
---
Introduction: "The Middle Seven"
---


Our next preview installment sees fit to accord "middle-of-the-pack" status to seven Bundesliga clubs. In many respects, this serves as the most intriguing section of the field. We enter the heart of German football in more ways than one. The first three clubs covered (Eintracht Frankfurt, SC Freiburg, and 1. FC Union Berlin) exemplify the values that Germans stand proud to see representing us in Europe this year. Köln, our Conference League reps, also elicit pride.

Prospects appear mostly bright for the first three teams assessed here. This second installment also takes a look at the fortunes of Hertha and Mainz; a couple of squads for whom pre-season handicapping proves rather difficult. After expressing a little concern for Köln, we'll round out the piece with a look at Hoffenheim. The 2022/23 tactical previews continue. Having already released the "Top Five", we move on to the "Middle Seven".


Eintracht Frankfurt

"Germany's team"!


The German footballing scene salutes our national heroes. After ending the generation-long Europa League/UEFA Cup drought, they've delivered unto us an historic fifth UCL team to root for this coming autumn. Die Alder constitute the biggest "feel good" story in all of German football. We eat up all the narratives. From SGE trainer pulling himself back from the brink to emerge as the main winner of last year's coaching carousel to the genial appeal of the affable Markus Krösche rediscovering his roots back at a 50+1 club, this team finds endless takers whenever neutrals are contextually present.

As if all of this wasn't enough, Krösche and the SGE administrative team sent us all into a stratospheric state of euphoria with the Mario Götze capture earlier this offseason. Our national team heroes receive our most important still active national team hero, rendering them more amicable still. The columnist had to check his own "fanboy core" when considering whether to include Frankfurt in the top-placement column. Once one peels off all the hype associated with last year's successful "European Crusade" and the intriguing recent transfer window, it appears have this team right where they should be; leading the middle of the league pack.

Tactics plays a big role in this assessment. The squad's fervently "old school" Austrian trainer almost never shifts them. Glasner also isn't exactly a proponent of squad rotations either. The 47-year-old remains one of those "rhythm obsessives" who never wishes to sit an in-form player down. The stark dichotomy between Eintracht's league and European performances last year can be explained neatly with statistics. The shape-nerdists out there can also point to Glasner's stubborn insistence on maintaining his system throughout.  Call it a 3-6-1, a 3-4-3, or a 3-4-2-1 (it can be either on any given day), the commercial capital club almost always loosely looks the same.

Lineup—Eintracht Frankfurt—DFB Pokal (3-6-1)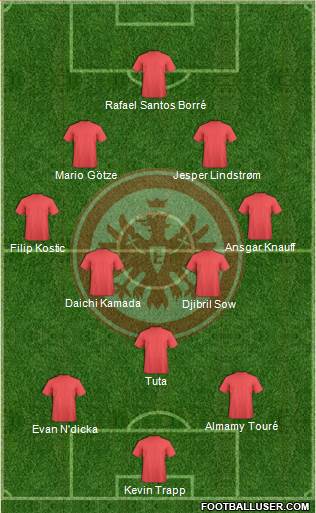 Not to suggest that there's anything wrong with that, of course. Many a German footballing enthusiast shook off the temptation to ignore the "soft-opening" status of Pokal Weekend in order to make time for Frankfurt's opening round cup tie with Magdeburg. Why? Mostly to watch Götze in a Bundesliga strip again. That's the honest truth. We weren't disappointed either. The 30-year-old initiated some very clever play and looked particularly sharp in field vision and channel passing. We are content.

Strange to think that Götze could operate so well with Kostic potentially crowding him out from such a near position. Even stranger to see Daichi Kamada bag a brace from the deepest position anyone has seen him operate at. Ansgar Knauff, Jesper Lindstrøm, and Rafael Santos Borré all contributed quality play in the 4-0 victory. One especially looks forward to another year of watching Borré (the consummate team player) holding up balls deep whilst the rest of these speedsters tear down the attacking flanks.

With Lucas Alario and Randal Kolo Muani also bringing their welcomingly lively game off the bench, there's deserved excitement around the roster Krösche has built for the coming year. The sporting director's new-acquisitions--along with the highly important permanent singings of Jens Petter Hauge and Kristijan Jakic--demonstrate the competence of a managerial executive very much in tune with the precise kind of squad depth his head-coach needs. "Fanboy goggles" notwithstanding, a lot about how this team is run merits some real praise

Notes from camp, Frankfurt

Glasner's Eagles sailed undefeated through their preseason matches. Unsurprisingly, we no shape alterations in the SGE gaffer's constellations, not even later on in infinite-substitution general scrimmages. When it came to the major talking points hovering around Eintracht's camp, most of us regrettably had to spend the summer dealing with a deluge of Filip Kostic rumors. Oh, joy. Just what we needed.

That issue, together with the endless barrage of outgoing transfer rumors surrounding Evan N'dicka, won't be going away over the next month. More joy. A loss or squad holdout of either one of these players shall prove a most unwelcome distraction to those of us who actually advocate giving this team's fixtures some of your time. Not much one can do about it other than to reiterate that this side should furnish some very enjoyable matches over the coming weeks. Highly advisable to keep them on your radar.

SC Freiburg

"Germany's OTHER team"!

Yes, the Breisgauer have made it back to the Europa League group stages following a nine-year-absence. German football lovers eagerly anticipated having one of our true national treasures, SCF gaffer Christian Streich, present himself to a larger audience with totally incomprehensible southern BaWü Dialect at the UEL pressers. You're very much welcome, world. Enjoy our stoic and rustic political philosopher; actually one of the electors responsible for choosing the figure appointed to the Bundesrepublik's ceremonial Presidential position. Again, you're welcome. Be kind to our national treasure.

A very strong summer transfer period saw Freiburg lure big names such as Matthias Ginter and Ritsu Doan to the club. It speaks volumes about the SCF that elevated their status to the point that they can be considered an attractive destination for both developmental players and high-profile veterans courted by much larger clubs. Strictly in terms of talent, Freiburg have come close to offsetting the loss of Nico Schlotterbeck and come out ahead slightly with regard to attacking upgrades. Whether or not this leaves them built well enough to fight in Europe whilst maintaining their table positioning remains a totally open question.

Lineup—SC Freiburg—DFB Pokal (4-2-3-1)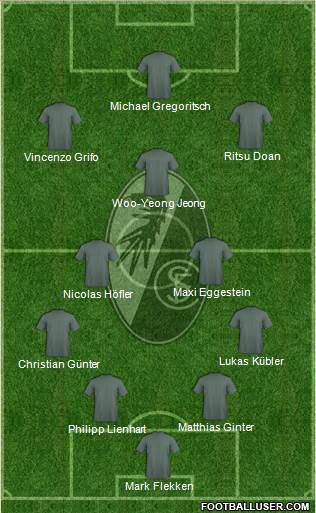 The opening round domestic club match--admittedly played at 1. FC Kaiserslautern's "Betzenberg Fortress"--left much to be desired. One could even fairly label it a fairly lucky escape for the top-tier Bundesligists. From the outset, the Breisgauer guests had difficulty circulating the ball quickly enough in possession. One expected a great deal more from the frequently exciting Woo-Yeong Jeong in the ten spot. The South Korean international proved something of a dud.

When Streich pulled Jeong in favor of Roland Sallai at the half, the squad sometimes seemed to be operating in an awkward back-three-set, with the also subbed-on Kiliann Sildillia pushing up as a third defensive midfielder. This nearly lead to disaster when the FCK's Terrance Boyd rattled off five consecutive chances between the 76th and 81st. Freiburg were again lucky to equalize via Sallai against the run-of-play shortly before the end of normal time. Clearly a lot to be sorted out here.

Notes from camp, Freiburg

An excellent, undefeated pre-season from Streich's charges doesn't mean much of anything. Neither does Streich's adherence to a 4-2-3-1 throughout. The SCF trainer always switches it up with frequent rotations during the regular season. He'll change lead strikers quite a few times. Fitness permitting, Jeong, Sallai, Lucas Höler, Nils Peteresen, Daniel-Kofi Kyereh and Kevin Schade will get starts up top. Noah Weißhaupt and vice-captain Jonathan Schmid will sporadically fill in on the wings.

In the midfield, one can never escape the sense that some sort of disastrous dip involving Nicolas Höfler invariably lies just around the corner. Accordingly, Yannik Keitel, Manuel Gulde, as well as possibly the likes of Jonathan Schmid and Keven Schlotterbeck will get their minutes in there as well. Streich's opponent-tailored  matchday planning remains second-to-none. Provided one understands his form of Southern German dialect, one also gets wonderfully detailed explanations from Streich about why he made one move or another.

1. FC Union Berlin

"Germany's OTHER, OTHER team".

Okay, perhaps that bit grows tiresome. We'll simply note that Germans generally love the Köpenick-quarter capital-city-side as well and are overjoyed that die Eisernen took to the jump up from the Conference League to the Europa League last year. The FCU remains precisely the sort of club we want representing us in European competition. One can't wait to see the club's faithful flood Berlin's Olympiastadion (without COVID attendance caps) during this autumn's UEL.

The Union story stands rich with detail that even football lovers not-well acquainted with the Bundesliga surely know by now. The stadium renovations. The famous blood drive. Nina Hagen. All good stuff. On a tactical and personnel level, the story is about as threadbare as it gets. Swiss trainer Urs Fischer never, ever, ever switches tactics. The head-coach runs the exact same system--dubbed by us as the "3-5-2 double stack"--match after match, year after year.

Club sporting director Oliver Ruhnert procures budget replacement plug-ins for the tried system on a proactive basis as some actors depart for greener pastures. A simplistic, yet highly effective, approach to managing a football team. The columnist invented the "double stack" moniker as an impromptu way of describing how the buttressing attackers work behind the rotating cast of two strikers working up front.

Other tactical columns have likely given it a better name.

Nevertheless, here it is:

Lineup—Union Berlin—DFB Pokal (3-5-2)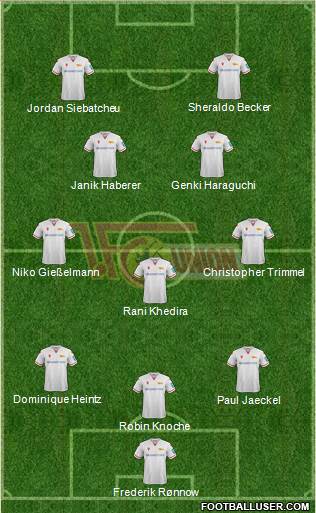 Completely predictable. This is the familiar constellation under which everyone (and the write literally does mean everyone from Sebastian Andersson and Sebastian Polter to Joel Pohjanpalo annd Cedric Teuchert) can pluck goals off that top axis. More mobile actors such as Milos Pantovic, Sheraldo Becker, Andras Schäfer, Tim Skarke, Kevin Behrens, and Jamie Leweling can work just about every position in that front four. The squad, as ever, is just extremely well built around this foundational formation.

A few points of criticism for Union following their unexpectedly close opening round Pokal fixture at Chemnitz have surfaced. This writer sees them as completely overblown. Substitutes Behrens, Pantovic, Julian Ryerson, and Andreas Voglsammer all interjected an observable  amount of creative flow into this team at different intervals when it was their turn to come off the bench. While conceding that the closer scrutiny of deeper scouting is needed, it almost seems as if this squad lies precisely where it needs to be.

Notes from camp, Union

As has been the case for the last three seasons, checking in on Union's camp qualified as a fun exercise. Club management made certain to schedule seven test fixtures for Fischer, from which the above lineup rotations are derived. A few of the exhibition matches (and the Pokal) called attention to the fact that maybe the FCU trainer experimented with his back-three a bit too much. A set trio with a sorted-out pivot would be further along than what we saw.

The deployment of former Freiburg man Janik Haberer that high up also doesn't appear to be working. It's unclear why Fischer sticks with it so often when there are far better options. Some calls about the squad being a tad unbalanced (too few defenders at the back and an unnecessary surfeit of midfielders) crop up when observers deal with the subject of the attack not having taken off yet. All a bit nitpick-natured in the writer's opinion.

Hertha BSC

Sigh. Why does the columnist feel as if he's poised to regret placing the larger and richer Berlin side in the middle of the pack? Probably because he made the horrible mistake of labeling them "European Contenders" last year. There isn't all that much to suggest that we Bundesliga fanatics won't find ourselves consoling, apologizing, and making reassuring promises to our Hertha supporting brethren in the traditional manner we do every year. In Sandro Schwarz, the club does have easily its most competent trainer in over a decade at the helm. That counts for less when one considers the usual precarious personnel situation.

Sporting CEO Fredi Bobic's latest summer transfer window ended up being about as needlessly conservative as his previous one. As respected an administrator as Bobic is in German footballing circles, he truly has no cause to prove himself capable of operating on a budget when this club maintains the financial wherewithal to address urgent needs. Perhaps Hertha don't belong here at all. Maybe there only reason the Charlottenburgers are placed here is two juxtapose lineups of the two capital city sides close together ahead of this weekend's "Berliner Derby".

Readers can decide for themselves.

Lineup—Hertha BSC—DFB Pokal (4-1-4-1)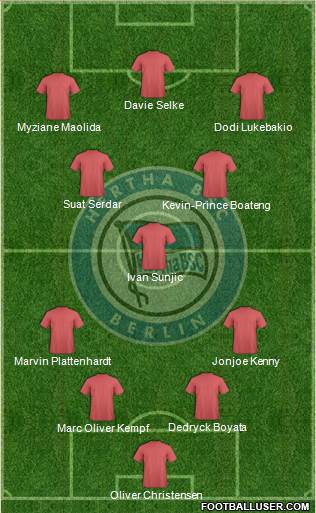 About as ambitious a lineup as we've seen from this team in three to four years. Head-coach Schwarz was also correct in relaying that there were plenty of positives on both sides of the ball during Sunday's Pokal defeat. There's something to this, at least there is until one considers the fact that the newly signed Ivan Sunjic looked a poor choice to run the midfield from his own solo axis, Davie Selke at lead striker absolutely will not work ever again, the defensive unit committed far too many errors under its new captain, and poor Kevin-Prince Boateng just doesn't have the legs to play anywhere close to a full match anymore.

Ach. This club. Virtually all the more talented actors who should have been integrated into the XI are headed elsewhere. Bobic may bring in one more actor with some raw skills that won't be integrated properly or succumb to their plainly foreseeable history with injuries. Morale will sink to rock bottom following what one forecasts to be a derby defeat in the opening league round next weekend. Same old story. The wheels threaten to come off as another season slips away. This team could easily begin the season with four straight losses.

Notes from camp, Hertha

Hertha's preparation campaign concluded with three straight losses against Derby County, Nottingham Forest, and West Bromwich Albion. The tactics employed by Schwarz in all three defeats didn't appear to give him something workable in midfield. The Hertha gaffer tried tying Boateng and Suat Serdar closer to Sunjic in a triangle and even gave the double-six setup of Lucas Tousart and Vladimir Darida another go.

Still a marked lack of coherence on the attack builds in addition to far too many miscues in collapsing the midfield in the service of preventing counters. The Kanga signing should give Schwarz a big boost offensively a little further down the road. More help is on the way once Stevan Jvoetic and Marco Richter get fit. For now...let's just bluntly conclude that there are bad omens everywhere.

FSV Mainz 05

The writer seriously considered making the Nullfünfter a pick for the "top-five" installment. No joke. The Rheinhessen are not dissimilar to Eintacht and Union in the sense that club management and coaching staff work excellently together in order to build a squad that directly meets the trainers needs. Christian Heidel, Martin Schmidt, and Bo Svensson are all on the same page with regards to what they desire out of this team. With a solid start to the campaign, we could be talking Europe for the Pfälzer before too long.

Svensson's system may remind one of Urs Fischer's "3-5-2 double stack", particularly in that a flexible cast of characters can work as direct buttressing pillars behind the two strikers. There's also a solitary holding midfielder and strictly positioned wingbacks all with specific instructions for positional play. Svensson's constellation is nevertheless differentiated by a totally different set-up for the midfield, a flat back-three, and a generally much wider positional spread.

A possession-based 3-3-2-2 remains a better way to describe it.

Lineup—Mainz 05—DFB Pokal (3-3-2-2)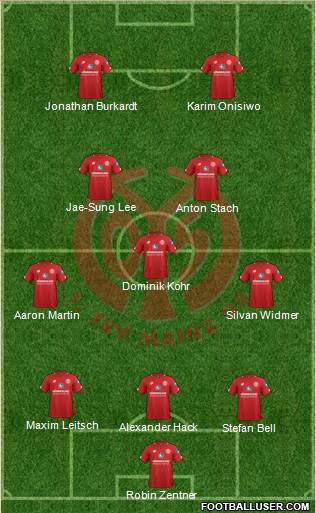 Some pieces seemed out of place here during what was a convincing, yet often boring, 3-0 win over Erzgebirge Aue in the Pokal this weekend. Anton Stach had issues operating so high afield, oftentimes lurching back to Dominik Kohr's position. The attack itself struggled to create compelling chances throughout the first half. Svensson's team were gifted a halftime lead only courtesy of a howler from the keeper. The top-tier team wore down their third division opponents eventually to score two late tallies.

Marus Ingvartsen, Delano Burgzorg, Leandro Barreiro, and Angelo Fulgini all came off the bench to do a significantly better job than counterparts Kohr, Jae-Sung Lee, Jonathan Burkardt, Karim Oniswo in the starting XI. Svensson thus has some tough "hot hand" calls to make when it comes to his lineup. One might as well label those unenviable decisions. Burkardt can really shine when he's in his groove and Onisiwo (despite consistently low production numbers) remains a force one probably wants to keep on the pitch.

Notes from camp, Mainz

A highly confusing preparation campaign saw the Nullfünfter beat the likes of Newcastle while looking like a plodding mess versus Besiktas and Spain's Athletic Club. Competition for the four slots on the top two axes continues to be fierce, with new acquisitions Fulgini and Aymen Barkok knocking at the door. We might see some bold selections or potentially even a system change in the near future.

A certain trust in what Svensson visualizes in structuring his XI leads one to believe that he can help this crew shed their mid-table status in the coming campaign. We discuss a trainer never fearful of switching up his entire system in-game when he notices that the initial selection failed. This could be an entertaining squad to watch rise up this year.

1. FC Köln

Over in Germany's cathedral city, there are so many questions left unanswered for Steffen Baumgart and company as we head into the new season. Uncertainty enveloped die Gießböcke even before Saturday's early Pokal elimination. In his debut season at the helm of the Domstädter, Baumgart unquestionably helped a side that narrowly escaped relegation in 2021 punch above their weight. One wonders what he can accomplish this year with the added burden of Conference League travel and a sporting director committed to stringent budgetary rules.

German football watchers naturally recall that Köln were relegated the last time they qualified for Europe during the 2017/18 campaign. Such an occurrence could repeat. The Effzeh lie only above VfL Bochum and the two promoted clubs Schalke and Bremen with respect to the total estimated market value of the roster. Preseason fixtures reveal that Baumgart encounters difficulty sorting out how his XI should ideally be structured.

Lineup—FC Köln—DFB Pokal (4-1-2-1-2)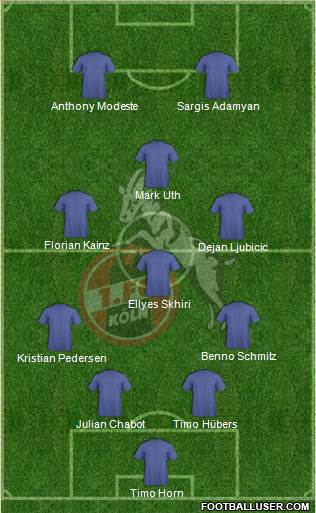 Baumgart freely admitted that he got his tactics totally wrong when reflecting upon the Pokal loss. Even after the adjustment to a 4-2-3-1, however, midfielders Ellyes Skhiri and Dejan Ljubicic committed numerous errors. The back-line had great difficulty grappling with basic defending, something barely ameliorated by the introduction of captain Jonas Hector later in the match. Defenders Julian Chabot and the later subbed on Kingsley Ehizibue both missed spot kicks in the shootout.

It's definitely not time to push the panic button when it comes to this side just yet. Hometown hero Mark Uth turned in another gem of a performance which included a fabulous tally in the opening half and several quality chances thereafter. The team looked overall much more dangerous on the counter following the introduction of Hector and German youth international Jan Thielmann. Anthony Modeste and the new signing Linton Maina came within millimeters of ensuring a different result with late chances.

Notes from camp, Köln

For those who have scouted this side in preseason, some personnel clarification in the attacking third would be greatly appreciated. Baumgart appears to have squandered his chance to figure out whether Sebastian Andersson, Denis Huseinbasic, and Florian Dietz should play a major role in the squad. As a result, the roster remains far too large and the actors on the pitch clearly lack the requisite muscle memory heading into the season.

The Effzeh gaffer speaks of a "versatile" squad and insists that the unpredictability of his selections constitutes an asset. Fair enough. He could prove right. The type of home support this club reliably receives can always render all the issues inherent within the team irrelevant. Obviously, ambiguity thinly concealed by such semantics often proves a very bad sign. Hard for any footballing observer to trust what's going on in the cathedral city at this particular moment.

TSG 1899 Hoffenheim

The team German football fans typically discuss through gritted teeth endured a rather humiliating collapse under previous head-coach Sebastian Hoeneß near the end of last season. Hoeneß' downright crazy tactical realignments down the stretch left just about every one of us convinced he would get the axe as soon as the campaign wrapped up. Sure enough, he got an arguably well overdue sack hours after the season concluded,.

The manner in which Hoeneß tinkered ridiculously with his team counted almost as a textbook example of how to mismanage a professional football squad. Toward the end, an assemblage of otherwise talented players possessed nothing resembling an identity. Nothing remotely approaching a footballing philosophy existed on the pitch. The man tasked with now building one, André Breitenreiter, attempts to do so in his Bundesliga "footballing afterlife".

Lineup—TSG Hoffenheim—DFB Pokal (5-1-4)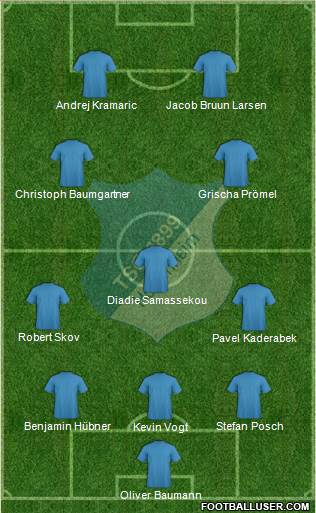 Few of us expected Breitenreiter to ever return to German football again. It definitely seemed as if the 48-year-old had burned his brand thoroughly after the short-lived stints at Paderborn, Schalke, and Hannover 96. Alas, bolstered by some fresh capital following a title run in the Swiss League, he's back in the mix. The appointment even received plaudits from some league pundits. Sometimes a coach can come back against the odds.

The recent Pokal fixture against pro-am SV Rödinghausen of the fourth tier possibly counted as the absolute worst match of the entire opening round. This turgid formation from Breitenreiter put both players and viewers to sleep. The Sinsheimers ultimately scored a couple of late goals near the end of extra time to pad matters with a 2-0 scoreline. Horrible stuff from the Kraichgau guests. It looked like they were doing nothing more than running midfield passing drills at one-quarter-speed against an opponent they opted not to take seriously.

Notes from camp, Hoffenheim

The Pokal flop did enable Hoffenheim to keep up a seven game unbeaten run if one takes the unofficial pre-season fixtures into account. Breitenreiter, like any coach charged with leading this club, lords over a bunch of expensive talent and knows how to not mismanage it. Frankly, one needs to work very hard to mismanage a Hoffenheim roster. It continues to confound how Hoeneß somehow did just that.

Standout performers from the preseason and Pokal fixture include the recently (and curiously) returned Union Berlin man Grischa Prömel, newly plied Schalke defender Ozan Kabak, the obscenely talented Diadie Samassekou, and attackers Munus Dabbur, Christoph Baumgartner, and Georginio Rutter. As of couple of days ago, there were concerns about replacing many departures at the back.

As it usually the case with this club, that's nothing an influx of SAP cash can't fix twice over. There will be possibly three to four more expensive auditions before the transfer window closes. This club can carry as large a roster as it wishes.

The writer sends friendly greetings to all Bundesliga fans out there ahead of another fantastic season! You can occasionally catch Peter goofing off while watching non-Bundesliga football on twitter, @ViceytheSS.

Twitter DMs are open for football conversations, corrections, and (if you truly insist) general abuse. 

All columns debut on Bulinews before appearing on Peter's website later in the week.



Related stories