Bundesliga Tactics Talk: Round 26
By Peter Weis @PeterVicey
Back from a news-packed March international break, there's no shortage of talking points emanating from the world's best footballing beat! The table is as tight as ever in the 2022/23 German Bundesliga.

With eight rounds remaining, the races for the title, European spaces, and relegation slots are all consistently supplying intrigue.

The latest edition of our comprehensive Sunday night recap column here on Bulinews, as always, covers it all. Schalke and Wolfsburg receive draw-ups this time.

While it may have been something of an anti-climactic affair with an early "lid", full coverage of Bayern-Dortmund can be found in the "focus" section below.

Who could possibly resist a detailed look at the dawn of the Thomas Tuchel Era?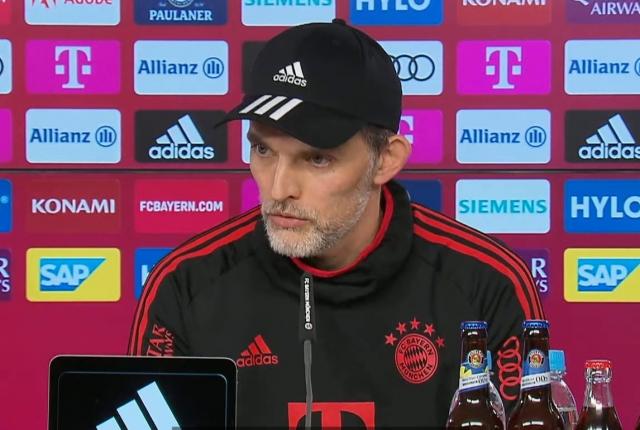 Photo: Bayern München/OneFootball
Bundesliga Tactical Banter: Round 26
Cannstatter Chaos

Good grief. What are we to make of the survival prospects of VfB Stuttgart after the latest debacle? As of this column's publication, Bruno Labbadia remains in charge of the Swabians in large part because the club's new relatively new sporting director can't find anyone else interested in the job. The Bundesliga's still last-placed side may not necessarily be on a suicide mission under their current head-coach. On 20 points at the bottom of the table, Stuttgart can even pull themselves up to safety with a win next week and losses for both Schalke and Hertha.


Labbadia nevertheless appears to have really run out of ideas for how he can run a basic 5-4-1. The VfB gaffer employed wholesale personnel changes to the same basic shape in the latest 0-3 defeat away at 1. Union Berlin. Josha Vagnoman and Waldemar Anton actually both started, with the former on the right attacking wing. Skipper Wataru Endo moved back to a solo sweeper axis whilst Enzo Millot partnered with Endo's former partner Genki Haraguchi. Vagnoman proved a total bust. Haraguchi scored an own-goal against his former club.

There will be those who claim that Stuttgart fought bravely against Union during a scoreless first half. The BaWü guests - now without a win in 23 consecutive league away matches - did manage some light pinpricks at the Stadion An der Alten Försterei. One can accord some very faint praise for the slightly better team. At no point, however, did it seem as if Labbadia's charges were going to be able to hold out. Union were slowly playing themselves into form for a much stronger first half. Die Eisernen eventually made mincemeat out of their offensively inferior guests.

Everything needs to click into place perfectly for Labbadia's stubborn hold on the 5-4-1 to work. The good news concerns the fact that long-injured lead striker Serhou Guirassy did make his desperately needed comeback of the bench in this one. The team also played well for long stretches in spite of the fact that both Silas and Borna Sosa were out injured. Guriassy's return means that Silas can ultimately slot back in on his natural right side. Sosa's return renders much possible. Crosses can come into a proven goalscorer in the box. Additionally, Hiroki Ito can move back central.

It can happen still happen for the Swabians. One had to wince hard twice when Dan Axel-Zagadou missed two headed chances in this one; two chances that either Ito or an overloaded Konstantinos Mavropanos (unfortunately pretty bad defensively again) might have buried. Everything must click into place perfectly and the VfB will need some timely help from the other squads involved in this historic relegation fray. It's still a shame about the lack of other coaching candidates. A shake up might have helped this team more.

Leipzig Loser Syndrome

Ahem. As of this column's publication, RB trainer Marco Rose still has a job as well. While it remains extremely unlikely that Max Eberl and the club front office are seriously considering axing such a high profile name at this point, the latest upset loss leaves one wondering whether Eberl has begun to contemplate a parting of company as soon as the season is over with. Perhaps Eberl might even get a slight kick out of terminating the trainer who once abandoned him during the onset of his darkest days at Gladbach.

When it comes to Mainz's 3-0 defeat of Leipzig, let this one highly important truth be known: This match wasn't anywhere near close! Bo Svensson's Rheinhessen strode into the Red Bull Arena and completely dominated their Saxon hosts. The Mainzer 3-4-3 demolished Rose's 4-2-2-2. Rose must shoulder some share of the responsibility for failing to drill his team in what is supposed to be the RB GmBh network's trademark system. Rose has also used up most of his cache when it comes to chastising his team on their poor execution of the basics.


Who is responsible for the fact a star-studded team could only rack up a paltry 0.68 xG in this one? Start with the coach; the man who can't seem to figure out his own best fullback pairing, teach Timo Werner how to stay onside, bring out the driving impulse in Kevin Kampl with a rearward deployment, compete for second balls in the midfield, or even string together passes in a coherent fashion. At present, Rose can do very little other than enumerate the exact same excuses as after the Man City defeat. His team aren't moving precisely because they're rudderless.

Counterintuitive as it may seem, one should probably consider the recently humbled Dortmund to be the heavy favorites in this weeks big quarterfinal rematch of the 2020/21 DFB Pokal Final. Edin Terzic's Schwarzgelben don't have the type of systemic problems that Rose crew have. At this point, one also doesn't really trust Rose to utilize the returning Dani Olmo effectively in whatever set of tactics he puts forth in three days' time. The RB gaffer has everyone out of sorts. This could get even uglier.

Hoffenheim's remarkable turnaround

As our Sunday match reporter correctly pointed out, Pellegrino Matarazzo's Sinsheimers had Lady Luck on their side during their trip to the Weserstadion in the round's capper. Bremen and the TSG played a largely evenly matched game. Kraichgauer keeper Oliver Baumann did his bit to keep out the highly functional SV striking tandem of Niclas Füllkrug and Marvin Ducksch out of the back of the net during the opening 45. Baumann stopped Ducksch three times in a single-five minute span, and also put the hard work in against Niklas Schmidt earlier.

Hoffenheim's lethal double strike shortly after the restart was a mite harsh, even if Niklas Stark and Milos Veljkovic committed atrocious marking errors on the two goals. Füllkrug, Schmidt, and Mitchell Weiser had some poor luck on attacking charges just prior to the quick-succession double tally. After Amos Pieper pulled a goal back, substitute Maximilian Philipp narrowly missed the equalizer with a strike of the post at 90+2. Bremen were also denied a chance to equalize from the spot at 90+4 due to (the hitherto fantastic) Weiser's offside position on an Ozan Kabak handball.

All of this notwithstanding, Matarazzo got a solid performance out of an XI that had only just earned their first league victory since October on the previous matchday. When the team sheets were released, the late scratch of left-wingback Robert Skov caused some concern. Angelino stepped into the breach flawlessly and Matarazzo's other change - Finn Ole Becker - also played well. Baumann, Andrej Kramaric, John Anthony Brooks, and Christoph Baumgartner all continued their upward trajectories. The TSG could earn three straight wins against Schalke next week.

The "Spiegel Specials": Round 26
Wolfsburg-Augsburg (1:1, 2:2)

It's been some time since we checked in with Germany's green company team in this particular column. In point of fact, Niko Kovac's "Wölfe" last received vigorous examination in the very first "Tactics Talk" column of the new calendar year. The writer has honestly been meaning to get around to it. Truly, he has. The heart of the problem concerns the fact that the German Wolves relapsed hard into woefully uninteresting and unmotivated performances. Even when they won, they fell into the old pattern from earlier in the year of "winning ugly".

Last round's 1-0 win over Stuttgart exemplified this. It may have been in the bottom-three worst of all the league fixtures the comprehensive chronicler has watched all year. No consistency in this team that can't seem to carry even the smallest semblance of momentum over to their next match. One week after four of Kovac's substitutes all combined for a spectacular late equalizer against Union Berlin, just about everyone in the starting XI and most especially everyone off the bench looked flat in the meek 1-0 win over Bruno Labbadia's Swabians.

At long last the Lower Saxons have supplied us with a performance genuinely worth talking about. Ravenous stuff from the German Wolves as they aggressively went after just their second home league win since the turn of the calendar year. Kovac's crew haven't gotten one since that Freiburg rout. A dominant VfL side racked up the highest Bundesliga xG figure of the weekend (4.32) against the visiting Fuggerstädter. In the end, a draw was secured only via a dramatic late comeback. The point was still fully earned.

Lineup—VfL Wolfsburg—Match 26 (4-1-4-1)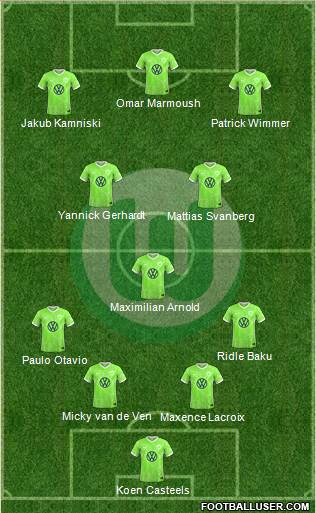 Underrated squad captain Maximilian Arnold put the ball in the back of the net inside of two minutes. Unfortunately, it was his own net. The Dresden native headed an Arne Engels corner straight past his own keeper. Arnold would later miss from the penalty spot in the opening 45. Poor VfL net minder Koen Casteels stood no chance against Mërgim Berisha after an inch-perfect Engels through-ball in the 32nd. Augsburg had a 2-0 lead on their only two chances.

So many individual failures in front of goal from the hosts on this day. Yannick Gerhardt missed an empty net twice. Patrick Wimmer - a little unlucky not to score thanks to some individual brilliance from FCA keeper Rafal Gikiewicz - still spurned several opportunities with superfluous footwork. Jakub Kaminski and Mattias Svanberg failed to convert easy chances too. One could feel the collective confidence of the squad deflate throughout the second half; a common occurrence over the course of their year.

Kovac's "Midas Touch"

The significance of Kevin Paredes' introduction at the hour-mark means that, as has been the case before this season, there will be some more in-depth discussion of the later Kovac tactical changes in the next edition of the "Americans in the Bundesliga" column. Suffice to note here that Kovac slowly got his team reformatted into a 3-5-2, then reformatted again for a 4-3-3 for the final push. It was deftly and carefully done; a nice subtle hand from the trainer.

The hosts gradually began to make more incisive incursions into the attacking third. Kovac also withheld some of his better set-piece designs until the final quarter of an hour. Arnold finally managed to redeem himself with a nice assist on Luca Waldschmidt's 1-2 in the 84th. While it did look as if the equalizer wasn't going to fall in spite of all the penetration, the team never really gave up. Felix Nmecha caught Gikiewicz off his line at 90+6. Fitting enough for a team that outshot their opponents 23-5.

Prognosis: The "quiet" pursuit of Europe

When it comes to the race for seventh (the Europa League Conference slot) and sixth (the second Europa League place) much of the talk in this column has centered around the prospects of Mainz and Leverkusen. Wolfsburg's five-match winless-run temporarily pushed them out of the conversation. Now Kovac, after the winless-run concluded on matchday 21,  has quietly put together a five-match unbeaten-run. Equally as important, Eintracht Frankfurt are now winless in eight on-the-trot.

We've now four teams separated by just two points in places six through nine in the table. Wolfsburg, Leverkusen, Mainz, and Frankfurt get set to duke it out for the final two European places. Upcoming schedules, trends, and overall roster strength actually put the "quiet" candidates in an excellent position to take sixth place. With all that Kovac has done wrong rotation and tactics-wise this season, the former Frankfurt and FCB gaffer holds a stronger current hand than many realize.

Kaminski, Wimmer, Paredes, and even Ridle Baku can rotate at will on the flanks. Omar Marmoush can either retain his strong form or make way for Jonas Wind or Lukas Nmecha. Virtually all of the six potential buttressing attackers remain strong. Maxence Lacroix, Sebastian Bornauw, and Micky van de Ven have central defense covered. Van de Ben has proved he can move out to fullback as well. Nicolas Cozza and Kilian Fischer even emerge as options out wide in the back-four.

Wolfsburg now seem like "quiet" overtakers.

Admittedly, that's not the most exciting thing to report.

It remains true.

Schalke-Leverkusen (0:4, 0:3)

In the final analysis, it ended up being a double set of goose eggs for Schalke against a vastly superior team. This despite the fact that the Schalke of April bears almost no resemblance to the Schalke of October. Right up until the point that Bayer's German phenom secured the 2-0 with a moment of brilliance in the 61st, it remained possible that we might yet again be congratulating S04 trainer Thomas Reis on yet another major tactical victory. Reis largely made all the right moves here. The question of whether he's evolved into an active tactician is now settled.

The way in which Reis has been skillfully maneuvering his troops around in novel constellations recently blasts the thesis that he's a simple 4-2-3-1 coach right out of the water. The hypothesized "simple plan" (perhaps sardonically inferred "simple minded") gaffer doesn't exist. Reis comes up with unique match plans tailored to his opponents. This time, having studied Leverkusen's victory over Bayern last round, he correctly deduced that Xabi Alonso would line his troops up in the same 3-4-3 with Wirtz serving as a false-nine.

A tight second and third axis sought to clog the midfield.

Lineup—FC Schalke 04—Match 26 (4-1-4-1)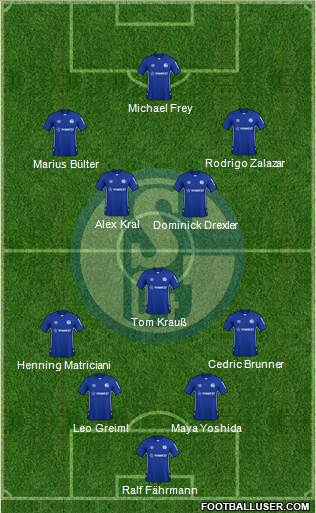 Recent returnee Dominick CDrexler and Rodrigo Zalazar had their issues coordinating their movements on the right. The pair also suffered from defensive disaroganiztion, allowing Amine Adli to slip through on far too many occasions. Henning Matriciani (perhaps a little too high on cloud nine) and Leo Greiml (on a cold-start) made their mistakes as well. Still, thanks in part to some fine saves from Ralf Fährmann, the opening half concluded with the two teams deadlocked at 0-0.

Sensing that he had an opportunity to steal a point via another 0-0 draw, Reis introduced an extra sweeper for the second 45. Schalke's strong start had caused Leverkusen some problems, especially when it came to breaking up play and stretching out the time it took Bayer to regroup and rebuild. As die Werkself were beginning to settle into something of a rhythm shortly before the break, the logical move was to bolt-lock the center. Eder Alvarez Balanta replaced Drexler.

Lineup—FC Schalke 04—46th minute (5-2-3)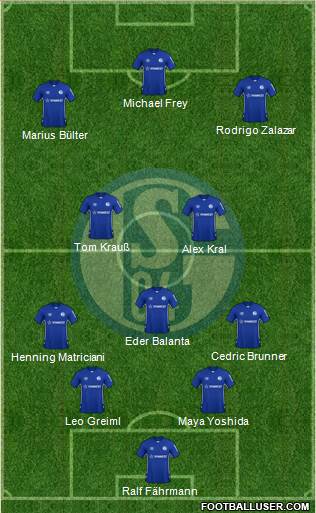 Reis might have done better to keep Tom Krauß on a six-axial-chain with Balanta. Some warning signs that the company club could wake up were already emerging in the form of Alonso's one tactical tweak from last week. Robert Andrich was back in midfield. The existence of a flat back-three, as opposed to a double-pivot, meant that Bayer could advance in unison and smother the Königsblauen once they got their feet sorted out.

The first goal

Some hard luck for Reis here. His team managed to make some small pinpricks via free-kicks awarded in semi-promising positions during the first half. A total miscue on one such set-piece in the 50th enabled Edmond Tapsoba to spring Moussa Diaby on a flash-fire-counter. Jeremie Frimpong polished off the pacey French attacker's cross. Such things can happen in the blink-of-an-eye with this team.

The second goal

As one can tell from the graphic above, the amount of space accorded the opponent just outside the area carried with it significant risk. One could argue that, with Wirtz lingering about in that space, the risk wasn't even of the calculated variety. Do note that Wirtz actually hadn't scored a league goal prior to this day this season. A sublime one-two touch-glide with Adli in the 61st came out of nowhere...but was bound to happen at some point.

The decision

This one could have ended 6-0 or 7-0. Matriciani and Greiml really fell apart after the second tally. The former even narrowly missed scoring an own-goal twice. Sardar Azmoun's 3-0 at 90+2 arrived after a ten-minute-plus spell of constant bombardment. Schalke looked very much like a relegation threatened squad after going down 0-2; a team possessing zero confidence that they could pull back one goal, let alone two.

Prognosis: Schalke as "relegation darlings"

A total team dip against this immensely talented Leverkusen side doesn't really cancel out all the positive momentum Schalke have built up in recent weeks. Reis' lads held their own for about as long as they possibly could. The first defeat of the 2022/23 "Rück-runde" was bound to occur at some point. It's even advantageous that many actors got their "off days" in here prior to upcoming six-pointers against Hoffenheim and Hertha.

Hopefully, the absent Moritz Jenz won't be sidelined for too long. Some other significant injuries are also clearing up. Tim Skarke got some minutes in off the bench here after a long absence. Niklas Tauer is back in the bench squad. Thomas Ouwejan shouldn't be too far behind. Consider for a moment how the table might look if die Knappen end up running the table against relegation rivals Hoffenheim and Hertha. All six points?

Schalke could soon find themselves well cushioned above the relegation fray. Reis' charges will, of course, absolutely need this as they face a brutal final stretch with Mainz, Bayern, Frankfurt, and Leipzig serving as the last four teams on the docket. We're all in for some great fun and wild permutations. There's enough defensive talent on this roster to keep this team in the league. Reis also has plenty of ways to organize it.

Here's hoping for two more Revierderbies next year!

Freiburg-Hertha (2:2, 1:1)

A pair of draws from from the Breisgauer against a team they never truly met at an engaging point during their current season. Christian Streich's SCF lacked energy and focus coming off their Europa league encounter when they travelled to the country's capital in early October. A completely spread out 5-4-1 had similar difficulty creating anything compelling against the Charlottenburgers this time around. A lame and tame performance from the Badeners here.

Lucas Höler and Vincenzo Grifo lobbed shot and soft-shot\ in the direction of Hertha keeper Oliver Christiansen during the opening hour of the match until Grifo eventually saw a subpar free-kick deflected into the net in the 52nd. From that point forward, the affair woke up a bit. Berlin strikers Dodi Lukebakio and Wilfried Kanga - the starting striker duo Sandro Schwarz selected for his 3-5-2 - nevertheless displayed the exact same finishing problems as they have all season.

It didn't appear as if we would get a second goal at all until Jonathan Schmid, on cold off the bench in relief of injured starter Kevin Schmidt, committed a double error against Hertha sub Jessic Ngankam. In his long-awaited season debut, Schmid lost the ball to Ngankam, then failed to track the Germany U21 international on a quick sprint. Ngankam leveled in the 77th with Kanga registering an assist. Schmid nearly atoned for his mistake shortly thereafter, but Ritsu Doan ended up hitting his cross against the post.

Prognosis: Hertha as relegation "semi-darlings"

Schwarz's "alte Dame" racked up an impressive full-time xG figure of 2.31. The BSC trainer's personnel selections could largely be described as both solid and logical. Kanga and Lukebakio did well together up front. Kevin-Prince Boateng came in for Suat Serdar to work alongside Lucas Tousart behind the two strikers. Jonjoe Kenny also started as the right wingback over the suspended (and largely miscast) Marco Richter.

The constellation exhibited some intermittent signs of pop. While not exactly explosive by any stretch of the imagination, there was at least something of a consistent flow to it. Boateng brought with him about as much calm as one can expect from the 36-year-old at the tail end of his career. Duel rates were mediocre. A few stray passes made one wince. Half a dozen or so sprints proved how much he's aged. Okay. Not spectacular really.

That notwithstanding, one had to like how Boateng took on some brave dribbling and got a couple of efforts on target. His teammates seemed to benefit from the extra space he accorded them and responded well to his will and body language. The West Berliners could continue to feed off him in the coming weeks. The one team in the bottom three to move up a bit this weekend might even stand a chance next week against Leipzig.

Something tangible is at least coming together for Schwarz.

The "Burning Questions": Round 26
Is it getting worse for Frankfurt?

Given everything that has transpired since the last column, we'll have to go ahead and pick up the thread from the matchday 25 edition of "Tactics Talk." What exactly is going on with this team seemingly already consigned to its comprehensive summer rebuild project? Confirmation of departures for current stars keep piling up. Even those still under contract fall into the "want-away" category. After a moody and noncommittal presser last week, Oliver Glasner went straight for the refereeing criticisms this time. Someone wants to talk about anything other than his exit clause.

Phrew. Yeah. It all adds up to an undeniable exercise in time-killing. The Friday night 1-1 draw against Bochum that opened this round largely felt like a "go-through-the-motions" encounter. Eintracht ceded their opponents far too much space with a woefully weak press. The RheinMain Eagles conceded the opening goal with unfocused defending off a long throw-. Despite dominating possession (75 percent), the Hessians showed no initiative making attacking lane cuts; even when it was so bleeding obvious that they had a way through.

Not much on display from the undeniably distracted Randal Kolo Muani. The rising French star tried out some artistic finishes that beheld no real practical purpose for his team. Rafael Santos Borré did the same thing for different reasons. After netting a goal with an insane bicycle-kick-finish that sent shockwaves all over the globe during the international break, the Colombian striker wanted to test out more flowery and cheeky moves. Again, this had no practical benefit for his German club.

The SGE looked to be slightly in the mood for something. Unfortunately, that "something" had little to do with picking up a vital three points in the Race for Europe. A loose and improvisational feel to their play felt a little too loose at times. Glasner can't exactly be accused of not having the squad ready. Some finely tuned set-piece designs involving Philipp Max proved that some concentrated work had been put in on the training pitch. Alas, overall concentration isn't anywhere near where it needs to be.

This squad sleepwalks through the end-spurt.

What happened in the Rheinderby?

A whole lot of nothing if one is brutally honest. One can't deny that the sight of a full and colorful RheinEnergieStadion never fails to warm the heart. On top of that, Steffen Baumgart's new ultra tight-lock 4-2-3-1 ensured that the hosts had some rhythm to their game over the course of the opening hour. A totally packed midfield with Eric Martel and Ellyes Skhiri working as the double sixes behind a strict axial chain of Florian Kainz (in the middle), Kingsley Schindler, and Linton Maina kept the hosts in possession.

The innovative portion of Baumgart's tactics placed fullback Schindler in a unique inverted attacking lane. Indeed, Schindler was able to deliver with some spark. The German-Ghanaian handled his new assignment well, peeling off three shots on goal. Lamentably, that constituted just about the extent of what die Geißböcke were able to supply offensively. One should expect nothing less from an attack spearheaded by Davie Selke. The Effzeh gaffer appeared so frustrated with Sargis Adamyan that he didn't even select him for the bench squad.

Yikes. Two very bad teams in this one. Gladbach trainer Daniel Farke wasn't even kind enough to favor us with his much more interesting second-half tactical adjustment from last round. The BMG 4-2-3-1 quickly fell into a straight mirror of the Köln set-up. Despite the fact that the foals couldn't execute basic build-up play to save their lives, Farke made no adjustments and didn't even send on his first sub until eight minutes from time. Double yikes. The final half hour of this fixture felt as if it took an entire day to complete.

Yes, thanks to Joe Scally, this poor chronicler must watch it again. 

Triple yikes.

Weekly Tactical Focus: The Return of the "Flick Scheme"

Even if the highly anticipated Bayern-Dortmund showdown ended up furnishing one of the weekend's weakest competitive offerings, there was little choice but to stick with it this time. Why is that so? Come, now! How on earth could anyone responsible for covering the German Bundesliga beat ignore the seismic shift that most unexpectedly took place over the international break? Irrespective of how much football we actually got, BVB-FCB had to be the one. Irrespective of how little influence he had on proceedings, Thomas Tuchel had to get the the picture.

In a match with a fairly early "lid", we did learn a thing or two about how Tuchel plans to run his new team. The most important lesson remains an obvious enough one: The newly appointed trainer was appointed almost exclusively for the purpose of getting the mighty German giants back to the "self-coached" 4-2-3-1 of the Hansi Flick Era. The record champ experimented with a more active tinkerer for a time. After a "one-trophy" year, that experiment was cancelled. It's all very straightforward; about as straightforward as the precise means of Nagelsmann's dismissal remain murky.

Amid all the pre-match hype, the image that stuck with this chronicler the most had to be the sight of Flick in the stands looking as if he had just won the lottery. The German national team head-coach sported about as large a grin as is anatomically possible. Flick was clearly elated that he didn't have to coach this particular match. No pressure for the Bundestrainer. He has himself a cushy gig full of feel-good friendlies to work over the next 14 months. Is there much pressure being exerted on Tuchel?

Not if he falls back to Flick's old system.

Lineup—FC Bayern München—Match 26 (4-2-3-1)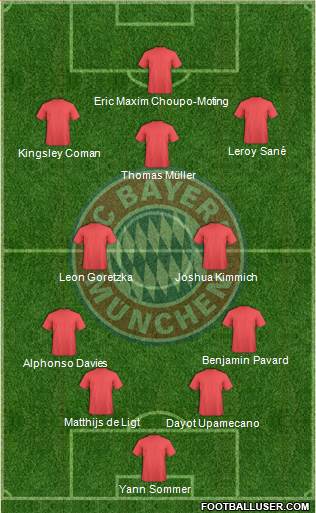 Simplify, simplify. Nagelsmann's back-three deployments sought to open up some wider spaces for his team on the charge. Still haunted by how his team fell into the early-season "paint the corner" trap, Tuchel's predecessor became slightly addicted to tactics designed to savagely end matters early. Tuchel barely had to lift a finger to undo this. Just reset. Sometimes that's all it takes.

The positives

Pretty much anything taking place after the opening goal falls into the "positives" column. As BVB skipper Marco Reus pointed out in his post-match interview, Dortmund were forced to contend with unrelenting waves of thunderous Bayern counterattacks once the German giants felt they could execute the kill-shot. Excellent forward movement from Dayot Upamecano, Matthijs de Ligt, and Benjamin Pavard made this possible.

Leroy Sané produced one of the best performances of his career, fearlessly rattling off sprints an in-step dribbles. Kingsley Coman was equally as potent on the left. Brace-scorer Thomas Müller deserves immense credit for his work in the ten-slot. It was no coincidence that he found himself well placed to net those two tallies. Kimmich and Goretzka were great too.

The negatives

As Tuchel highlighted in his own post-match interview, Upamecano and de Ligt turned the ball over out of the back far too often. Those mistakes essentially qualify as a wash given how they generally found ways of recapturing the ball almost immediately in most cases. Alphas Davies was probably the only FCB actor to have something of a shaky day. The Canadian had his problems dealing with Marius Wolf early.

The latest state of Terzic's 4-1-4-1

Everything seemingly fell back into place for Edin Terzic on paper. The BVB trainer was able to welcome back Gregor Kobel, Julian Brandt, and Emré Can. The squad that ruthlessly thrashed Köln was thus strengthened enormously. The BVB trainer had his best XI on the pitch. Regrettably, a couple of recent positional tweaks finally began to fray at the worst possible moment.

Lineup—Borussia Dortmund—Match 26 (4-1-4-1)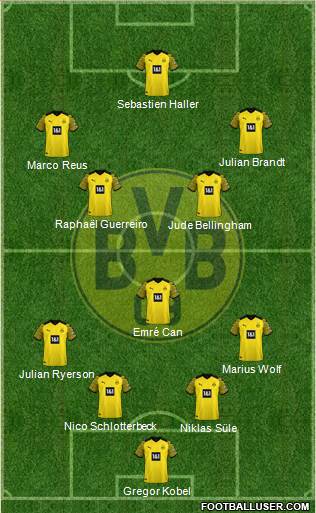 Raphaël Guerreiro (a newly minted midfielder) and Julian Ryerson (a relatively recent convert to the left fullback positions) were by far the two weakest links in the Schwarzgelben ranks. Apart from Kobel, that is. Having two players out-of-position on one side naturally has its drawbacks. We witnessed this manifest repeatedly via failed BVB charges down the left. The Westphalian guests couldn't create any menace on those cycles.

Dortmund weren't all that stronger on the right either. Some of this may have been related to the fact that (the writer isn't entirely sure on this point) Marco Reus and Julian Brandt were meant to function as inverted wingers. Sloppiness permeated the cycles on both flanks as the title challengers clumsily attempted to overload the wings. Something was definitely off there. Terzic may have oversteered the lads a tad.

Match Flow: 1st to 7th minute

Pretty tense beginnings in the form of pure "head-tennis" shortly after kickoff. The ball didn't hit the turf until near the end of the 1st. Guerreiro and Reus worked their way up the left cautiously, with the latter earning an early corner. Upamecano cleared Guerreiro's service away into the BVB second ranks. It took some time for the BVB actors to figure out which way they wished to move forward again. Can eventually opened things up with a long switch over to Guerreiro in the 2nd.

Süle crashed in to try and affect the play. Upamecano did well to head Süle's cross away. Can tried again himself central. Davies had the newly recalled German international covered. De Ligt and Kimmich ran the first FCB build in the 3rd. Süle stood on guard to head a vertical intended for Eric Maxim Choupo-Moting back to Kobel. A Wolf-Brandt cycle broke down on the BVB right at the end of a slow-moving counter. Davies missed a couple of challenges on the sequence, but was ultimately able to collect.

After a series of midfield turnovers in the 4th, de Ligt tried to reach Coman with a long vertical at the end of the minute. The pass came in well wide of the mark. Dortmund still couldn't clear and Müller was able to smuggle the ball forward for Choupo again. Match official Marco Fritz awarded Bayern a free-kick when Choupo was impeded. Kimmich took the dead ball quickly at the beginning of the 5th. It came to nothing. So too, however, did Guerreiro's attempted counter. The Portuguese international turned the ball over twice.

Guerreiro ended up fouling Kimmich after his second ball loss. Kimmich again took the awarded free-kick quickly. Before the 5th was out, Davies had Müller through on the right. Müller's cross didn't reach anyone in the box. A second effort to work the ball in from Pavard was ruled invalid after Fritz whistled Upamecano down for an offensive foul. Wolf and Brandt tried to cycle again in the 6th. Bellingham stepped up to join and worked the ball out to Guerreiro again. Guerreiro tried to hit Reus with a diagonal cross towards Reus. Sommer had the poor ball covered.

Sommer quick-started the counter. Goretzka nevertheless rushed matters too much and sent a diagonal past everyone. Things suddenly opened up on the BVB right on the next charge. Can and Bellingham released Wolf in space deep near the touchline. Wolf had the keen eye to spot Reus coming over to take advantage of the space. Reus took only the amount of time he needed on the ball. It looked for a moment as if the BVB skipper could either fire himself or cut back for Sebastien Haller.

De Ligt came to the rescue of his team with a brilliant sliding recovery. The FCB Dutchman had to be inch-perfect in order to block Reus' quick-think in Haller's direction. A rush of excitement flowed through all of us observers as de Ligt was just barely able to clear out for a corner. Dortmund had undeniably made a strong early statement. Little did we know at the time that this would be just about all we saw from the guests. Some pretty harrowing developments were not long in forthcoming.

Match Flow: 7th to 13th minute

Some light trickery off the ensuing set-piece. Wolf took the corner short. After some nice control touches, Reus tried to work a ball in for Brandt. Sommer arrived first to punch away. Ryerson - in one of his few bright moments - quashed a counter running through Sané. Goertzka remained with the predictable enough VBV build in the 9th. The German national team midfielder pumped the brakes on Brandt and Wolf. Haller went looking for a loose ball, but Sommer was calm enough to read the approach and sweep away to Upamecano.

We witnessed the first FCB bow-arc in the 9th. Kimmich, Sommer and de Ligt cycled about for a bit until the Bavarians could come up with an idea. Eventually, the ball went down Davies' side via Goretzka and Müller in the 10th. The Canadian executed a nice deke before executing a very poor shot. The effort went straight into traffic. A promising counter-charge involving Bellingham sadly failed. Dortmund regrouped and tried a slower-roll build in the 11th. Wolf just missed Haller. Guerreiro then couldn't find a way past Kimmich.

Guerreiro misstepped again when Can tried to work the ball back to him. Upamecano and Pavard closed ranks, then had a stab at putting Sané through on a counter. Ryerson at least had the wherewithal to remain with Sané as the German attacker tripped himself up with some overly fancy footwork. A couple of more bow-arcs from Bayern in the 12th. Kimmich at least showed some audacity with a forward run. Can came in late on an attempted tackle away from Kimmich. Referee Fritz saw it fit to award Can the first yellow of the match.

Bayern went backward with the 13th-minute dead ball. There wasn't truly anything special about Upamecano's searching vertical that led to the play that turned out to be the defining moment of the match. Kobel rushed off his line to clear and totally whiffed on his clearance. German minute-by-minute writers all scrambled to see if there was an "Easter Basket" metaphor they could use. A gift-wrapped treat from the BVB net-minder. As he carefully shepherded the ball across the line, Sané might have gotten a touch in.

No matter. This one fully deserved to go down as an "own-goal".

1-0 to the hosts.

Match Flow: 13th to 18th minute

Allegorical "blood in the water" at the Allianz Arena in München. The scales of this one, everyone watching felt, could easily tip way down if Dortmund were unable to muster up an immediate response. The BVB outfielders appeared pretty rattled once open play resumed. A free-kick awarded in the 14th went back through Bellingham, Brandt, and Can on a totally redundant cycle. A Süle switch then sailed over the head of Ryerson. The Norwegian fullback tried to re-cycle after chasing the ball down and flicking back to Süle.

Bellingham couldn't quite get himself sorted on the subsequent 15th minute sortie. Upamecano boxed the young Englishman out easily enough. Müller then sent Coman through on a rapid-fire counter. Coman opted to lag a bit and wait for support. Sané, Müller, Kimmich, and Pavard all got touches in during a nice sequence just outside the area. Pavard ultimately went for a sharp, tight-angle shot after an inside right cut. Nico Schlotterbeck - the MVP of the reverse fixture - somehow got his body in the way.

Dortmund still couldn't get the ball clear until the end of the 16th. Wolf managed to get a few touches in before succumbing to the the Bayern press. The Bavarian hosts were passing the ball around quite leisurely in the 17th. This didn't bode well at all. Davies and Kimmich ran circles around their confused markers on one sequence. Sané also began turning playful tricks past Ryerson. Coman eventually received the ball via a Sané switch at the end of the minute.

Coman quickly spotted Müller, who in turn played a swift give-and-go with Goretzka. Kobel had to parry Goretzka's effort out for a corner. Bayern soon doubled their advantage from the right flag. De Ligt rose highest to meet Kimmich's 18th-minute service. The FCB Dutchman headed it straight over to Müller at the far post. Reus was there marking his counterpart, but it made no difference. Müller only had to open up his stance a bit and allow the ball to bounce in off his thigh.

2-0 to the hosts.

Match Flow: 18th to 23rd minute

Whereas a Nagelsmann XI - as we've seen in previously covered matches - might have taken their foot off the gas, this crew saw no reason to let this one run much longer. Dortmund were, of course, deeply rattled now and prone to making errors. Wolf immediately turned the ball over to Coman as soon as we got rolling again in the 19th. Bellingham lost the ball twice on a half-right cycle in the 20th. Schlotterbeck went for a long carry in the same minute, only to lose the ball against Davies.

Upamecano and Kimmich drove the ball back the other way without delay. The sequence concluded with a nice in-step dribble from Coman. The Frenchman regrettably couldn't follow up his nice touch-work with an adequate finishing, flashing well over. Dortmund next two leftward charges had a pretty pathetic feel to them. Ryerson ran in circles a bit in the 21st before sending a soft square directly at Goretzka in the box. Süle stalled on the ball for a while in the 22nd. One could tell that he had eyes for Guerreiro, but the BVB makeshift midfielder had no idea where he wanted to be.

Wolf did manage to capitalize on a pair of missed Davies tackles at the end of the 22nd. Guerreiro once again served as the target after Wolf charged to the baseline. Wolf ended up not pulling the trigger on the cutback when he didn't find Guerreiro in any sort of useful position. Coman nearly cut the entrails out of the BVB torso with a perfectly telegraphed upfield pass once Wolf lost possession. An exquisite counter involving Sané, Müller, and the trailing Coman at the beginning of the 23rd got nixed when Fritz and the right linesman spotted an offside.

No big deal for the Bavarians. Tuchel's crew went ahead and secured the 3-0 in the 23rd anyway. Sané took the ball straight off Ryerson and popped a powerful effort from distance after slicing past three more yellow-clad players. Kobel spilled the rebound right onto the feet of the lurking Müller. The BVB keeper later remarked in his post-match interview that he didn't really feel as if he was at fault for the third Bayern goal. Incorrect in this writer's opinion. Kobel was very much culpable, "Kobel-capable" if one will. No need to touch that ball forward.

3-0 to the hosts.

Match Flow: 23rd minute to half-time

We won't be declaring a "lid" to this match just yet, in part because the way Dortmund kept fighting deserves some coverage. Obviously, anyone who watched this one will admit that Bayern didn't exactly lay off either. This one could have been 5-0 or 6-0 at the half. Most of us stood in shock that this one could really be over when the first half of the opening 45 had barely been reached. It remained essentially inconceivable to declare such an early "lid" unless Bayern at least scored a fourth goal.

Dortmund bow-arced around through the entire 24th. Reus and Ryerson found themselves comfortably (from Bayern's perspective) stymied over on the left in 25th. De Ligt, Kimmichl, and a deep dropping Choupo maintained FCB possession through the 26th. The ruthless Bayern press then ate up no fewer than three attempted BVB builds in the 27th. After keeping their toes around the ball through the entire 28th, Sané tried to hit the box with a long-throw. Süle cleared. Reus' desperate counter vertical went straight to Goretzka.

Pavard tried one of his 20-meter pile drivers in the 29th. The Frenchman's trademark attempt to replicate his 2018 World Cup goal went wide. Ryerson almost accidentally cleared a nice cross from Pavard's countryman Coman in the same minute. Haller endeavored to drop deep and affect the play on the next BVB rush in in the 30th. This only resulted in Choupo and Kimmich getting a counter off. Kimmich presented Kobel with an easy chip ball. The BVB leftward counter at the half-hour mark was, typically, pretty damn sad. Upamecano took care of both Reus and Guerreiro.

Sommer and his defenders were allowed to bow-arc unpressed in the 31st. Ryerson finally stepped forward to win a ball, yet could merely deliver a wobbly cross into the box that posed no problems for Kimmich. Can, Brandt, Wolf, and Süle couldn't free themselves in the 32nd. Haller and Brandt similarly had no luck in the 33rd. Two specially devised Wolf long-throws and a Schlotterbeck long carry in the 34th were handily gobbled up by the FCB defensive ranks. Brandt worked a chip-in over to Ryerson at the beginning of the 35th.

After the Norwegian was blocked, Reus shot well over. Kimmich, Upamecano, Davies, and de Ligt triangulated around for a while until de Ligt made an error in the 36th. Guerreiro failed to make much out of it with a late pass back towards Bellingham. The BVB English phenom then passed ahead of Guerreiro. Not exactly a very crisp day for Bellingham either, though he wasn't nearly as bad as Guerreiro or Ryerson. Coman tackled away from the advancing Wolf in the 36th. Süle ran straight into Upamecano on a press carry in the 37th.

An aesthetically pleasing FCB counter in the same minute yielded nothing when Sané missed both Coman and Choupo open inside the 18. Bellingham, Schlotterbeck, and Wolf cycled first nowhere, then back, in the 38th. Reus showcased some skill in the 39th with a drive to the baseline. The cutback for Brandt still wasn't all that tight and, partially due to his own positioning, Brandt headed harmlessly wide. Kimmich and Goretzka totally blew past the hapless Bellingham on a counter. The final ball found Choupo, who hit a soft central effort straight at Kobel.

Kobel found it easy enough to sweep away a long vertical aimed at Choupo one minute later. That was about the extent of how faint and temperate  the Bavarian hosts were prepared to be, however. The half concluded with the unrelenting counter charges Reus referred to his post-match interview. Coman made it a bit too comfy for Kobel in the 42nd. Kimmich and Coman held up themselves a couple times in the 43rd. Müller and Pavard were barely stopped at 45+1. Coman lost his footing after rounding Kobel expertly with the 4-0 on his boot at 45+2.

Truthfully, the only interruption near the end of the half came when Schlotterbeck hit the deck at the end of the 43rd. The German international couldn't continue thanks to a recurrence of the thigh problems that sent him home early from the national team. Mats Hummels had to come on after a brief warm up in the 44th. It was actually Hummels who stopped Müller and Pavard at 45+1. It was also Hummels who couldn't keep up with either Goretzka or Coman at at 45+2.

Harumph.

Half-time xG:

xG Bayern--2.07, xG Dortmund--0.14

Oh, no, no, no.

Match Flow: 46th to 50th minute 

Terzic went with two changes at the half. Donyell Malen and Salih Özcan received Ryerson and Brandt. We witnessed a brief attempt to re-order the troops into a 4-3-3 with Bellingham working atop a tight triangle. Ostensibly we might see something like this again at some point. Can and Özcan - in addition to having similar names and heritage - have playing styles with the potential to complement one another well. Guerreiro's midfield career may be over. It's likely back to left-back permanently for him:

Lineup—Borussia Dortmund—46th minute (4-3-3)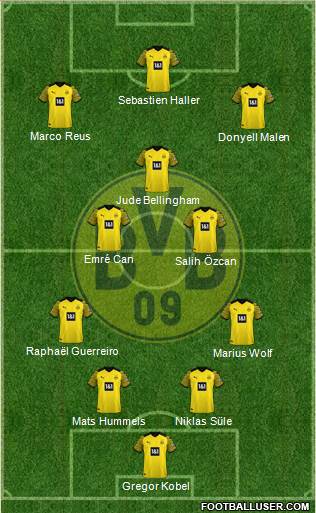 Cool. Four minutes of this before Bayern supplied us with a merciful "lid". Newcomers Malen and Özcan got a weak cycle rolling up the right in the 46th. Sané had Malen well red. Davies, Coman, and Müller ran a counter at the start of the 47th. Hummels cleared away from target Goretzka with an aerial win. Both Kimmich and Haller required treatment in the 48th. Bayern were gracious enough to allow Dortmund to build out of the back unpressed in the 49th.

Hummels, Can, and Özcan reached Haller at the end of the minute. Kimmich tackled away. Haller got a shot on target after Bellingham and Can worked the ball back to him in the 50th. It was a well-timed run from the Ivorian. The finish nevertheless didn't trouble Sommer much at all. Coman did his bit to get us done on the ensuing rush. A beautiful switch for Sané and an even more gorgeous in-step dribble from the switch target. Sané returned the favor for (completely unmarked by Wolf) Coman.

4-0.

Game over.

Match Flow: 50th minute to full-time

No more football to discuss really. Can pulled a goal back from the spot in the 72nd after the subbed on Serge Gnabry took out Bellingham in the box. Malen struck the 2-4 just as we were entering second half injury time and everyone had their eyes on the locker room. Choupo (58th) and Gnabry (85th) saw goals disallowed for offside. Sané, Musiala, and Müller all missed excellent chances to score the fifth goal. No need for full-time xG stats here. They're as irrelevant as the final scoreline.

What have we honestly learned from the beginning of the Thomas Tuchel Era? It speaks volumes that all of the post-match news centered around a pre-match interview. One can't really add much beyond what's already been written in the introductory paragraphs. It's a return of the team back to the players; all of whom have been especially careful not to utter any sort of criticism at Nagelsmann. Such well conditioned professionals know better than that. Secretly, some may be happy that they have their "self-coached" game back.

Just don't expect any of them to say so. The FCB actors know that the pressure really isn't on Tuchel now. It's directly on them. Is the new Bayern coaching Era off to a successful start? Anyone purporting to know the answer to that after this no-contest isn't being truthful. Do we have any idea what sort of scheme Tuchel wishes to implement? Same answer there. How about the title race? Is it over?

Not by a long shot. We've many pages left to write there.

Good on captain Reus for reminding us all of that.

The story of the 2022/23 "finish" is jut getting started.

Thanks so much for reading! You can catch the release of all Peter's columns on twitter, @ViceytheSS.

Twitter DMs are open for football conversations, corrections, and (if you truly insist) general abuse. 

All columns debut on Bulinews before appearing on Peter's website as the season progresses.



Related stories