Americans in the Bundesliga:
Four actors covered in latest report
By Peter Weis @PeterVicey
The weekly installment of our Bulinews "Americans in the Bundesliga" deep-scout feature, as usual, took the fact that there was a Pokal week in German football into account.

In this particular case, the lone American with Pokal prospects (Paxten Aaronson) did not feature for his side. Aaronson still receives a section - along with Jordan Pefok, John Anthony Brooks, and Pellegrino Matarazzo - for their league work.

The absence of Joe Scally, Kevin Paredes, and Giovanni Reyna are briefly explained in the second introductory paragraph.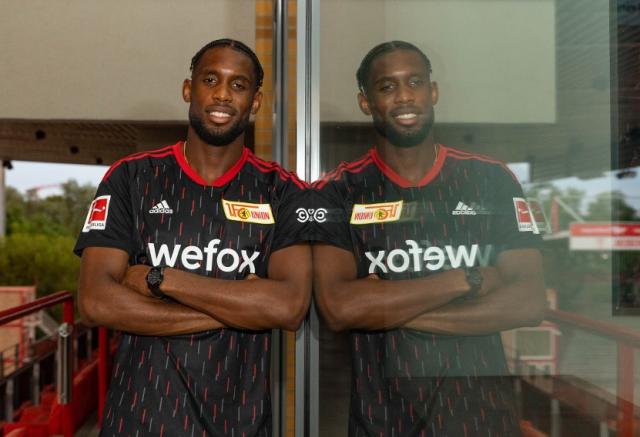 | | |
| --- | --- |
| Jordan Siebatcheu. | Photo: 1. FC Union Berlin |
Our "Americans in the Bundesliga" deep-scout feature, as always takes both league and cup matches for our graded field into account. In the case of this DFB Pokal semi-final week, only Paxten Aaronson of Eintracht Frankfurt had the opportunity to represent his side in the domestic cup. As it turned out, SGE trainer Oliver Glasner didn't end up using him. Aaronson still receives a graded section for his relief work in the league last weekend.


Union Berlin striker Jordan Pefok, Berlin-born center back John Anthony Brooks, and American trainer Pellegrino Matarazzo also receive grades in a four-section-set. After a string of weak performances, fullback Joe Scally of Borussia Mönchengladbach was given the day off. VfL Wolfsburg flanker Kevin Paredes hasn't made it back yet from an injury incurred on matchday 28. Gio Reyna logged only negligible time off the BVB bench.

Jordan Siebatcheu, 1. FC Union Berlin

Matches played = 1/1, Matches started = 1/1

Minutes played = 78/90, Positions played = LS

Grade = B

Jordan received his first start since matchday 25 on Saturday. This American's day at the office is already covered in full detail in the "tactical focus" section of the latest weekend column, which chronicles the 0-0 draw between Union and Leverkusen in full. Overall, the D.C. native turned in a strong performance. He might have been a little better in the air (40 percent duel rate), but got in enough decent flick ons and shuffle outs to attacking partner Sheraldo Becker to warrant a "B-Level" grade.

Our subject here completed a recorded 20 sprints and connected with 13 of his 16 passes. The start came courtesy of an accumulated yellow-card suspension for now regular starter Kevin Behrens. There's nothing to suggest that Jordan will displace the veteran in any of the four remaining fixtures, but his hard work as a placeholder should be noted. If the ground and aerial duel rates had been a bit higher, the chronicler wouldn't have hesitated to accord "A-Level" marks here. He did well.

John Anthony Brooks, TSG 1899 Hoffenheim

Matches played = 1/1, Matches started = 1/1


Minutes played = 90/90, Positions played = CB

Grade = B-

Jay had the misfortune of sliding back a bit this past week; a shame considering the fine form run he's been on recently. The Berliner accrued far fewer in touches (62 in the writer's count) in a slight tactical alteration from TSG trainer Pellegrino Matarazzo. Brooks' American gaffer, as compared to last week, flattened out his back-three. There would be some further in-game constellation alterations, covered in Matarazzo's own section below. Our subject here - along with the rest of his teammates - had a rough first-half against Leipzig in this:

Lineup—TSG Hoffenheim—Match 30 (3-3-2-2)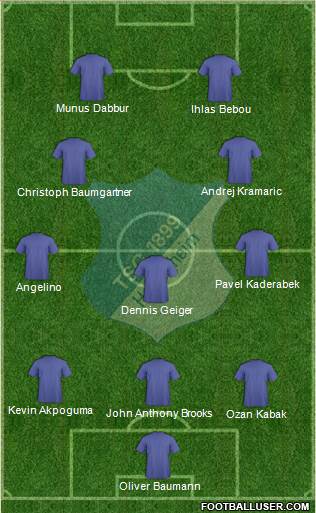 Brooks was unfortunately directly culpable in the match's lone goal, giving the ball away on a poor vertical in the 28th on the sequence leading to Christopher Nkunku's 1-0. This was actually one of the few passing errors Jay made on the day. The columnist only saw him turn the ball over on one other egregious stray pass in the 70th. Most of Brooks' passing work, particularly out of the back, was top-notch. Examples can be found in the 33rd, 38th, 46th, 47th, 56th, 60th, 68th, and 89th.

Solid step-forward pivot wins were common despite the more conservative nature of the back-three. Brooks moved up to affect the rush positively in the 26th, 48th, 51st, 53rd, 78th, and 80th. Playing as a forward in the final minutes, he delivered excellent aerial wins in the 82nd, 88th, at 90+2, and at 90+3. Vital defense work in the box against the stiff competition of Nkunku and Timo Werner came in the 13th, 14th, 15th, 16th, 23rd, 36th, 49th, and 84th. Quality dead-balls, switches, and carries took place in the 18th, 21st, 25th, 59th, and 73rd.

A few too many slack marks, missed challenges, and failed clearances (2nd, 6th, 7th, 10th, 30th, 42nd, 44th, 52nd, 63rd, 66th, 76th, 80th) take his grade down from last week. Poor Jay was pretty gassed towards the end and lost some horrible direct duels against Werner and André Silva in the 73rd, 75th, at 90+4, and 90+5. He missed out on a chance to get a shot off in the box at 90+4. Overall, this was still definitely a "B-Level" performance against a vastly superior side. One looks forward to more strong matches down the stretch.

Paxten Aaronson, Eintracht Frankfurt

Matches played = 1/2, Matches started = 0/2

Minutes played = 22/90, Positions played = LW, RW

Grade = C+

One of our newest subjects receives his second set of marks after 22 minutes of relief work in Frankfurt's 1-1 draw with Augsburg. The columnist, having largely liked what he saw from the Philadelphia Union Academy man, was more than a bit disappointed to see SGE trainer Oliver Glasner opt not to utilize him in last night's Pokal fixture. Aaronson showcased some nice moves working mostly on the left, but rotating sides quite a bit.

In a not unexpected development, the 19-year-old was a little overshadowed by the ever enterprising Jesper Lindstrøm once the Dane came on to lead the line, slanted right, for Rafael Santos Borré in the 82nd. Aaronson had a much clearer role in the late 3-4-3 re-format that commenced as soon as he became the first of Glasner's subs to set foot on the pitch in the 68th.

Lineup—Eintracht Frankfurt—69th minute (3-4-3)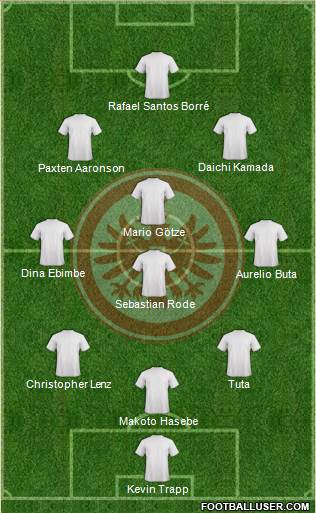 There's some nice touches on display in the 69th, 72nd, 73rd, and 77th. A gloriously executed little escape dribble in the 74th foreshadows some of the creativity we can look forward to in the years to come from this American. There's also a nice cutback in the 75th and a nice ground win in the 78th. Obviously, some parts of the teenager's game remain raw. This was evidenced by poorly timed attack runs in the 71st, 75th, 82nd, 85th, and 89th.

A couple of direct duel losses in the 86th, 87th, and at 90+2 weren't the most fun to watch. Aaronson sent a wayward vertical pass to no one in the 81st. Most of his 20 recorded touches were nevertheless of some quality. As noted above, Linstrøm's presence seemed to throw the young lad off a bit. Lindstrøm's return in general might cut into his minutes off the bench.The brilliant dribble should still lead Glasner to consider turning to him when the SGE trainer requires some late artistry.

Pellegrino Matarazzo, TSG 1899 Hoffenheim (Trainer)

Matches played = 1, Result = L

Grade = C+

Some interesting tactical adjustments from Matarazzo this time around. The New Jersey native had little choice but to shake things up after his squad found themselves essentially obliterated by in the first-half of last Saturday's contest. The American gaffer responded by taking off Angelino in favor of Stanley Nsoki. The Sinsheimers were at least able to hold their own in a 4-3-3 back-four diamond. Naturally, Pavel Kaberabek getting hurt wasn't part of the plan.

Lineup—TSG Hoffenheim—Match 30 (4-3-3)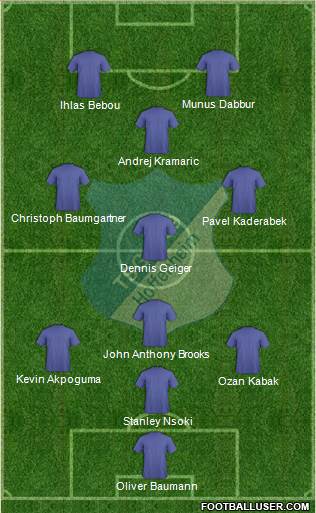 After Kaderabek had to be subbed off in the 69th, the freshly subbed-on Grischa Prömel moved back to what one assumes was a deeper position than Matarazzo had intended for him. The TSG trainer spammed a lot of players, including Brooks, forward for the final minutes. In the end, it seemed as if he brought on Kasper Dolberg too late. Bebou could have conceivably been taken off at the half after missing that sitter. Dennis Geiger might also have been pulled earlier after several passing errors.

Lineup—TSG Hoffenheim—Match 30 (3-3-4)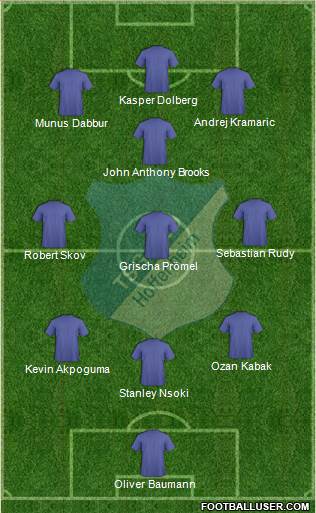 We didn't see much from this in the final minutes, apart from some (above mentioned) struggles by the totally exhausted Brooks. Matarazzo deserves some credit for the changes he employed. Nsoki actually played rather well and should probably get a start this weekend against Frankfurt. The recommendation of the previous column - that Dolberg should start over Bebou - holds. Matarazzo should also consider penciling Skov and the recovered Angelo Stiller into his XI.

In 14th place on 29 points, the TSG aren't out of the relegation tweeds just yet. Somehow, Matarazzo needs to pull three to five points off a remaining docket of Eintracht, Wolfsburg, Union Berlin, and (dramatically on the final matchday) former club VfB Stuttgart. The feeling that the American trainer can earn his paycheck in this regard. As Felix Magath was apt to point out in an interview in today's Kicker, however, there's no shortage of surprises and downright craziness that might yet ensue.

Thanks so much for reading! You can catch the release of all Peter's columns on twitter, @ViceytheSS.

Twitter DMs are open for football conversations, corrections, and (if you truly insist) general abuse. 

All columns debut on Bulinews before appearing on Peter's website as the season progresses.



Related stories