Americans in the Bundesliga:
Six actors covered in week 20
By Peter Weis @PeterVicey
The weekly "Americans in the Bundesliga" deep-scout feature returns with a full six graded sections after a busy matchday 20 in the 2022/23 German Bundesliga.

We'll once again be incorporating a "trainer" section thanks to the return of former VfB Stuttgart head coach Pellegrino Matarazzo.

Matarazzo's new defender John Anthony Brooks is assessed as well. Joe Scally, Jordan Pefok, Kevin Paredes, and Giovanni Reyna are the other recipients of graded sections.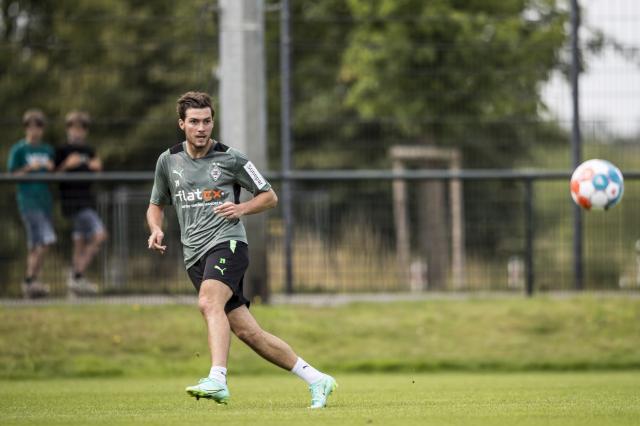 | | |
| --- | --- |
| Joe Scally. | Photo: Borussia Mönchengladbach |
The return to the sidelines of American trainer Pellegrino Matarazzo means that we've a full six graded sections in the latest installment of our deep-scout column. Giovanni Reyna, Joe Scally, and John Anthony Brooks receive marks based on starts while Jordan Pefok and Kevin Paredes turned in enough noteworthy action off the bench to merit grades.


Union Berlin's "Jordan" leads the pack this time on the top level. Scally isn't far behind the D.C. native on "B-Level". Paredes earns average marks for an average shift. Reyna, Brooks, and Matarazzo regrettably all land on the final level above failing this week. The two Hoffenheim and one Dortmund actor experienced difficulties in their respective fixtures.

Jordan Siebatcheu, 1. FC Union Berlin

Minutes played = 28/90, Positions played = LS

Grade = A

Ordinarily, this would be the time that the columnist notes that most all of Jordan's actions are covered in this week's tactics piece. Truth be told, there were some cases during the action-packed finish to Leipzig-Union that the writer left out some of Jordan's brilliance for fear of being totally redundant. There were just too many times that the D.C. native helped his team up the field with a brilliant flick-on. This American has suffered more than his fair share of form dips this season, but he honestly always managed to bring the specific specialty of his game even on the bad days.

The author didn't see him lose any of his aerial duels on the day. There were a bit too many stray passes (five in the writer's count), but that's excusable within the context of a frantic match finishing at a breakneck pace. Jordan ran hard throughout it all. A shame that he didn't get a clear scoring opportunity off the bench this time. In the mind of FCU trainer Urs Fischer, that shouldn't matter at all. With his second consecutive positive shift of the bench, the Union gaffer probably considers the 26-year-old a sub worth turning to earlier in upcoming fixtures.

Joe Scally, Borussia Mönchengladbach

Minutes played = 90/90, Positions played = RB

Grade = B+


Scally receives an upgrade this week as one of the better BMG actors on the pitch during Gladbach's embarrassing 1-4 loss to Hertha BSC. The Long Island native also deserves "B-Level" this week for his best performance since play resumed in the new calendar year. This American definitely upped his game in all areas and looked far better than he has in recent weeks.

Lineup—Gladbach—Match 20 (4-2-3-1)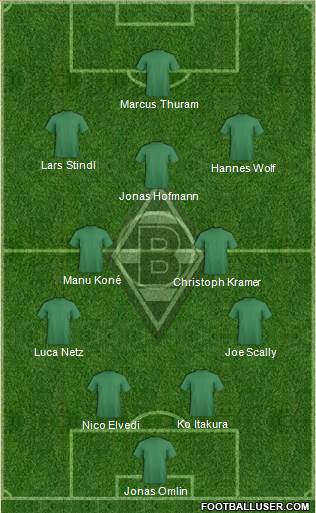 As noted in the tactics column, there's no small amount of generosity in labelling this a 4-2-3-1. Figuring out precisely what trainer Daniel Farke's idea for this match was proved difficult. The players might not have known either, or perhaps they merely attempted to do their own thing. Scally and new axial fullback partner Luca Netz barely tried to synchronize. There were other odd aspects to the shape too.

Jonas Hofmann didn't look interested in holding the ten spot at all. Hannes Wolf played extra wide right at times. Manu Koné and Christoph Kramer showed no propensity to build in either triangles or squares. For a tactics-head, it was simply weird to observe this. It had the feel of a self-coached constellation, yet also exhibited signs of a specific plan that happened to be poorly executed.

In any event, Scally had some promising moments. Smart verticals in the direction of the attackers came in the 9th, 16th (in the direct lead up to the opening goal), 49th, 59th, 73rd, and 82nd. There was no shortage of great runs up the flank (12th, 14th, 21st, 47th, 50th, 75th, 77th, 81st), crosses into the box (28th, 60th), and even a scorching effort from distance (85th) that whizzed just past the far post.

Scally demonstrated a knack for escaping from trouble at the back on this particular day. One can check him out shaking off high-pressing Hertha forwards in the 15th, 42nd, 61st, 66th, 86th, and 88th. Quality ground wins and clearances can be found in the 8th, 13th, 20th, 58th, 68th, and 70th. Though there were weaker phases for this subject, much of that had to do with the fact that his team was collectively wilting.

The CFG New Yorker began slacking on his marks as evidenced by sequences in the 26th and 26th. He was directly culpable, along with several others, on Hertha's equalizer at the half-hour-mark. In the aftermath of the unexpected goal, he nearly got caught out again in the 36th, 37th, 40th, and 41st. There was another noticeably bad M.I.A. phase for him between the 54th and 66th. Lots of losses and poor tracks in there.

A high number of stray passes (11 in the author's count) aren't really something to be too overtly concerned about as Scally did attempt over 60 passes on a busy day of 89 recorded touches. Some especially egregious strays (4th, 48th, 65th, 79th), heavy touches (6th, 7th, 73rd, 75th, 82nd) remain pretty normal for such an active shift.

If the foals are to reverse their current downward trend, Scally looks to be one of the more pivotal actors in helping them do so. There should be no question as to his role as a regular starter at this point. If Farke opts for Stefan Lainer instead, he truly is a fool. Adi Hütter made that mistake last year at around this same time. No bueno, Farke. Keep this American in the XI!

Kevin Paredes, VfL Wolfsburg

Minutes played = 37/90, Positions played = RW

Grade = C

Along with the rest of his team, our subject here was mostly ineffective in the Friday night fixture against Schalke. Wolfsburg's attack has stumbled off the road creatively...again. VfL trainer Niko Kovac's regular 4-1-4-1, it would appear, possesses limitless creative potential....until it doesn't. Paredes - entering in to work the right this time - contributed his fair share of wince-inducing moments in an affair that barely qualified as a football match.

Lineup—VfL Wolfsburg—54th minute (4-1-4-1)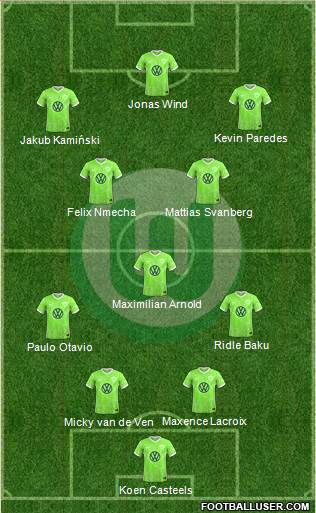 Poor lane cuts and instances in which he looked lost on the attack occurred in the 65th, 66th, 70th, 72nd, 75th, and at 90+5. His high press on the ball often led to defensive errors as well, as was the case in the 64th, 67th, 90+1, and 90+7. Aerial contestations - both in open play and on dead balls - needed to be better. Bad losses came in the 68th and 70th.

The latest relief shift does contain some nice work; enough to put a smile on the faces of those of us well acquainted with this youngster's potential. There's an awesome inside-cutting shimmy dribble on display shortly after his introduction in the 54th. An impressive ball recovery and slip pass preceded Paredes' first assisted shot in the 78th. Attack sequences (and two more assisted shots) owe everything to him in the 80th and 85th.

At times (56th, 59th, 63rd, 90+6), the Virginia native could have been a bit more aggressive off the ball. We'll chalk that up to the general demeanor of his team in a deflating affair that felt destined to end 0-0. No real reason to drop Paredes below "C-Level" in this one. A forgettable enough performance, but certainly not a bad one. A grade smack dab in the middle for the 19-year-old.

Giovanni Reyna, Borussia Dortmund

Minutes played = /90, Positions played = RW, LW

Grade = D+

A start for Gio came as something of a surprise in light of the recent reputation he's garnered as "Super Sub". BVB trainer Edin Terzic opted to rotate the young phenom in ahead of the Champions' League fixture against Chelsea. Reyna began the game on the right flank, switching over to the left for the second 45. It wasn't his best day at the office.

Lineup—Borussia Dortmund—Match 20 (4-1-4-1)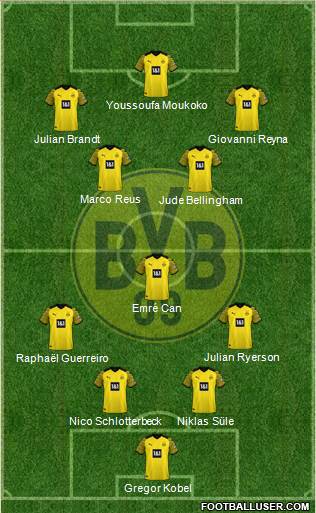 Only 42 recorded touches for Gio this time. Some of them (3rd, 33rd, 49th, 53rd, 60th) were loose and heavy. Not all that much positive to report on from the final 20 minutes or so of Reyna's shift. He looked a bit tired and unmotivated between the 46th and 66th; almost directly asking to be subbed off. Apart from one decent dribble (48th), he was very lax off the ball (56th, 60th, 64th, 65th) and less than elegant (59th, 60th, 62nd) on it.

After what was actually a solid first-half, Reyna seemed to have little interest in joining the attack in the second 45. Gio fans can still find some worthwhile highlights earlier on. There's a slick back-heel flick during an attack charge in the 10th. He even left some sequences in the 7th, 12th, 35th, 36th, 38th, 43rd (twice), and 45th. An awesome ghost into the box in the 34th was wasted when he sent a horrible effort into the nose-bleed seats.

Overall, however, there were far too many mistakes. Ground possession wasn't this American's strong suit in the most recent league fixture. He got bumped off the ball in the 4th, 15th, 16th, 18th, and 27th. Misguided lane cuts came in the 9th, 25th, and 30th. Defensive work (21st, 29th, 39th, and 40th) left something to be desired. A cynical clip of Amos Pieper in the 41st should have seen him booked.

Not looking likely that Reyna will the start against the Blues on Wednesday after this. Some of the play in second half suggested that there's some fitness and conditioning issues. That isn't to imply that this observer is anywhere close to agreeing with Gregg Berhalter's controversial opinion of Gio. It did seem a little odd to watch him pull back in the manner that he did this weekend.


John Anthony Brooks, TSG 1899 Hoffenheim

Minutes played = 90/90, Positions played = CB

Grade = D-

The Berliner found himself threatened with failing marks last week if he couldn't get his game turned around. It pains the columnist slightly to say it, but  it looks as if the grace period should be extended after all. Laborious words to write. An even more laborious match to watch. It nevertheless seems like new TSG 1899 Hoffenheim trainer Pellegrino Matarazzo aims to turn this rusty tanker around in a careful and cautious fashion. One could also say that it seems like the American trainer has the right idea.

Matarazzo employed just two changes to predecessor André Breitenreiter's final XI. Kevin Akpoguma and Andrej Kramaric replaced Tom Bischof and Kasper Dolberg. In the end, the new gaffer cleaned up the previous tactical framework only slightly with scalpel-sized cuts. Presumably, the idea was to keep the crew within the muscle-memory framework they cultivated on the training pitch. Matarazzo could then observe what few things were working and proceed from there.

Lineup—TSG Hoffenheim—Match 20 (3-4-3)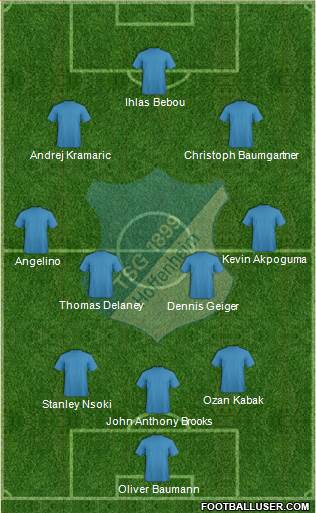 Not a whole lot is working in the Hoffenheim back-three. Brooks, as usual, was working pretty hard as the defensive anchor and attack-initiator. The columnist recorded 102 touches for the 30-year-old. A handful of them proved useful. Practical out-swinging switches (most always towards the left) came in the 1st, 27th, 33rd, and 86th. Attack initiations with some utility about them can be found in the 25th, 34th, 41st, 45+2, 75th, 80th, 82nd, and at 90+1. Brooks did seem to be getting the hang of it near the end.

The USMNT veteran delivered encouraging wins on the ground, air, and generally positive defensive headers away in the 11th, 29th, 32nd, 34th, 38th, 44th, 52nd, 53rd, 66th (twice), 69th, 76th, 86th, 87th, and 90th. He got a couple of important blocks in the box in between the 60th and 62nd. Regrettably, the awful remains especially awful this week. Brooks was booked in the 36th for a horrendous tackle on Florian Wirtz. He could have easily gotten a card for tactical fouls in the 14th, 26th, and 88th.

Our subject here was culpable on all three Leverkusen goals. A failed clearance in the 7th enabled Robert Andrich to open the scoring for die Werkself. The tracking split on Moussa Diaby's 2-0 in the 46th made one slap one's forehead in disgust. He was nowhere to be seen on Hlozek's third in the 56th. Further instances of marking simply unacceptable on this level came in the 2nd, 4th, 9th, 10th, 12th, 19th, 20th, 22nd, 23rd, 25th, 35th, 43rd, 63rd, and 71st.

Yikes, yikes, yikes. We're not even close to finished yet. One can watch Jeremie Frimpong totally destroy our hapless subject here in the 26th. Wirtz made a total fool out of him in the 84th. Terrible turnovers came in the 12th, 15th, 17th, 35th, 65th, and 72nd. Far too frequently (5th, 6th, 21st, 32nd, 66th, 88th, 90+2), the man tasked with helping this team build out of the back simply sat on the ball before ultimately doing something stupid and useless with it. Christ!

There were al bad aerial losses (22nd, 31st) during corners on both sides of the field. What else can one say? Naturally, the only way is up. We'll keep Brooks a shade above failing (just as we did last week) based almost exclusively on the fact that his head-coach didn't give him much of a chance and that there were some slight hints he might have rediscovered his groove as the full-time whistle neared. All of us "Jay Enthusiasts" desperately seek something positive to grasp onto at this point.

Pellegrino Matarazzo, TSG 1899 Hoffenheim (Trainer)

Matches = 1, Result = L

Grade = D-

The minimally invasive changes made by Matarazzo in his debut - as noted in the section above - served a purpose of sorts. Having had some experience with the relegation battle himself, Hoffenheim's new trainer knows full well that he has more than enough time to get this team back up to middle-of-the-pack safety. Calm is what is truly needed here.

The American head-coach reacted in a fairly serene and unhurried fashion to his team's weak first half against Leverkusen. One change saw Kasper Dolberg come on for Dennis Geiger. The 5-3-2 reformat reminded one of some of Sebastian Hoeneß' old constellations. Matarazzo thus took a measured approach to restoring some simple order to this squad.

Lineup—TSG Hoffenheim—46th minute (5-3-2)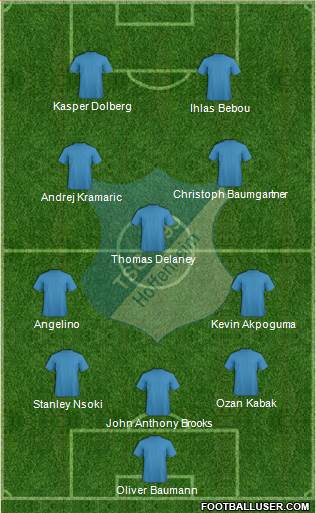 It ultimately didn't work as Xabi Alonso's side laid in with the 2-0 sucker punch shortly after the restart. There was then little chance that a confidence-sapped side such as this one could sally forth in whatever shape they were supposed to keep. The Sinsheimers at least got a few things going on some creative, if not disorganized, counterattacks. Kevin Akpoguma and substitute Dolberg showed some spirit about them.

It's probably not the case that anyone in blue can take much heart from the stronger phase in the final quarter-of-an-hour. Leverkusen had long since entered into cruise control mode after securing the 3-0. Small solace at best. The opponent wasn't trying particularly hard. Looking ahead, one finds it difficult to formulate any specific recommendations for Matarazzo.

He possesses a roster of incredible talent. They must discover their own way of working through their respective form crises. German football watchers are confounded by the way the likes of John Anthony Brooks, Thomas Delaney, Ozan Kabak, and Angelino are playing at the present time. Even on their worst days, experienced actors like them shouldn't be performing at this level.

All told, it looks to be the case that Matarazzo has a "Laissez Faire" assignment ahead of him. The best way to boost the confidence levels of strugglers is sometimes simply leaving them alone. Distance and a tacit respect can occasionally work better than an intrusive and abrasive approach. Naturally, given the result, this American still needs to come in at the bottom of the graded sections.

Matarazzo closed us out the last time the column featured a trainer section.

History repeats.

Thanks so much for reading! You can catch the release of all Peter's columns on twitter, @ViceytheSS.

Twitter DMs are open for football conversations, corrections, and (if you truly insist) general abuse. 

All columns debut on Bulinews before appearing on Peter's website as the season progresses.



Related stories