Americans in the Bundesliga:
Failing marks for Matarazzo and Brooks in week 21
By Peter Weis @PeterVicey
Our latest check-up on the state of American actors active in Germany's top footballing flight contains just three sections this time.

Hoffenheim trainer Pellegrino Matarazzo and TSG starting center-back John Anthony Brooks receive graded sections, while Union Berlin striker Jordan Pefok gets an unmarked audit.

The absences of Kevin Paredes, Joe Scally, and Giovanni Reyna are addressed in the second introductory paragraph.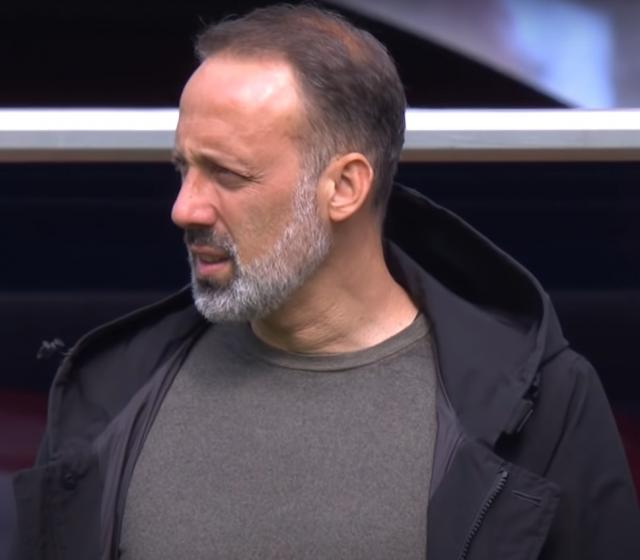 The fourth installment of our "Americans in the Bundesliga" deep-scout column of the new calendar year is by far the shortest edition. Only Hoffenheim trainer Pellegrino Matarazzo and TSG starting center-halve John Anthony Brooks receive graded sections this week. American striker Jordan Pefok of 1. FC Union Berlin receives a few paragraphs detailing his latest league relief shift without receiving an actual mark.


VfL Wolfsburg attacker Kevin Paredes had to sit out the most recent league round with a bout of illness. Gladbach's Joe Scally couldn't play due to a calf injury. Edin Terzic opted not to use Giovanni Reyna in the Sunday fixture against Hertha, not even off the bench. No long-term problems for the trio, who should all be back and ready for action this coming weekend.

John Anthony Brooks, TSG 1899 Hoffenheim

Minutes played = 90/90, Positions played = CB

Grade = F 

Given what the columnist has seen from Brooks in the weeks since his return to German football, eyes were kept about as wide open as possible for any signs of improvement during the deep-scout of last Friday evening's Hoffenheim-Augsburg fixture. Unfortunately, closer inspection revealed only more wince-inducing mistakes. A total stray pass count of 21 (!1) cannot be ignored.

New TSG trainer Pellegrino Matarazzo clearly attempted to alleviate some of the pressure on his talented defender by moving Brooks to the left-hand-side and letting Kevin Vogt run the pivot. After essentially letting his predecessor's tactics ride last round, the American trainer employed four personnel changes and inserted his hand via a change to the shape.

Lineup—TSG Hoffenheim—Match 21 (3-4-1-2)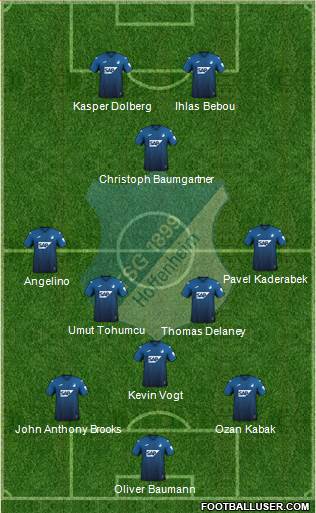 Phrew. Irrespective of how this was intended to work, it cannot be denied that nary a component of it did. Brooks' egregious passing errors (1st, 5th, 10th, 12th, 19th, 21st, 40th, 69th, 81st) basically kept coming throughout. Shockingly poor marking errors can be found on both disallowed goals in the 7th and 47th. The Berliner wasn't directly culpable on the Augsburg goal that counted, but did concede the corner just prior in the 88th. More examples of woeful marking are on display in the 38th, 67th, 68th, and 87th.

Shanked failed clearances and outright misses on ground/aerial duels came in the 3rd, 11th (twice), 18th, 24th, 41st, 80th (again, twice), 84th. The American was a little bit better in the air in his latest deployment, making himself of some use with his headers on and winning a few notable contests in the 14th, 17th, 27th, 70th. He still failed pretty miserably in timing his offensive headers in the 61st and at 90+3. Some actions with his head (31st and 60th) were frankly ridiculous. Brooks sometimes looked as if he had no clue what he himself wanted to do.

On a few rare occasions (21st, 34th, 55th, 65th, 83rd), one saw glimpses of the old Brooks on attack/counter initiations. One positive thing one can say about our subject's latest performance is that he wasn't afraid to go forward in service of helping his team win the midfield battle. If anything, however, Matarazzo's new positioning assignment seemed to make him less effective in this regard. A lousy free-kick take in 77th made one wonder if the Berliner is getting any practice takes on the training pitch. No choice but to fail both player and trainer this week.

Pellegrino Matarazzo, TSG 1899 Hoffenheim (Trainer)

Matches = 1, Result = L

Grade = F

As promised in the latest tactic's column, we'll spend a bit of extra time delving into Hoffenheim tactics in this space. The league's returning American trainer made piecemeal adjustments over the course of the latest loss. Fisnik Asllani came on for Kasper Dolberg at the break. The squad immediately engaged in a 3-4-2-1 reformat. The subbing off of Kevin Vogt for Ermin Bicakcic, an unplanned change carried out on the orders of the TSG medical team, counted as a straight swap.

Matarazzo, admittedly perhaps because of the unplanned sub, didn't feel comfortable pulling the trigger on a double change (Tom Bischof and Andrej Kramaric for Ihlas Bebou and Christoph Baumgartner) until the 63rd. These changes seemed tailor made to slot into the new shape. After multiple mistakes by the continually slumping Kramaric, we finally saw a little spark out of this in the final ten minutes of the match. Kramaric ultimately forced a save out of FCA keeper Rafal Gikiewicz in the 82nd.

Lineup—TSG Hoffenheim—64th minute (3-4-2-1)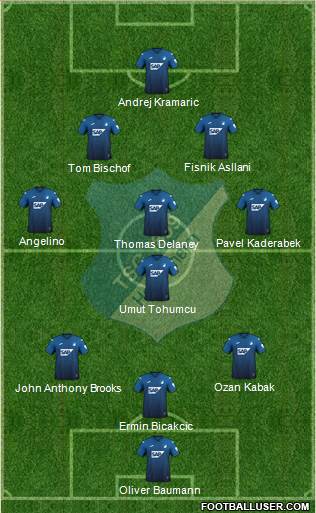 Surprisingly enough, this constellation proved totally inept and playing up through the center on the double pivot. One could argue that it had very little drill time in training, if indeed it got any minutes at all. Bearing in mind how little time a trainer literally on the job for only ten days had to get a collectively destroyed squad playing orderly football again, one still has to dock Matarazzo significantly for not having some sort of alternate formation ready to do something other than play totally unsightly football.

Matarazzo's task remains a totally unenviable one. The type of personnel chaos in inherent in the ranks doesn't make his job any easier. This column will gladly dole out higher grades for the New Jersey native if he manages to instill something of a footballing thesis in this crew sooner than expected. For the record, that would be defined as anytime in the next three weeks. Something defensible against Dortmund, Mainz, and Freiburg over the next three rounds really isn't anticipated.

Failing marks this time around may seem unfair. In a sense, it reflects less upon the trainer himself than the drastic urgency of the situation he's facing. The laissez-faire approach he took in his first week in charge didn't work. A slightly more influential hand here didn't produce anything either. The time comes for the newly-appointed gaffer to employ more radical methods. There was never anything "cushy" about this new gig of Matarazzo's; and certainly not something that should have left him feeling entitled to a "grace period".

Jordan Siebatcheu, 1. FC Union Berlin

Minutes played = 25/90, Positions played = LS

Grade = N/A

A recorded total of 14 touches obviously isn't enough action to warrant a graded section for this American this time. Seeing as how the 26-year-old - after his second consecutive strong performance off the bench - led the graded pack in last week's column, it seemed appropriate enough to check in on his latest form in his fifth consecutive (and fourth league) relief shift. With Ajax on the docket tomorrow and a mega-match against Bayern coming over the weekend, the question as to whether Jordan might be getting a rotation start in the coming days arises.

Based on what this chronicler saw against Schalke in Sunday's 0-0 draw, it's not looking likely for the D.C. native. Jordan lost most of his aerial duels, looking weak in the 67th, 77th (twice), and at 90+1, 90+2, and 90+4. Times when he did up to meet the ball in the air (66th, 79th, 85th, 87th) still fell prone to directional misguidance. An actual good flick-on and exceptionally good maneuver to place himself in position for the return ball (82nd) ended with him supplying an aforementioned poor finish.

There was a superbly executed control takedown and control of a ball in the 73rd. Additionally, one felt like standing up and applauding him for a top-notch offensive physical challenge in the box in the 88th. That's likely still insufficient for Jordan to displace Sven Michel as the current third string rotative striker in Fischer's 3-5-2 at this point. The fact that the FCU trainer already rested Sheraldo Becker in this weekend's fixture might even mean that there aren't any rotations planned at all.

Thanks so much for reading! You can catch the release of all Peter's columns on twitter, @ViceytheSS.

Twitter DMs are open for football conversations, corrections, and (if you truly insist) general abuse. 

All columns debut on Bulinews before appearing on Peter's website as the season progresses.



Related stories