Farke issues challenge to sparsely used Ngoumou: "You have to show consistency."
By Peter Vice @ViceytheSS
Borussia Mönchengladbach trainer Daniel Farke issued a clear challenge to one of his expensive, yet under-performing, summer acquisitions at his Thursday presser.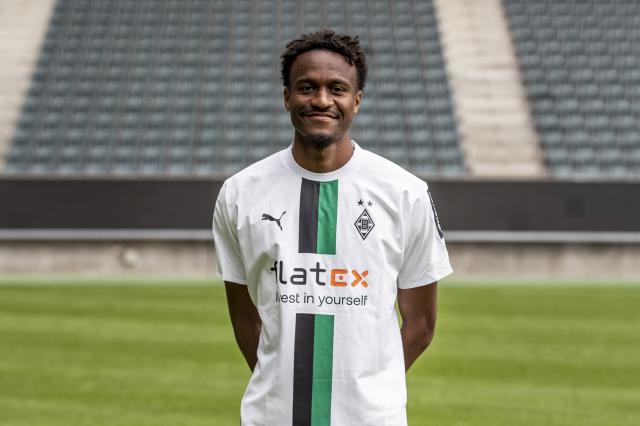 Photo: Borussia Mönchengladbach

With a reported price tag of €8 million, 23-year-old French winger Nathan Ngoumou definitely qualifies as a pricey investment by the standards of Borussia Mönchengladbach. What is surely at least a deep investment in the future has nevertheless been slow off the mark in the current campaign. Ngoumou has been unable to positively influence the fledgling foals, failing to register a single scorer point in 13 appearances across all competitions.


The former FC Toulouse attacker - recently asked to deputize as the squad's lead striker - has barely been seen since a pair of starts in the new calendar year left BMG trainer Daniel Farke underwhelmed. Even if the Gladbach attack finds itself in desperate need of a new spark, the talented winger hasn't been getting his chances. Ngoumou has made two brief relief appearances and sat unused five times in the last seven rounds.

Farke explained Ngoumou's status at a Thursday presser.

"It's about proving yourself in training and earning every chance," Farke said, "There were phases where we had the feeling he was on the right track. Unfortunately, he wasn't able to transfer that to the matches. Recently we had the feeling that he hasn't always reached his performance limit in training."

"We talked to him and told him that he had to show himself more and be more present," Farke continued, "He's done well enough this week. But we're back to the topic of consistency again. One or two good training sessions aren't enough to get your chance. You have to show consistency. That's Nathan's job for the next few weeks."

"No deployments are given away," Farke concluded, "You have to earn every assignment in the Bundesliga."



More about Nathan N'Goumou
More about Gladbach