Americans in the Bundesliga:
Aaronson knocks on the door of Eintracht XI
By Peter Weis @PeterVicey
The latest edition of our "Americans in the Bundesliga" column contains four sections, three of which are graded. John Anthony Brooks, Pellegrino Matarazzo, and Paxten Aaronson are assigned grades whilst Kevin Paredes' comeback is merely noted.

The long list of absentees are, as always, addressed in the introductory paragraphs. Joe Scally finds himself on the back end of a battle for a starting place. Aaronson, meanwhile, seems to be gaining an upper hand in his own fight to crack the Frankfurt lineup.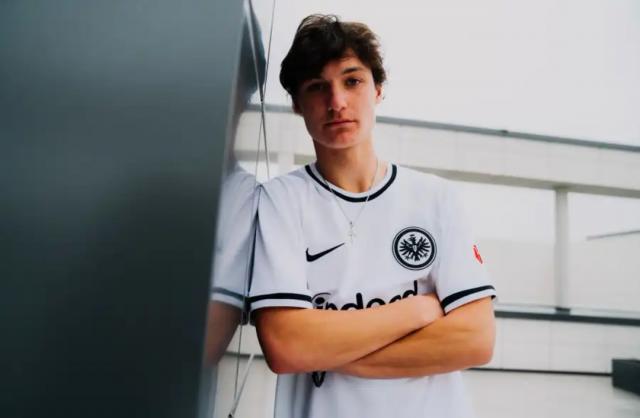 Photo: Eintracht Frankfurt

We've once again four sections to present in the latest installment of our "Americans in the Bundesliga" deep-scout column. John Anthony Brooks, Paxten Aaronson, and head-coach Pellegrino Matarazzo receive graded sections this time. VfL Wolfsburg's Kevin Paredes played a full 45 minutes in last Sunday's 0-6 loss to Dortmund. The match was obviously out of reach by the time Paredes came on, but the Virginian gets an ungraded section in the interest of noting a few things.


Jordan Pefok and Giovanni Reyna also logged minutes in the latest round of action. Jordan put in 21 minutes of work of the 1. FC Union Berlin bench and did get couple of efforts off. A minuscule number of 14 recorded touches nevertheless meant that his involvement wasn't relevant enough to merit a section. Reyna racked up a higher total of 18 recorded touches, yet couldn't be considered a significant factor in a match already long decided. Gio also didn't manage anything offensively.

The news with regard to American fullback Joe Scally is somewhat surprising. Borussia Mönchengladbach trainer Daniel Farke gave the Long Island native the day off last week. One assumed that the CFG New Yorker would return immediately. Instead, Stefan Lainer started over Scally for the second consecutive week. Farke has commented on the matter at a presser yesterday, saying that Lainer and Scally remain neck-and-neck in the battle for a starting place. Scally could still be back soon.

John Anthony Brooks, TSG 1899 Hoffenheim

Minutes played = 90/90, Positions played = CB

Grade = A-

The Berliner returns to the top level this week after delivering a generally impressive performance amid the chaos and calamity that was Frankfurt-Hoffenheim. Missing two defensive minded actors from last week's XI, TSG trainer Pellegrino Matarazzo moved Dennis Geiger back to spearhead a diamond back-four. Brooks remained central, working an inverted pivot. At times it did appear as if he was running a back-three more along the lines of the flat construct we saw last week. 

Lineup—TSG 1899 Hoffenheim—Match 31 (4-4-2)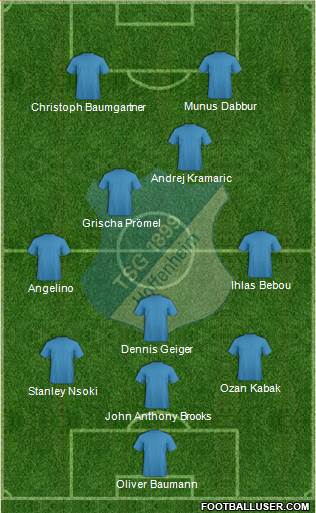 Our subject here did a solid job running play out of the back on drives in the 11th, 12th, 30th, 44th, 77th, and 81st. Quality switches and deep dead-ball plays came in the 8th (on the sequence leading up to the opening goal), 29th, 33rd, 45+2, 46th, 85th, 90th, and 90+1. Excellent aerial wins, both backward and forward, came in the 1st, 20th, 22nd, 36th, 42nd, 48th (twice), 54th, and 86th. Vitally important clearances, defensive sweep ups, and shepherd outs can be found in the 16th, 29th, 34th, 69th, 80th, and 82nd.

A couple ground losses near the beginning (5th, 11th) and the end (88th, 90+1) weren't so egregious as to dock the grade. The same applies to suspect marks and clearances in the 14th, 37th, 45+3, 56th, 74th, 78th, 90+4, and 90+6. For the most part, his team could count themselves lucky that he was on the pitch. Even if he missed a few offensive/defensive connections on set-pieces late on (50th, 62nd, 70th, 72nd), Brooks remained in the mix on design plays. He also kept the SGE away from the net on strong box marks in the 33rd, 60th, 79th, and at 90+1.

Not an ordinary day for Brooks by any stretch of the imagination. Around the point that match official Harm Osmers lost control of the match near the end of the first-half Brooks might have been whistled down for both a handball and a foul on Eintracht's Djibril Sow in the box. Something of a lucky escape for the Bundesliga veteran. A few marking errors, especially on track backs, in the 28th, 59th, 65th, and 66th went unpunished. One could say that Brooks was slightly culpable on Mario Götze's pull-back goal in the 54th.

On balance, one simply cannot deny that the 30-year-old has rediscovered his footing with his third Bundesliga club. Quite satisfying to reflect upon how far he's come since the shaky beginnings in his first few weeks back. The column doesn't necessarily like to grade on intangibles, but the manner in which Brooks can be observed communicating and coaching his defensive colleagues definitely counts for something. If Hoffenheim can - as is expected - officially secure safety over the next two matchdays, this American deserves legit credit for helping with the turnaround.

Pellegrino Matarazzo, TSG 1899 Hoffenheim (Trainer)

Matches = 1, Result = W

Grade = A-

Another set of positive marks for the league's American trainer. The opening lineup (diagrammed above) made excellent use of the returning Grischa Prömel. Moving Ihlas Bebou back to the wingback position in Pavel Kaderabek's absence also counted as a smart move. Matarazzo - with the obvious exception of Stanley Nsoki - got the best out of his players on this day. The adjustments made after Nsoki's sending off on a straight red worked as well. Prömel and Christoph Baumgartner even excelled offensively in this:

Lineup—TSG 1899 Hoffenheim—52nd minute (4-3-2)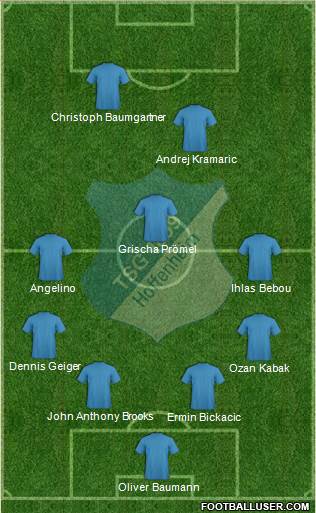 Matarazzo deserves credit for keeping Bebou on a rearward deployment. Geiger and Angelino put in some fine underlap/overlap work. Even Ermin Bickacic played with a focus and bigger one wouldn't have expected from a player so devoid of action this year. One of the new TSG trainer's individual innovations, keeping Andrej Kramaric as a second-axis support striker, continues to yield great dividends.

It's been a long time since this column actually conveyed consistent respect for this trainer. At present, it really looks as if the Columbia University "Malthe-magician" is back at the peak of his powers. One observers intelligent and effective tactics each and every week. In football as in life, overthinking can often lead disaster. Sometimes, however, well thought-out plans click together nicely. This "tinkerer" is back on track.

Paxten Aaronson, Eintracht Frankfurt

Minutes played = 45/90, Positions played = SS, RW

Grade = B+

Despite the fact that SGE trainer Oliver Glasner spent the second half of the Hoffenheim match watching high above from the grand-stands, we'll assume that he had some influence on how his team's tactics unfolded during the second 45 last Saturday afternoon. Frankfurt actually  changes their shape twice, once immediately after the restart and again after Nsoki's sending off gifted them a way back into the match. The American knocking on the door of the starting XI did better in the first constellation.

Lineup—Eintracht Frankfurt—46th minute (5-2-3)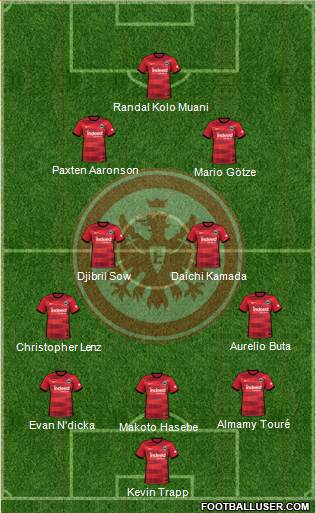 Aaronson, via a brave chase and headed touch, drew the foul off Nsoki that gave his team the man-advantage in the 48th. He won another aerial duel with his first touch of the match in the 46th and unleashed the initial shot that allowed Götze to score the 1-3 in the 54th. Apart from a poor vertical in the 47th, his offensive cycle/passing work was largely very good. Examples can be found in the 52nd, 53rd, 55th, and 56th. The Eintracht coaching team, reacting to Nsoki's sending off, sent Rafael Santos Borré on for Almamy Touré in the 56th.

Lineup—Eintracht Frankfurt—57th minute (4-4-2)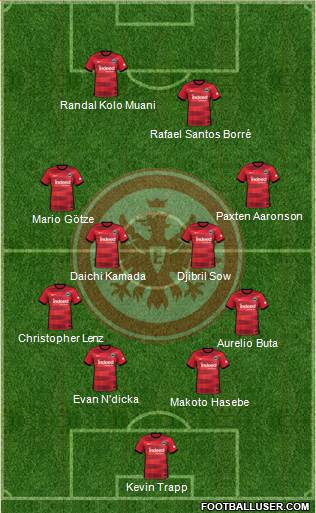 Some "crowding out" adversely affected Aaronson's forward play in the 57th, 58th, 68th, and 71st. Some heavy touches and poor ground losses completely unrelated to the tactical shift came in the 51st, 61st, 66th, 85th, 89th, at 90+1, and at 90+3 Apart from these errors, our subject here verifiably turned in a very strong match. He might have never truly adjusted to the second shape, but roved around alertly and creatively to make several things happen. Fun stuff.

One can watch him execute some slick moves just prior to seeing a pair of shots blocked in the 74th and at 90+2. A really sleek touch-and-turn leading up to an assisted shot with lead-striker Randal Kolo Muani in the 84th is also worth a look. Passing cycle work and lane cuts in the 78th, 79th, and 88th were top notch. There's a gorgeous forward attacking switch on display in the 86th and an awesome ground win to be observed in the 80th. Aaronson covered a lot of ground in his shift. He popped up everywhere.

Arriving at the million-dollar-question as to whether this American is ready to start over Jesper Lindstrøm, the writer is pleased to give the teenage talent his endorsement. Aaronson proved superior to the Dane in every statistical category. Thirty-six recorded touches counts as a huge number for a subbed-on attacker. Naturally, the column's favor doesn't count for all that much. Lindstrøm will probably get the nod against Mainz this weekend. It remains worth noting that the column predicts that the American will come on early in relief.

We might behold something special tomorrow.

Kevin Paredes, VfL Wolfsburg

Minutes played = 45/90, Positions played = RW

Grade = N/A

In his first match back since incurring an injury in round 28, Paredes receives an ungraded section for his relief work in the second half of the 0-6 Sunday drubbing away at Dortmund. This constitutes something of a favor to the Virginia native as he and the rest of his team were absolutely awful. The teenager could have gotten failing marks for a performance that featured no shots, no assisted shots, seven wayward sprints, two failed dribbles, two bad crosses, and a horrible mistake on Dortmund's fifth goal.

Ugh. So terrible.

Lineup—VfL Wolfsburg—46th minute (4-4-2)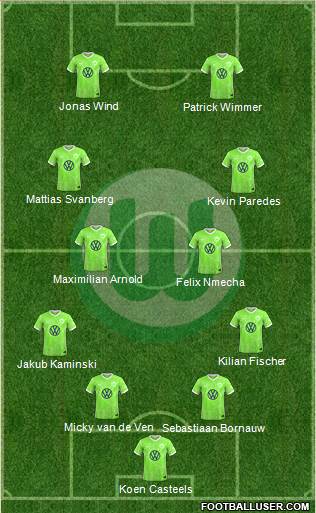 VfL trainer Niko Kovac switched to a simple 4-4-2 in the interest of damage control. This controlled nothing. Everyone on the pitch continued to tank hard. As we were discussing in the tactics column, the WOB defenders produced some of the worst work seen at this level in a very long time. Our subject here certainly didn't recommend himself for any starts in the weeks ahead. Kovac even probably needs to keep him off the pitch for a while in order to let his head clear a bit. The damage to his confidence here won't be undone easily.

Thanks so much for reading! You can catch the release of all Peter's columns on twitter, @ViceytheSS.

Twitter DMs are open for football conversations, corrections, and (if you truly insist) general abuse. 

All columns debut on Bulinews before appearing on Peter's website as the season progresses.



Related stories