Bundesliga 2023/24 Tactical Previews: "The Top Six"
By Peter Weis @PeterVicey
The advent of a new Bundesliga season just days away! Returning alongside it will be the Bulinews comprehensive recap feature known as "Tactics Talk", now returning for its fourth season on the website.

This week we'll be previewing the new season with the latest tactical updates from all 18 teams following their "soft openers" in the DFB Pokal and DFL Supercup this weekend. Three articles each covering six clubs will survey the top, middle, and bottom of the field.

First up, we have the Bundesliga's current Champions and Europa League representatives: FC Bayern München, Borussia Dortmund, RB Leipzig, 1. FC Union Berlin, Bayer 04 Leverkusen, and SC Freiburg.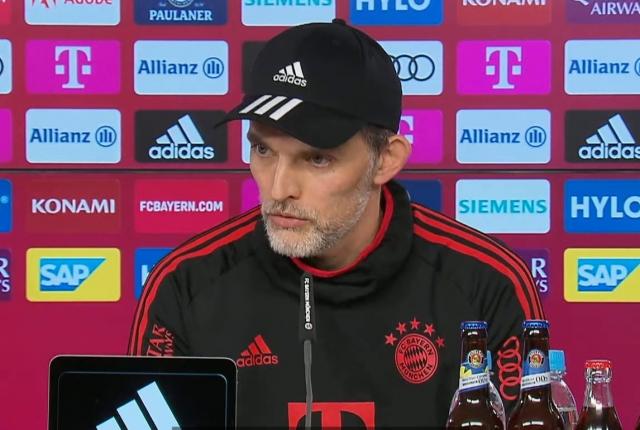 Photo: Bayern München/OneFootball
---
Introduction: The Top Six
---


After issuing a "Top Three" article ahead of the 2021/22 campaign and a "Top Five" preview in the lead-up to last year, our first piece this season features the six clubs who happened to finish in the top six places in the table at the conclusion of the 2022/23 campaign. The obvious candidates to drop out of this bracket are smaller market clubs 1. FC Union Berlin and SC Freiburg. The equally obvious candidates to finish much higher than they did last season is the financially backed company club Bayer 04 Leverkusen.

Bayern's opening day wobble against RB Leipzig in the Supercup strongly implies a three-club title-race. Both Dortmund and Leipzig stand a realistic chance of ending the FCB's unprecedented string of 11-straight titles. The remaining three teams covered in this section certainly possess enough talent to play strong enough seasons and possibly contend for top-four finishes. They're nevertheless not legitimate title contenders at this point. The Bundesliga's "Big Three" remains the same.

FC Bayern München

All things Bayern required a page-one re-write this weekend after the sensational news we had been awaiting all summer was finally confirmed on Saturday morning. The German record champions have their targeted superstar. German football enthusiasts find themselves gushing over a Premiership celebrity who has opted to move to our league. Naturally, one should note that we were expressing the exact same sentiments at this point last year. That didn't exactly work out. Matters aren't off to the greatest start this time. Does this have some relevance for the coaching regime of Thomas Tuchel?

The sensational sacking of the two administrators who hired him on the final day of last season has effectively left Tuchel in total control of Germany's largest club. Uli Hoeneß and Karl-Heinz Rummenigge returned to the Säbener Straße offices as part of the FCB transfer task force. Jan-Christian Dressen filled in as a de-facto sporting director. Those German journalists close to the club have nevertheless repeatedly reported that Tuchel is - for all intents and purposes - among the most powerful head-coach in Bayern history.


Stories comparing Tuchel to previous Bayern gaffers flooded the German press all throughout the summer. No other coach encountered as little resistance and wielded as much influence during a transfer window. Not Pep Guardiola, Jürgen Klinsmann, Ottmar Hitzfeld, Louis van Gaal, or even Jupp Heynckes. It's naturally worth noting that Tuchel's three predecessors - Julian Nagelsmann, Hansi Flick, and Niko Kovac - famously had issues getting what they wanted out of the front office.

Tuchel reigns supreme; at least until Christoph Freund comes on September 1st. How much patience the new administrative regime shall have with a coach promptly left as speechless as he was last spring after a stunning defeat in the first match of the season remains to be seen. The team exhibited almost no confidence in the recent Supercup loss. The shape couldn't hold against the Leipzig press. Passing errors were common. Set-piece defending was genuinely atrocious. They looked thoroughly uncomfortable in a simple set-up.

Lineup—Bayern München—DFL Supercup (4-2-3-1)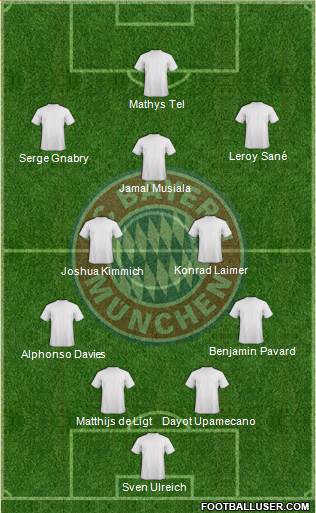 After Leipzig took a 2-0 lead into the locker room, Tuchel employed a triple change at the half. Kim Min-Jae, Noussair Mazraoui, and Kingsley Coman entered for Konrad Laimer, Benjamin Pavard, and Matthijs de Ligt. The Coman-for-Laimer substitution obviously dissolved the double-six set-up. Joshua Kimmich operated alone whilst Serge Gnabry moved in to pair with Jamal Musiala as an additional eight. This led to one chance shortly after the restart before things got languid again.

RB attacker Dani Olmo completed his hat trick shortly with a converted handball penalty shortly after Harry Kane's introduction in the 63rd. From that point forward, the Allianz Arena crowd settled into the silence that seemed so novel to us late last year but is rapidly becoming familiar. The German giants remain far from fixed. The shaky play from the previous campaign has carried over into this one. No sense in tapping the Bavarians to dominate this year until they prove they can win their confidence back.

Notes from camp, Bayern

Tuchel has largely played it steady in Bayern's pre-season friendlies. A simple 4-2-3-1 guided Bayern through three leisurely warm-up wins and a narrow loss against Manchester City. While there obviously have been heavy rotations in defense and midfield, it appears as if the FCB trainer prefers the midfield partnership of Kimmich and Laimer. Jamal Musiala also started all fixtures in the ten slot. Min-Jae Kim has also started all the latest matches in central defense.

The FCB trainer's shift to a 4-1-4-1 in the second half of the Supercup, having not worked, looks to be an aberration. Tuchel's specific task in this coaching appointment was to introduce stability into the ranks after Nagelsmann's experimentation got out of hand. The 49-year-old will be given ample time to pound his philosophy into the team in large part because the German giants have no real alternative lined up at this point. A Christmas dismissal remains a possibility, however, if they slip out of the top three.

Borussia Dortmund

Last season's runners-up must, first and foremost, cope with there loss of midfield dynamo Jude Bellingham. Midfield replacements in the form of Wolfsburg's Felix Nmecha and Bayern's Marcel Sabitzer have been procured. The direct linchpin of Terzic's successful 4-1-4-1 last season - Emré Can - has  been crowned captain. BVB trainer Edin Terzic possesses plenty of quality in his roster. One expects another strong season under the aegis of the head-coach most Germans consider to be the closest with his squad.

Terzic's close connection to the club and admirable ways of managing talent earn him enormous respect in German footballing circles. Die Schwarzgelben unquestionably have - perhaps more so than any other top-tier side - have the right man for the job in place. The 40-year-old, with some luck, can easily surpass the success of the two BVB "Mainz-plys" Tuchel and Jürgen Klopp. All are welcome to take that statement straight to the betting window. Everything went swimmingly in the Pokal opener.

Lineup—Borussia Dortmund—DFB Pokal (4-2-3-1)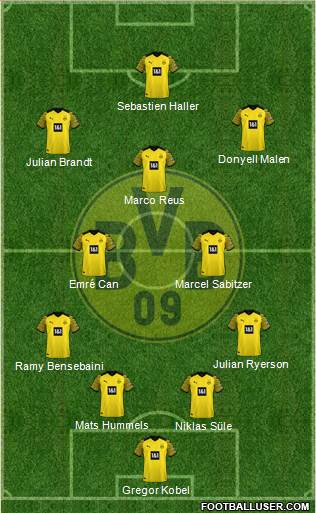 Dortmund dismantled fourth-tier side TSV Schott Mainz 6-1 on Saturday. Sebastien Haller collected a brace while Donyell Malen netted a goal and collected two assists. Ramy Bensebaini (assist) and Marcel Sabitzer (goal and assist) also got on the scoresheet in their competitive debuts for the club. Now former captain Marco Reus and last-season's big "comeback kid" Julian Brandt both looked very sharp. Bear in mind that this squad is still missing several key players - Felix Nmecha, Giovanni Reyna, Karim Adeyemi, Jamie Bynoe-Gittens, and Julian Duranville - to injury.

Whereas in seasons' past the long lists of BVB outs would serve as an excuse for poor play, the roster boasts enough depth, breadth, and balance this year to suggest that we won't be headed down that familiar road again. Note that BVB sporting director Sebastian Kehl still needs to bring in one more center-forward and one more central defender in order to make certain of this. Haller - who will be participating in the Africa Cup of Nations this winter - is only backup up by Youssoufa Moukoko. Mats Hummels, Nico Schlotterbeck, and Niklas Süle are the only experienced center backs.

Kehl appears to be proactively on the case in both matters. German national team CB Armel Bella-Kotchap will likely arrive soon. If a deal for PSG's Hugo Ekitike falls through, there's time to consider other options. Players such as Malen and Adeyemi can play in the center in a pinch. Reus and Brandt can also operate as false-nines. One nevertheless expects Kehl to land another striker by deadline day. Few German football lovers would complain, and neither would the player himself, if Anthony Modeste received a one-year-deal to play for a pittance.

Notes from camp, Dortmund

Terzic saw no need to tip his hand in any of Dortmund's pre-season test-fixtures. Anyone and everyone lined up in a loose 4-1-4-1 until something a little more serious fell into place during the final friendly against Ajax. As expected, Can ran the midfield on a solo axis. Reus and Sabitzer worked ahead of him in midfield with Brandt and Malen on the wings. The 4-2-3-1 in the Pokal came as a bit of a surprise and the manner in which it ran so well might have even surprised Terzic himself. He may wish to stick with the Sabitzer-Can partnership on opening day.

RasenBallSport Leipzig

Whew. Some summer this has been for RB sporting CEO Max Eberl! The former Gladbach executive discovered that his new appointment wasn't anywhere near as cushy as he thought it would be. Eberl found himself having to traverse the "Summer of Schadenfreude" over the past few months after Premiership sides plucked three of his top talents and a variety of other clubs held onto his transfer targets for a king's ransom. Eberl finally spoke on all the craziness in an interview published in the Süddeutsche Zeitung this weekend. His completely rebuilt team had a few statements to make themselves.

Lineup—RB Leipzig—DFL Supercup (4-2-2-2)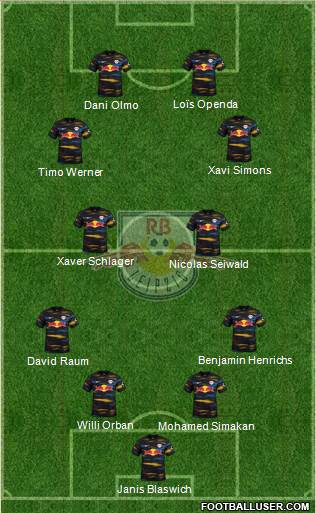 The now two-time-defending DFB Pokal Champions have a Supercup to add to their expanding trophy case. Taking the Round 33 victory into account, Leipzig have now bashed Bayern in their own stadium twice in the last three months. This is quite the development for German football. Many Germans tipped RB to take the title this season before this result and plenty more are now hopping on the Leipziger bandwagon. Debutants Loïs Openda and Xavi Simons both played well. Timo Werner notched an assist from his new second-axis position.

Fabio Carvalho and Benjamin Sesko turned in encouraging performances off the bench. If there was one cause for concern among the new RB class, Nicolas Seiwald seemed a little out of his depth in midfield at times. In the 22-year-old's defense, he had been thrown in for Kevin Kampl at the last moment due to a late injury. The German Red Bulls can likely rely on Kampl, Emil Forsberg, and currently injured actors Amadou Haidara/Christoph Baumgartner to work in midfield until Seiwald finds his feet.

Notes from camp, Leipzig

Leipzig native and "RB System" veteran Rose hasn't been shy at all about rolling out the now almost sacred 4-2-2-2 originally introduced by Ralf Rangnick and even rarely altered under the Nagelsmann regime. Seeing Olmo get the start up top in the Supercup came as a surprise and it should prove interesting to see if Rose sticks with it. The tight nature of the constellation might yield some more intriguing experiments. Baumgartner and Forsberg can even work as strikers within in. Rose has consistently rotated on the top axis during training camp exhibitions.

1. FC Union Berlin

The capital city's Köpenick club lives the dream. Only four seasons removed from their very first promotion to the German top flight, they shall now represent the Bundesrepublik at Champions League level. An amazing story. FCU managing director Oliver Ruhnert - in the opinion of most all of us German football watchers - did a serviceable job upgrading this roster for the world's highest football level. The club manager's comments on the need to potentially fire German national team trainer Flick ahead of next summer's Euros are.....well....let's just say that Ruhnert knows his football.

Lineup—Union Berlin—DFB Pokal (5-2-3)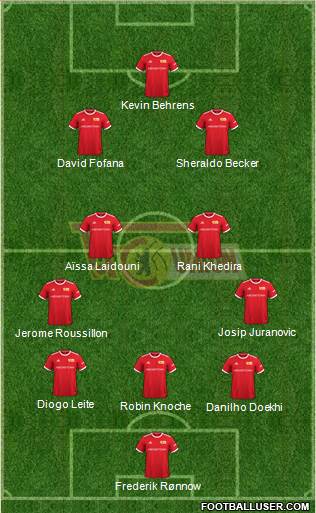 Trainer Urs Fischer most definitely did not deploy his usual 3-5-2 system in Sunday's opening round Pokal fixture. The variant used nonetheless wasn't that far off. Jerome Roussillon and Josip Juranovic kept it close to the flat back-three in order to form an ultra-protective five-man-chain. It was admittedly odd to see Union play it so conservatively against fourth-tier side FC Astoria-Walldorf, but it was not necessarily surprising to learn that Fischer will be emphasizing defensive discipline this year. The FCU trainer wants to play it safe on the higher level.

The Berliners took their time breaking down their opponent and only opened the scoring from the penalty sport around the half-hour mark. Sheraldo Becker, Diogo Leite, and the subbed on Janik Haberer then added goals to complete a 4-0 victory. Kevin Behrens recorded a pair of assists. Newcomer David Fofana set up a goal as well. New offseason additions Brenden Aaronson and Alex Kral only came in after the match was decided. Mikkel Kaufmann and Benedict Hollerbach still await their competitive debut.

Notes from camp, Union Berlin

Die Eisernen have had hit some speed-bumps in their preparation campaign. They actually dropped three exhibition ties against Holstein Kiel, Hungary's Zalaegerszegi TE, and Cyrpus' Pafos FC. All three losses were close, but one definitely witnessed the limitations of Union's defensive-minded play as the team had trouble scoring goals in all cases. Just when it appeared as if there wouldn't be any positives to report, a 4-1 win over Atalanta Bergamo saw Fofana secure a brace.

Everything clicked from the back-five to the Laïdouni-Khedira partnership to Aaronson working behind the two strikers as a ten. The constellation used in the last warm-up game likely serves as Fischer's preferred system for the season. Provided it works properly, it could lead the Köpenickers to another top-four finish. Note that - just like last year - one can expect some truly ugly grind-it-out wins from this team. Optically pleasing football won't come every week. That's not how they're designed.

Bayer 04 Leverkusen

A common joke making the rounds in some German footballing circles posits that B04 trainer Xabi Alonso is set to win the Bundesliga title this season, once he takes over for Thomas Tuchel at Bayern. A remote enough potential outcome, though not outside the realm of possibility. Germany's red company team - with a healthy Florian Wirtz pulling the strings - remain configured to make the Spanish gaffer look pretty damn good. All signs point to a successful season in any case. Xabi should be on the move elsewhere next offseason at the latest. No one is fooled by the contract extension.

Few, if any, negatives to report from Leverkusen's 8-0 demolition of their opening round Pokal opponents FC Teutonia Ottsensen. After being thrown out of the domestic cup competition on opening day last year by an Elversberg side no one saw coming, die Werkself traveled to Hamburg and calmly took care of business this time. It took a little while and some luck to get going, but the Westphalians eventually found their rhythm. The new midfield pairing of Granit Xhaka and and Exequiel Palacios exerted smooth sovereignty. Everyone else sparkled.

Lineup—Leverkusen—DFB Pokal (4-2-3-1)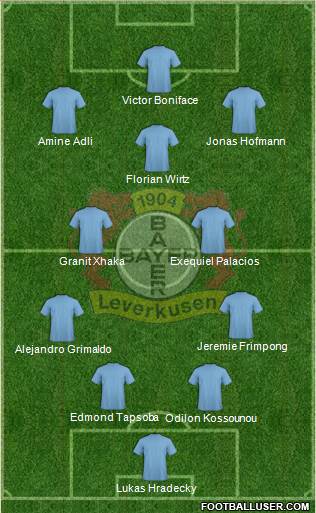 Goals for newcomers Victor Boniface and Jonas Hofmann. Assists for summer additions Xhaka and Alejandro Grimaldo. Even the much-maligned Adam Hlozek came off the bench late to bag a blitz brace and record an assist. Robert Andrich also got his name on the scoresheet swiftly after being subbed on. Xabi possesses so many options on the third highest valued roster in the league. One can fairly say that he'll have to work hard to mess this up. This company club should be back in the top-four this year.

Notes from camp, Leverkusen

After a couple of stumbles in late July friendlies, Xabi's crew made easy work of Olympique Marseille and West Ham United earlier this month. Any and all worries about this squad quickly dissipated once it was revealed that they won the "Boniface Sweepstakes". In all honesty, there were few concerns after Simon Rolfes and the administrative team snagged Jonas Hofmann in what was definitely the "steal of the summer". They'll do just fine with the attacking quartet of Hofmann, Wirtz, Boniface, and Amine Adli. The trainer has stuck with them in every pre-season match.

SC Freiburg

The ever-popular Breisgauer have had a typically quiet "Breisgauer Summer". Nothing much doing in the quiet and idyllic southern BaWü burg all the successful academy products laud for its "peaceful serenity". The administrative committee responsible for personnel only brought in two new additions this offseason. Salzburg striker Junior Adamu joined the attacking corps. Keeper Florian Müller came in to back-up newly promoted #1 Noah Atubolu. As is common with this club, it's all about bringing up the youngsters and letting Christian Streich take care of the rest.

Table regression isn't out of the question for Freiburg this year. It isn't in any year, really. There shall be ups, downs, tactical masterclasses, and failures. A meek 2-0 win over fifth-tier-side Sv Oberachen in the Pokal left plenty to be desired. Streich actually tried out some experiments. Ritsu Doan and Roland Sallai worked as pseudo-wingbacks. Youngster Merlin Röhl got a start in midfield. The SCF gaffer kept regular starters Christian Günter and Nicolas Höfler on the bench until a 0-0 scoreline dragged on into the second half.

Lineup—SC Freiburg—DFB Pokal (3-4-3)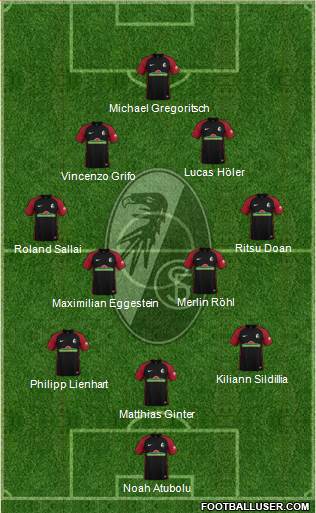 Günter took over for Sallai on the left while the Hungarian moved up to Lucas Höler's position. Michael Gregortisch exited with Höler taking his place up top. Höfler replaced Röhl alongside Maximilian Eggestein. This did the trick. Günter finally opened the scoring with a distance effort. Eggestein and Höler came close to the second before Sallai finally scored the 2-0. Streich had some criticisms of his team afterward, particularly pertaining to their level of effort. It should be noted they were playing against a regional club from close by that had everything to prove.

Notes from camp, Freiburg

Ever the tinkering tactician, Streich has tried out a different constellation in each pre-season match. It did appear as if he was prepared to promote Röhl to a starting role, but the 21-year-old's performances in the last three friendlies seem to suggest that Höfler will return to his place. Of all the experiments Streich has undertaken during the prep campaign, a 4-4-2 with Höler and Gregoritsch serving together proven the most successful. Doan and Vincenzo Grifo appear set to operate as straight wingers this year.

The columnist sends warm greetings to all Bundesliga fans out there ahead of another fantastic season! You can catch the release of all Peter's columns (and occasionally catch him goofing off) on whatever the hell they're calling twitter these days @PeterVicey.

Twitter DMs are open for football conversations, corrections, and (if you truly insist) general abuse. 

Full color re-posts of the columns are eventually archived on Peter's website.




Related stories