Bundesliga Tactics Talk: Round 33
By Peter Weis @PeterVicey
German football stands on the precipice of history following the conclusion of the 2022/23 Bundesliga's penultimate round. A slip from FC Bayern München - combined with a win from Dortmund - renders it likely that German football is about to crown a new champion for the first time in a decade.

Intrigue abounds all throughout the rest of the table ahead of the campaign's final round. SC Freiburg and 1. FC Union Berlin are both still in contention for the final Champions League Spot.

Leverkusen, Wolfsburg, and even Frankfurt remain alive in the race for Europe. One team is officially relegated while three more remain in serious danger. We'll break it all down for our readers in our comprehensive recap feature.

The latest installment of "Tactics Talk" contains draw-ups for Freiburg and Dortmund. The "deep dive" belongs to Leipzig's historic first win away at Bayern. Nearly every touch is covered there.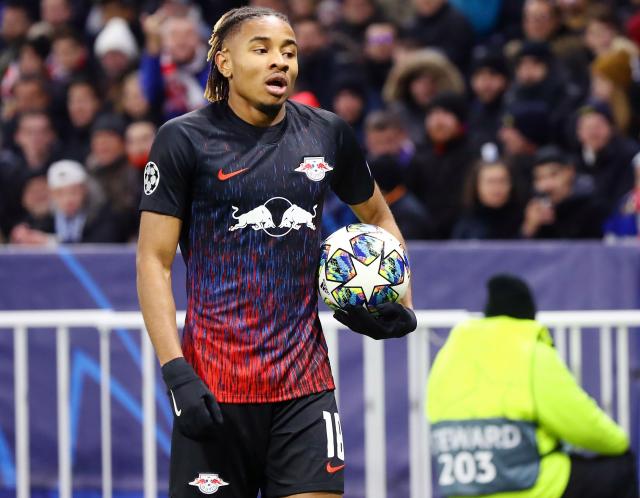 | | |
| --- | --- |
| Christopher Nkunku. | Photo: GEPA Pictures/Roger Petzsche |
Bundesliga Tactical Banter: Round 33
A farewell to Hertha

Most of us Bundesliga watchers have long harbored the feeling that this would be the year. No sense in calling up the capital city brethren and making the "February Promise" this time around. Large clubs such as this one typically have trouble shaking off a narrow escape via the relegation playoffs in the subsequent season. Recent examples include SV Werder Bremen and the HSV. Now it's the so-called "big city" club's turn. Those of us of a certain age recall that this happened twice before, from our own perspective, not so long ago. Tears in 2010 and 2012 aren't all that far removed.


First, the match itself. Charlottenburg supporters saw their hearts ripped out of their chests in the most brutal of fashions on Saturday afternoon at the Olympiastadion. It looked as if "die alte Dame" could manage to pull themselves back into the race pretty much right up until the last second. The proper script had been typed up. The departing Stevan Jovetic played an influential game. The literal only January 2020 transfer to express feelings for the club, Lucas Tousart, had his name beside the game-winning goal on the scoresheet. Kevin Prince Boateng had exited with a bow.

Then this team's persistent inability to finish chances came back to haunt them. Jovetic and Dodi Lukebakio had chances at the 2-0 during what was a dominant final phase for the hosts, as did substitutes Chidera Ejuke and Jean-Paul Boëtius. Then came a lapse in concentration on a corner at 90+4. Bochum's Keven Schlotterbeck delivered the dagger to the chest. From a crack at the relegation playoffs to an official demotion in a few seconds. So it almost always seems to go in football. Even when the late drama hurts the soul in an excruciating fashion, we wouldn't trade it for the world.

What happens with the largest capital city side now? Say what one will about the new "green" managerial team, the likes of Benjamin Weber and Kay Bernstein do possess both a sincere love for their club and something of a thesis of how its future culture should be. In Pal Dardai, the higher ups in the front office also possess a trainer who will undoubtedly pour all of his heart and soul into his work with the youth academy. The columnist personally isn't too concerned about the licensing issue. Many other Bundesliga clubs have similar investment pipelines.

Though it does constitute something of an overused (and often incorrect) cliché, relegation can absolutely work to this club's advantage. The dead-weight on this roster shall now get trimmed automatically. If the writer can now tempter his own optimism, it's also worth noting that this club's academy lies in pretty dire straights. Every last promising prospect has sought to jump ship in recent years. One honestly doesn't expect to be welcoming this organization back to the top-flight next year or even the year after that. This will be a long-term rebuilding project.

Bremen's exasperated sigh

The reactions to class preservation in the Hanseatic city-state felt about right. Ole Werner's SV Werder Bremen shook off their latest winless run (three figures) and ground out a 1-1 draw against Köln. Though it did certainly count as an improvement over the 1-7 shellacking they took in the cathedral city back in January, the Hanseaten played a largely flat game that did little for the home-town fans who turned up at the Weserstadion. All the midfield axes barely bothered to engage themselves in the duels. Mitchell Weiser and Anthony Jung were particularly flaccid on the flanks.

Niclas Füllkrug's long-awaited return to the starting XI yielded nothing especially exciting. Leonardo Bittencourt, Jens Stage, and Ilia Gruev could count themselves lucky that they weren't sent off after committing highly cynical fouls. Romano Schmid's 73rd-minute equalizer came during the only real sustained period of Bremen pressure. It lasted all of five minutes. After that, the crowd understandably delivered more whistles (they had essentially been a constant throughout the match) when their team failed to build on they momentum. The team just looked tired.


Given how effective we know the striking tandem of Füllkrug and Ducksch can operate on a good day, this season constituted something of a disappointment for Werder. Securing the class in a promotion year should be a joyous occasion, but - in this case - the unrealized potential of the squad rattles around in the skull a bit. Ostensibly, it festers in the mind of both Füllkrug and Ducksch as well. Had the team done better, the two attackers would have more to play for next season and, thus, more inclined to stay. As it stands now, the team may be torn apart.

Here we have early 2023/24 relegation candidates.

Two Sunday surprises

Stuttgart-Mainz initially proved the tightly-contested midfield duel we all expected until a late explosion of goals pulled Sebastian Hoeneß' VfB out of the relegation zone. Both southern German sides committed egregious errors in their approach play during a fairly choppy first-half. Somehow, we got a pair of tallies out of the opening 45. The hosting Rheinhessen achieved the 1-0 in the 23rd off a corner and the visiting Swabians pulled the equalizer out off a freak-accident counterattack off a corner in the 41st.

The second half too had a disjointed feel to it. Stuttgart's 2-1 came off another dead-ball in the 64th. We got our first goal from open play - a damn fine one if one may say so - when Endo sent "Super Sub" Chris Führich in for the 3-1 in the 78th. The final tally in Stuttgart's 4-1 victory came deep into injury time. The final scoreline was most misleading in that Mainz had their chances too, ones well stopped by VfB keeper Fabian Bredlow. The two teams both came in well under the 2.0 xG mark and, optically, retained something of an even-keel.

One still welcomed the surprise. We got another one a little later on with four goals coming from Gladbach-Leverkusen. One really expected almost nothing from the capper apart from some German fan bitching about the matchday 33 staggering. BMG trainer Daniel Farke's latest attempt at a back-three nearly ensured that it would be nothing we would get from his team. The late comeback victory did come courtesy of some comical defensive errors involving Mitchel Bakker, Lukas Hradecky, Nadiem Amiri, and Jonathan Tah. Those at least rendered the match worth watching.

A little footballing slapstick is always appreciated.

The "Spiegel Specials": Round 33
Freiburg-Wolfsburg (0:6, 2:0)

Ahem. Do excuse a writer for relishing in the unbridled joy of being proven wrong and letting out an immensely satisfying yell: "HURRAH!". It initially appeared as if Friday evening's "curtain-raiser" would serve merely as incontrovertible evidence that the DFL's matchday 33 staggering delivered us nothing more than insufferable crap. The first-half of Freiburg-Wolfsburg retained some interesting tactical aspects to it, but Christian Streich's Breisgauer eventually woke up and furnished us a classic.

Hopes that Freiburg could reinvigorate the Champions' League race ahead of the season's final matchday appeared bleak last week. What transpired in the reverse fixture - the "tactical focus" of our round 16 column - didn't help inspire confidence. When a cagey cat-and-mouse affair developed at the Europa Park Stadion during the opening 45, hope sunk lower. The substitutes Streich ended up sending onto the pitch nevertheless breathed life into proceedings. We ultimately got a splendid story and a near perfect home send-off for German legend Nils Petersen.

Petersen came off the bench to do his "Super Sub" thing. Squad captain Christian Günter also delivered some heroism in relief. Overall, the entire starting XI and the three subs Streich introduced on a triple change in the 70th (Lukas Kübler was third) all played very well. The SCF gaffer's opening hand may not have supplied many fireworks, but some of the ballsy personnel choices many of us were calling for him to make. The above-mentioned tactical intrigue in the first half came via this:

Lineup—SC Freiburg—Match 33 (3-4-3)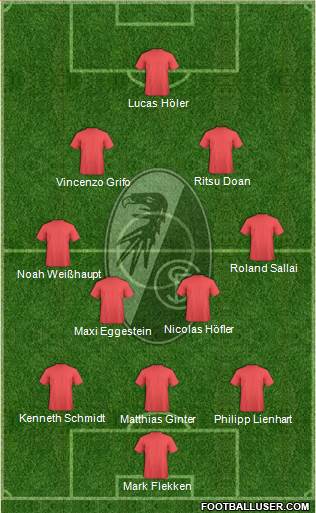 Fairly straightforward tactics with some interesting personnel notes. Streich opted for youth in this crucial match. Twenty-one-year-old Noah Weißhaupt got the start over Günter on the left-wingback rail. The massively compelling young Kenneth Schmidt worked behind him. Schmidt and Weißhaupt generally did a marvels job shutting down direct flank opponents Patrick Wimmer, Felix Nmecha, and Ridle Baku. That's certainly no small feat!

Beyond what they brought to the match in their successful direct assignments, Weißhaupt and Schmidt slowly enabled Rolland Sallai to function in increasingly large pockets of space. Sallai was the first actor to get the team believing in themselves more offensively with the first real chance off a set-piece in the 56th. Sallai would proceed to supply assists on both Freiburg goals and ensure that Niko Kovac's VfL would find zero joy down their left.

A spectacular season from the Hungarian on both sides of the ball. Spectacular scenes at the Europa Park Stadion in general. Just downright beautiful stuff. Streich with tears in his eyes after Petersen scored his second (unfortunately disallowed) goal. Petersen's wife blowing kisses to her soon-to-retire husband from the SCF bleachers. Günter and Petersen wandering around the mixed zone until near midnight dropping aurally intoxicating quotes.

Hell's yes!

That's all there's left to say.

Prognosis: Union still the favorites

RB Leipzig officially clinched Champions' League play this weekend, meaning that Freiburg and Union are the remaining two contenders for the last Champions' League place. We'll cover Union's surprise defeat at the hands of Hoffenheim in a bit more depth below. Here, it suffices to say that Union should be considered the likely favorites to retain their top four place next week with Bremen as their opponents.

Freiburg face Frankfurt, who themselves still have an outside chance of grabbing the UEFA Europa Conference League playoff place with a win and a Wolfsburg loss. It's entirely possible that the SGE could care less about the table considering that they'll get a crack at the Europa League with a Pokal victory. The state of Bremen (observed above) nevertheless leaves one with the feeling that Union can cruise while the SCF has a tougher go.

Dortmund-Augsburg (4:3, 3:0)

It's big, bold, beautiful, and epic. These are not words one ordinarily uses to describe the Bundesliga's - at least for the last decade - perennial also-rans. It certainly wasn't the words one would have used to describe Edin Terzic's Schwarzgelben when we prepared to resume play after the World Cup break or even when they struggled to hold Augsburg off in the reverse fixture. At long last, it's finally come together for this usually snake-bit club. The return of Sebastien Haller. Perfectly timed rounds into form from Karim Adeyemi and Donyell Malen. Julian Brandt's resurgence. Everything aligned.

The columnist couldn't be more pleased to present what should absolutely be soon confirmed as a Championship-winning lineup. No Jude Bellingham? No problem. All BVB trainer Edin Terzic had to do was slot another recent resurgent actor into his newly honed midfield role. Raphaël Guerreiro took care of the second-axis string pulling alongside Brandt. German legend Mats Hummels took care of the defensive ranks. Dortmund absolutely pummeled the Fuggerstädter in this:

Lineup—Borussia Dortmund—Match 33 (4-1-4-1)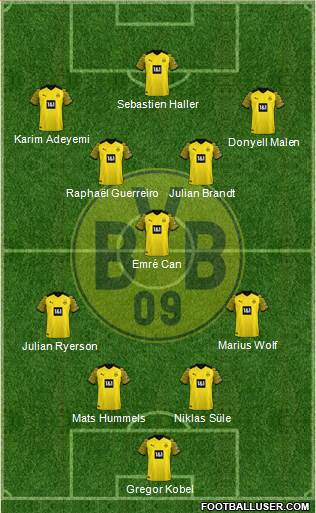 The amount of chances generated just in the opening ten minutes was ridiculous. Some poor finishing and a few massive saves from FCA net minder Tomas Koubek kept the opening goal from coming from this opening barrage. Guerreiro and Brandt together went on a full frontal assault on the penalty area. FCA trainer Enrico Maaßen's 4-4-2 quickly had to revert to a 7-2-1 in order to adjust to the pressure. Insane that the damn went unbroken for so long.

Once Fuggerstädter defender Felix Uduokhai was shown a straight red, we all knew how this one was going to finish. Dare we bring up the xG? Terzic's crew racked up a 4.55 metric to 0.52 for Maaßen's men. A proper slaughter from a side soon to hoist the Meisterschale; one that they've fully earned with performances such as this one. How about our story here? A late-career championship for Marco Reus. A local lad coach who grew up cheering this club and was initially brought in as an interim stopgap.

Thinking back to two springs ago, when Terzic also breathed late life into a team that seemed destined to miss out on its place at the Champions' League table, one has to say that the 40-year-old has a demonstrated knack for turning things around with the right mixture of empathy for his players, meticulous tactical acumen, and an excellent relationship with former front office colleague Sebastian Kehl that allowed him to piece together the personnel puzzle properly.

Congrats in advance to the new champs.

Prognosis: The next bold prediction

Shall we move over to Augsburg now? Former BVB II trainer Maaßen found himself scrambling for solutions in this one. Three major changes to his shape couldn't stanch the bleeding. One has even less confidence in his ability to fashion something coherent out of this squad than last week. Ready for the next intrepid tip? How about Bochum and Stuttgart both winning next weekend while Augsburg slide down to the relegation playoff place!

Crazier things have happened on the final day of a Bundesliga campaign. Few, if any of us, thought that this year would finally be the reckoning for the Bavarian Swabians. In all candor, it remains a tip that the chronicler isn't the most confident about. If it does happen, one would also fancy the chances of the more deeply stacked club in the subsequent round. Something to keep an eye on in any case.

Hoffenheim-Union Berlin (1:3, 4:2)

Ah...ups. Well, well, well. What happened here? How did the Kraichgauer flip the script on the Köpenicker? All Urs Fischer's Eisernen had to do in order to secure Champions' League football was win against a relegation-threatened squad in a notoriously quiet stadium that would feature much louder cheers from their own traveling support. Regrettably for the FCU, an early confluence of factors seemed to conspire to take "the big dream" away.

Best to break it up into bite-sized bits:

Robin Knoche's absence

When the team sheets were released, news that the "Bonesman" would be unable to partake because of illness gave one some pause. Danilho Doekhi was given the task of running Fischer's back-three on an advanced pivot. This in itself didn't work out all that badly, but the sense that there would be mistakes along that back-line persisted. One watched the rear-chain buckle almost immediately.

Diogo Leite's ill-fated header back to Frederick Rønnow enabled Ihlas Bebou to score the opening goal in the 23rd. Referee Sascha Stegemann then correctly assessed that Leite's horribly clumsy challenge on Christoph Baumgartner in the box constituted a penalty in the 36th. Union found themselves down 0-2 thanks to a pair of Leite mistakes before the first half was out.

Hoffenheim spacing and Union reduction

TSG trainer Pellegrino Matarazzo - working in his wide 3-3-2-2 yet again - effectively already had a pre-set constellation with which to disrupt Union's game. The FCU strategy doesn't take an astrophysicist to figure out. It revolves around long verticals sent in Sheraldo Becker's direction, usually in the half spaces. The sole reason Union ran roughshod over Freiburg in the simple approach last week related to egregious errors on the SCF's part.

The midfield couldn't get either Becker or attacking partner Kevin Behrens involved from the start. If the Union engine doesn't get clicking early, there can be something of knock-on effect. The two buttressing support attackers in the 3-5-2 "double stack" wear themselves out with tiring runs on weird scycles. One witnessed this most acutely in the case of Morten Thørsby this time.

The Norwegian failed to find the lanes and sent teammates chasing poor balls well beyond their reach. Aïssa Laïdouni kept the Union approach play more organized and even scored his second Bundesliga goal one week after breaking his league duck during the insane three-goal finish in second-half injury time. For much of the mach, however, the TSG could keep Union quiet with straightforward zonal marking.

TSG pendulum swings

The particularly bad misses from Bebou, Andrej Kramaric, and (most especially) Munus Dabbur last week served as the "perfect storm" of ill-fate. It remained doubtful that such a talented trio would all fluff their lines for a second consecutive week. As it turned out, all three found the back of the net this time. Dabbur made up for his atrocious blackout in front of the net with a sublime first-time finish at the death here.

Prognosis: By the skin of their teeth

Technically speaking, the Sinsheimers haven't clinched safety as of yet. A certain permutation outcome could see Bochum draw level with them on points for the relegation playoff place. The goal differential factor still renders it next to impossible that the VfL could snatch 15th place away from them. It was such that everyone associated with the TSG essentially celebrated safety in their post-match interviews.

Few genuinely thought that die Kraichgauer - with all the talent on their roster - could actually be relegated. Let's of course not forget that, after his disastrous start, Matarazzo was on the verge of being sacked along with sporting director Alexander Rosen. Kenan Kocak was thought to have a plane ticket booked. The American trainer was only saved by a big win over Hertha on matchday 25.

One of the closest of all close shaves here.

Matarazzo might consider shaving for once in celebration.

The "Burning Question": Round 33
Can Schalke pull it off?

Just one this week.

We can surely all agree that, whatever happens, the story of how Thomas Reis turned this club's fortunes around remains an amazing one. The team that began the calendar year with nine points has picked up an 22 in the last 17 rounds. Reis helped steer this crew to an undefeated start to the "Rück-runde" that spanned eight matchdays. Even on Saturday whilst facing an Eintracht Frankfurt side immeasurably stronger than them in terms of talent, die Königsblauen dug out a point when so many factors were conspiring against them.

Schalke had to operate without their leading goalscorer Marius Bülter, suspended on yellow-accumulation after last week. No Matter. The departing Simon Terodde banged home a nicely designed free-kick Reis had drawn up for new introduction Rodrigo Zalazar before the first minute was out. Then came more bad news. Yellows for Terodde and Moritz Jenz in the first half meant further suspensions and more cautious play from two key actors. Another goalkeeping error from Alexander Schwolow and a mistake from the rattled Jenz enabled Eintracht to take the lead back.

Again, no matter. The Westphalian hosts pushed hard in pursuit of their own equalizer. The 2-2 in the 85th began with some really excellent work from new German U21 international Henning Matriciani. Substitutes Tobias Mohr and Sebastian Polter then executed on the cross/finish. A little luck helped die Knappen out on this day. Matriciani might have conceded a penalty on a very iffy tackle on Aurelio Buta in the box some nine minutes earlier. Here we can say "no matter" again. The decision balanced out. There should have been a foul in the lead-up to the SGE equalizer in the 21st.

Entering the final matchday

Bülter returns next week from his yellow suspension while Jenz and Terodde have to sit out on their own suspensions. Tom Krauß' injury appears to be a serious muscle tear, meaning that the team's strongest midfielder likely won't be able to go as well. All the talk of keeper Ralf Fährmann potentially returning in time for the season finale probably shouldn't be taken seriously. One can't rush him back. It's (gulp) Schwolow in goal again.

If the Gelsenkircheners have one thing going for them, it's the fact that Leipzig have nothing more to play for after securing their Champions' League berth with the win over Bayern. Marco Rose is surely set to rest most of his starters ahead of the Pokal Final. Reis' men could eke out a victory and potentially overtake Bochum (with a loss at Leverkusen) for the relegation playoff place.

They could also climb above Stuttgart if the Swabians lose at Hoffenheim. Humph. It remains a stretch. The point earned here simply didn't do them enough good. The Leipzig reserves can still have themselves a field day with this unsorted and wildly inconsistent defense. It probably won't be as ugly as the "Hin-Runde" fixture, but can definitely be bad nonetheless. It just doesn't feel like they've a good day ahead.

Weekly Tactical Focus: The Bayern Balloon pops

A long-heralded turning point has finally arrived. Bundesliga watchers have known for quite some time that it's not a matter of something being "slightly off" when it comes to Germany's record champions. No, indeed. It's much more a case of something being "horribly wrong". A talented enough FC Bayern München roster has now thoroughly and unequivocally collapsed in on itself. Ostensibly, a single coaching regime could have gotten this squad to gel enough to capture their 11th consecutive title. Thanks to the March "panic-button press" of Oliver Kahn and Hasan Salihamidzic, however, we'll never really know.

Bayern supporters filed for the exits early on Saturday night. They had every reason to. The second-half performance of their team left those of us tasked with covering this division over the years speechless. One must strain to recall the last time an FCB squad played so cautiously, so unintelligently, so rudderless, and disembodied. A strong opening quarter-of-an-hour made matters even stranger. Some sense of the spirit associated with the mighty Bavarians remains. They just simply have found a way of collectively forgetting it.

Perhaps a balloon metaphor most aptly fits here. Note that the columnist isn't referring to the type that Leipzig's Christopher Nkunku likes to inflate as part of his now trademark goal celebration. Here we're talking about the monstrous structures known as "hot air balloons"; the type of apparatuses ultra-rich entrepreneurs were famed for trying to travel around the world in back in the 1990s; the gizmos that also tended to pop and send said rich fat-cats tumbling down into shark-infested waters. That's what we're seeing here.

Everyone's at a loss for words again. FCB trainer Thomas Tuchel couldn't summon up anything we haven't heard from him before. All the coach who has summarily failed to put the right XI on the pitch can say is that he "doesn't know". All Joshua Kimmich can offer up is more talk about how it's not clicking. For their parts, all Kahn and Salihamidzic can say pertains to the fact that the confidence levels keep getting torpedoed and the team keeps falling apart. Thomas Müller remains optimistic. There's one exception.

Ahem.

Full-time xG:

xG Leipzig--2.42, xG Bayern--1.66

To be fair, there were two Leipzig penalties. Subtract the combined 1.5 xG and Bayern won the battle. This still happens to be one of those cases in which this metric isn't anywhere near the most relevant one, however. In the fixture that we're about to cover, Bayern lost the optical battle badly. Many overall subpar performances in the simple formation that is well supposed to be Bayern's simple bread-and-butter. It doesn't work anymore. Neither does this team.

Lineup—Bayern München—Match 33 (4-2-3-1)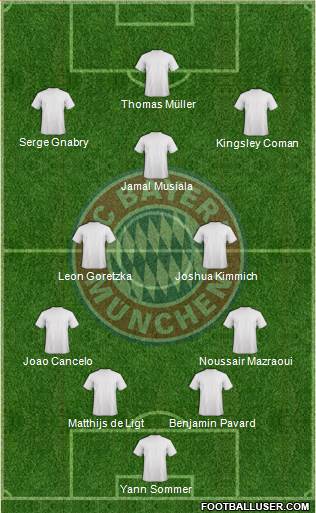 Tuchel's big surprise, which actually wasn't all that surprising to long-term league fans, was to have Müller play down the middle whilst Serge Gnabry settled in on the left flank. The fact that - as intimated - Leon Goretzka would be starting in place of Leroy Sané rendered it more likely that Müller would be doing his innovative "pseudo-nine" thing.

Actors who don't seem themselves

Several times in this one, we watched as Goretzka halted unexpectedly or even deliberately slowed down his team's own counters. Nagelsmann and Tuchel perhaps both share the blame for not keeping the Goretzka-Kimmich midfield axis together as much as it needed to be in order to ensure cohesion. Tuchel shoulders 100 percent of the blame for moving Benjamin Pavard central and relying too much on Noussair Mazraoui.

Pavard and Mazraoui turned in poor performances. Kimmich and Matthijs de Ligt, despite some compelling moments, weren't at their best. A lot of the Bayern build-up play, though successful early, expended far too much energy playing around the RB press in the first half. It came as little surprise to see the Bavarians enervated in the second. In keeping with the metaphor, the air didn't come out of this balloon slowly. It popped.

Actors who can still help

Müller remains the most obvious one. Gnabry and Kingsley Coman also weren't poor. Joao Cancelo put in one of his best games in an FCB tricot. The Portuguese international is one example of a player who has actually improved under the new coaching regime. Naturally, it's no coincidence that Cancelo is also the one who had very little work under Nagelsmann. Many of the others clearly suffer from adjustment issues.

Rose's "RB System" 4-2-2-2

Not too terribly much to dissect here from the type of formation RB's trainer has been leaning towards for quite some time. The only differentiating mark Rose's individual variant on the system features concerns the usage of a short-striker. Nkunku's return gifts Rose this hardly original alteration. Anyone with eyes could also see what wasn't working during the first half.

Lineup—RB Leipzig—Match 33 (4-2-2-2)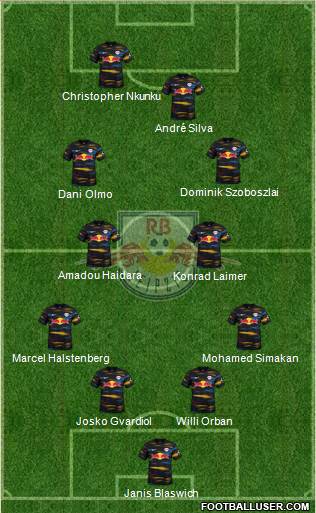 Mohamed Simakan struggled mightily as the "bad apple" against Cancelo. Rose employed the easy-fix at the half, plugging Benjamin Henrichs straight in. To his credit, Rose also stuck with this until bringing on two extra defenders on in the 87th. It eventually broke through against a Bayern side susceptible to wearing themselves out. That's how we ended up with this result.

Match Flow: 1st to 17th minute

With so much at stake, the two sides kept things largely conservative over the first quarter-of-an-hour at the Allianz. It took us until the 17th to get the first real highlight worthy play of the affair. Willi Orban almost incidentally connected with Simakan on a long-ball in the first. The makeshift French fullback took some time before squaring simply for Nkunku. De Ligt had it covered to turn away for a corner. Marcel Halstenberg's service was quickly cleared out to the second ranks, where Konrad Laimer and Dominik Szoboszlai couldn't do much with it. A Coman counter fizzled out.

The Bavarian hosts couldn't advance far in the 2nd. A Mazraoui throw produced nothing and a Cancelo offensive foul gave the ball back to the Saxon guests. Nkunku dropped deep to hold-up a centralized RB attack before Kimmich and Goretzka choked it off. The ball cycled through Kimmich thrice as the FCB retreated on both flanks in the 3rd. Pavard went on a long carry in the 4th and hit Cancelo in some space on the left. Müller collected Josko Gvardiol's repel of Cancelo's cross and went straight over for Gnabry on the left.

Gnabry's cross went over everyone. Orban had no problems chasing the ball down uncontested. Mostly FCB bow-arcs in the 5th as the hosts weren't much in the mood to attack their deep-seated opponents. Pavard finally sent a long vertical out for a goal-kick. The subsequent RB rightward cycle wasn't bad until Laimer lost the ball. A halfway decent Bayern counter in the 6th ended with Coman seeing an effort blocked after a long dribble. Kimmich chipped the ball back in. Jamal Musiala attempted to lay off for Müller from deep on the half-right.

Müller's soft header at least went off Orban for a corner. Pavard's extension of Kimmich's late 6th-minute service missed intended target de Ligt. Coman scuffed a shot from the second ranks to begin the 7th. Orban and Simakan managed to, after a couple of tries, to cycle back out. A switch over to Halstenberg's side only resulted in a blocked cross. Olmo remained on his toes to squelch out a Coman counter. Goretzka took care of a Simakan-Szoboszlai cycle in the 8th, but Kimmich also lost the ball.

Nkunku appeared to have a bit of a chance on the left after André Silva quickly worked the ball back out to him. Match official Deniz Aytekin didn't like Nkunku's initial push on the marking Pavard, however, and an offensive foul was the ruling. Nkunku made clear he wasn't in agreement on the subjective call. After several retreats and bow-arcs in the 9th, Kimmich went for another long-chip in Coman's direction. The ball was way overhit, as evidenced by the fact that Coman couldn't reach it even at an impressive full-tilt.

Gvardiol and Halstenberg still had great difficulty playing out from a hard press from Coman and the over-rushing Gnabry in the 10th. Halstenberg eventually earned a throw. Gnabry picked it off beautifully. Bayern's subsequent throw in the 11th was nevertheless also easily dealt with. We then received a full-stop when Simakan and Cancelo both required treatment following a midfield collision. Aytekin ruled that Simakan was the fouling party. The RB Frenchman stayed on the turf through the 12th while the FCB medical staff tended to Cancelo's bloodied fat lip.

Play restarted in the 13th. The Bayern charge initially went through the middle via Goretzka. Musiala and Coman then got drawing touches before Goretzka worked the ball out to Cancel on the left in space. Some nice trick touches from Cancelo were followed up by a cross in Müller's direction. Gvardiol got to the ball first and cleared. A counter involving Olmo proved too slow. A more methodical RB build in the 14th concluded with de Ligt easily handling another obvious Simakan square for Nkunku.

Bayern pressed the ball off Orban in the second ranks. Goretzka came close to a neat play-in of Müller at the beginning of the 15th. Orban recovered in time to impede Müller's progress. As the FCB skipper went down against Orban, there were some appeals for a free-kick. Aytekin wasn't interested. The Bavarians at least stayed on the ball and were able to execute another useful charge before the 15th was out. Coman played Musiala forward on the half-right of the area. Musiala dug out a cutback from the baseline. Orban tidied up a blind hit near no one.

Gvardiol, Laimer, Silva, and Szoboszlai moved the ball up the pitch in the 16th. The 4-2-2-2 went straight up central in the only manner a constellation without natural wingers can. Despite some nice touches, Olmo stood little chance of lining up a shot central at the end of the sequence. Bayern went back the other way via a Cancelo through and a Pavard long carry. The best combo play from the hosts thus far ran through Mazraoui, Cancelo, Gnabry, Kimmich, and Coman in the 17th. Goretzka saw an effort blocked near the end of the minute.

Match Flow: 17th to 25th minute

Pavard and de Ligt kept the ball circulating as we entered the 18th. The ball went out wide to Cancelo on the left again. More skills from the Portuguese fullback. Cancelo worked in a delicate chip ball in over the RB defensive ranks. Musiala deftly one-touched the service over to the waiting Müller. RB keeper Janis Blaswich could only parry Müller's point-blank finish out for a corner. Kimmich took the flag service quickly. A pair of flick-ons through traffic reached no one. Silva came away with the ball to start the 19th.

Simakan, Orban, and Gvardiol bow-arced for a bit before attempting to hit Nkunku central. Kimmich took over, playing back before heading forward. Mazraoui joined him after the recycle and the pair together managed to reach Coman out on the right again in the 20th. A nice shuffle of the feet from the French winger didn't fool the marking Halstenberg. Olmo and Cancelo traded failed counters in the 21st. Multiple multiple possession changes were finally halted in the 22nd when Silva was adjudged to have fouled Goretzka.

Bayern got a working charge rolling in the 23rd. Once again, it was Musiala digging out a deep cutback from the baseline. Gnabry couldn't get into position to receive in time. Kimmich and Goretzka closed ranks together in time to halt an Amadou Haidara counter. Musiala and Cancelo worked together on a promising give-and-go just inside the area in the 24th. It might have been a memorable play were it not for Musiala's final ball, which went beyond the Portuguese international and out for a goal kick.

Tuchel's men got it right on the next rush. De Ligt, Kimmich, and Yann Sommer built strongly out of the back. Cancelo went on a strong run and brought Müller with him. Müller tailed just in time to play a cheeky one-two with the also tailing Gnabry. A couple of intelligent touches from the on-fire German international before he buried the finish from just inside the area on the left. A beautiful goal from Gnabry. He sent the ball across the face of the goal and into the right hand corner with a perfect kiss off the far post.

Match Flow: 25th to 35th minute

It was definitely proceeding perfectly for the defending champs. Gnabry notched his fifth tally in as many league games. One fully expected that, just like in weeks' past, Gnabry's opener would open the team up for more. There were some preliminary signs that this might be the case. Müller and Musiala completed a pretty rightward cycle almost as soon as play resumed in the 26th; a mite too pretty as it turned out. Kimmich and Mazraoui nevertheless ensured that the ball remained with the FCB with some fearless back recycle passing in the 27th.

Gvardiol had to hack Goretzka down once Kimmich advanced the ball. Gnabry and Müller worked around on the left and Cancelo was able to dig out another corner against Laimer at the end of the 27th. Simakan headed Kimmich's 28th-minute service out for a throw. The record champs showed no hesitation on the toss. Coman stayed with a bouncing ball from the right all the way and did a splendid job scraping back to a waiting Musiala. The young German phenom bulged the side netting with a sharp drive. Many surely thought it went in.

Simakan encountered serious problems trying to work his way out of the back in the 29th. Laimer and Szoboszlai had to track back to help. An eventual desperate ball out for Nkunku stood little chance of succeeding. Enough FCB actors were back to block. Mazraoui collected and sent his side back the other way. Cancelo went for the too fanciful footwork again on the Bayern left in the 30th. Simakan received a chance to move forward in space again. Haidara and Szoboszlai tagged along to give Simakan a chance again on the play back.

Simakan's cushion-cross went directly into Sommer's arms. A quick-start counter down Coman's side concluded with Orban repelling the French winger's diagonal. Conservative bow-arcs from both sides in the 31st. Szoboszlai finally endeavored to play Olmo through. The RB Spaniard, unsurprisingly, couldn't dribble past four FCB markers. De Ligt spot-cleared a Laimer vertical on the next RB charge in the 32nd. Müller and Musiala punched through on a quick Bayern counter. Müller had a nice idea to unlock Coman with a slip pass.

Coman didn't time his run properly. Cameras caught Müller expressing his dissatisfaction with his teammate. Some admirable passion from the Bayern skipper notwithstanding, the hosts probably could have done without this. It wasn't long after this particular play that the FCB "folding" commenced. Cancelo first began to wilt with a direct loss to Olmo, then Silva. Müller recovered, only to lose the ball himself. A Halstenberg cross into the box in at the end of the 33rd was cleared only as far as Szoboszlai by de Ligt.

Szoboszlai forced Sommer into action for the first time at the beginning of the 34th. The Hungarian international stung the FCB keeper's palms with a low-driven valley aimed at the bottom left corner. Bayern still couldn't clear after Sommer's parry. Nkunku entered the box following a bit of pinball and tested Sommer again with a tight angle finish. A pair of saves within a few seconds earned Sommer an appreciative round from the Bayern crowd, but the Saxon guests weren't finished yet. The ball remained in the RB ranks. Szoboszlai saw a shot blocked in the 35th.

Match Flow: 35th minute to half-time

Still, the momentum remained with Leipzig. After two more turnovers involving Kimmich and Mazraoui, Halstenberg worked in another cross in the 36th. Olmo forced another save out of Sommer with a downward directed header that the FCB keeper dove to keep out of the right corner. Gvardiol had a much easier time pumping the brakes on both Kimmich and Canelo in the 37th as the Bayern attacks became more predictable. Laimer and Haidara - with growing confidence - pressed a suddenly shaky looking Kimmich off the ball on a third charge before the minute was out.

Szoboszlai went on a blistering run after Kimmich lost out. Luckily for Kimmich, Goretzka made it back in time to bail his colleague out. Kimmich did better on a play-though for Coman in the 38th. Coman cut inside adroitly and, with the help of Musiala, got Cancelo free in some space on the left again. Some more lovely tricks from Cancelo in a direct battle with Szoboszlai ended up going unrewarded when the Portuguese international's cross went beyond every potential taker. Kimmich at least won nice midfield ball and hit Cancelo again in the 39th.

Cancelo went for the ankle-breaking touch-tricks again. This time he would find a taker for his cross in the form of Coman, who unfortunately headed wide. Cancelo stripped a ball off the totally overwhelmed Simakan in the 40th. A shuffle over for the onrushing Musiala nearly produced a moment of magic. Musiala juked into the box with one of his trademark "take on the whole team" dribbles. It was a sight to behold. Unfazed by the fact that Orban blocked his first shot, Musiala stayed with the ball and went for goal again. Blaswich had more than enough time to see and hold the effort.

A quality RB build back the other way in the 41st concluded when Szoboszlai, following some nice work from Laimer, Olmo, and Silva, shot over on the turn. Sommer - in a blatant attempt to take some of the zip out of Leipzig's offensive surge - took his time setting up the goal-kick. A ruled handball against Laimer in midfield in the 42nd helped take some more tempo out. Gnabry and Simakan traded turnovers after the dead-ball start. There was another stoppage after a Cancel foul in the 43rd. Szoboszlai located Orban with a nice service from 20 meters out on the left.

Orban, having started his run late, could nevertheless only head out into touch. After a series of midfield turnovers in the 44th, Mazraoui and Kimmich worked Musiala through on a brisk charge in the 45th. Musiala played over to Gnabry, who should have had a shot himself. Instead, the goal-scorer passed over to Müller. The final shot was blocked. Olmo did a nice job on a dribble at 45+1, but Goretzka cooked him off in a tight space. Bayern got off a quick counter during which Cancelo opened up Coman with a nice switch on the final drive of the half.

Aytekin blew the half-time whistle shortly after the ball, through multiple detours, found Kimmich and the German national team midfielder tried to cross back in. Simakan deflected the ball over to Blaswich on what would be his final involvement of the game. One certainly felt as if the 1-0 scoreline at the half was fully deserved. The flurry of RB activity - sparked by many clear FCB mistakes - still couldn't be ignored. Rose also had a straightforward solution for the second 45 staring him in the face. Henrichs for Simakan. The German Red Bulls would surely play better.

Half-time xG:

xG Bayern--1.23, xG Leipzig--0.3

Who cares when one goal can change everything?

Match Flow: 46th to 64th minute

With Henrichs on for Simakan we continued. Bayern can have few complaints about dropping this match. After all, it nearly twenty minutes before Laimer supplied the shock from which they would not recover. A halfhearted Coman, Kimmich, Gnabry, and Goretzka cycle in the 46th went nowhere. The Saxons, meanwhile, were already purposefully looking for a way forward with a long-throw aimed in Nkunku's direction during the opening minute of the second half. A patient and largely successful RB build in the 47th ended when Laimer showed a bit too much of the ball to the marking Gnabry.

Gvardiol saw that Henrichs was rapidly involved with a nice wide-right switch in the 48th. Henrichs wasn't quite ready to cut-inside himself, however, and a feed of Nkunku via Laimer didn't work. Sommer collected Laimer's diagonal for Nkunku and tried to re-start immediately through Kimmich. The FCB midfielder turned the ball over to Szoboszlai. Henrichs and Silva took turns trying to squeeze through before Gnabry cleared Haidara on the RB's third attempt to break into the box. Henrichs was back at work on the right in the 49th.

Olmo headed a useful Henrichs cross in Nkunku's direction. The striker misjudged the flight of the ball and missed out on a header. Musiala managed a midfield pickup in the 50th, giving Bayern their first real drive of the half. Coman didn't have much confidence in his lane. The French winger retreated. The hosts would ultimately play all the way back to their keeper. Gvardiol hit a long-launch from Sommer back into the FCB ranks. Coman broke through in some space again in the 51st after dusting off Haidara. Orban remained focused to clear Coman's square.

Multiple recycles from Bayern through the 51st and 52nd. Everyone suddenly looked leggy and devoid of ideas. Gnabry and Müller found no solutions on deep drops. Laimer stepped forward near the middle of the second minute and tagged Henrichs with a super ball. Henrichs went straight forward for the trailing Nkunku. Without any additional support, however, a nice hustle from Nkunku to snag a cutback off the baseline proved useless. Sommer launched a somewhat desperate clearance. Leipzig had time to plot their next build through the 53rd.

The Saxon attacking waves grew stronger. First, de Ligt had to sweep away an Olmo forward into the box after some fine work from Henrichs, Haidara, Szoboszlai, and Halstenberg. Henrichs strode forward on a strong advance in the 54th, just missing the tailing Szoboszlai on a miscommunication. Goretzka had a few extra nanoseconds to break up the envisioned give-and-go. A FCB counter-wave involving Cancelo looked very limp. Cancelo didn't have anywhere near as much energy as he had displayed earlier.

A subsequent Bayern build in the 55th featured nothing other than a Kimmich blind vertical in the direction of the box vertical. Müller and Musiala tried, and easily failed, to pick up some sloppy scraps outside the box. Gnabry dropped deep on the next FCB rush in the 56th. Another Kimmich stringer proved easily pickings for Orban and Gvardiol. Coman did manage to nearly separate Gvardiol from the ball with a brave press. The Allianz Arena crowd applauded the effort even after Coman's heavy touch allowed Blaswich to collect.

Retreats from the Bavarians on both flanks in the 57th. Sommer had to skirt around the hungry Saxon hordes once his team sheepishly played the ball back to him. They ultimately found a way forward via the still deep Gnabry and Musiala. Coman got another crack at Gvardiol when Musiala serviced him. This time RB's Croatian international tackled away strongly. The guests got up the pitch with some optical ease again in the 58th. Silva handled the ball well outside central before Mazraoui got the jump on a waiting Olmo.

Olmo then scuffed a shot after Silva and Szoboszlai worked the ball back to him off a throw. Back on their heels, Bayern could only bow-arc around endlessly in the 59th. Halstenberg employed a meaningless foul on Musiala at the hour-mark; meaningless in that the hosts showed no real threat of getting beyond the halfway line. The ensuing free-kick went straight back. Cancelo switched out wide to Coman, who endeavored to cross in for Müller. Henrichs, Gvardiol, and Laimer all had the FCB's makeshift striker marked.

Coman went back for Kimmich after another Cancelo switch in the 61st. Kimmich supplied an embarrassingly bad finish that went into the nose-bleeds. Trick dribbling from both Musiala and Cancelo in the 62nd raised the temperature a tad. Cancelo nevertheless finished up by tricking himself. After shaking off Szoboszlai and Laimer, the Portuguese international ran straight into Haidara instead of passing. The play resulted in a free-kick for the hosts in the 63rd. Kimmich rolled a ground pass past Gnabry on a design that surely worked better on the training pitch.

Gnabry and Kimmich sent Cancelo through on the next FCB charge in the 64th. More sublime skill from Cancelo saw Bayern's best player sweep past Szoboszlai and earn a corner with a deflected chip ball. Kimmich's service from the flag missed de Ligt and Coman. Orban sparked a counter with his clearance. This quickly morphed into a full red-alert 4-on-2 breakaway. Laimer led the charge. To his credit, Cancelo was back in the orphaned defensive ranks doing his best to help out. The Portuguese international would fall prey to bad luck.

Cancelo inadvertently deflected Nkunku's attempt to pass back to Laimer. The future Bayern midfielder, of all people, thundered home the equalizer with aplomb. A beautiful dry finish from the Austrian international. The Saxon guests restored parity in a match the record champs had more than ample opportunity to close out. Shots of Kahn and Salihamidzic in the stands were absolutely priceless. The administrative duo looked as if they had already lost the match.

Match Flow: 64th to 76th minute

For all intents and purposes, Kahn and Salihamidzic were right. Things fell apart rather rapidly. Bayern lost all of their initiative. One could argue that - with the predictability of their play - they had lost the thread long before the equalizer. We got rolling again in the 66th. An FCB rightward cycle took far too long. More switching between Coman and Cancelo at least produced a corner in the 67th. Pavard could barely lift himself to meet Kimmich's service and missed badly. Cancelo took no risks and rushed back to Sommer like a scared child from the second ranks.

Leipzig played their way out on Henrichs' side in the 68th. Nkunku took a few too many touches after the German fullback reached him in the box. Mazraoui and Pavard were able to close ranks in time. A halfway decent counter involving Coman came to an end when Gvardiol tugged the FCB Frenchman down. Aytekin produced the first yellow of the match. We then saw two minutes eaten up as both coaches employed wholesale changes. Double substitutions on both sides.

Kevin Kampl and Emil Forsberg relieved Haidara and Silva on the RB side. Leroy Sané and Ryan Gravenberch took over for Goretzka and Gnabry. Straightforward swaps from the two trainers. Open play didn't resume until the 71st. Again, Bayern fed the ball to Cancelo on the left. The spry FCB fullback earned another corner off Henrichs. Kimmich left us all rubbing our eyes in disbelief with a totally misguided service that went straight out into touch. Scarcely believable that something like that happens with Bayern.

The guests were back up high with Henrichs and Nkunku in the 72nd. This time, Pavard screwed up royally. In the second scarcely believable scene in as many minutes, the FCB Frenchman opted to throw a high boot directly to the back of Nkunku's head. Aytekin rightfully produced the next yellow card of the match. Szoboszlai put his 73rd-minute service straight on target with a powerful effort. Sommer proved equal to it. Within a minute, Sommer would be pitted in a much more powerless position.

After some eventful play from both squads, Halstenberg and Henrichs put in the hard work to send Nkunku into the box in the 74th. Pavard tripped the RB attacker up with a clumsy challenge. Genuinely boneheaded stuff from Pavard inside a span of a few short minutes. Aytekin had little choice but to point to the spot. Nkunku emphatically dispatched his finish from the spot in the 76th. The columnist was tempted to declare a lid right then and there. One could hardly see a way back for the Bavarians after this meltdown.

Match Flow: 76th to 86th minute

Tuchel sent his third sub on in the 77th. Mathys Tel entered on Coman's behalf. The constellation shift was easy to predict. Confirmation on the overhead came rather quickly. One nevertheless had little confidence that it would work. Musiala and Müller were surely too tired at this point to affect the play positively as a pair of eights. Kimmich - in the midst of possibly his worst game all season - could hardly be expected to deliver as a solo-six.

Lineup—Bayern München—78th minute (4-1-4-1)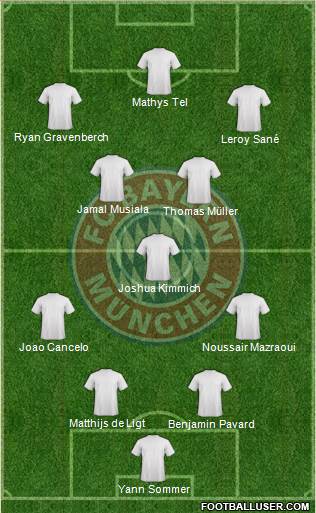 Does Tuchel even know his best team at this point? Of course not! He's barely been in the most pressure-filled job in German football for two months. What a disaster. How can a trainer be expected to establish the type of system he needs in such a short period of time? Some of the Allianz Arena attendees were already up from their seats and thinking about the transport schedule at this point. It was Cancelo again motoring past everyone on the left flank in the 77th. No one cared. It seemed a forgone conclusion that the fullback would send another poor cross past everyone.

A more promising FCB rush in the 78th involving Gravenberch concluded with Kimmich giving the ball away on the cutback. Leipzig skillfully controlled possession for the rest of the minute. What else could the Müncheners think of at this point? They tried with Cancelo again on the left in the 79th. The poor Man City loanee looked totally exhausted. Henrichs did have a little trouble clearing Cancelo's cross and Kimmich, after touches from Musiala, Sané, and Müller, got the ball just outside the area. Kimmich went down against Henrichs whilst Aytekin let advantage play.

Gravenberch wasted the opportunity by shooting over. Bayern then wasted their next chance in the 80th. Mazraoui worked in a cross to Müller, but the also tired FCB skipper took too long on the ball. An eventual shuffle over to Tel produced a shot that Blaswich had to be on his toes to parry. Blaswich made a double save when Musiala latched onto the rebound. It's possible that the whole sequence might have been nullified anyway as the offside flag was up. A very slow FCB build featuring more retreats ate up the 81st.

Sané peeled off a respectable horizontal run outside the box in the 82nd. Olmo ultimately ended up claiming a loose ball when Sané lost his footing, however. Aytekin ruled against Musiala in his pursuit of Olmo on a 50-50. A somewhat questionable call, but there could hardly be too many complaints from the Bayern XI at this stage. Mostly knock-down drag-out possessional shifts in the midfield through the 83rd. Laimer sent an effort over at the end of the minute, immediately redeeming himself with a great unlock pass of Nkunku one minute later.

Laimer serviceed Nkunku totally unmarked on the half-left of the area in the 84th with only the keeper to beat. Sommer somehow prevented the sure goal by making himself large and turning out for a corner. Halstenberg smashed the 85th-minute service across the face of goal. Gvardiol missed Olmo's headed extension, but the ball ended up catching Mazraoui on the arm. Aytekin pointed to the spot again as the Moroccan had made no real effort to get his hand out of the way.

Handball penalty.

Szoboszlai converted from the spot in the 86th.

3-1 to the guests.

Game over.

Match Flow: 86th minute to full-time

A further hail of substitutes gave us six minutes of added time. Tuchel's record champs took their risks, nearly conceding on a pair of counters while producing no real chances of their own. The scenes at the Allianz were most telling. Fans departing in droves. Things like this simply don't happen at Bayern. The giant oversized beer mugs and the Bavarian Frauleins should have been on the pitch last month. That's how it normally goes.

This year is just different. No beer. No Frauleins. Smiles are scant. Criticism reigns supreme. The writer sees no need to bookend with full-time xG any more than he feels it necessary to reiterate the tip that Dortmund will win the title. There are certain things that simply must be treated as fact at this juncture. BVB end the Bayern streak. Either Kahn or Salihamidzic get the axe this summer. A new era dawns. Bayern return stronger next year.

Nkunku may have helped us overextend the metaphor with his balloon antics, but it was future FCB star Konny Laimer who truly took the hot air out of this zeppelin. The German giants finally come crashing down, Hindenburg-style. Oh, the humanity. The flames are there for all to see. A serviceable assemblage of talent reduced to mediocrity by total mismanagement from the club's front office.

There will be consequences for this. The general consensus in many German footballing circles. Namely, that the only mistake Kahn and Salihamidzic made with respect to Nagelsmann involved firing him far too late, doesn't exactly hold at this point. Stability needed to be maintained here for the duration of the season. The implosion we've witnessed here came as a direct result of the late coaching change.

Balloon goes pop!

Thanks so much for reading! You can catch the release of all Peter's columns on twitter, @ViceytheSS.

Twitter DMs are open for football conversations, corrections, and (if you truly insist) general abuse. 

All columns debut on Bulinews before appearing on Peter's website as the season progresses.



Related stories