Hradecky and Andrich speak on Pokal upset:
"We have to take a long look in the mirror."
By Peter Weis @PeterVicey
Champions' League level Bayer 04 Leverkusen were made to look like Sunday-league amateurs after conceding three first half goals against third-division side SV Elversberg in their 2022/23 DFB Pokal opener. 

In the aftermath of the eventual 3-4 defeat, captain Lukas Hradecky and midfield general Robert Andrich let their frustrations loose.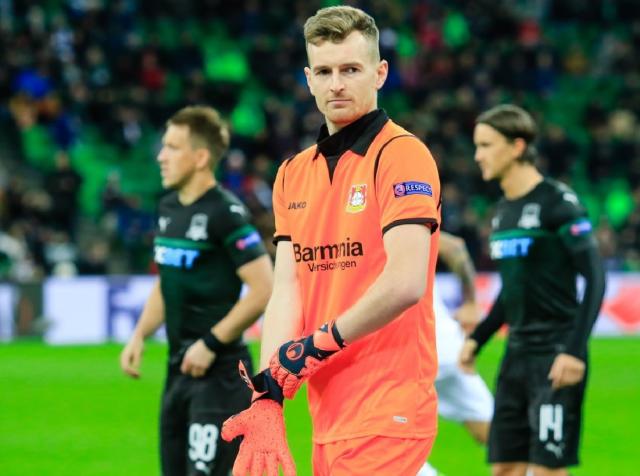 | | |
| --- | --- |
| Lukas Hradecky. | Photo: Дмитрий Пукалик/Soccer.ru/CC-by-SA 3.0 |
The Leverkusen traveling fan contingent peppered their side with jeers and boos after third division side SV Elversberg claimed a Bundesliga scalp on Saturday afternoon. Bayer found themselves prematurely eliminated from the DFB Pokal in the first round of Germany's domestic cup. According to keeper/captain Lukas Hradecky, the reaction of the fans was "absolutely justified".


"We come here after a great training camp and after three minutes we are behind," Hradecky groused, "When you concede as many goals as you did last season [in the Pokal], you can't handle it. We have good people up front, but we can't score four or five goals every time."

"It then pisses me off that some are already on their way to the dressing room and face up to the consequences," Hradecky continued, "There's a lot to talk about. It was a great pre-season, but it counted for nothing. We want to play like Barcelona and leave spaces open. There were terrible gaps. I can't explain that and didn't recognize my team at all."

The ever-outspoken midfielder Robert Andrich agreed that the team needed to have some serious in-house talks.

"I think we have a lot of young players who get too emotional too early," Andrich noted, "I'm certainly also a player who rides emotions, but I think we concern ourselves with things unrelated to the football. And players like 'Jerry' [Frimpong] and 'Mitch' [Bakker], who have great quality, are taken off their game and can't help us. We have to talk about that internally."

After being eliminated by the Karlsruher SC in the second round of last year's cup, the 2019/20 Pokal Finalists must contend with their second consecutive exit in as many years. Matters do not get any easier for Germany's red company team as they must face Borussia Dortmund one week from today in the "Top-Spiel" of the Bundesliga's opening matchday.


"We all have to take a long look in the mirror now," Hradecky conceded,. "I've said it a thousand times, but that's apparently not enough. We're not present. We think we're the greatest and then you lose games like in Elversberg. We have to be more decisive. We have to be the smarter team."


4:3 im @dfb_pokal dfb_pokal gegen @bayer04fussball bayer04fussball

LIEBEN WIR!!!!!!11!ELV!!!!!#elvb04 #DieElv #unsererelv #NurDieSVE #DFBPokal #saarland pic.twitter.com/DrfmrlaL2a

— SV 07 ELVERSBERG (@SV07Elversberg) July 30, 2022
Related stories