Americans in the Bundesliga:
Double duty for Pepi, Richards returns to action
By Peter Weis @PeterVicey
Round 28 of the 2021/22 German Bundesliga saw a return to meaningful action for both Chris Ricards and Ricardo Pepi. In the latter's case, a midweek makeup match even leads to a double section in our weekly scouting report.

In the latest edition of "Americans in the Bundesliga", we'll also check in with John Anthony Brooks, Timothy Tillman, Julian Green, and trainer Pellegrino Matarazzo.

Your weekly deep-scout of US professionals in German football and full updates on the players not featuring is all prepared below!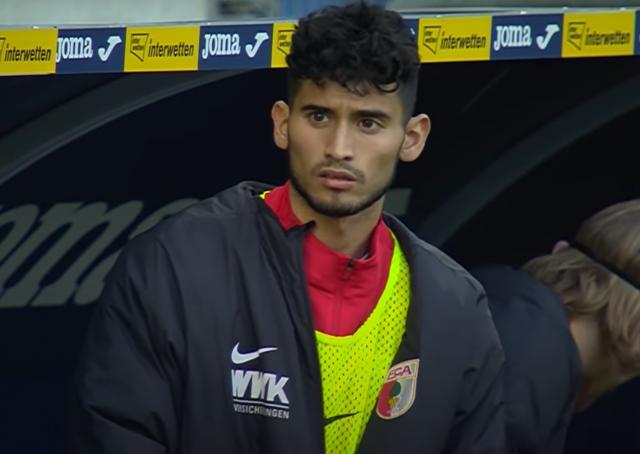 Five graded sections this week as we take a closer look at the 2021/22 German Bundesliga's 28th round and a round 26 midweek makeup between Augsburg and Mainz. Two very much welcome returning actors are Chris Richards and Ricardo Pepi. We've also a little bit of Julian Green's performance to assess. As in times past, it's folded into Timothy Tillman's section.


Three returning USMNT actors were given a break by their respective clubs in the first round back from international duty. Giovanni Reyna did not start and featured only late for Dortmund. While some of Gio's work was interesting, there wasn't enough material to merit a graded section. Tyler Adams and George Bello were left off their matchday squads entirely.

In the case of the USMNT captain, the latest news actually isn't that good. Adams has reportedly incurred another injury; one that will keep him sidelined for Leipzig's Europa League leg against Atalanta Bergamo tomorrow. Justin Che of Hoffenheim and Kevin Parades of Wolfsburg are apparently healthy enough to make bench squads, but still await their first meaningful Bundesliga action.

John Anthony Brooks, VfL Wolfsburg

Minutes played = 90/90, Positions played = CB

Grade = A-

This column carries on its crusade to get Jay back into the good graces of USMNT head-coach Gregg Berhalter. In all candor, the author doesn't understand why Brooks continues to be underrated in the German press either. Scouts of this American's matches continue to reveal that he's near the top of his game. If anyone cares to examine his fixtures with a deep-scout eye, the evidence lies there for all to see. Another fine day from this subject, who wasn't at fault on any of opponents' Augsburg's goals.

Much of the Wolfsburg's languid performance related directly to the fact that there were no discernible tactical changes from the Kohfeldt crew from last round. The VfL attacking trident--comprised of three highly talented players in Lukas Nmecha, Max Kruse, and Jonas Wind--has already grown stale. That obviously doesn't reflect poorly on the work of the three defenders closing ranks on the final axis: Brooks, Sebastiaan Bornauw, and Maxence Lacroix. Those three generally turn in above average performances.


Monster aerial wins from Brooks (who happened to be marking countrymen Ricardo Pepi on Sunday) in the 5th, 25th (twice), 30th, 36th, 39th, 47th, 55th, and 75th. Sharp clearances and verticals can also be found in the 4th, 28th, 35th, 38th, 61st, 82nd, and 85th. More astute general defensive work comes in the 21st, 44th, 52nd, and 60th. The Berliner came forward to get a good shot off in the 50th and executed a beautiful full switch in the 89th. Though Brooks did have some dips late-on, a good bit of the team switched to full damage control mode after Augsburg's third goal in the 69th.

Our subject here didn't win every last duel (losses in the 17th, 22nd, 41st, and 86th) it was still a performance that deserved better than the marks the German press accorded him. Perhaps a bit too much weight was given to times when he did get rounded in the 56th, 58th, and 61st. Brooks did experience a little dip even prior to the decisive goal. In any event, it's the opinion of this column that this American has every right to be a bit pissy about not receiving a USMNT call-up in the last international break.

Overall form remains strong.

Chris Richards, TSG 1899 Hoffenheim

Minutes played = 45/90, Positions played = CB

Grade = B+

Very much a treat to see the Alabama native back in action for the first time since round 20. Sebastian Hoeneß threw the 22-year-old on for the second half in Saturday's home loss to VfL Bochum. A draw-up of Hoffenheim's second-half tactics is available in the latest tactics bulletin. For the most part, Richards settled in very well. Our subject here showed no real signs of rust or diminished confidence, though he (along with the rest of the team) appeared slightly unsettled towards the end.

There some great duel wins on display in the 49th, 53rd, 59th, and 70th. The columnist didn't see him outright lose either on the ground or in the air during his entire shift. Passing was quite sharp. Some very incisive verticals can be found in the 58th, 67th, and 83rd. Richards continued his run well on a slick attacking sequence in the final instance. As noted above, there were some times late (77th, 80th, 82nd, 84) when he got rid of the ball too quickly. Otherwise, (46th, 57th, 64th, 66th, 68th, 90th, 90+1), he looked his usual calm self on the ball.

Some marks, particularly on Gerrit Holtmann in the 69th, 72nd, and 73rd, might have been better. Richards needed to atone with recovery tackles after slack marks in the 56th and 66th. He did get outmaneuvered in a rather suspect fashion on Takuma Asano's heartily disallowed goal in the 86th and got rounded all too easily by Tarsis Bonga at 90+5. Clearances were mixed, with an excellent one coming in the 47th and a poor one in the 65th. A few slight dock-worthy moments keep him off "A-level", but not by much. Looking forward to seeing this American back in the starting XI.

Pellegrino Matarazzo, VfB Stuttgart (Trainer)

Matches = 1, Result = D

Grade = B

No tactical changes from the league's American trainer to grade this time around. The New Jersey mathematician stuck with the same constellation as last round. Matarazzo merely slid defender Hiroki Ito in the left-back role vacated by the injured Borna Sosa. The coach hardly bears the brunt of the criticism for a match which once again came down to his young players having difficulty finding the finishing touch. It's a small miracle that this motley crew of babes is splaying so well under him at all.

If there is one bit of interpretative disapproval from Saturday's 1-1 draw away at Bielefeld, it concerns the VfB trainer's hesitance to perhaps pull the trigger on a shape re-format later in the match. Stacking Wataru Endo left and maybe pulling Ito altogether might have enabled him to better exploit Bielefeld's weak right. There looked to be gaps screaming for extra attention on that side. On balance, one can still understand why Matarazzo adhered to the shape and only made two subs.

He wanted the players to decide it.

They didn't. Not his fault really.

Ricardo Pepi, FC Augsburg

Matches played = 2/2, Matches started = 1/2

Minutes played = 108/180 Positions played = LS, CF

Cumulative Grade = B-

The El-Paso phenom returns for his first bit of significant action since round 24. After double duty this week, we are all still awaiting Pepi to experience what he claimed was the first German word he learned upon arriving in the country. No goals yet for the 18-year-old. Few of us are actually surprised. All of the hype surrounding the teenager's arrival was blatantly overblown by the American-loving German press.

The Texan got in over thirty recorded touches during a 89-minute shift against Wolfsburg on Sunday. Despite the fact that he didn't get his name on the scoresheet, the striker looked pretty spry at times and showed some signs that he's acclimatizing to the Bundesliga. As covered in the section above, USMNT veteran John Anthony Brooks showed him up several times.

Pepi still got his looks in as part of a straightforward 4-4-2.

Lineup—FC Augsburg—Match 28 (4-4-2)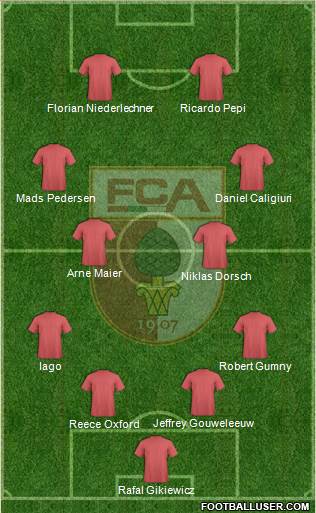 No touches for the first nine minutes, though he could be seen lurking around in good positions on a couple of FCA drives. Pepi got a good header forward for Florian Niederlechner in the 10th and proceeded with some quick flank rotations on the next three Augsburg charges. There's a very nifty carry and dish off to Iago on display in the 14th.

One can watch Pepi make intelligent lane runs (with and without the ball) in the 26th, 29th, 37th, 52nd, 58th, and 71st. He was wide open on a sprint in the 69th, but Mads Pedersen ultimately did better to have his own go (and score) on the breakaway. Very good ball hold-ups and moves can be found in the 20th, 55th, 66th, 73rd, and 78th. He even put in a pair of noteworthy defensive interventions early in the 16th and 19th.

Six stray passes on the day, unfortunately. There was a pretty lousy cut-back in the 21st, a really bad turnover in the 39th, and generally a bunch of nervous energy in his last 20 minutes on the pitch. Good moves followed by curious ones, particularly between the 70th and 80th. In the writer's count, he also won fewer than a third of his direct duels.

To reiterate, Brooks basically had his way with his younger American counterpart for most of the match. There were nevertheless some instances in which the junior player got the better of the Berliner. He bumped Brooks off the ball in the 22nd and used his speed to beat the VfL defender to the ball in the 34th. Pepi won a nice aerial duel in the 56th.

One can find both of Pepi's shots on the day in the final couple of minutes of the first-half. Brooks blocked an effort in the 44th. WOB keeper Pavao Pervan kept the next one out of the back of the net at 45+1. Great run from this American on the second chance. He came very close to registering his first Bundesliga tally with a flourish on that one.

Nineteen minutes of relief in Wednesday's highly intense 2-1 win over Mainz obviously doesn't give us much to work with. The columnist only recorded eight touches from our subject here. We'll cover what action there was to be had, naturally noting that the cumulative grade isn't affected much this case.

Lineup—FC Augsburg—72nd minute (4-2-3-1)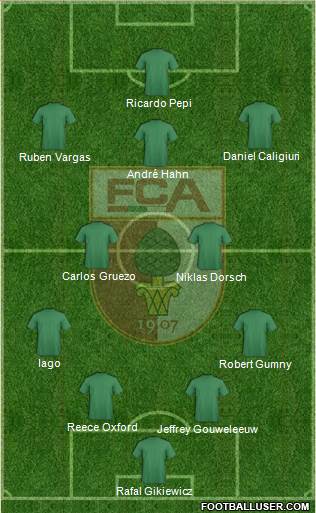 As the lone striker in a 4-2-3-1 re-format, Pepi spent most of his shift in a poacher's position. He actually screwed up two of his touches pretty badly, handling the ball with his arm in the 83rd and missing out on a glorious opportunity to catch FSV keeper Robin Zentner out of his net in the 89th. Pressing on the ball wasn't very strong throughout. He did contest an aerial duel bravely at 90+3, taking a nasty elbow to the nose in the process.

Some points docked for a relief appearance that could have gone a long way towards solidifying a starting position for himself. Certainly nothing major enough to pull down the overall grade. Tough to say whether Weinzierl will want him in the starting XI for the final six fixtures after this. Niederlechner and Hahn are probably the preferred double striker set.

The Texan has surely improved to merit another look when the FCA trainer feels he has a good direct personnel matchup. We might see Pepi in the starting lineup perhaps one or two more times this season assuming others remain healthy. His first Bundesliga goal doesn't appear too far away based on these performances. It wouldn't be a surprise to see him get one before the season is out.

Timothy Tillman, SpVgg Greuther Fürth

Minutes played = 90/90, Positions played = AM, LM

Grade = D-

Fürth's 0-0 draw with Eintracht Frankfurt obviously didn't make for fun viewing at all. Particularly disappointing from the standpoint of this American, the elder Tillman brother was handed an excellent opportunity to work straight out of the ten-slot in an ambitious tactical set-up.

Consider it an opportunity squandered.

Lineup—Greuther Fürth—Match 28 (4-3-3)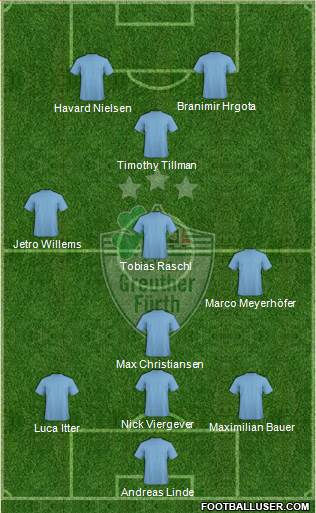 Very interesting constellation from SpVgg head-coach Stefan Leitl. The Jetro Willems-Marco Meyerhöfer split-stagger constituted a truly neat idea. One also eagerly anticipated watching former Borussia Dortmund prospect Tobias Raschl pull the strings in midfield. Unfortunately, even a tired and creatively depleted Eintracht side managed to neutralize this easily.

Tillman struggled to get touches in on the ball. Part of the reason for this related directly to very weak pressing on the SGE approach, on display in the 1st, 3rd, 16th, 17th, 19th, and 43rd. Bad aerial losses came in the 8th and 24th. He failed to hold the ball up/catch up with the attack in the 13th, 15th, and 29th. Dispossessions occurred when he held onto the ball too long in the 14th, 22nd, and 44th. A cross into the box at the half-hour mark was awful.

There were some better touches/footwork in the 5th, 9th, 10th, 12th, 27th 34th, and 37th, along with some decent ground wins in the 18th, 29th, and 35th. Sadly, what had been a first-half with some positives to prop him up quickly got lost after the restart. He engaged in three bad fouls (48th, 50th, 52nd) early, failed to catch up with the attack again (52nd, 55th) and lost all of his direct duels (58th, 60th, 61st, 64th) until Leitl put the team in a holding pattern.

Lineup—Greuther Fürth—67th minute (3-3-2-2)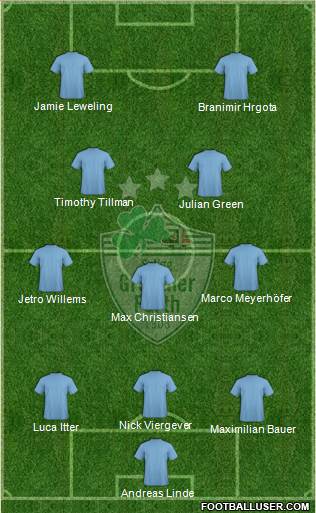 Fellow German-American Julian Green joined Tillman in the 66th. The columnist has no qualms about reporting that both Americans performed very poorly in this capitulatory constellation. Leitl wasn't trying to anything much here other than preserve the 0-0 scoreline. All of his players fell limp in what was an un-enthralling finish.

Tillman committed a very bad foul on Kristijan Jakic in the 67th. It generally wasn't his cleanest of footballing days. Apart from a solid clearance in the 75th and a decent lane run in the 73rd, all of Tillman's touches/challenges (69th-72nd, 80th, 87th) were abysmal. Green was even worse, often committing scandalously bad play reads in the very same minutes.

The only remaining thing to note about this match concerns Fürth defender Meyerhöfer's horror leg-snap injury suffered in the 82nd. To be fair to all those involved on the pitch, no one really much felt like playing after that shock. Between Meyerhöfer and Bielefeld striker Fabian Klos, this was actually a very gruesome weekend for sickening injuries in Bundesliga.

Nuff said here and there.

Thanks so much for reading!

You can occasionally catch Peter on twitter, @ViceytheSS.

Twitter DMs are open for football conversations, corrections, and (if you truly insist) general abuse. 

All columns debut on Bulinews before appearing on Peter's website later in the week.




Related stories