Bundesliga 2021/22 Tactical Previews: "The Relegation Race"
By Peter Weis @PeterVicey
The anticipation builds as the 2021/22 Bundesliga Campaign draws nearer! Just like last year, we'll be hosting our weekly "tactics talk" column here at Bulinews.

As always the column will comprehensive look at the central talking points of all nine weekend fixtures and include an in-depth breakdown of the most intriguing match.

For the non-tactics-heads, there's plenty of fun commentary and footballing satire as well!

In preparation for the new season, we're pleased to help get everyone psyched for the new campaign with a series of preview installments. These will group together teams likely to be competing for certain spots in the table.

Our final preview column--quite the large one--covers the five teams expected to factor into the relegation race:

VfB Stuttgart, 1. FC Köln, Arminia Bielefeld, SpVgg Greuther Fürth, and VfL Bochum.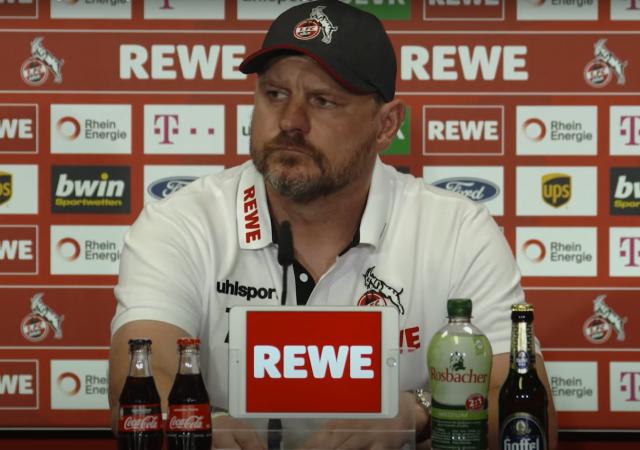 ---
Introduction: The Relegation Race
---


Our preview journey ahead of the 2021/22 Bundesliga campaign concludes with what is by far our largest section. The last installment covers five clubs forecast to factor into this year's relegation race. Predictably enough, a field many consider the weakest in quite some time would have the largest relegation subset in recent memory. Naturally, a squad classified as "weak" by no means signifies that they are uninteresting. There's loads of intriguing points to unpack in the examinations of Stuttgart, Köln, Bielefeld, Fürth, and Bochum.

We've now covered all 18 clubs comprising the 2021/22 Bundesliga field. It's been both a pleasure and a privilege to furnish English-language checkups on all the teams set to compete in Germany's top footballing flight. A even greater pleasure/privilege comes next. The artists prepare to take to the pitch. Do consider joining us for another year of weekly tactical columns on what promises to be a fun and entertaining season.

If you happened to miss out on any of our other preview sections, they can be accessed via the hyperlinks below:


-Part I: "The Big Three":

Bayern, Dortmund, and Leipzig

-Part II: "The Race for the Champions' League":

Leverkusen, Wolfsburg, Frankfurt, and Gladbach

-Part III: "European Contenders":

Freiburg, Hertha, and Hoffenheim

-Part IV: "Stable in mid-table":

Mainz, Union Berlin, and Augsburg

VfB Stuttgart

Surprised to see the Württembergers here? A writer surprised himself when it came time to handicap the field as a whole. The VfB occupied a place in the "stable mid-table" section during the preliminary projections. We've moved the Swabians down to the relegation race grouping. Injuries largely guided the decision. Chief personnel executive Sven Mislintat, whom most German footballing fans hold in very high regard, deliberately placed this team in a precarious position. Nothing wrong with that in principle.

The summer sales of Nicolas Gonzalez and keeper Gregor Kobel bulged the club coffers to the tune of €40 million. Two deft transactions ensured that easily replaceable components effectively erased the corona-revenue-shortfall. Obviously, neither Mislintat nor Matarazzo can be blamed for the slew of injuries that threaten to whack this team with an early wobble. It merely counted as rotten luck. Stuttgart's banged-up-side finds itself in the firing line. Early-season shots to the gut appear on the horizon.

It might prove the case that Stuttgart find themselves falling right back down the elevator shaft; much in the same way that, in 2018/19, they were also relegated after a two-year-stint in the top flight. Let's review the injuries: Sasa Kalajdzic, Momo Cissé, Tanguy Coulibaly, Waldemar Anton, Naouirou Ahamada, Orel Mangala, and the player formerly referred to as Silas Wamangituka. Add to that the potentially crippling loss of targeted personnel plug Chris Führich and the squad begins to look snake-bit.

It could be early November before these clear up. By that time, the side might be devoid of confidence and a coherent sense of identity. As with all teams in this final section, the opening Pokal round accorded the change to do some early scouting. Matarazzo's men eventually had no problem dispatching Elversberg 6-0 yesterday. The constellation nevertheless looked an absolute mess. A new sense of order must come. It must come quickly.

Projected Opening Day Lineup, VfB Stuttgart
Lineup—VfB Stuttgart—PROJECTED—(4-3-3)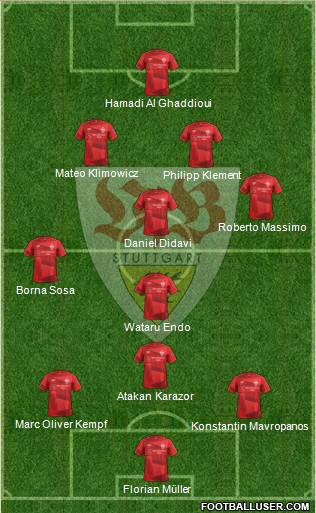 The American trainer seems wedding to this "split-stagger" on the flanks that we've discussed so often. His directive to the squad clearly aims to keep Silas Katompa Mvumpa's (maybe we'll just call him "Silas" this season) place warm for when the Congolese star returns. The positioning quick that pockets cross-meister Borna Sosa stealthily down the left while reserving a forward lane for the African speedster is evidently too important to sacrifice. We'll see Coulibaly work there before Silas returns.

The back-three remains in place. Waldemar Anton should spearhead it from a pivot runner position in the same manner as last year. The 25-year-old sat out Sunday's affair with infection. Matarazzo actually flattened out the back-three. Hiroki Ito played in Anton's centralized position. Atakan Karazor served in Wataru Endo's sweeper while the side's new captain took the day off. Philipp Förster quasi occupied the role one sees Daniel Didavi in above.

It worked, but was definitely pretty rough. The defense allowed itself to get bent out of shape far too easily, particularly in the early going. Basic attack builds seemed to flail at the beginning of the process. Muscle memory ultimately took over against fourth-tier Berliner FC Dynamo and everyone started connecting the dots. One could truly sense the lack of a midfield driver throughout the game. This counts as especially worrying. Captain Endo cannot serve both in that and a sweeper's capacity at the same time.

Three Burning Questions, VfB Stuttgart
Why did Mislintat guarantee Matarazzo's job?

Good question. In this instance, the reader's guess remains as good as the writer's. Did everyone catch this? Completely unprovoked, the VfB sporting director boldly proclaimed that he would stick with his current head-coach even in the event of relegation this year. This strikes one as most odd. It's rare to behold such commitments in football. Weird. Doubly weird in the sense that the former BVB and Arsenal executive conveyed such a promise before a ball had even been kicked.

A possible explanation for this overly defensive reaction may relate to some of the persistent tension emanating from the offices above Mislintat's. This club isn't quite through with a bit of administrative turmoil amid the upper echelon. We'll discuss that a bit more detail below. The 49-year-old could also be contending with his own internal pressure. A team that gave up 55 goals last season--and only scored one more--stares down a hard downward swing following personnel downgrades.

Injuries presage a difficult start. A clumsy stumble out of the gate presages something much worse.

What is this "Data Scandal" all about?

The columnist gave it some coverage last season. For the most part, however, the topic only received cursory treatment. If one wishes to be truly cynical about it the matter, it amounts to a uniquely German case of "much ado about nothing". One can even adopt a more cynical view and chalk it up to a manufactured wedge issue driven into a power struggle between club President Claus Vogt and head-of-sport Thomas Hitzlsperger. The two traded public accusations over which one was responsible for a data breach involving club members until an unnecessary internal election for the highest office was called off.

Of course, from the perspective of some Germans, the data breach is hardly a petty example of office politics. Stuttgart let some personal information of its members slip to a third-party marketing firm that intended to use it for targeted advertising. To put it in internet parlance, the club sold some "cookies". Some consider this mostly harmless. Others feel that their individual privacy was breached. To still others, it's a case of both once one considers the "slippery slope" argument.

Suffice to say that it's a thorny and complicated issue that divides friends and families across the Bundesrepublik. Many a dinner party have been ruined via the topic of "my data!". Nothing sends a conversation off a cliff like this point of contention; one that has the added bonus of being a generational fissure. The best a writer can do is impart some advice: Should you find yourself talking with a German and the topic of "my data!" gets broached, change the subject as quickly as possible.

Why is Sasa Kalajdzic so cool?

Anyone who stands nearly two meters tall can't help but be cool. Footballers who reach the height of six feet and seven inches automatically enter the "Peter Crouch Mile High Club". Congratulations to Austria's latest entrant. He's a great deal of fun to watch. As the case with virtually all players who evoke the Peter Crouch comparisons, it's far less stressful to watch him contest aerial duels. Crouchy always left one worried that the twigs he called "legs" would snap as soon as he fell back down to earth. No such concerns with Sasa.

Unsurprisingly, Kalajdzic scored eight goals last year with his high-altitude head. Stuttgart's big-target man lashed home 16 tallies in total, with most of the assists coming from left flank service expert Borna Sosa. Those two repeatedly engaged in sumptuously sweet co-productions. Many were even of higher qualities than the Filip Kostic-André Silva tandem works from the same side in Frankfurt. Stuttgart fans can likely rest easy knowing that neither Kalajdzic nor Sosa should be sold this year. Mislintat successfully liquidated what he could. Now he's done.

In theory, this pair could end up making the writer look a complete fool for placing Stuttgart in the relegation race. That would be perfectly fine. Football writers prefer looking like an idiot to the crushing boredom of being correct too often. Sports without surprises isn't sports worth watching. These two might make it happen. Other problems cancel the Sosa/Kalajdzic potential for now. Silas will need time to find his form again. Moreover, Endo can't be in two places at one time.

The "Pick to Click", VfB Stuttgart: Tanguy Coulibaly

Know that Hiroki Ito made a strong case for himself yesterday. The 22-year-old Japan U23 international gave his trainer something to think about. Could Ito run pivot behind Endo? It's a thought. In all likelihood we won't see it right away as Waldemar Anton and Atakan Karazor (who also played well) lie ahead of the youngster on the depth chart. Midfielders Lilian Egloff, Clinton Mola, Nicolas Nartey, Momo Cissé, (unrelated) Moussa Cissé, Roberto Massimo, Naouiriou Ahamada, and Darko Churlinov could also work as breakthrough candidates.

Alas, so many of those actors are hurt. Those ready to step on the pitch remain completely unproven at this level. The writer will thus go with a player who really impressed him during last year's Hin-runde before completely disappointing him with a hard tank in the second half of the season. We'll assume that the young Frenchman has learned a thing or two through that adversity. Given the chance to work as Silas' de-facto replacement on the right through the first eight rounds or so, let's say he takes advantage.

1. FC Köln

When it comes to the cathedral city club, there exist many parallels to the organization covered above. Another proud German traditional club in trouble. More administrative chaos. The cavernous empty drop of the elevator shaft stares die Geißböcke down. Simply stated, Köln will have great difficulty enduring their second drop in four years. Finances are stretched thin as it is. The Domstädter can barely afford to maintain a Bundesliga-level roster. The money hemorrhaging and identity crises of relegation could send them out to sea for some time. The pressure is on. Maintain the class or face prolonged obscurity.

The administrative problems here began just after last season concluded. The board opted to sack sporting director Horst Heldt shortly after the team held on in the promotion-relegation playoff. Heldt had already personally selected the team's new head-coach. Steffen Baumgart suddenly found himself deprived of the personnel manager he had expected to work with. Most in German footballing circles now concur that this was a rash and irresponsible move. The club didn't have a replacement for Heldt lined up. In point of fact, they still haven't installed a permanent replacement. Jörg Jakobs operates as the interim general manager.

By all accounts, Jakobs looks to be behind the curve in terms of his summer duties. The roster featured some high-value players that needed to be cut up as transfer bait. What sales Jakobs has been able to organize took too long and brought in less revenue than one had a right to expect. Meanwhile, actors like Ellyes Skhiri and Noah Katterbach remain on payroll entering the season when they could have fetched desperately needed cash. As of this writing, the Effzeh do not possess requisite depth at the striker position. That absolutely killed them last year.

Sigh. This is not looking good. With a grim sense of foreboding, a writer fears more tactical rants are coming this year.

Projected Opening Day Lineup, Köln
Lineup—FC Köln—PROJECTED—(4-4-2)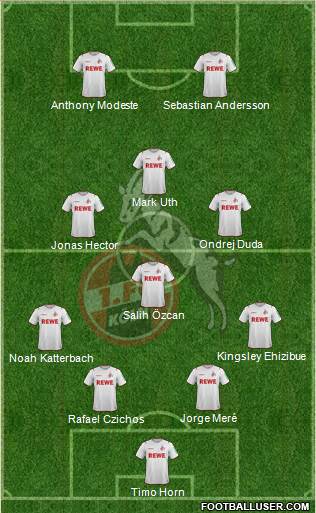 The major problem we have here is that the team remains poorly set up for the way in which Steffen Baumgart wants to play football. The former SC Paderborn head-coach would prefer not to have to rely on a tight midfield-diamond in order to get his system rolling. Given how weak the roster is in terms of wingers, however, he has little choice. Bunching Jonas Hector, Ondrej Duda, Mark Uth, and Salih Özcan together in midfield at least gives him a chance to impress upon the players his prioritization of generating turnovers.

This would work so much better in a more traditional 4-4-2 spread with real wingers and Uth further up the pitch. The notable gap between Uth and two strikers who, if we're honest, aren't capable of operating at top speed at the moment leaves one doubtful that Baumgart's insistence on an aggressive "strip-and-shoot" style will come anywhere close to working. His attempts to build with his current players in the preparation and in the weekend Pokal match have elicited more than a few winces.

Baumgart does enjoy a solid reputation of a sly tinkerer who can unexpectedly bring out the best in some of his lads whilst they're playing out of position. We've seen a lot of that too. Jan Thielmann, Tim Lemperle, and Jens Castrop have gotten turns up top. Kingsley Schindler and Florian Kainz were given gos on their opposite flanks. Katterbach, Kingsley Ehizibue, Benno Schmitz, and Sava Arangel-Cestic all worked different areas on the back line. Keeping the opponent off their toes may help the team steal a few vital points during a tough initial phase.

Three Burning Questions, Köln
Are there advantages to the current inchoate system?

With respect to the midfield diamond, yes. Mark Uth--who performed very well for his hometown club during a loan stint in the 2019/20 Rückrunde--is back where he wants to be. Captain Jonas Hector's passionate leadership style frequently permeates to those around him. Ondrej Duda no longer finds himself forced perpetually function in the pressure-cooker role of lead striker; something his national team trainer also unfairly asked him to do this summer. The Slovak international may take pride in how he held his own in unfamiliar territory, but also breathe easier deeper afield.

One thing Jakobs, together with Baumgart, did get right during the offseason involves the lobbying efforts to get Salih Özcan to stay. The budding German talent keeps it close to home, where he has a clearly defined role and all the motivational benefits of being an important and appreciated part of the team. Hopefully, that will work a little better for him than it has for hometown keeper Timo Horn. What? Too soon? Köln fans may want to prepare for Marvin Schwäbe's overtake.

How precisely does it all fall apart?

Strikers, strikers, strikers. Points of emphasis are often best repeated three times. There's a literal component here in that this team could use three strikers. There's even a further literal connection if we wish to carry on the "falling apart" thread. Sebastian Andersson may be grappling with a long-term injury that threatens his very career. An Anthony Modeste revival would certainly please many German football lovers. Unfortunately, it looks as if one of the all time greatest fan favorites has his last comeback behind him.

Jakobs will most certainly reel in another attacker on a no-cost loan before the transfer window slams shut. If he can peel two off the benches of some other Bundesliga clubs, that would obviously constitute quite the coup. If Baumgart can recalibrate Uth for a role he hasn't played for a time while Jakobs also captures a couple of extra forwards, then it might not be such a bad season after all. We shall see. The interim chief executive can still turn the pessimistic perceptions surrounding him around.

Why is Steffen Baumgart so cool?

The "Beast from the East" is not merely cool. Rostock's version of an ultra-intense and perpetually screaming bean-bag-chair never fails to entice and enthrall. Baumgart more properly belongs to the classification of "damned cool". His recent adaptation of a grandfather's golfing hat practically invents a new category of "cool"; the vulgar potential of which renders it inappropriate for this column. At least eight out of ten German football fans will agree that Baumgart is their favorite coach to watch on the sidelines.

Eighteen months of spectator-free "Geisterspiele" carried few, if any, positives. They were torture. Some appreciated the opportunity to hear the players and coaches communicate on the pitch. Honestly, that got old fairly quick. Germans tired of their beloved "Radio" Thomas Müller. Observers didn't grow tired of Baumgart. The man is a boisterously brusque "gruff and tough" who takes one back to a different footballing era. His special style of motivational yelling is not to be missed.

The "Pick to Click", Köln: Dejan Ljubicic

The Austrian defensive midfielder opted to commit to Köln late last year for reasons still unknown. Horst Heldt somehow convinced him to join a club that--at the time--didn't even know if it would be playing in the top division last year. This proved the final competent move the generally competent executive was permitted to make. One hopes that Baumgart can make good use of Heldt's unexpected goodbye present. Presumably, the 23-year-old did receive some promises of playing time.

In comparison to some of the other breakthrough candidates covered in this year's comprehensive preview sections, Ljubicic may seem a tad old. He's effectively already broken through as well too, serving as a regular in the Rapid Wien starting XI for five seasons. An international cap nevertheless still eludes the youngster, as does a place on more top league radars. Perhaps that played a role in his decision to come to the cathedral city. Ljubicic needs this club. The club definitely needs him.

This should translate to plenty of minutes; maybe even a solid partnership with Özcan when Baumgart eventually throws up his hands and switches to a 4-2-3-1. German football watchers stand ready to learn how his Croat-heritage name is pronounced.

DSC Arminia Bielefeld

Somehow, sporting director Samir Arabi and late-season replacement trainer Frank Kramer managed to do it. German football's quintessential yo-yo club remained in the top flight last year despite scoring only 26 goals in the league. To put that into context, Arminia only netted once more than historic disasters Schalke. With a goal differential of minus-26 and a paltry points total of 35, the DSC finished the campaign two points above Köln in 15th place. In terms of an escape, it doesn't get much narrower than that. The "Graue Maus" (crushable field mouse with footballing connotations attached) lives.

Several lucky coincidences kept Bielefeld up. Last year's squad was deplorably bad. We would not be discussing them at all had they not earned three draws despite--no joke--producing xGs of 0.0 in 0-0 draws against Hoffenheim, Union, and Augsburg. A Baptiste Santamaria own-goal allowed them to garner three points in a 1-0 win over Freiburg in round 28. They also ran into Leverkusen and Stuttgart during respective implosion phases for both teams. Travel fatigue back from the Club World Cup enabled them to nick a point off Bayern.

Some of these fortunate coincidences notwithstanding, club boss Arabi deserves immense credit for what he accomplished last year. The decision to pull the plug on Uwe Neuhaus and bring in Kramer wasn't popular at all; not least because the contractual obligations forced the DSC into a risky debt gamble during a year in which they had to forfeit their crucial gate receipts. It worked. One must concede that. Furthermore, Arabi has presided over one of the more effective summer transfer markets this club has ever seen.

Arabi succeeded where so many others have failed. He got actual footballing talent interested in going to Bielefeld. Second tier strikers Florian Krüger  (Erzgebirge Aue) and Janni Serra (Holstein Kiel) headline a strong transfer class. Alessandro Schöpf, Sebastian Vasiliadis, and Bryan Lasme count as further attacking additions that will help the team. Ritsu Doan proved too expensive, but Arabi did well to get winger Masaya Okugawa--not to mention defender Guilherme Ramos--at value prices.

Projected Opening Day Lineup, Bielefeld
Lineup—Arminia Bielefeld—PROJECTED—(4-3-3)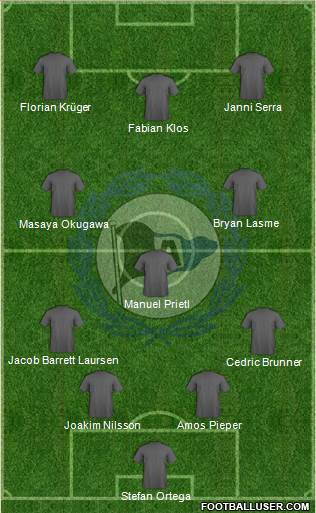 When one takes a moment to think about it, it's fair to say that we're looking at a lineup capably re-tooled for a second season in the top flight. Several other promising constellations exist too. Thirty-three-year-old captain Fabian Klos can take a seat while Okugawa moves up to the ten position and Schöpf takes over on the left. Krüger can drop back to pair axially with Lasme (who moves up slightly). In that iteration, Serra takes a seat and Christian Gebauer works alongside Klos.

Either way, there's attacking pop in the XI and off the bench. Manuel Prietl can run the midfield alone or partner with Vasiliadis in a double-six set-up. Schöpf and Fabian Kunze can flank Okugawa (as we saw in the Pokal) with Prietl dropping back to be a base-diamond-sweeper. Mike van der Hoorn and Joakim Nilsson can play sweeper as well. Strange things are afoot in the Bundesliga. Bielefeld look to line up in a 4-3-3 and a writer is suddenly getting excited about the permutations.

Three Burning Questions, Bielefeld
What's the weak spot?

The gap in the armor--or the tenuous fulcrum that can send the whole house of cards tumbling down if you prefer--concerns the issue of roster size. One the one hand, Arabi earns plaudits for doing precisely what an executive in his position should be doing. He cut the dead weight. As a result, the payroll stands nice, lean, and mean. This could nevertheless prove a problem. A 23-man-roster might be a bit too slim. Arabi was right to let some players leave, but could have made a greater effort to keep others.

Arminia won't miss underperformers Andreas Voglsammer, Sven Schipplock, and Joan Simun Edmundsson. Okay. Perhaps some of us will miss Edmundsson as it was kind of cool to have a Faroe Islands international in the top flight. Even potential-laden players like Cebio Soukou and Sergio belong on the list of players this team can easily do without. Conversely, Arabi should have found a way to retain Doan, Arne Maier, Michel Vlap, Nils Seufert, and definitely (most definitely) Anderson Locoqui.

A few injuries could easily derail this team. That's the bad news. The good news is that Arabi looks to be on top of things with the reported signing of 1. FC Nürnberg's Robin Hack. Two to three more additions before the transfer deadline and Kramer should have enough to work with.

What will become of Stefan Ortega?

This writer isn't sure the matter is something we should truly care about. After a long 18 months discussing the circumstances surrounding Alexander Nübel's Schalke departure, speculating on how many starts Nübel would end up getting, parsing through conflicting reports about demands from Nübel's agent, parsing through still more reports about which French club would take him on an extended loan, do we really wish to concern ourselves with who Germany's next great goalkeeping talent will be? Let's just stick to Manuel Neuer and let the matter be.

Nothing personal against the 28-year-old Calden native with the very suave name. His is an uplifting story of an immigrant youth who returned to his youth academy club, worked hard, and even earned himself a reserve space call-up for this summer's Euros. Germans like him just fine; enough to tolerate further attempts further suave-up via the use of his maternal family name--"Stefan Ortega Moreno" now--and some a new distingue facial hair concept. He's great. We've just had enough of Bayern back-up keeper talk for now. Let's just stick to Sven Ulreich and let the matter be.

Why is the "Bielefeld Conspiracy" cool?

The 27-year-strong "Bielefeldverschwörung" occupies a special place in the hearts of a satire-loving German public. In the event that you've not heard of it, the famous satirical parody holds that the town of Bielefeld doesn't actually exist. This is based on the fact that the average German has never been to Bielefeld, knows no one from Bielefeld, knows no one who has ever been to Bielefeld, and knows of no earthly reason to ever travel to Bielefeld.

We love it. The town loves it. It makes for excellent fodder when discussing the local football team, which seemingly popped in and out of existence via 16 league shifts over the first 25 years of the popular joke. True, some parts of it aren't all that funny anymore. It used to be the case that coming up with outlandish "deep-state-deception" theories was understood to be a joke. After some disturbing socio-political trends began emerging, many Germans have backed away from the amusement.

The "Pick to Click" , Bielefeld: Bryan Lasme

Very difficult choice here as Krüger, Serra, and Ramos also make for excellent breakthrough candidates. It's worth noting again that Arabi did an excellent job targeting his additions with surgical precision. The 22-year-old Krüger in particular remains one to keep an eye on. He's scored 20 goals for Erzgebirge Aue in the 2. Bundesliga and tallied for all four German youth levels at which he's been given a chance.

French U20 international Lasme, also 22 and a prolific scorer at a very young age, is probably on par with Krüger in terms of the excitement generated by the chance to see him in the upcoming season. Perhaps the Frenchmen edges out the German for no particular reason other than a football fans appetite for novelty. One could also just emphasize that there are two highly intriguing prospects playing for a team too many plan to ignore.

SpVgg Greuther Fürth

A warm welcome back to the Bundesliga to die Kleeblätter, whom some of us still refer to simply as "das Kleeblatt". Either one works. If you happen to be a neutral reader in search of a solid underdog story, you've found one. The Franconians, despite finishing second in last year's 2. Bundesliga, were probably the German second division's best team. The club managed this despite actually having one of the lowest budgets in that division. Energetic young trainer Stefan Leitl breathed new life into players who were given up on by other clubs.

A writer of a weekly column on American footballers would naturally be remiss if he didn't mention Julian Green's--who most USMNT fans have surely forgotten existed--renaissance. Leitl did a fantastic job with a ragtag bunch of rebuffs. We'll see if he's capable of something similar in the big league. Gideon Jung (HSV) and Max Christiansen (Ingolstadt) form the cornerstone of the new crew of discards with a new (possibly last) chance at glory. The north Bavarian club certainly cannot do much worse than their only other season in the top flight. Those of us who had to the misfortune of watching the 2012/13 incarnation remain adamant that we witnessed the worst top flight team ever. Ugh. Even 2020/21 Schalke wasn't as bad.

As anyone can easily surmise, this minnow team immediately entered the Bundesliga as huge relegation favorites. If anything, the summer transfer dealings have amplified this status. The departures of David Raum, Paul Jaeckel, and now Anton Stach rips out the roots of the defensive corps. Head-of-sport Rachid Azzouzi managed to get Justin Hoogma (Hoffenheim) and Adrian Fein (Bayern) in as reinforcements. He's still one player short.

On the attacking end, the capture of Jessic Ngankam from Hertha was brilliant. Regrettably, a hard luck injury wipes away that gain. A slew of other injuries led to the new Bundesliga club getting kicked out of the Pokal over the weekend by fourth-tier SV Babelsberg on penalties. Oops. Not the best way to start the new campaign.

Projected Opening Day Lineup, Fürth
Lineup—Greuther Fürth—PROJECTED—(5-4-1)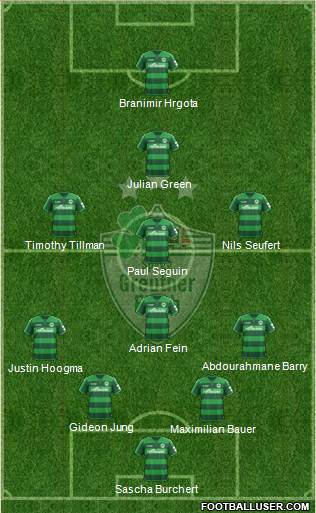 Safety first. In light of all the injuries, Leitl really doesn't have much of a choice. Strikers are in short supply. Havard Nielsen and Robin Kehr join Ngankam on injured reserve. Dickson Abiama and Jamie Leweling didn't look anywhere near up to the task on Saturday. Green and Branimir Hrgota both scored, but everyone else has to shore up the back. Everyone back. This might more accurately resemble a 5-3-0-1-0-1.

This team features no natural wingers. Injuries to Simon Asta, Marco Meyerhöfer, and the newly acquired Luca Itter means we don't have any natural fullbacks either. Again, everyone back. Safety first. Don't expect too many chances when the clover leaves debut against Stuttgart on Saturday. Given the state of Stuttgart, one might as well not expect too many fireworks from either side.

Three Burning Questions, Fürth
Is there a blue-chip player on this squad?

Not really. This happens to be one of those teams that compels one brings out the dizzying salary comparisons. The entire roster combined earns less than one superstar footballer over the course of a year. In terms of total market value, FC Bayern's players are worth approximately 40 times as much as those currently playing for Fürth. Such league balance issues are not lost on German football lovers. While we emphatically reject a shallow commercialized concept like the short-lived European Super League, many of us are in favor of a salary cap as part of 50+1 reforms.

Lead striker Branimir Hrgota assembled some top division experience for Gladbach and Frankfurt. Injured striking partner Havard Nielsen got some Bundesliga minutes in at Freiburg and Düsseldorf. These two attackers themselves were always back-ups and are now certified journeymen, as is most of the rest of the team. For all of his issues, Bayern loanee Adrian Fein is still worth nearly €5 million. He's by far the highest valued player on the roster.

How did Fürth get here in the first place?

A legitimate question. In spite of the fact that the squad undeniably had these balance issues in the second division last year, they were most everyone's favorite 2. Bundesliga side to watch. Probably the main reason why related to how exciting they were on the counter. Leitl's men did frequently sit back and absorb pressure. One nevertheless always had the sense that a lightning quick combo could originate at any moment. Lead striker Hrgota remained unpredictably versatile on the break. He set up nine tallies in addition to netting 16 of his own.

Once Norwegian attacker Havard Nielsen gets fit, Leitl's preferred two-striker-set gets put back together. Green can move up as the fulcrum behind the two forwards and the counter becomes a threat once again. Theoretically, it remains a threat now. As fast as footballers are these days, most any time at this level can get the ball upfield in a blink of an eye. It just seems like Hrgota, for all of his talents, will work to far adrift from the rest of the team to do much. We might witness one win before Christmas.

Why does a German club have a cool Shamrock logo?

Alright. Everyone dust off the history books and break out the notepads. Be sure to take copious notes as, "Professor Pete" must emphasize, all of this is going to be on the test. Everyone ready? Good. Okay. First lesson. The "Holy Roman Empire" was neither "holy" nor was it "Roman". Additionally, It also wasn't an "empire". Following? Great. Next, the German Franconian kingdoms had little to nothing to do with Charlemagne's Franks. All clear? Excellent.

We also need to cover how the ancient Celts were only tenuous related to the Gallic people who ultimately settled the British Isles prior to Romanization, the triumvirate of powers competing for influence in Medieval Europe, and how Napoleon's "Confederation of the Rhine" awarded some Germanic fiefdoms to the Kingdom of Bavaria arbitrarily. Everyone still awake? Hello? Hey! No falling asleep at your desk!

A writer/lecturer will level with you. It's just a coincidence. The town of Fürth features a three-leaf-clover on its coat of arms for unknown reasons. Some speculate that it had something to do with a church, baron, and state leadership structure. Few Germans understand much of their own medieval origins as, just like you, they fell asleep at their desks when trying to read a map that had as many as 1,500 different small kingdoms on it.

No Irish connection here. Sorry.

The "Pick to Click", Fürth: Timothy Tillman

A Nürnberg native belonging to the very special class of German's with African American US Servicemen fathers epitomizes this club's story in so many ways. The 22-year-old came up through the club's youth academy before Bayern snatched him up for their own campus. Tillman then got loaned out to arch-rivals Nürnberg. It constituted quite the slap in the face for the local supporters.

Bayern eventually found themselves dissatisfied with his development, however, and Fürth purchased his contract back in January 2020. Though he only got on the scoresheet once last year, he strung together some very good performances during the promotion campaign. He's a great comeback story that fits into the above-described narrative.

With players like Jermaine Jones, Fabian Johnson, and Timothy Chandler aging out, one might think that the story of US/German Marshall Plan footballers will eventually fade from the scenes. Tillmann (who has a younger brother who still plays on the Bayern campus) and Julian Green at least give us hope that there shall be one last generation to cheer for.

Here's hoping that "the next Timmy" is prepared to strut his stuff on the grand Bundesliga stage.

VfL Bochum 1848

Depending on who one talks to, VfL Bochum may be the oldest footballing club in all of Germany. Note that this isn't widely accepted as historical fact. The Ruhrpott city, like many other German municipalities at the time, merely founded a gymnastics club in 1848. The actual consolidation of the football team took place some 60 years later. One will still rarely meet a Bochumer prepared to concede the point. The year always has to be included when the local Westphalians discuss their team. No one wishes to drop the "1848!" connection; not least because the year is associated with the European continent's martyred first democratic movements.

As much as German fans bemoan the comparatively weak state of the 2021/22 Bundesliga, everyone is actually pretty excited to have this historic club back. Bochum's footballing history is a rich one. The two improbable decades spent in the top flight between 1972 and 1992 rendered them legendary curators of the "underdog tale". This is how they earned the nickname "die Unabstiegbaren" ("the un-relegate-ables"). The nettlesome little "small town that could" did find itself relegated five times between 1992 and 2005, but managed to achieve promotion back to the top-flight in the very next year in every case.

Hence, the nickname stuck. The "un-relegate-able" mantle stuck throughout the years, in only because something along the lines of "the occasionally relegated, but always promoted" would be a grotesque 1,273-letter mess in German. Now they're back after a twelve year long absence during which they mostly spent at the bottom of the 2. Bundesliga table, narrowly avoiding relegation to the third division. Thomas Reis' men will need every ounce of strength associated with their reputation to stay alive here.

Main attacking cog Robert Zulj (15 goals and 15 assists last season) left the club after promotion. Top level replacements like Elvis Rexhbecaj (Wolfsburg/Köln), Eduard Löwen (Hertha/Augsburg), Christopher Antwi-Adjei (Paderborn), Takuma Asano (Arsenal/Hannover), and Konstantinos Stafylidis (Hoffenheim) have been procured, but it will take some time to figure out who fits where.

Projected Opening Day Lineup, Bochum
Lineup—VfL Bochum—PROJECTED—(5-2-3)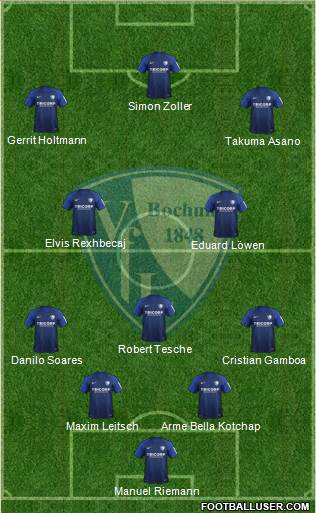 Pretty basic stuff on display in the weekend Pokal fixture. A back-five--run by Anthony Losilla instead of Robert Tesche--focused on careful and methodical builds toward the restructured attack. As many expected, Asano works his unnatural flank on the right. The two buttressing midfielders behind the attacking trident pull inward and try to hit the streaking wingers with diagonals. Former Karlsruhe, Kaiserslautern, and Köln man Simon Zoller still looks sharp, though he was predictably under serviced.

Head-coach Reis presides over a team a little too stacked on the left and a little too thin on the right. Antwei-Ajdei made a strong case to start over Gerrit Holtman on that flank. Presumably, Konstanios Stafylidis was also acquired to be the new starting left-back next to countryman Vasilios Lampropoulous. Reis could re-order a few more players out of position. He might wish to rather insist that managing director Sebastian Schindzielorz order him some more players for the right-hand side.

Three Burning Questions, Bochum
Will Reis go old or young at the back?

This should prove interesting. Center-halves Maxim Leitsch and Arme Bella Kotchap are a dynamic young duo with a combined age of 41 and a combined market worth of nearly €10 million. By contrast, veterans Robert Tesche and Anthony Losilla have 69 years between them. A writer suggests keeping tabs on the central defenders and the defensive midfielders in the first few XIs as a means of seeing what sort of identity the trainer has in mind for his team.

As noted above, Stafylidis and Lampropoulous may also get starting nods. Raman Chisbah can also move back into defense and Reis may solve his dilemma with Holtman and Antwei-Adjei by starting the latter at left back. There exists no shortage of pieces for the Bochum gaffer to play around with. If he's shrewd about moving everyone about against specific opponents this year, Bochum could pull enough points off other teams to survive.

Will we have a Revierderby this year?

It's a far cry from Schalke-Dortmund, but Bochum vs. the BVB sort of counts as one. The two towns aren't separated by all that much real estate and haven't met in the Bundesliga for a long time. During this club's last successful stint in the top flight, the 1848 actually finished above Dortmund in the table a couple of times. There were some fierce matches in the early 2000s.

Of course, if the history of animosity between the ultras isn't there, then it simply isn't there. Leverkusen and Köln maintain friendly relations even though one city is practically on top of the other. No matter what anyone tries to tell you, Hertha and Union Berlin fans aren't generally at one another's throats. Most of their respective ultras have been cordial since re-unification.

Anything additional "coolness" regarding Bochum?

A writer thinks that most of it has already been covered in the introductory paragraphs. All of the history associated with the club renders them an unequivocally cool addition to the German top flight. Perhaps we'll add--as has been noted before on Bulinews--that Bochum is the club of highly regarded German journalist and author Christoph Biermann.

Unfortunately, only a couple of Biermann's many marvelous books have been translated into English. This applies to several other excellent German football writers. Matters should improve over the next few years as a greater global audience continues to discover (the columnist shamelessly plugs) Europe's most exciting football league.

The "Pick to Click", Bochum: Armel Bella Kotchap

One could technically tap Rexhbecaj or Antwei-Adjei as the breakthrough tips, but it's infinitely more fun to go with a homegrown product. The Paris-born Bella Kotchap moved to Nordrhein-westfalen at the age of four. It quickly became apparent that he could not be separated from his football. After training with several different academies in NRW, he finally settled in with Bochum at the age of 16.

The center back still has a way to go until he reaches his 20th birthday. He's already amassed a great deal of experience with over 40 appearances for the 1848 in the 2. Liga. Here's hoping that Reis opts to start him and he soon finds himself on the German national team radar. Lots of talent in the teenager here, who scored his first professional goal last season.

This writer sends friendly greetings to all Bundesliga fans out there ahead of another fantastic season! You can catch Peter on twitter, @ViceytheSS.

Twitter DMs are open for football conversations, corrections, and (if you truly insist) general abuse. 

All columns debut on Bulinews before appearing on Peter's website later in the week.



Related stories