Podolski criticizes Köln management: "The 'FC Feeling' has been lost."
By Peter Weis @PeterVicey
In an interview appearing in the Friday edition of the Kölner Stadt-Anzieger, FC Köln club member Lukas Podolski spoke on the recent travails of his hometown club.

The 130-times-capped German international had little to say in defense of former managing director Horst Heldt, but also reserved criticism for the the team and club executives.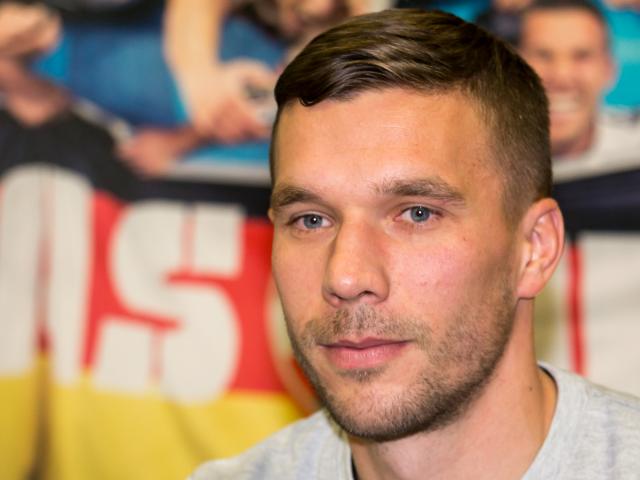 | | |
| --- | --- |
| Lukas Podolski. | Photo: © Raimond Spekking / CC BY-SA 4.0 (via Wikimedia Commons) |
For 2014 World Cup Winner Lukas Podolski, the matter of die Geißböcke shall always remain close to his heart. The 36-year-old striker was, of course, watching last weekend rom his flat in Antalya as his hometown club staved off relegation with a 5-1 thrashing of Holstein Kiel on Saturday.


While certainly pleased that his cathedral city side avoided their second trip down to the lower tier in three years, Podolski didn't exactly care for the scenes he saw from the team following the victory.

"The images of the beer showers on the pitch and the party afterwards, that was a bit much," he noted.

The post-match party didn't last very long for Köln managing director Horst Heldt. The 51-year-old was apparently informed of his termination on the very afternoon the club secured safety. Asked to rate Heldt's tenure, Podolski answered critically.

"If one is honest, he didn't achieve much in his time in charge," he said, "Virtually no players were signed under him who could help the team or who gained a higher transfer value."

Heldt's dismissal still raised some eyebrows in German footballing circles. Incoming Effzeh trainer Steffen Baumgart was Heldt's selection to take over as coach. Germany's Bild Zeitung reported earlier in the week that Baumgart found himself irritated with the move. Podolski made a point of criticizing the club board as well.


"It's as if they're sitting in a dark photo-development lab trying to run the club from there," Podolski told the newspaper, "You get the feeling that there's no togetherness at the club. The FC 'feeling', that of a cohesive traditional club, has been lost."

Podolski remains very committed to the area and took care to remind his interviewer that he always maintained his membership in the club. The former national team star explicitly ruled out two suggestions proffered to him.

Asked if Köln needed an investor model, Podolski cited the case of Hertha BSC and said that, as a member, he would not support something that "might lead to further chaos."

As for whether he himself would step up administratively?

"Not yet," the 36-year-old said, "As it stands now, I want to play a few more years."



More about Lukas Podolski