Bundesliga 2021/22 Tactical Previews: "Stable in mid-table"
By Peter Weis @PeterVicey
The anticipation builds as the 2021/22 Bundesliga Campaign draws nearer! Just like last year, we'll be hosting our weekly "tactics talk" column here at Bulinews.

As always the column will comprehensive look at the central talking points of all nine weekend fixtures and include an in-depth breakdown of the most intriguing match.

For the non-tactics-heads, there's plenty of fun commentary and footballing satire as well!

In preparation for the new season, we're pleased to help get everyone psyched for the new campaign with a series of preview installments. These will group together teams likely to be competing for certain spots in the table.

In our second-to-last preview column, we'll tap three teams to mostly hover just above the relegation fray.

FSV Mainz 05, 1. FC Union Berlin, and FC Augsburg.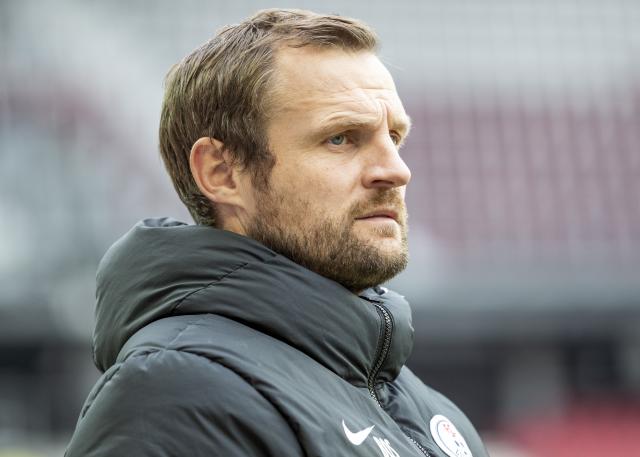 | | |
| --- | --- |
| Bo Svensson. | Photo: GEPA Pictures/Wolfgang Jannach |
---
Introduction: Stable in mid-table
---


The fourth in our series of preview columns ahead of the new season settles into that sweet spot on the table that neutrals hate, yet club lovers will take. Mediocrity doesn't necessarily have the worst connotations for diehard who invest a lot in their hometown club. Many supporters prefer the average to the antacids. A season spent stable in mid-table often looks quite attractive when the anxieties of the relegation race leave one without even the slightest semblance of fingernails left.

Forecasting which clubs will attain mid-table mediocrity never proves easy. Every team shall factor into the relegation discussion at some point over the course of the year. Typically, those grouped just above the demotion fray are a small lot. This year is no exception. We've only three teams to discuss today in our penultimate preview piece. The general consensus about this season's Bundesliga field holds that it is undeniably one of the historically weaker ones. Hence, we'll cover the remaining five clubs--all of which are opined to be in danger of the drop--in the final pre-season column.

Before getting to that, we cover the teams slated to survive by just being so-so. That doesn't exactly make for the most enticing marketing hawk, but at least the clubs themselves are interesting. Okay. To be perfectly candid, two of the three clubs are interesting. We had to cover Augsburg at some point at it might as well be this sub-section. Having already written about the top three, the next four, and the three after that, we'll move on to the next trio.

FSV Mainz 05

A writer respectfully salutes the team, as a Pfälzer, he was reared to hate. There really isn't much sense in hating the Rheinhessen these days anyway. Kaiserslautern's collapse means that, apart from the 2019 first round Pokal fixture, the issue of a meaningful rivalry has long been rendered moot. During the second half of last season, die Nullfünfter accomplished the seemingly impossible task of bringing a half-sunken ship into port. Arithmetically speaking, their 32-point-haul over the Rück-runde was good enough for the Champions' League.


Seven points at the half-way mark of last year's campaign. Seven points? Yes indeed. SEVEN POINTS! That integer cannot find enough mention. A chronicler repeatedly utilizes caps and italics for all the "skim-readers" out there. No Bundesliga side ever managed to avoid relegation at anywhere close to that number at the halfway point. Danish coach Bo Svensson isn't merely a magician. The man may be more properly termed a necromancer. Svensson brought a team back from the dead.

Against all the odds, a team that found itself engaging in a mutiny last September survived the drop. Svensson along with the re-instated administrative tandem of Martin Schmidt and Christian Heidel even had the gall to ship out the squad's leading goal-scorer last January. Incredible. None of this should have happened. Mainz resembled a rapidly decomposing corpse last Christmas. Now they brim with spritely life. After some consideration, this column concluded that they should be placed firmly out of the relegation race.

Perhaps the main reason governing this decision pertains to the fact that the organization's sought-after cultural change continued along a linear path through the off-season. It remains so vitally important in football to consistently adhere to one's vision for a team. Those players merely hoping to use the club as a stepping stone should ideally be offloaded. The front office sent a strong signal in the cases of Philipp Mwene, Pierre Kunde-Malong, and Robin Quaison this summer. Those lukewarm about the club are gone. Moreover, strong reasoning stood behind the new additions.

A proven system with a few upgrades prepares to debut strongly.

Projected Opening Day Lineup, Mainz
Lineup—Mainz 05—PROJECTED (5-1-4)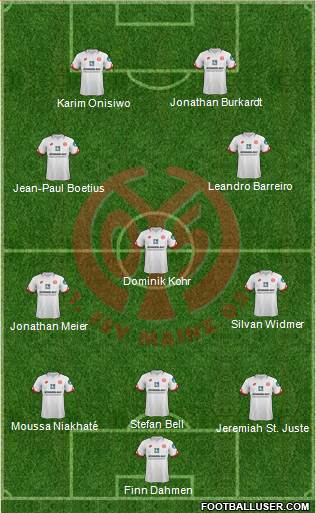 Lots of positives to discuss in this constellation, which could also be designated a 5-3-2. Swiss wingback Silvan Widmer, a more than serviceable replacement for the returned-to-Frankfurt Danny da Costa, takes over on the right. Heidel and Schmidt actually procured Anderson Lucoqui, a budding young Angolan talent who popped up with some promising performances for Arminia late last year, to replace Mwene on the left. Svensson actually gets another good option there after Mainz's own returning loan player Jonathan Meier has looked good in camp.

The two new (three with Meier) wingbacks constitute a slight upgrade. They work ahead of a well organized and coordinated flat back-three, anchored by the resurgent Stefan Bell. Alexander Hack can step into any of the positions on the final defensive axis should any of the starters follow. The club did well to allow da Costa to return while extending the loan of his SGE teammate Dominik Kohr. The 27-year-old from Trier does an excellent job patrolling his patch, flexibly marking any kind of attack he faces, and doing a good job with distribution as well.

Up front, Lee Jae-Sung is the intended stand in for Quaison and other departed players such as Levin Öztunali and former captain Danny Latza. the former Holstein Kiel attacking midfielder isn't quite fit enough to start yet. That shouldn't be much of a problem as Jean-Paul Boetius and Leandro Barreiro can handle the second axis just fine. In terms of the attack, Edmilson Fernandes, Kevin Stöger, and the retained veteran Adam Szalai are still available off the bench.

Three Burning Questions, Mainz
Any more secrets to Svensson's success?

As always, luck played a role. One mustn't forget that he also inherited a roster full of high caliber talent; one that previous sporting director Rouven Schröder demoralized somewhat by openly placing on the market last autumn. It came as somewhat of a surprise to see Schröder gain employment once again so soon. The current Schalke personnel manager really wrecked the squad, selling off the most useful player--Ridle Baku--while failing to liquidate other assets.

The path of Svensson's system implementation can be traced over the course of the season's second half for anyone who cares to review the old columns. That's hardly worth the time and effort, however, as it wasn't so much a matter of refining the constellation. Like any good trainer charged with taking over a flailing club, the former Mainz player simply built alliances with disaffected groups of players. Szalai, Bell, Hack, Stöger, and even Daniel Brosinski are good examples. He then communicated to Heidel and Schmidt precisely what he needed in the form of Kohr and da Costa.

What makes you think Finn Dahmen will start?

Just a hunch. Mainz have a "club man" back in charge. Svensson should be compelled to give Stefan Kuntz's surprise #1 more than a cursory glance for a number of reasons. Among these, a "club man" generally considers it his responsibility to take long-term academy players under his wing. It's a chance to mentor a kid effectively begging for guidance. Dahmen, an 23-year-old who looks like he's about 12, definitely qualifies.

Note that the writer does not predict that Dahmen will fully displace Zentner, merely that he might start between the sticks slightly less than a third of the time. One sees this occasionally in football. Some trainers--Lucien Favre being a recent example--get hounded by the press for it. Others--and Svensson counts as one of these--get reverently let alone, tacitly assumed to be carrying some divine wisdom.

How many British interviews will Svensson do this season?

All the prickly footballing addicts out there will have less to get aggravated about this year. We can all attend matches again instead of lying stuck in the house hunched over the feeds. Those on the Isle can also rest assured that the hundreds of EPL-beat reporters won't descend on the Mainzer trainer in the same way they did when Thomas Tuchel got the Chelsea job last year. In fairness, contacting Tuchel's former player did make sense.

Of course, all the inferences about the Mainz head-coaching position being some sort of springboard to a high-profile gaffer career grated Svensson and listeners alike. The poor Dane barely had a month to sort out his team before being bombarded questions about him possibly being the next Tuchel/Jürgen Klopp. As it turned out, these questions proved unintentionally prescient. In a few years time, the question of players using Mainz as a stepping stone might evolve into queries for the coach. That's still likely two years off in this case.

The "Pick to Click", Mainz: Jonathan Meier

Three members of Stefan Kuntz's UEFA U21 European Championship side now play for this team. That means surprisingly little as none of them served as stand-outs on that squad. Finn Dahmen, Anton Stach, and Jonathan Burkhardt possess plenty of potential, but one wouldn't wager on them becoming household names anytime over the next five years. The same may apply to Jonathan Meier. We'll nevertheless give the 21-year-old a shout-out.

The former Bayern academy product comes off a strong loan-year; albeit in the 3. Bundesliga with Dynamo Dresden. Facing stiff competition--the blue-chip bring in Lucoqui and returning Aaron Martin--the youngster managed to hold his own in camp. Reports suggest that he's a starting candidate under Svensson after coach observed some much needed improvements in terms of passing confidence. Success or setbacks ahead, it looks as Meier will get some minutes.

1. FC Union Berlin

We arrive at the "feel good" story of the league. Few German neutrals find themselves capable of resisting "die Eisernen". Rejecting a budding "cult club" remains next to impossible. Union's many stories tap directly into the soul of a German football enthusiasts. From the fans who volunteered their own time to renovate the stadium to the irresistible club anthem sung by Nina Hagen to the un-put-downable first-year top-flight chronicle of the club written by the country's preeminent footballing poet, Christoph Biermann.

Virtually all of the personalities involved in this club radiate charisma. Lead striker Max Kruse literally can't go a week without engaging one's interest with a personality-driven story. Those of us perpetually interested in the socio-political debate about allowing fans back into the Bundesliga stadia may say that the same applies to the gruff Köpenicker style of club president Dirk Zingler. Swiss trainer Urs Fischer furnishes not the soundbites, but definitely provides tactical intrigue on the pitch every week.

The club shall undoubtably regress slightly this year. A packed schedule renders it inevitable. A slide down the table shall nevertheless halt at a relatively secure position. In an arithmetical sense they'll factor into the relegation race. In the final analysis, however, the East Berliners appear here to stay. Anyone seeking hints about how a club needs to continually update and upgrade their squad in order to adjust to the realities of the top flight would do well to study the case of Union. For the third consecutive year, Oliver Ruhnert and the administrative team made wholesale changes.

Projecting this team's lineup proved fun, if not time-consuming. So many new faces to give consideration to.

Projected Opening Day Lineup, Union Berlin
Lineup—Union Berlin—PROJECTED (3-4-3)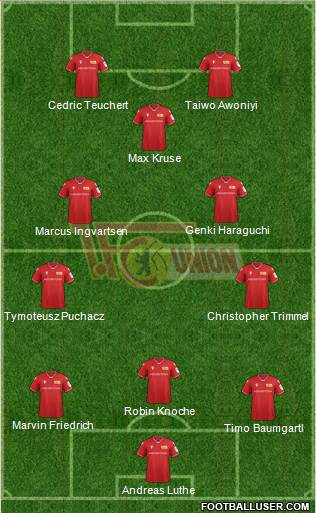 Given the high turnover (32 personnel changes at last count!), it may be the case that this forecast leans too heavily on some of the constellations studied last year. On the other hand, many of the incoming actors strike one as deliberate attempts to enhance existing roles within Fischer's formation. To take a pair of examples, Genki Haraguchi and Tymoteusz Puchacz seem targeted to boost the positions previously occupied by Grischa Prömel and (among others) Julian Ryerson.

For all of the defensive additions, one isn't sure that the new back-three constitutes a proper upgrade. Shifting Marvin Friedrich over to the left appears a better option than starting Paul Jaeckel or moving one of the new defensive midfield arrivals into a back four. The side will miss Nico Schlotterbeck. It remains possible that Rani Khedira, Julius Kade, and Levin Öztunali were procured specifically to build a new midfield axis. We'll stick with this for now.

Just like last year, Fischer presides over a top-heavy roster. Nine separate attackers scored multiple goals for Union in the 2020/21 league. Once again, the squad features plenty of natural attackers who may be used interchangeably in the event of injury or part of the normal rotations. One doesn't see Kevin Behrens, Sheraldo Becker, Keita Endo, Anthony Ujah, Leon Dajaku, Andreas Voglsammer, or newcomer Pawel Wszolek up there.

One will nonetheless here from them. The side stands specifically built to rotate fresh forwards in for the European adventure. Kudos to Ruhnert and staff for building deftly. A writer earnestly recommends shelling out a few bills for whatever streaming service of yours owns the rights to the new UEFA Europa Conference League. Union should prove worth the price of the live sports ticket on a fledgling platform too poor to afford rights to anything else other than darts, bass fishing, and wholly uninteresting MMA.

Three Burning Questions, Union Berlin
Did this team make mistakes on the market?

The problem in answering that question concerns the fact that we're not entirely certain how much the club paid for Taiwo Awoniyi. Sources report something in the neighborhood of €5-7 million, but Zingler vehemently denies this. Awoniyi's purchase makes for an uplifting storyline. One nonetheless finds it a bit curious, considering the fact that Ruhnert already possessed enough attackers. Like all clubs of this size, a bad redline transaction can quickly generate an adverse knock-on effect.

Separating oneself from the role of hypothetical FCU bookkeeper, one might as well give the Köpenickers the benefit of the doubt. At the end of the day, who knows how many lucrative endorsement deals flew into the office over the off-season? There should be no shortage of commercial interests lining up to sponsor an underdog with an Eastern flair. Nothing about this club suggests that the managers would opt for a splurge without good reason.

What if something happens to Max Kruse?

A rhetorical question to say the least. Kruse missed a significant chunk of last season injured. The team missed few beats. Union enthusiasts--both tried/true and aspiring--can count on the built-in back-up plans. Dajaku, Ingvartsen, Haraguchi, and even wide-man Becker all remain prepared to take over his anchoring midfield role if need be. The club hedged their bets with the 33-year-old, knowing he might get injured or possibly arrested at any given moment.

As inferred above, matters get a little shakier at the back. Urs Fischer's constellation last year certainly didn't qualify as porous. The defensive only conceded 43 goals. Somehow one has the sense that the trainer's insistence on an especially agile attack will generate deleterious consequences at some point. As a unit, the defensive racked up far more mileage than other other team in the Bundesliga last season. The attack remains well-tooled for rotations. The defense may not respond well to all the wear and tear.

Do I really want to see this team live?

All the prickly footballing addicts out there will have less to get aggravated about this year. We can all attend matches again instead of lying stuck in the house hunched over the feeds. There's absolutely no need for anyone to seize up with squeamishness when considering a visit to the Stadion An der Alten Försterei is worth your time. It's a beautiful venue; one bearing no resemblance to the creaking seats and faded facades of the old ground inhabited by punks and skins some 15 years ago.

The ultras are a good-natured lot who won't snob you off. It's still advisable to keep a distance from the Kurven as a handful haven't managed to drop the pyrotechnic habit just yet. Some hooliganism persists, but nothing that a sufficiently rugged and thick-skinned football fan can't handle. The Christmas services in the Köpenick footballing cathedral also put the Dortmund ones to shame. Somehow the Stadion An der Alten Försterei outdoes Signal Iduna Park when it comes to the Christmastide assembly, even though the former barely holds 22,000 while the latter boasts over four times that amount.

Hopefully, a larger global audience will get a chance to witness it this time.

The "Pick to Click", Union Berlin: Tymoteusz Puchacz

Quite a lot of hype surrounding this newly-acquired Polish player. Admittedly, some uninspiring performances for his national side in the recent European Championship imbue this writer with a sense of hesitation. The 22-year-old could end up proving a flop if he doesn't start to show us more. We might be penciling in Niko Gießelmann for the left-wingback role come October. Oh well. The choice is made.

One can hardly fault a player on Europe's most habitually disappointing national team. Furthermore, there aren't any other real options for young break-through candidates on this team. Clubs like these barely have functioning developmental academies. The teams consist of grizzled veterans. That's part of their charm.

A writer sets the odds of football fans having to learn how to spell this player's name through regular repetition at 40-60 before the season is out. Puchacz could also turn in an uneventfully solid year beneath everyone's radar. Perhaps Dajaku (remaining healthy) or Ryerson (miraculously) overshadow him.

FC Augsburg

The Bavarian Swabians routinely make everyone's relegation list every year, in large part because the town defined by a prudent banking family have routinely served as the most boring part of the Bundesliga over the past decade. Most Germans harbor the preference that they get relegated. No matter who calls the shots from this team's sidelines, each season seems to feature a preponderance of midfield-clogging traps. The Modus Operandi of the FCA revolves around hanging around rather than playing to win.

The Fuggerstädter can be likened to a party guest who refuses to the fact that you've called them a taxi. Cognizant of this fact to a certain extent, the club is actively trying to revive the spirit of the only two interesting years they've delivered during their most recent stint in the top flight. Head-coach Marcus Weinzierl, who took the team as high as fifth place in 2014/15, came in late last year to stop a potentially dangerous slide under Heiko Herrlich. The once hotly trended coaching commodity might be able to reverse the organization's--not to mention his own--fortunes.

With Weinzierl back in place and some new colorful throwback tricots meant to evoke the more colorful era of the late 60s and early 70s, they just might succeed this year. The ideas inherent in the summer transfers remain fairly obvious. In aggressively courting Niklas Dorsch (and now Arne Maier), sporting director Stefan Reuter effectively wills Weinzierl to repeat what he accomplished with Daniel Baier some eight years ago. Provided the strikers stay healthy this year, we could witness more consistently entertaining football.

Naturally, by Augsburg's standards, any match that doesn't put one directly to sleep constitutes "more consistently entertaining football".

Projected Opening Day Lineup, Augsburg
Lineup—FC Augsburg—PROJECTED (4-4-2)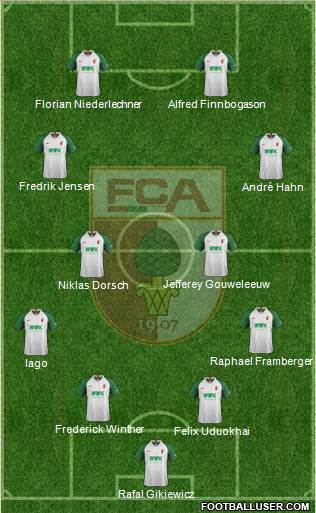 Yawn. Note that we're still likely in for some boring football during the initial phases whilst injuries clear up. Tobias Strobl, Daniel Caligiuri, and the returning Sergio Cordova have a ways to go before they get match fit. Ruben Vargas must serve out a suspension. One can assume that Weinzierl will take the integration of more promising youngsters like Robert Gumny, Maurice Malone, Mads Pedersen, and the interesting former Bayern academy product Lasse Günter slowly if he opts to undertake some form of integration at all.

Regrettably for anyone hoping the trend may get bucked this year, it looked as if the FCA trainer had the team set up for a quick diamond-box collapse in last night's Pokal fixture. The only thing that kept the midfielders from aligning perfectly vertical ahead of the center backs was the fact that the team was playing from behind. It remains early yet, but it does appear as if the most recent coaching change hasn't carried with it much of a culture change. The team from one of the Bundesrepublik's most conservative regions still plays as such.

Three Burning Questions, Augsburg
What could make Augsburg more interesting?

Maybe a front-three with Michael Gregoritsch working between Florian Niederlechner and Alfred Finnbogason. That counts as a true mouthful of letters for an even-keel attacking trident. A columnist expresses his willingness to accept the challenge of drawing that up on a tactics-board even though there's essentially no way to make it fit.

Vargas, and either Hahn, Caligiuri, or (not looking likely with a swap deal reportedly in place) Richter could flank the triplicate top axis. Weinzierl could then throw caution to the wind by starting only one defensive midfielder (Strobl a good candidate) as a sweeper and turning Iago and Gumny into full fledged wingbacks. A nice thought unrelated to reality.

Why won't they factor into the relegation race?

They just won't. They barely factored into it last year despite the fact that Gregoritsch, Finnbogason, and Niederlechner couldn't remain concurrently healthy. André Hahn stepped into the breach and led the team with eight goals. Captain Jefferey Gouweleeuw kept the defensive ranks organized with steady leadership. Rafal Gikiewicz quietly had one of the best seasons of any Bundesliga keeper whilst starting every match.

Against this weak 2021/22 Bundesliga field, it's so very hard to see a healthier team get dragged into what looks a five-team relegation race. It's highly unlikely that they'll entertain us with a spring coaching change for the fourth consecutive year. Reuter won't have cause to dismiss Weinzierl around the same time he fired Manuel Baum (2019), Martin Schmidt (2020), and Heiko Herrlich (2021).

Anything cheerful at all to derive from this team?

All the prickly footballing addicts out there will have less to get aggravated about this year. We can all attend matches again instead of lying stuck in the house hunched over the feeds. While the return of the Augsburg fans remains about as exciting as an excel spreadsheet, one can derive solace from the fact that we've come a long way from the strict quarantine procedures of April 2020.

Back then, something interesting threatened to come out of Augsburg when then newly-appointed head-coach Heiko Herrlich got suspended before he could even get on the sidelines. The new gaffer breached the DFB's pandemic protocols, leaving the team hotel to go shopping. Of course, even that proved uninteresting. He merely went out to get toothpaste and hand creme.

What else can one say? We're essentially dealing with Germany's "toothpaste and hand creme" club. Dull. Bland. About as engaging as, to quote the famous James Milner twitter feed, "giving the kitchen floor a grand clean".

The "Pick to Click", Augsburg: Frederik Winther

Even the breakthrough candidate gets reduced to a lame pun when discussing Augsburg. Ahem. Did you, in fact, know that "Winther is coming"? Now that the young Dane has already opened his account in the opening round of the DFB-Pokal, the Kevin Danso story should fade into permanent obscurity. It's been demonstrated that the team has enough central defenders. In the projection above, we even move Gouweleeuw into midfield to make space for him.

The 20-year-old appears to have a nice healthy appetite for pressing high. He faintly resembles Per Mertesacker in that regard. Not exactly the tallest center-halve, we might see Weinzierl try him out at fullback or even move him into midfield. Winther got plenty of confident touches in during his starting XI debut against Greifswalder FC. Though a German footballing columnist (and indeed many German footballing columnists) often clutch at straws with respect to Augsburg, the young lad looks to possess some potential.

This writer sends friendly greetings to all Bundesliga fans out there ahead of another fantastic season! You can catch Peter on twitter, @ViceytheSS.

Twitter DMs are open for football conversations, corrections, and (if you truly insist) general abuse. 

All columns debut on Bulinews before appearing on Peter's website later in the week.



Related stories