Bundesliga Fan Scene:
Three of nine fixtures sell out in week 28
By Peter Vice @ViceytheSS
Our "Weekend Attendance Figures" feature returns with news from all nine hosting stadiums in the Bundesliga this weekend.

The sheer unadulterated joy of 81,365 live supporters was just the tip of the German footballing fandom iceberg.

Come along with us as we take a trip around the grounds!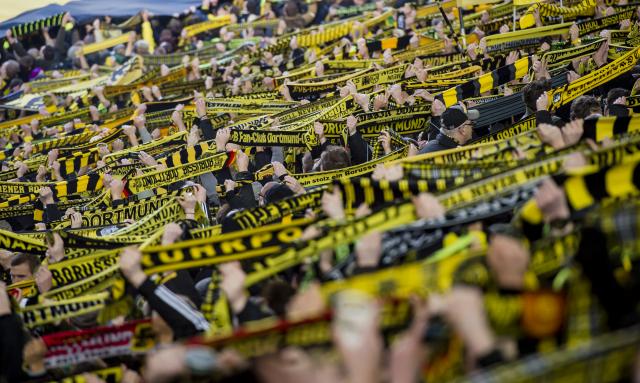 Only three direct sell-outs in Germany's top footballing tier during first full weekend of "full-house football" in the German Bundesliga. As it turned out, the three fixtures already at full capacity as we entered the weekend ended up being the only ones that remained so. Only Freiburg, Union Berlin, and Borussia Dortmund ended up playing before full capacity crowds.


There was still a lot going on in the Bundesliga Fan Scene this past weekend. Eintracht Frankfurt and Arminia Bielefeld came in just a few seats under a sell out. One couldn't really tell that some extra places went unfilled in both cases. The same was true in Leverkusen, Gladbach, and Augsburg, where the stadiums filled to 75-80 percent capacity.


---


FC Köln (at) FC Union Berlin

Attendance = 22,012 (sold out)

Nothing much beats a full house at the Stadion An der Alten Försterei. The atmosphere could not have been more perfect and the loyal Eisernen Ultras were rewarded for their efforts with an important win. All Bundesliga enthusiasts got an absolutely splendid Friday night under the floodlights.


Congratulations to Nigerian striker Taiwo Awoniyi as well on becoming the FCU's leading top-flight goal-scorer. Man, are we ever going to miss him. Hopefully, he'll look back at his Köpenick days fondly.


Wait for it... 😂 @taiwoawoniyi18 pic.twitter.com/oR2zL3q25H

— 1. FC Union Berlin (@fcunion) April 1, 2022
---


SpVgg Greuther Fürth (at) Eintracht Frankfurt

Attendance = 50,500 (98.0%)

Some legitimate discussion in German footballing circles as to whether the massive throng that turned out for this one deserved the almost deliberately flaccid set of performers SGE trainer Oliver Glasner put on the pitch. Everyone's eyes turn to the Barcelona fixture now, with even more pressure on the Eagles of Germany's commercial capital to deliver.

Though this fixture came in a little short of a sell-out, all passes have already been disseminated for Thursday's affair. As some may have already heard, the club received over 250,000 ticket requests last week alone. A huge night for German football beckons!


Schön, dass ihr ALLE wieder da wart 🦅🙏#SGE pic.twitter.com/h8gPRmI8kt

— Eintracht Frankfurt (@Eintracht) April 3, 2022
---


Hertha BSC (at) Bayer 04 Leverkusen

Attendance = 23,500 (77.8%)

A smaller crowd for what was, after all, not one of the weekend's best offerings. Most of the ultra groups nevertheless came out to cheer on their team from the famous BayArena Nordkurve. Interest wanes a bit in the company town after the Europa League elimination. The next home match against Leipzig should still sell-out.


🙌 🙌 🙌 🙌 😊⚫️❤️#B04BSC 2:1 | #Bayer04 pic.twitter.com/0R0F9gYepf

— Bayer 04 Leverkusen (@bayer04fussball) April 2, 2022
---


FC Bayern München (at) SC Freiburg

Attendance = 34,700 (sold out)

Everything was just about right in the first sold-out match ever to take place at the new Europa Park Stadion. Everything save the unfortunate light dusting of snow that invariably hits the winter-weary German populace in early April. That's something of a sad tradition in the Bundesrepublik.

The end-result didn't exactly conform to hometown fan expectations either. No worries. At least the Breisgauer put on a decent show. Incidentally, should the club (against all expectations) decide to file for a forfeit of the match after Bayern's substitution error, one can actually expect the SCF ultras to protest their own club.

That's how committed these supporters are to fair play.


April 2, 2022
---


VfL Bochum (at) TSG 1899 Hoffenheim

Attendance = 15,014 (49.8%)

Looks like it's quickly back to business as usual in Sinsheim. As the country emerged from its COVID restrictions, there were a couple of instances in which this relatively young club sold out at reduced capacity. Now that there's other public entertainment options in the Rhein-Neckar district, empty seats once again reign at the PreZero.

There was something of an important milestone hit on Saturday. The player who has come to define this club commemorated his 300th appearance for die Kraichgauer. The club may not have much of an identity yet, but it does have Sebastian Rudy.


Auch wenn das Spiel nicht wie erhofft verlief:

Glückwunsch zu deinem 300. Pflichtspiel für die #TSG, Sebastian 🙌 pic.twitter.com/DAFlawdgWH

— TSG Hoffenheim (@tsghoffenheim) April 3, 2022
---


VfB Stuttgart (at) Arminia Bielefeld

Attendance = 26,011 (95.2%)

Something of a surprise not to see the Alm sell-out. There truly are no other public entertainment options in Bielefeld and the Teutoburgs find themselves in the middle of a tough relegation dogfight. One could fairly say that the near capacity crowd that did show up played an important part in helping their team score a late equalizer against a superior Stuttgart side.

The atmosphere at the Alm was truly great. One had no impression that the match didn't sell out based on the chants and song emanating from the stands. Naturally, everything fell quiet when a horrific head collision late in the match left club legend Fabian Klos on the deck with a gruesome head injury. 

The Bielefeld supporters showed great class in applauding VfB Stuttgart striker Sasa Kalajdzic when he helped carry the stretcher out to the pitch. This scene has already gone viral.


Fußball verbindet, Punkt.

Das wollten wir zum Wochenstart nochmal loswerden.https://t.co/rfZVu7YpZ7#immerdabei #DSCVfB pic.twitter.com/OlN0xKPVgY

— DSC Arminia Bielefeld (@arminia) April 4, 2022
---


RB Leipzig (at) Borussia Dortmund

Attendance = 81,365 (sold out)

Yes, it was easily the most amazing scene of the weekend. One of Germany's greatest footballing cathedrals packed to the brim for the firster time in over two years. For the most part, the hometown fans remained supportive of their Schwarzgelben even if the result didn't fall in line with their hopes.

Obviously, there were still boos, whistles, and chants of "Rose out" to be heard from some of the attendance ranks. There's simply no way that an audience of over 80,000 could all share the same sanguine opinion about their team.


Surreal. pic.twitter.com/p0aTsNDt4p

— Borussia Dortmund (@BVB) April 2, 2022
---


VfL Wolfsburg (at) FC Augsburg

Attendance = 23,143 (75.5%)

Florian Niederlechner made certain to credit the fans shortly after the Fuggerstädter secured a massive victory against their relegation rivals. It was indeed a great sowing from the Bavarian Swabian supporters, even if the match itself didn't end up selling out. These fans always bring their best to the WWK Arena.

All those who have cheered this club on through an incredible 11-year-uninterrupted stint in the German top flight are a national treasure of sorts. Few, if any, German football watchers expected Augsburg to spend much more than a season or two in the top flight when they were promoted back in the 2010/11 season.

Against all odds, here they are.

The locals deserve immense credit.


Ihr wart gestern ein wesentlicher Faktor und unser 12. Mann! 🙏😍 Unterstützt unsere Jungs auch gegen den @1FSVMainz05 am Mittwoch! ➡ https://t.co/aR3rDDzTXh pic.twitter.com/dT9rXYZ4US

— FC Augsburg (@FCAugsburg) April 4, 2022
---


FSV Mainz 05 (at) Borussia Mönchengladbach

Attendance = 23,143 (81.7%)

Not a sell out, but still larger attendance numbers than one might expect for this team. The atmosphere at Borussia Park remained serviceable, thanks in large part due to consistent cheers from the Kurven. The BMG ultras sang their lads home even as the team wilted down the stretch. 


DAS war Gänsehaut! DANKE für euren Support!! 💚👏 pic.twitter.com/FnrcUft4eI

— Borussia (@borussia) April 4, 2022
---
Thanks so much for reading!
You can occasionally catch Peter on twitter, @ViceytheSS.
Twitter DMs are open for football conversations, corrections, and (if you truly insist) general abuse. 
All columns debut on Bulinews before appearing on Peter's website later in the week.
Related stories