Initial reactions to Bierhoff resignation:
"He's done much more than most people probably realize."
By Peter Weis @PeterVicey
News of the first major administrative consequences resulting from the German national team program's second consecutive World Cup group stage elimination broke late last night. After an 18-year-collaboration, Oliver Bierhoff and the DFB are (by mutual consent) heading their separate ways. 

We'll supply a full translation of Bierhoff's resignation statement in this piece as well as capturing some of the immediate reactions from German national team players working as studio pundits for Germany broadcaster ZDF last night.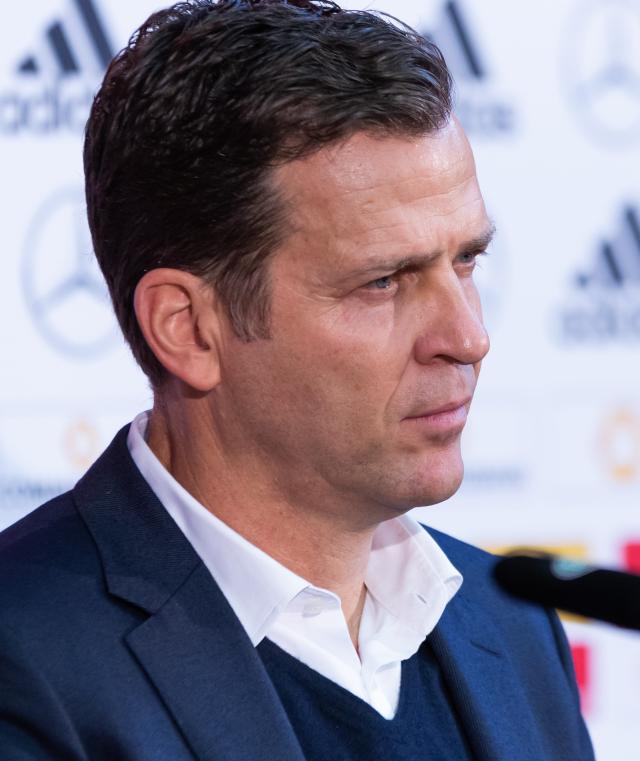 | | |
| --- | --- |
| Oliver Bierhoff. | Photo: Steffen Prößdorf, CC BY-SA 4.0 |
German broadcaster ZDF, in the process of covering Brazil's round-of-16 victory of South Korea last night, had to deal with a major bombshell involving the German FA. The DFB's highest ranking managing director opted not to wait for a planned "crisis summit" scheduled for later in the week. Oliver Bierhoff, after taking massive heat in the country's press over the last four days, tendered his resignation on Monday evening.


The move itself did not come as a huge surprise. While the broader German footballing public found itself in no real mood to blame current national team head-coach Hansi Flick for the recent World Cup failure, pretty much anyone with interest in football in the Bundesrepublik agreed that Bierhoff had to step aside. The timing was nevertheless still something of a shock.

Former German national team players working as ZDF studio analysts last night were forced to come up with reactions on the spot. Two 2014 World Cup Champions, Per Mertesacker and Christoph Kramer, had to reflect upon both the successes they lived under Bierhoff and the abject disappointments of the last three major international tournaments.

"He's done much more than most people probably realize," Mertesacker noted from the ZDF studio, "I'm sorry to hear this, though there are plenty of processes that people are displeased with after these three [2018, 2021, 2022] tournaments."

"He was one who always tried to involve all players by helping out and being there," Mertesacker continued, "[Bierhoff] also pushed a lot forward with regard to the youth system reforms. I think it's very sad."

"I think it's a shame," Kramer added, "I owe him [Bierhoff] an incredible personally. I think he's a really great person who made me a national team player and a World Champion. At least he was able to decide for himself what was right for him."


After some time had passed, both current DFB President Bernd Neuendorf and DFL/DFB supervisory board member Hans-Joachim Watzke issued their own statements thanking Bierhoff for his service over the last 18 years. A full translation of Bierhoff's resignation statement reads:

"After 18 years in positions of responsibility at the German Football Association (DFB), I have resigned as Managing Director National Teams & Academy with immediate effect. President Bernd Neuendorf and I have agreed upon this today. In doing so, I am clearing a path for new directions. It was an intensive, exciting and instructive time in which we celebrated great successes together and also had to deal with setbacks as part of our project implementation."

"From the first to the last day on the job, I strove to keep us working as a team. I would like to thank all the people who have supported me during this time with their commitment, ideas and passion from the bottom of my heart. I am proud of what I have achieved together with my staff, our national coaches and the support staffs. To have such co-workers around me was a privilege."

"My work was always driven by the conviction to do my utmost for the DFB and the national teams. That makes the performance of the men's national team at the World Championships in Russia and Qatar all the more painful for me. That's why I'm not leaving without the requisite self-criticism. In the past four years, we have not managed to build on previous successes and give the fans reason to cheer again. Some decisions we were convinced of have not turned out to be the right ones. No one regrets that more than I do. I take responsibility for that.

"I look at the progress and work of the DFB Academy with pride. I am convinced that it will make a significant contribution to the development of German football. The fact that I was able to accompany this ambitious large-scale project from the idea to its realization over decades with a high level of personal commitment was a unique experience. The fact that our national teams have now found a home on the new DFB campus makes me happy."

"I wish the DFB, its many dedicated employees, all the associations and clubs, institutions and initiatives gathered under its umbrella, and our national teams every success in their important tasks. I hope that football fans will continue to support our teams - whether women, men or juniors - with passion in the future. This applies in particular to our men's national team at the home European Championship in 2024, where we can be successful again ten years after winning the World Cup in Brazil."

"Football has shaped my life and will continue to accompany me."

"It has been a great honor for me to have worked for German football for so long."


Danke für deinen Einsatz, Oliver! 🙏 https://t.co/7mEWv24pTZ pic.twitter.com/BOGbJBopMm

— DFB-Team (@DFB_Team) December 5, 2022
More about Germany