Bundesliga 2021/22 Tactical Previews: "The Race for the Champions League"
By Peter Weis @PeterVicey
The anticipation builds as the 2021/22 Bundesliga Campaign draws nearer! Just like last year, we'll be hosting our weekly "tactics talk" column here at Bulinews.

As always the column will comprehensive look at the central talking points of all nine weekend fixtures and include an in-depth breakdown of the most intriguing match.

For the non-tactics-heads, there's plenty of fun commentary and footballing satire as well!

In preparation for the new season, we're pleased to help get everyone psyched for the new campaign with a series of preview installments. These will group together teams likely to be competing for certain spots in the table.

Next, we'll take a look at four clubs likely to be vying for that last Champions' League spot:

Bayer 04 Leverkusen, VfL Wolfsburg, Eintracht Frankfurt, and Borussia Mönchengladbach.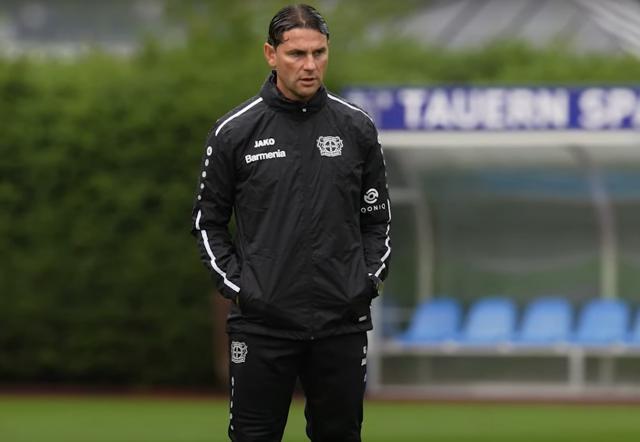 ---
Introduction: The Race for the Champions League
---


Having effectively conceded the top three spaces in our initial installment, things get significantly more interesting as we move down the table. The predicted race for the final Champions' League spot remains wide open. We'll cover four teams today who stand a reasonable chance of taking it. In truth, one could potentially add another two teams to this race. Hoffenheim have the talent to take it. That must be stated. It should also be stated that German football fans genuinely don't want to talk about the Sinsheimers until it's absolutely necessary. We'll thus get to them next time.

Some thought was given to including the two Berlin clubs in this section. Two Berlin clubs. That feels so very nice to type for the third successive year.  Presumably, there must be a year during which Hertha doesn't underachieve radically. Presumably, there might also be a year when we all win the lottery. We'll skip die alte Dame this time. Too many false dawns. The heart skips a beat for the story of Union Berlin; a splendid everyman underdog story. Sometimes the heart needs to be told to stop skipping beats. It's not healthy. The UEFA Europa Conference League looks to tire die Eisernen out.

Bayer 04 Leverkusen

Quite a lot afoot over at Germany's red company team. With Rudi Völler scheduled to retire after a nearly twenty year long footballing administrative career, this club decided that now proved as good a time as any to spend all of that stashed cash from last autumn's sale of Kai Havertz. This summer saw a spending bonanza in honor of the departing "Tante Käthe". Incidentally, anyone curious to know Völler is referred to as "Auntie Kate", it relates to the fact that every other German has an aunt or great aunt named "Käthe" with a strikingly similar set of grey curls atop her head. A writer can offer no reasons for this coincidence, but know that it is inexplicably true.

Moving from thew Leverkusen front office to the sidelines, we've yet another new trainer to discuss. It so happens to be the very same head-coach who struck perhaps the final nail in previous head-coach's Peter Bosz's coffin. Gerardo Seoane's Young Boys Bern booted Peter Bosz's Werkself out of the Europa League in rather humiliating fashion during last February's round-of-32. Not long after, Völler, sporting director Simon Rolfes, and pretty much German football lover out there agreed that we'd seen enough of Bosz's possession based 4-1-4-1. In some respects, it's a miracle all of us didn't tire of it sooner.


This writer hasn't watched much Young Boys Bern, in part because the utter the phrase "I'm off to watch the Young Boys" carries with it disagreeably uncomfortable connotations. Seoane does appear a very competent trainer. He's won three consecutive league titles and one league cup with the Swiss capital city side since succeeding Adi Hütter in 2018. Some in German footballing circles compare Seoane favorably with his compatriot Urs Fischer of Union Berlin. Both "Schweizer Trainers" are known as sharp tactical minds who accomplish a great deal with heavy squad rotations.

Seoane has plenty of nice shiny new toys to play with when selecting his weekly XI.

Projected Opening Day Lineup, Leverkusen
Lineup—Bayer Leverkusen—PROJECTED (4-2-3-1)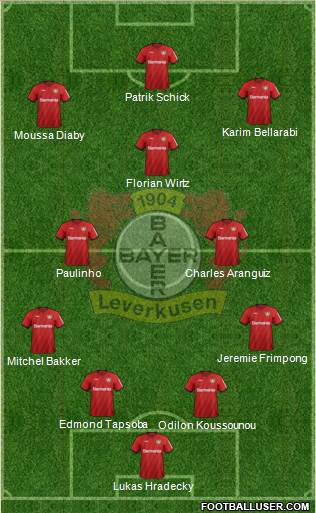 A 4-2-3-1 seems the sensible choice; at least off the ball. The speed of Leverkusen's wingers--admittedly diminished somewhat after Leon Bailey's departure--counts for naught without two midfielders pressing against the ball to generate turnovers and instigate quick counters. One requires a duo on the fourth axis anyway as the team remains stacked with forward bombing fullbacks. Pairing Julian Baumgartlinger with Charles Aranguiz and dropping both veterans back actually wouldn't be a bad idea at all.

We should mostly see Florian Wirtz operate as a ten this season, though he'll put in shifts at short-striker as well. Generally speaking, if one sees Nadiem Amiri's name on the pre-match team sheet, it's safe to assume that the young German phenom has been assigned the latter role. There shall definitely be more purchases for the attack before the transfer window closes. We're looking at a wholly incomplete plan at the moment.

Whereas one can expect further cash to be splashed in the interest of bolstering the offense, the back line looks set. More than that, it's a rock solid collection of great players who together may comprise the best collection of central defenders in the league. Burkinabé wonder Edmond Tapsoba wasn't quite as breathtakingly good as in the second half of the 2019/20 campaign, but he's still someone who belongs in the top Bundesliga XI. One can't wait to see Odilion Koussounou in action based on the scouting reports.

Behind the two starting center backs, we have the highly intriguing Greek prospect Panagiotis Retsos back from loan and the sad fallen case that is Jonathan Tah. With respect to Tah, one can forecast a bounce-back year. It literally can't get much worse for the 25-year-old. After humiliating himself for the national team and making the critical defensive error that ended up sinking his team's season, he'll recapture his form. Trust the writer on this if on little else.

Three Burning Questions, Leverkusen
Can we work a second striker into this?

That's an excellent question. Despite the fact that Schick often operates alone, he's not your prototypical big-target center forward. The Czech international, as demonstrated by some memorable sublimely skillful goals in the last campaign, can work some magic from further back. Feel free to summon the memory of his European Championship goal against Scotland now. Go ahead. Enjoy yourself. Take an extra moment if need be.

Schick's broad skill-set means that one of those 4-4-2 cycle rotations could work very well here. Wirtz could even get involved. What's needed is another attacker who's highly technical on the ball to place alongside Schick. Unfortunately, if the pre-season friendlies are any guide, Lucas Alario looks not to be that man.

What would be a great next purchase?

With that in mind, we seamlessly segue into the next question. Another forward is needed. It won't be Sardar Azmoun. It almost certainly won't be Joel Pohjanpalo. In the humble opinion of the writer, it really shouldn't be Josh Sargent. That leaves us with a mystery player for whom no rumor mills are presently kind enough to furnish us with a name. It remains keeping an eye on those mills as they churn faster over the next few week. Rest assured that someone is coming.

What's with this "Germany's Red Company Team" label?

A question for the writer. Simply stated, it's an original invention. Bayer and the club we're about to discuss (VfL Wolfsburg) are a pair of exceptions to Germany's 50+1 rule. Companies, as opposed to local individuals, own the team. A German football lover can reconcile him or herself to this by virtue of the fact that local companies who employ local workers pull the strings. One then gets to a sort of/kind of okay place when thinking and writing about the club.

In terms of future reconciliation with 50+1 exemptions, Dietmar Hopp could give up his 98 percent individual stake in Hoffenheim and allow the SAP employees to buy membership stock in the club. Then we would have a "Germany's blue company team". Additionally, someone (anyone, please!) from Leipzig could run for a place on the RB board. With a handful of locals integrated into the management structure, we could conceivably have a "Germany's silver company team."

For now, the country merely has a "green" and "red" company team. That's all.

The "Pick to Click", Leverkusen: Paulinho

When it comes to this Brazilian, what we've seen has been remarkably smooth. Regrettably, injuries prevented us from seeing very much. As a matter of fact, the same applies to Paulinho's Latin American counterpart Exequiel Palacios. Amazing stuff from the Argentine midfielder when he was healthy. In point of further fact, Bundesliga fans were sadly deprived of any real chance to see Columbia right back Santiago Arias in action last year after that horror ankle injury. Lucas Alario (Argentina) and Charles Aranguiz (Chile) also get hurt all the time.

If there's a lesson here, it seems to be that footballers from South America should never sign for Leverkusen. Anyone from a COMNEBOL country invariably ends up spending more time in the rehab room than on the pitch. Hopefully, this shall be the year that the curse is lifted. A Paulinho-Palacios midfield partnership would be sumptuous indeed. Paulinho can also play up the wing. "Tante Käthe" and crew may not need to sign another winger to replace Bailey when Paulinho can move up left whilst Diaby switches to the right.

VfL Wolfsburg

Time to discuss germany's green company team, back in the Champions' League after a six-year-absence from the European elite. Germans have their fun with this club. During the pandemic, everyone got the chance to work in the joke about how the Volkswagen Arena would have been empty irrespective of whether COVID existed or not. True to form, the Wolfsburg ultras co-opted that line in order to poke fun at themselves. The vast majority of German football lovers warmed to this team once they discovered the warmly self-deprecating sense of humor shared by it's diehard supporters.

As we delve into the fifth team covered in this comprehensive preview journey, we've yet another new trainer to discuss. Former FC Bayern München captain Mark van Bommel returns to the Bundesliga, this time in a set of long pants. He's swapped his playing shorts for dress slacks. We're all intrigued an excited to have the Dutchman back. This constituted pretty sharp hiring coup from VfL chief executive Jörg Schamdtke, a man unreservedly selected as German football's best overall administrator in a previous Bulinews column.

The green company team now finds itself helmed by totally green gaffer. Van Bommel has never worked as a head-coach before. This shouldn't pose a problem really as Schmadtke assembled him a fine roster and the departed Oliver Glasner bequeathed him an effective tactical system. Wolfsburg's new sidelines' prowler barely needs to lift a finger with respect to the constellation. Simply let it ride.

Projected Opening Day Lineup, Wolfsburg
Lineup—VfL Wolfsburg—PROJECTED (4-2-3-1)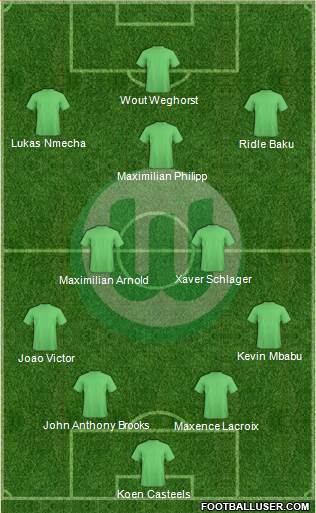 Beginning at the back, the John Anthony Brooks-Maxence Lacroix partnership should continue to excel. Sebastiaan Bornauw was procured in the event that the young Frenchmen bolted to a bigger club. As it presently looks as if that won't happen, we may look forward to another season of excellent work from a pair who complement one another well. The double-six tandem of Maximilian Arnold and Xaver Schlager also boasts a great intuitive sense of cooperation, as does the vertical pairing of Kevin Mbabu and Ridle Baku on the right. Maximilian Philipp really got the hang of the no. ten role late last campaign.

There are question marks strewn about the left-hand side. Renato Steffen did okay stationed on the left wing last season, but it isn't his preferred position. Josip Brekalo wants out and is starting to remind one of Milot Rashica in the way he's letting his own perceived celebrity get in the way of his personal progress. Jerome Roussillon and Paulo Otavio would be better choices at left-back. Unfortunately, both are hurt. Placing Joao Victor and Likes Nmecha at positions that the do have experience with still leaves one with the feeling that one has built a menacing lineup. Something like this should work just fine.

Three Burning Questions, Wolfsburg
Can we fit in Joshua Guilavogui?

The captain can fill in at any number of positions. Consider him--and not Bornauw or Marin Pongracic--the first choice to deputize at center back if either Brooks or Lacroix require rest or rehabilitation. The Frenchman makes a good sweeper if van Bommel wishes to deploy wingbacks. A midfield diamond with Guilavogui at it's base counts also as a good option whenever the VfL faces a back-five spread constellation.

All of this being noted, it'll be surprising to see Guilavogui retain the armband. Recently returned Olympic team captain Maximilian Arnold appears more likely to snap on the skipper sash. A player well respected by many German football fans nears the twilight of his career. We all must learn to accept decline at some point. Sadly true.

Will we see Glasner's late match 4-4-2?

One hopes so. Ideally, van Bommel has studied up on it and drawn up some plans to get Bartosz Bialek into games late. The 19-year-old Pollack lords over such fabulous potential. Those magnificent two tallies we witnessed last year are only the beginning. Omar Marmoush also returns following a breakthrough loan spell with St. Pauli.

Newly arrived Belgian prospect Aster Vranckx reportedly has his own penchant for playing the striker position too. Germany fans will scream to see Lukas Nmecha play at center-forward. We'll get pissy if we don't see it. Pulling all this together, four promising strikers behind Wout Weghorst need to get their turn. A 4-4-2 reformat later in games facilitates that.

What's a good Wolfsburg joke for this year?

A question for the writer. Most anything involving Jörg Schmadtke's glib control freakishness counts as funny. Hence, that serves as a good starting point. This writer suggests lobbying for a new tradition in Germany's "Autostadt". The remote-controlled VW that delivered the match ball during certain matches in this summer's European Championship should become a permanent fixture at the Volkswagen Arena. It certainly beats that cacophony of wolf howls that they currently use before kickoff.

What's more, Schmadtke controls the car from the sidelines. All the cameras focus in on the VfL boss as he works the sticks carefully. Just for fun, someone else comes along every time to try and wrest the controls from him. We'll need to get the 57-year-old miced-up so that the entire viewing public can hear him bellow "nein, nein, nein, mein, mein, mein!" in his trademark gravely tone. Can we make this happen?

The "Pick to Click", Wolfsburg: Ridle Baku

Perhaps this pick doesn't entirely conform to the spirit of the section. We're supposed to be selecting breakthrough players here. The Mainz native has unquestionably already broken through to capture the hearts and minds of German football fans across the Bundesrepublik. Boy, do we ever love this fullback/winger. The homegrown talent with an adopted name inspired by Karl-Heinz Riedle plays with such enthusiasm and flair. He's a real treat to watch.

Sadly, one thing Baku hasn't broken through to yet is the German national team. Many of us have not forgiven Joachim Löw for what we considered a stunningly stupid omission this summer. In fairness, there's a long list of stunningly stupid things to forgive Löw for. We're working our way down the list and should get to his decision to leave Baku behind sometime in late January 2022. In the meantime, here's hoping that "Bote's" development continues apace; to the point that he can no longer be ignored. All signs point to him being a household name by the end of the year.

Eintracht Frankfurt

Massive regime change in Germany's commercial capital this summer as the sporting CEO (Fredi Bobic), sporting director (Bruno Hübner), and head-coach (Adi Hütter) all decided it was time to depart. One genuinely feels for the supporters of this club. Some of the best ultras in Germany should be watching Champions' League football this year. All the club leadership tumult robbed the players of the focus necessary to secure qualification. Instead of a historic first ever UCL berth, Adler enthusiasts watched their moody diva melt down in typical SGE fashion.

Oh well. In with the new. Eintracht did well to lure Markus Krösche over from Leipzig to handle personnel moves. The young executive makes a good impression and is off to a solid start. Oliver Glasner (for those keeping track, our sixth new trainer in as many sections) really fits well in here as he can lend a hand. Glasner wore multiple hats at LASK Linz. Glasner had a general manager role during his four years at the Austrian Bundesliga club. One sees the trainer's hand in some of the well-selected additions this summer.

It's entirely possible that this may be the year Eintracht captures the historic UCL berth. Of the four teams that we're previewing in this installment, one must admit that the roster accords one the chance to build the most convincing lineup. A specific columnist proudly stands by a high-octane 3-4-3 capable of inflicting plenty of damage on any given Bundesliga matchday.

Projected Opening Day Lineup, Frankfurt
Lineup—Eintracht Frankfurt—PROJECTED (3-4-3)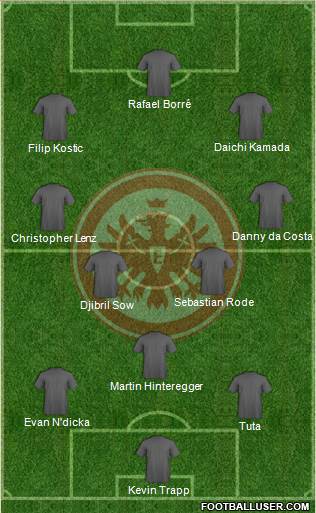 Sometimes it just all comes together nice and easy. With Filip Kostic and Daichi Kamada on the flanks, SGE enthusiasts will barely notice that André Silva has left. We've some changes in terms of who directly buttresses the two flankers. New acquisition Christopher Lenz--a fine addition coming in from Union Berlin on a free--takes the left advanced wingback position properly augments the pivoted back-set. As a result, Kostic can consistently play up higher.

The returning Danny da Costa edges out Erik Durm for the right advanced wingback position. Durm could also take Kamada's place while the Japanese international slides inside. In this case, Lenz is the player sacrificed while Kostic moves back. A little less effective perhaps, but still quite dangerous. The Sebastian Rode-Djibril Sow axis could use an upgrade. Assuming this isn't possible, it remains serviceable enough.

One will hear a great deal about this back-three this season. Martin Hinteregger belongs in that fulcrum role. It renders matters a little shaky at the back, as evidenced by all the own-goals "Hinti" and the rest of the SGE defenders tend to score. Alas, this qualifies as one of those risks one has little choice but to take. A flat back-three or a back-four doesn't suit this team well. Either one makes good use of "Hinti" or one doesn't.

Three Burning Questions, Frankfurt
Can they function without a ten?

Sure they can. As high as Rode, Sow, and Hinteregger press, the team effectively sports three pseudo-tens. What's nice about this team concerns the fact that they have an identity. This should preserve despite the coaching change. Whosoever is deployed in a rearward midfield position--Makoto Hasebe and Stefan Ilsanker included--always puts in the hard box-to-box work of covering the space you see in the above diagram.

There remain a few player pieces that don't necessarily fit in the work ethic's driven system Glasner inherited. Amin Younes wants out. Ajdin Hrustic, a notably strong preparation notwithstanding, has yet to prove that he can be a team player on a Bundesliga pitch. Glasner either needs to find roles for Gonçalo Paciencia, Steven Zuber, and Aymen Barkok or offload them.

When might we see Jesper Lindstrøm?

Whenever we need a ten one supposes. This signing caught many by surprise, given that the club already possessed so many promising young talents in the pipeline. Krösche and Glasner even continue to surprise by adding more and more to the camp roster seemingly every few days. The topic of Frankfurt loan-outs won't be going away anytime soon as there's little to no chance that the club will carry a 33-man-roster into the season.

The Danish youngster, at his high price tag, is staying. What becomes of Martin Pecar, Fabio Blanco, Dejan Jovelic, and Nils Stendera remains anyone's guess. Just today the club shipped out Ali Akman and brought in Jens Petter Hauge. Expect much more of this as the deadline nears. Also expect the formation to shift several times this year as Glasner figures out what sort of imprint he wishes to make.

How many Hinteregger tidbits will we have to listen to this season?

A question for the writer, and something you can make a prop bets with your friends over. The answer is, for better or worse, an endless amount. Play-by-play broadcasters will include all the fun "Hinti" factoids in their preparation notes. You'll hear them again and again. The Austrian defender is a trained helicopter pilot and an avid accordion player. The SGE Ultras also have a song entitled "We're Hinti Army Now".

Did you know that? Of course you did. You still have to listen to it. Every match. In the final analysis, it's not the match announcer's fault. It's yours for watching too much football. Play-by-play commentary caters to the casual fan who is half listening while cleaning their apartment. Footballing addicts really have no cause for complaint. It's our own fault.

The "Pick to Click", Frankfurt: Tuta

Lucas Silva "Tuta" Melo found himself with some rather large boots to fill after previous Eintracht captain David Abraham turned his in at the midpoint of last season. Then coach Adi Hütter expressed full confidence in him, slotting the then 21-year-old directly into the departed Argentine's role slanted right in the back-three. It paid dividends.

As one can infer from the above talk that there are many blossoming young prodigies on this roster; any one of which could enjoy a breakout campaign. Moreover, it's worth noting that Tuta really tanked hard at the end of the season. This may affect Glasner's appraisal of him and possibly cost him a spot in the XI. We shall see.

The manner in which he rose to the challenge renders the developing Brazilian one worth rooting for.

Borussia Mönchengladbach

Good lord do we have a lot of injuries here. What began--in the writer's mind--as a section that would first take a lighthearted look at Max Eberl's insistence on maintaining Bavarian-style socks or perhaps a little riff on former trainer Marco Rose's not-so-handsome downfall quickly degenerated into more serious stuff. Taking all the carnage on this roster into account, building the projected XI served as a real challenge. We'll keep the foals in the Champions' League challenge section for now, but be advised that they may be in big trouble.

One problem concerns the fact that, as some may have forgotten, Gladbach are merely a mid-market club. People tend to forget that they were playing in the 2. Bundesliga as recently as 13 years ago and often fighting relegation until a firmer ascent to the top some four years ago. Some branding, localized membership recruitment drives and (most importantly) the new Borussia Park helped them operate on a higher level budget. Always stretched just a little beyond their means, the lack of gate receipts last year during the pandemic hit them hard.

Sporting Director Eberl has been candid about the need for the club to pare back financially. They could be in for a regress and rebuild over the next couple of years. Adi Hütter doesn't have a subpar class with which to work by any means, but he still had plenty of work to do even before his players began dropping like flies. If there was one word to describe the team last season after the Marco Rose announcement ruined every Gladbach fan's life, it would be "slow".

That was honestly the impression. Plenty of pacey players all collectively forgot how to run. Everyone loafed about and tried to draw penalties. It was horrible to watch. Hopefully, Hütter has everyone recalling how to sprint again.


Projected Opening Day Lineup, Gladbach
Lineup—Borussia Mönchengladbach—PROJECTED (4-2-3-1)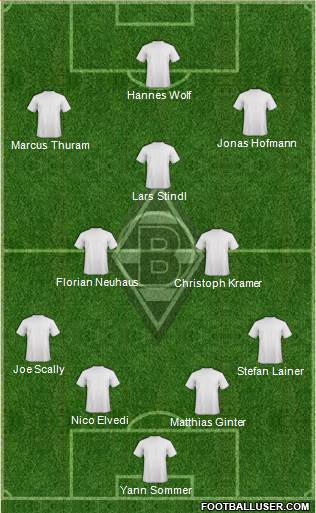 So. No Breel Embolo, Alassané Plea, or Denis Zakaria back in time for the first matchday. Both Hannes Wolf and Patrick Herrmann can work as the lead striker. We'll go with the former for no particular reason other than the fact that he's overdue for a chance. Several options are available when dealing for dealing with Ramy Bensebaini's absence. Louis Jordan Beyer or Tony Jantschke can fill in. Luca Netz is in the process of being procured for precisely this purpose.

But why not throw a pricey young American into the water and see if he can swim? Joe Scally, scouted and purchased by the BMG way back in 2019 has to get his day sooner or later. The 18-year-old ordinarily works the right-hand side. He could nevertheless stand to learn a tougher assignment before more of the team's best assets get either injured or sold.

All told, we're still looking at a strong lineup here. The midfield triad of Lars Stindl, Christoph Kramer, and Florian Neuhaus can boss a game around easily. A tough opening schedule--Bayern, Leverkusen, Union--still possibly heralds a three loss start. Another injury or a big money offer for Matthias Ginter could make matters much more complicated.

Three Burning Questions, Gladbach
How great are the regression chances, really?

That's entirely contingent on the strengths of the teams we'll be getting to in the next section. As noted in the introduction, there doesn't appear to be a squad (other than Hoffenheim) capable of preventing the foals for qualifying for one of the three UEFA club leagues next autumn. That makes a huge difference, as does the extra rest this side can count on having not qualified for Europe this year.

The team can coast, though definitely not in the same manner they opted to coast after Rose put in his notice last year. Hard-nosed Hütter needs to deliver regular kicks to this side's posterior. An actual regression campaign in which they slid down to the lower regions on mid-table would have a disastrous effect on retaining current players and enlisting new ones.

Does Adi Hütter really want to be in Gladbach?

Not a misread. The more satirical question can be found in its usual place below. Obviously, the 51-year-old wouldn't have agreed to move to Nordrhein-Westfalen if he didn't want to be there. It was nonetheless something of a step down for him or, at the very least, a lateral move he felt forced to make when the Frankfurt administrative exodus threatened to leave him alone on an unstable ship. 

For those still keeping track: First off, congratulations! Secondly, we've now covered seven clubs, all of which have new trainers. Not all can succeed. One or possibly two will stumble early. While there's very little chance of an early sacking within these clubs after they paid such exorbitant transfer fees for their new coaches, someone will get slapped with the "overrated" label in the early going.

Hard to remove that label. It comes back to haunt frequently.

How many Yann Sommer tidbits will we have to listen to this season?

A question for the writer, and something you can make a prop bets with your friends over. In many respects, these are often even worse than the Martin Hinteregger tidbits. There's only one constantly repeated tidbit. Yann Sommer's food blog is staple part of a play-by-play announcer's preparation package. The writer will reiterate that overused "fun factoids" are by no means the fault of the broadcasters. It's 100 percent on those of those of us who watch too much football.

That being said, the writer has a question of his own. Has anyone actually been able to find Yann Sommer's food blog? During the fairy-tale Swiss march to the Euro quarterfinals last month, this writer thought he might give it a look whilst writing a piece on Sommer's heroics in the round-of-16. Several internet searches turned up nothing but a preponderance of articles about the blog, but not the blog itself.

In the end, all one was left with was a severely empty stomach.

The "Pick to Click", Gladbach: Joe Scally

One the topic of superfluous repetition, writer's aren't immune to it either. Manu Koné seemed a decent selection for this section until he got hurt. Rocco Reitz exhibited good potential as a breakthrough candidate until he was loaned out. The club higher ups promise to give Andreas Poulsen a chance this year. One honestly needs to see that to believe it.

Scally already got his own paragraph above. There's no real harm in giving him another. He was an expensive buy for 16-year-old some two Christmases ago. He also put together a string of solid performances for the Gladbach U23s after finally arriving in the Bundesrepublik last winter. A sixth sense tells one there will be much more written about him this year.

This writer sends friendly greetings to all Bundesliga fans out there ahead of another fantastic season! You can catch Peter on twitter, @ViceytheSS.

Twitter DMs are open for football conversations, corrections, and (if you truly insist) general abuse. 

All columns debut on Bulinews before appearing on Peter's website later in the week.



Related stories