Richter & Baumgartl:
Overcoming adversity off the pitch and opponents on it
By Ultan Corcoran @UltanCorcoran
As fans, occasionally we fall susceptible to the idea that 'the beautiful game' is confined to actions unfolding on immaculately kept pitches every weekend. The players we watch? Vital components of the starting eleven and substitutes who take to the field and do battle on our behalf. Our wish? Winning and bagging three points the common goal shared and desired by all. However, sometimes the greatest victories in the footballing world are achieved off lush green grass. Currently, there has been no better example than the recent happenings in the Bundesliga.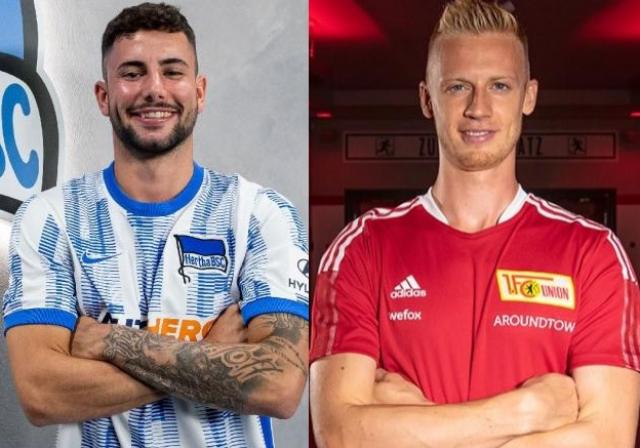 Photo: Hertha BSC, Union Berlin

Football's topflight competitions returned for the 22-23 season with great excitement in early August. The winter scheduling of World Cup 2022 condensing leagues' calendars all over the globe. Sadly, the domestic front in Germany was shadowed by a stroke of misfortune. Three players were diagnosed with testicular cancer on or before its resumption. Borussia Dortmund's Sébastien Haller, Hertha Berlin's Marco Richter, and fellow capital side Union Berlin's Timo Baumgartl were equally disheartened by untimely ill-health.


BSC man Richter was forced to go under the knife after a urological examination discovered a tumour on his testicle in July 2022. An impending hiatus was taken by the 24-year-old after a successful operation. The 28-day absence from football (Transfermarkt) was a lengthy spell on the sidelines for the once Under-21 German international star. A return to action was clouded and unimaginable at the time.

Across the German capital in Köpenick, Union Berlin's Timo Baumgartl had experienced similar fate. The 26-year-old centre-half enjoyed his last taste of football on April 28th of the 21-22 season. Baumgartl made the difficult decision of publicising his cancer diagnosis and need for chemotherapy in early May. The former VfB Stuttgart youth player and his girlfriend were left heartbroken by the distressing news. Timo stated on Felix and Toni Kroos' podcast, 'Einfach mal Luppen': "It's like a bad dream, you don't want to believe it". But soon that dream would sweeten for both he and Richter…


Return
Just under two months after the tumour was uncovered Richter had made a miraculous recovery. A return to play for the wide midfielder came on August 27th against Borussia Dortmund on Matchday 5. The Olympiastadion crowd rose to their feet as Hertha's No.23 entered the fray for the final 15 minutes in a 0-1 defeat. Post-game, BVB's Jude Bellingham was full of admiration for the former Augsburg player, rightfully dubbing him a "hero". The German has gone from strength to strength ever since, finding the net consecutively in a 0-2 win over Augsburg, and 2-2 draw with Leverkusen. His 2 goals in 5 substitute appearances are highly impressive numbers in a combined 96 minutes of playtime. Furthermore, registering a goal every 48 minutes proves the clinical instincts are sharper than ever.

A total of 112 days away from the field didn't waver Baumgartl's hunger either. Matchday 7's clash with VfL Wolfsburg will forever be etched in his memory. A return to the famed Alte Försterei gave the defender 62 minutes of action. Not only did Union's win 2-0 put them top of the Bundesliga, but Baumgartl's cameo gave fans the greatest cheer on said Sunday afternoon. The 4th most touches of any Union player in 90 minutes, and 79% pass completion was no mean feat either. Union coach Urs Fischer exclaimed Baumgartl was "elated" and more than "earned his start" in his post-match press conference. How Timo has reinforced his coach's faith in him since is a credit to the player, club, and fans' unwavering admiration.



Support
Time away from what he undoubtedly loves goes on for Dortmund's Haller. But the Ivorian hasn't been left to his own devices by either club or footballers alike. Baumgartl himself unselfishly went out of his way to offer his support. "I write regularly to Sébastien [Haller]," said the recovered Union player in a recent Kicker report. The player has since tabled some advice for the Dortmund striker as he "got through it [testicular cancer]", and looks forward to the moment they can share the field together in the yellow and red of BVB and Union respectively.

Bouncing back to the blue side of Berlin, another development surfaced in late September, with new summer signing Jean-Paul Boëtius declared absent for Hertha's foreseeable future. The reason? Once more, a testicular tumour was the cause for concern. Yet with every cloud comes a silver lining, or several of them, as BSC director of media Marcus Jung declared further inspections have thankfully shown "no chemotherapy will be necessary" in a recent press conference. While the 28-year-old Dutch man may not feature again in 2022, it goes without saying teammate Richter will act as a battle-hardened soundboard of support.

A return to the field lies imminent for Boëtius and Haller in the not to distant future. Networks of fans, clubs, and fellow footballers in full support behind them on their road to recovery. Soon the taste of victory and an invaluable three points will be savoured on the pitch again. But more importantly the inspirational triumph off it.



Related stories